DBS equips employees with skills to become everyday 'Data Heroes'
Over 16,000 employees have been trained in big data and data analytics over the last 18 months
Singapore, 24 Oct 2019 - To further strengthen its digital capabilities and prepare its employees to be future-ready, DBS has equipped more than 16,000 of its employees with big data and data analytics skills over the last 18 months.
The goals of DBS' bank-wide upskilling programme are three-fold, namely to enhance employees' ability to:
1. Use data to address business challenges in a highly-structured fashion,
2. Use data analytics to better identify business opportunities, and
3. Facilitate closer collaboration with the bank's data scientists and technology teams so as to create more intuitive products and services for customers
DBS' 'Data Heroes' programme offers a comprehensive training curriculum that caters to different knowledge and skill levels across the bank – from novices whose day-to-day roles do not require them to have much interaction with data analytics to data experts looking to sharpen their skills. Employees will be able to learn at their own pace and select what they need to improve on from a range of online courses, workshops and community programmes.
Through these programmes, DBS employees can learn more about the concept of becoming a data-driven organisation, the internet of things, data storytelling, responsible use of data and data visualisation.
DBS has set a goal to enable our employees to be champions of lifelong learning, said Paul Cobban, Chief Data and Transformation Officer, DBS Bank. "Technology is advancing rapidly, and we need to ensure our staff have the knowledge, skills and tools to not only adapt to change, but also build communities with their peers so as to create a virtuous cycle of learning. By empowering our staff with new technical and soft skills, they're more efficient and productive at work. This will enable them to have a more fulfilling career as well," he said.
One employee who has benefitted from the 'Data Heroes' programme is Nelson Lam from the bank's Institutional Banking Operations team. One of Nelson's responsibilities includes creating the monthly report on the bank's corporate customer centre's performance. "Having to churn out the same 10-page report every month was tedious and administrative, and I wanted to provide more actionable insights to my team. After attending the course, I could better analyse my data set to present more relevant and concise information to improve the team's performance," he said.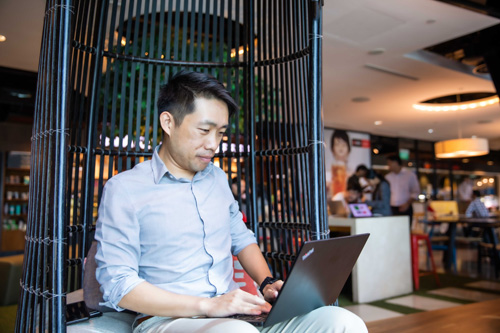 DBS has seen success in leveraging the power of big data and analytics since 2014. Some examples include creating network analysis models to identify shell companies within money-laundering networks; using big data to halve attrition rates of new-to-bank wealth planning managers; and developing a system to detect abnormal transaction activities when handling trade finance mandates. The bank has been recognised for its digital innovation efforts and was named World's Best Digital Bank by Euromoney twice in the last three years. It was also mostly recently recognised as one of the top 10 business transformations of the decade by the Harvard Business Review.
[END]
About DBS
DBS is a leading financial services group in Asia with a presence in 18 markets. Headquartered and listed in Singapore, DBS is in the three key Asian axes of growth: Greater China, Southeast Asia and South Asia. The bank's "AA-" and "Aa1" credit ratings are among the highest in the world.
Recognised for its global leadership, DBS has been named "
World's Best Bank
" by Euromoney, "
Global Bank of the Year
" by The Banker and "
Best Bank in the World
" by Global Finance. The bank is at the forefront of leveraging digital technology to shape the future of banking, having been named "
World's Best Digital Bank
" by Euromoney. In addition, DBS has been accorded the "
Safest Bank in Asia
" award by Global Finance for eleven consecutive years from 2009 to 2019.
DBS provides a full range of services in consumer, SME and corporate banking. As a bank born and bred in Asia, DBS understands the intricacies of doing business in the region's most dynamic markets. DBS is committed to building lasting relationships with customers, and positively impacting communities through supporting social enterprises, as it banks the Asian way. It has also established a SGD 50 million foundation to strengthen its corporate social responsibility efforts in Singapore and across Asia.
With its extensive network of operations in Asia and emphasis on engaging and empowering its staff, DBS presents exciting career opportunities. The bank acknowledges the passion, commitment and can-do spirit in all of our 27,000 staff, representing over 40 nationalities. For more information, please visit
www.dbs.com
.