DBS doubles down on intelligent banking amid still-surging digital adoption
The bank sees continued high adoption and usage of its digital banking services since onset of Covid-19, clocking records on multiple fronts
Singapore, 21 Sep 2020 - DBS announced today that it is doubling down on its Intelligent Banking capabilities across the bank's digital banking services, at a time when Singaporeans are not only shifting to, but also sticking with, their mobile phones and online platforms for everyday banking and wealth management needs.
With features being progressively introduced since early this year, DBS' Intelligent Banking capabilities combine predictive analytics and customer-centric design to transform data into hyper-personalised, intuitive – and unintrusive – insights that simplify the way customers manage their finances and investments. Since then, the bank's Intelligent Banking engine has generated up to 13 million insights a month across its digital banking services that have helped customers to improve their financial planning, uncover blind spots in their monthly expenditures, and even make timely investment decisions.
By the first quarter of 2021, DBS will have rolled out to customers a slew of Intelligent Banking features, many of which are industry-firsts. These include suggestions on equity stocks tailored to a wealth customer's investment pattern, and prompts that speed up everyday banking functions so customers can perform their transactions with a single tap or swipe on their mobile phones, such as paying their monthly bills in one go.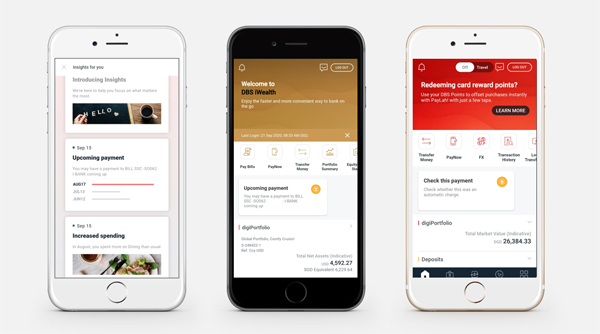 Image 1.1: Intelligent insights for personalised financial management on DBS digibank and DBS iWealth
The introduction of features that provide even easier and more effortless banking will benefit more customers amid the soaring adoption and usage of digital banking services since the onset of the Covid-19 pandemic. Between January and May this year, transactions on retail digital platform DBS digibank surged by 220% compared to the same period last year. Likewise, transactions on DBS' wealth digital platform DBS iWealth, also jumped by 198% year-on-year (YoY).
Even after Singapore's Circuit Breaker measures eased in June, DBS customers' digital banking activity continued to hold up – particularly via the bank's mobile banking channels. Between June and August 2020, customer sign-ups for the DBS digibank mobile app rose by 216% YoY, with the bank's digital banking customers hitting a record high of 3.5 million
[1]
. The number of investment transactions made via DBS iWealth's mobile banking app tripled. Customers are also going digital when transacting. From 2017 to 2019, the bank saw an average of 5% YoY decrease in cash volumes being handled, a reduction of some SGD 5 billion a year. Yet for the period of June to August 2020 alone, cash volumes plunged by an unprecedented 34% compared to the same period last year – a reduction of around SGD 7 billion in three months.
Sim S Lim, Group Head of Consumer Banking and Wealth Management at DBS Bank, said, "DBS' digitalisation journey, which began more than six years ago, has always been centred around our customers. As Singapore's largest digital bank, it's important that we stay ahead of the curve and continue to innovate – to ensure that our digital solutions not only meet our customers' needs, but also anticipate them and actively offer solutions, so banking becomes a seamless part of their lives. Through our Intelligent Banking capabilities, we have been laser-focused on delivering helpful and actionable insights that guide customers to make more informed financial and investment decisions – decisions that are even more crucial amid today's uncertainties. Our aim is to not only improve our customers' finances, but also to ultimately be of tangible value to their lives."
DBS digibank: Delivering meaningful insights so customers can make better financial decisions
Good financial management is key in ensuring long-term financial security, yet this sometimes takes a backseat when life gets busy. DBS digibank has a range of features aimed at informing, guiding and enabling customers to better navigate their everyday finances in a convenient and intuitive manner.
Personalised financial planning insights: NAV Planner, an industry-first financial planning solution embedded within DBS' digital services, enables customers to plan and monitor their financial goals by providing insights and recommendations, tailored to their life stages and financial circumstances. Since its launch in April, NAV Planner has helped over 1.1 million customers in Singapore with their financial planning needs and converted over 33,000 customers to net savers.
Uncover potential blind-spots: To ensure customers don't accidentally overpay on their discretionary expenses or automated payments, customers will be automatically notified in the event of any unusual or higher-than-normal bill payments. Between June and August 2020, an average of 48,000 customers per month benefitted from these alerts.

DBS iWealth: Smart triggers to anticipate customers' investment needs, a first in Singapore's wealth space
Staying abreast of market movements and developments is imperative when it comes to investing, but this can be time-consuming and challenging for most. To this end, DBS iWealth will roll out a range of industry-first smart triggers that bring together the bank's market insights, research expertise, and data-driven understanding of customers' individual investments and preferences, to empower customers to act on opportunities in a timely, informed manner.
Smart triggers for relevant equity & foreign currency (FX) price movements: By analysing customers' portfolio holdings and past investment activities, DBS iWealth will automatically alert customers to relevant equity and FX pricing movements, thus enabling them to take action to seize opportunities quickly. This is especially vital in today's volatile times.
Similar stock suggestions: For customers keen to discover new investments, DBS iWealth seeks to broaden their horizon whilst also saving time and effort spent self-sourcing by providing them with suitable stock recommendations, curated based on their preferences and the stock's performance, amongst other factors.
The announcement of DBS' Intelligent Banking features roll-out is part of the bank's ongoing journey to help both consumers and businesses go digital easily and effectively. Last week, the bank held its first virtual DBS Digital Day which brought together leaders from both the public and private sectors, subject matter experts, corporate clients and employees to share about their experiences and insights in harnessing the latest strategies and solutions to navigate the next normal.
[1] Between March to July 2020 alone, DBS saw a 200,000 increase in digital banking users

[END]
About DBS
DBS is a leading financial services group in Asia with a presence in 18 markets. Headquartered and listed in Singapore, DBS is in the three key Asian axes of growth: Greater China, Southeast Asia and South Asia. The bank's "AA-" and "Aa1" credit ratings are among the highest in the world.
Recognised for its global leadership, DBS has been named "
World's Best Bank
" by Euromoney, "
Global Bank of the Year
" by The Banker and "
Best Bank in the World
" by Global Finance. The bank is at the forefront of leveraging digital technology to shape the future of banking, having been named "
World's Best Digital Bank
" by Euromoney. In addition, DBS has been accorded the "
Safest Bank in Asia
" award by Global Finance for 11 consecutive years from 2009 to 2019.
DBS provides a full range of services in consumer, SME and corporate banking. As a bank born and bred in Asia, DBS understands the intricacies of doing business in the region's most dynamic markets. DBS is committed to building lasting relationships with customers, and positively impacting communities through supporting social enterprises, as it banks the Asian way. It has also established a SGD 50 million foundation to strengthen its corporate social responsibility efforts in Singapore and across Asia.
With its extensive network of operations in Asia and emphasis on engaging and empowering its staff, DBS presents exciting career opportunities. The bank acknowledges the passion, commitment and can-do spirit in all of our 29,000 staff, representing over 40 nationalities. For more information, please visit
www.dbs.com
.