DBS avails over 12,000 collateral-free loans totalling more than SGD 6.2 billion to SMEs in Singapore since start of Covid-19 pandemic
Close to SGD 1 billion in collateral-free loans approved to date in 2021, with 99% of these loans in Q2 2021 going to micro and small enterprises
To help SMEs cope with latest round of P2HA, DBS to speed up access to cashflow with industry's first contact-free digital loan acceptance solution
New solution will get cash into hands of SMEs even faster – time savings of up to a month when accessing working capital
Singapore, 26 Jul 2021 - With working capital the lifeblood of all SMEs, DBS has to date availed over 12,000 collateral-free loans totalling more than SGD 6.2 billion to SMEs in Singapore since the start of the Covid-19 pandemic. This includes close to SGD 1 billion in collateral-free loans approved to date in 2021. Micro and small businesses continued to receive the vast majority of these loans, with 99% of loans in Q2 2021, when Singapore went through its first heightened alert period, going to micro and small enterprises. These loans were issued primarily to businesses in sectors that continue to bear the brunt of the Covid-19 pandemic, including the food and beverage (F&B), retail, and building and construction (B&C) sectors.
With Singapore in the midst of another period of heightened alert to curb the spread of Covid-19, working capital and liquidity considerations continue to be the foremost concern for SMEs. In the most recent DBS SME Pulse Check Survey which was conducted with close to 200 micro and small enterprises in late May, ensuring sufficient cashflow and managing overhead costs were flagged as the top business priorities for micro and small businesses
[1]
.
To help SMEs gain even speedier access to working capital during this period, DBS is making loan acceptances a breeze by allowing its SME customers to accept loan offers with a click of their mouse or a tap on their phones.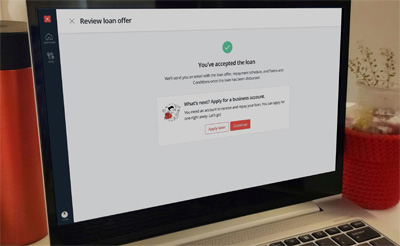 DBS digital loan acceptance solution
From today, DBS' SME customers will be able to accept loan offers on IDEAL, the bank's one-stop online corporate banking platform. This includes completing their loan acceptance procedures digitally at their convenience, from the comfort of wherever they choose.
The new process could in some instances net SMEs up to a month in time savings
[2]
by removing the hassle of scheduling physical meetups with their bankers or arranging for document drop-offs. These are two of the most common loan acceptance methods in the industry today. Availing contact-free, digital loan acceptance also helps safeguard the health of SME owners and their employees as Singapore adapts to Covid-19 being a fact of everyday life.
Joyce Tee, Group Head of SME Banking at DBS, noted that SMEs, especially micro and small enterprises, continue to be concerned about cashflow, especially with Singapore in its second round of Phase 2 (Heightened Alert). "Worries over cashflow are not going to fade away any time soon, so what we have been focused on is ensuring that SMEs get the working capital they need into their bank accounts with minimal delay. Through the industry's first digital loan acceptance solution, DBS is dramatically speeding up SMEs' access to vital working capital while saving precious time for business owners. By making banking more intuitive and invisible, our SMEs will be able to focus on more impactful aspects of fortifying their businesses during this period."
DBS' industry-leading digital loan acceptance solution is part of a slew of enhancements that the bank is incorporating into its loan application process, all with the aim of making access to working capital speedy and intuitive to SMEs. These enhancements include:
Streamlining the overall digital loan application journey, resulting in time savings of about a third from the 20 minutes it currently takes to complete a loan application;
Integrating SingPass authentication into the application process, removing the need for customers to manually upload their income and identification documents; and
Providing real-time tracking of application status, relieving SMEs of the need to call or email a bank representative for updates.
One Singapore SME that has benefitted from the convenience of DBS' new digital loan acceptance is Ordinary Kind, an omni-channel retailer in furniture and baby goods. Ng Yee Jie, the Founder and CEO of Ordinary Kind, said, "Cashflow is very important to small businesses like mine, but I was concerned that I would not be able to take out a new loan as I have been stuck in Malaysia for a while. It would have been impossible for me to come down to Singapore to meet my banker and sign the necessary documents given the border restrictions. Thankfully, DBS' digital solution has freed me of this worry, and all I need now is about five minutes on my phone to complete my loan acceptance procedures. This is truly not just a timesaver, but a real lifesaver for my company."
[1]
DBS SME Pulse Check Survey June 2021
[2] Time gap from the point a loan is offered by a financial institution to the point of formal acceptance by SME owner.

[END]
About DBS
DBS is a leading financial services group in Asia with a presence in 18 markets. Headquartered and listed in Singapore, DBS is in the three key Asian axes of growth: Greater China, Southeast Asia and South Asia. The bank's "AA-" and "Aa1" credit ratings are among the highest in the world.
Recognised for its global leadership, DBS has been named "
World's Best Bank
" by Euromoney, "
Global Bank of the Year
" by The Banker and "
Best Bank in the World
" by Global Finance. The bank is at the forefront of leveraging digital technology to shape the future of banking, having been named "
World's Best Digital Bank
" by Euromoney. In addition, DBS has been accorded the "Safest Bank in Asia" award by Global Finance for 12 consecutive years from 2009 to 2020.
DBS provides a full range of services in consumer, SME and corporate banking. As a bank born and bred in Asia, DBS understands the intricacies of doing business in the region's most dynamic markets. DBS is committed to building lasting relationships with customers, and positively impacting communities through supporting social enterprises, as it banks the Asian way. It has also established a SGD 50 million foundation to strengthen its corporate social responsibility efforts in Singapore and across Asia.
With its extensive network of operations in Asia and emphasis on engaging and empowering its staff, DBS presents exciting career opportunities. For more information, please visit
www.dbs.com
.