DBS and POSB Pop-Up ATMs for Chinese New Year in 2018 (CNY)
POSB new notes pop-up ATMs make highly-anticipated comeback – 36 machines will be rolled out across 27 community clubs islandwide
Customers can also reserve CNY new notes and good-as-new notes through online reservation
Singapore, 24 Jan 2018 - This Chinese New Year, DBS/POSB makes the withdrawal and collection of new and good-as-new notes a fuss-free experience with the return of POSB new notes pop-up ATMs and the rollout of an online reservation system on 29 January.
Starting Chinese New Year on the right note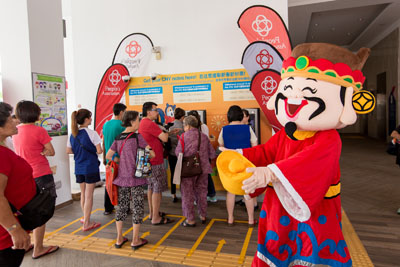 To increase customer convenience, this year, POSB will roll out 36 new-notes ATMs in more locations – 27 community clubs islandwide, up from 22 in 2017. There will also be increased options to withdraw notes in different denominations. Similar to last year, customers will be able to use their DBS/POSB cards to withdraw CNY new notes in sums of SGD 100 (SGD 2 x 50), SGD 300 (SGD 10 x 30) and SGD 500 (SGD 50 x 10). The bank will also make available for the first time, the option to withdraw cash in sums of SGD 200 (SGD 2 x 100), SGD 300 (SGD 2 x 50 + SGD 10 x 20) and SGD 500 (SGD 10 x 20 + SGD 50 x 6), reducing the need for multiple transactions.
This is the fourth year in which DBS/POSB is partnering with People's Association to roll out the new notes pop-up ATMs, a service which is highly popular among Singaporeans. In 2017, more than 110,000 customers made use of it, with the majority getting their notes outside of banking hours or over the weekends.
All new notes pop-up ATMs are accessible 24 hours daily, except for one located at Chong Pang Community Club, which will be available from 9am to 10pm daily. POSB ambassadors will be on hand to guide customers at various new notes pop-up ATM locations from 29 January to 14 February, 9am to 9pm.
Please click
here
to view the full list of pop-up ATMs.
Make an online reservation for CNY notes

DBS and POSB customers can choose from denominations of SGD 2, SGD 10 and SGD 50 via the online reservation system, and collect their new and good-as-new notes on their preferred dates and timings at all full-service branches. From 29 January onwards, customers can visit
go.dbs.com/sg-cnynotes
or
www.posb.com.sg/cnynotes
to reserve their CNY new notes.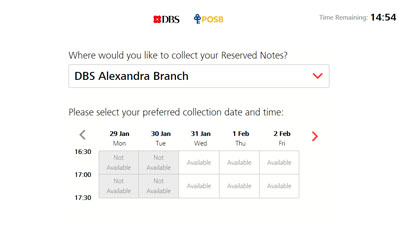 Collect or exchange CNY notes at all DBS and POSB Full-Service Branches
At all full-service branches, special priority queues will continue to be available for the elderly and those with special needs. Customers will also be able to use the SMS 'Q' notification service option to request for a queue number via SMS prior to visiting the branch and receive notifications on the availability of new notes. They can find their nearest branch's SMS number at
www.dbs.com.sg/personal/deposits/bank-with-ease/sms-q
.
Send eAng Baos with DBS PayLah!
As more Singaporeans spend Chinese New Year abroad1, DBS and POSB's digital offerings have also grown in popularity. DBS PayLah! (go.dbs.com/PayLah), Singapore's most popular mobile wallet with close to 800,000 users, has a special eAng Bao feature. The eAng Bao enables customers to carry on the tradition of red packet-giving with their families and friends even if they are apart. In particular, users who have loved ones working or travelling this festive season can send them an eAng-Bao via DBS PayLah! anytime, anywhere. The number of eAng Baos sent last year rose to a new high, being five times higher than that in 2016.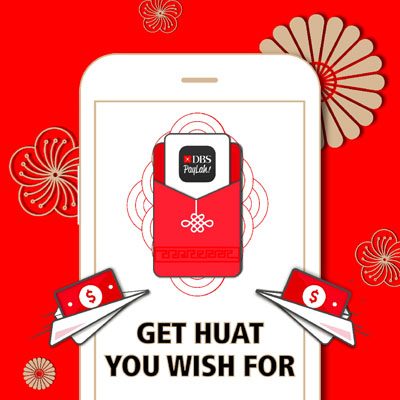 Skip the queues and deposit your money effortlessly

Customers who observe Li Chun, which falls on 4 Feb, can also conveniently deposit money into their bank accounts during their "lucky timings" via DBS PayLah!. Not only does this save them time, they also stand a chance to win SGD 88 when they make deposits to their accounts via DBS PayLah! on Li Chun. In 2017, an average of SGD 35 was deposited per transaction during Li Chun. Customers who prefer to make cash deposits can access over 440 DBS/POSB machines with cash deposit functions islandwide. To find out where these machines are located, please visit
https://www.dbs.com.sg/index/locator.page?pid=sg-dbs-pweb-header-default-atm-branch-textlink
.
Jeremy Soo, Managing Director and Head of Consumer Banking Group (Singapore), DBS Bank, said, "Every year, our customers tell us that they want to spend less time queuing for their notes and more time with their loved ones. We have taken their feedback seriously, which is why we are introducing more pop-up ATM locations this year. In addition, we have also upgraded our machines to hold more notes. The online reservation service as well as the eAng Bao feature complement our physical channels.
We believe Li Chun is a mix of tradition and modernity, and our customers should not have to 'work' for luck and prosperity. We made it easier and more convenient for them to skip physical queues and instead, deposit money via DBS PayLah! during their auspicious hour. By creating hassle-free and convenient banking experiences for our customers, we hope to make festive banking simpler and faster, so that they can focus on the people who matter."
DBS and POSB Red Packets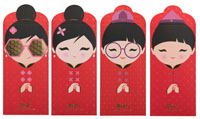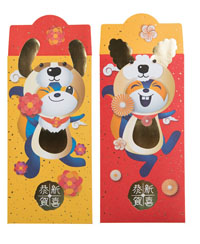 Customers collecting and withdrawing new or good-as-new notes at all DBS/POSB branches will receive two sets of either DBS or POSB red packets. Red packets will also be given to customers at the new notes pop-up ATMs.
Inspired by the 'animoji' trend, DBS' mascots Xing and Jaan are now supersized, super cute, and super chic for 2018. Each mascot comes in two designs - with/without spectacles/sunglasses - so customers can customise their gifting. Made from paper sourced from sustainably-managed forests, each packet is wrapped with the DBS "Spark" overlay in gold to evoke the festive spirit.
The POSB red packets feature beloved mascot Smiley attired in an adorable onesie, with "pop-out' fluffy ears when the envelope is closed.
DBS and POSB are offering a slew of exclusive deals for customers this festive season. For instance, customers stand a chance to receive SGD 88 cashback when they register and spend SGD 1,888 from 29 January – 4 March using their DBS/POSB cards*. They also stand to win SGD 88 when they send an eAng Bao from 25 January – 2 March or make a deposit into their accounts on Li Chun (4 February) with DBS PayLah!*. For more details on these promotions, please visit:
https://www.dbs.com.sg/personal/cards/promotions/default.page
.
[End]
About DBS
DBS is a leading financial services group in Asia, with over 280 branches across 18 markets. Headquartered and listed in Singapore, DBS has a growing presence in the three key Asian axes of growth: Greater China, Southeast Asia and South Asia. The bank's "AA-" and "Aa1" credit ratings, is among the highest in the world.
DBS is at the forefront of leveraging digital technology to shape the future of banking, and has been named "
World's Best Digital Bank
" by Euromoney. The bank has also been recognised for its leadership in the region, having been named "Asia's Best Bank" by several publications including The Banker, Global Finance, IFR Asia and Euromoney since 2012. In addition, the bank has been named "
Safest Bank in Asia
" by Global Finance for nine consecutive years from 2009 to 2017.
DBS provides a full range of services in consumer, SME and corporate banking. As a bank born and bred in Asia, DBS understands the intricacies of doing business in the region's most dynamic markets. DBS is committed to building lasting relationships with customers, and positively impacting communities through supporting social enterprises, as it banks the Asian way. It has also established a SGD 50 million foundation to strengthen its corporate social responsibility efforts in Singapore and across Asia.
With its extensive network of operations in Asia and emphasis on engaging and empowering its staff, DBS presents exciting career opportunities. The bank acknowledges the passion, commitment and can-do spirit in all of its 23,000 staff, representing over 40 nationalities. For more information, please visit
www.dbs.com
.
About POSB
A part of the DBS Group, POSB is the largest and oldest local bank in Singapore with over four million customers. Having served generations of Singaporeans for the past 140 years, it is known as the "People's Bank", and prides itself on being "neighbours first, bankers second".
With a good understanding of Singaporeans through the years, POSB offers products and services that are relevant to the savings, borrowing, investment and insurance needs of all Singaporeans. With over 50 branches conveniently located islandwide, and over 1,000 ATMs and Cash Acceptance Machines across the island, POSB's distribution network is the largest in Singapore.
POSB acknowledges the passion, commitment and can-do spirit in each of its staff. For more information, please visit
www.posb.com.sg
.