DBS and Nishi-Nippon City Bank sign MOU to collaborate in supporting Japanese SMEs in Asia
Singapore, 26 May 2017 - DBS, Southeast Asia's largest bank, and Nishi-Nippon City Bank (NCB) today signed a memorandum of understanding (MOU) to foster greater collaboration and support for Japanese SMEs in Asia in corporate banking account services, trade finance and capital market advisory solutions.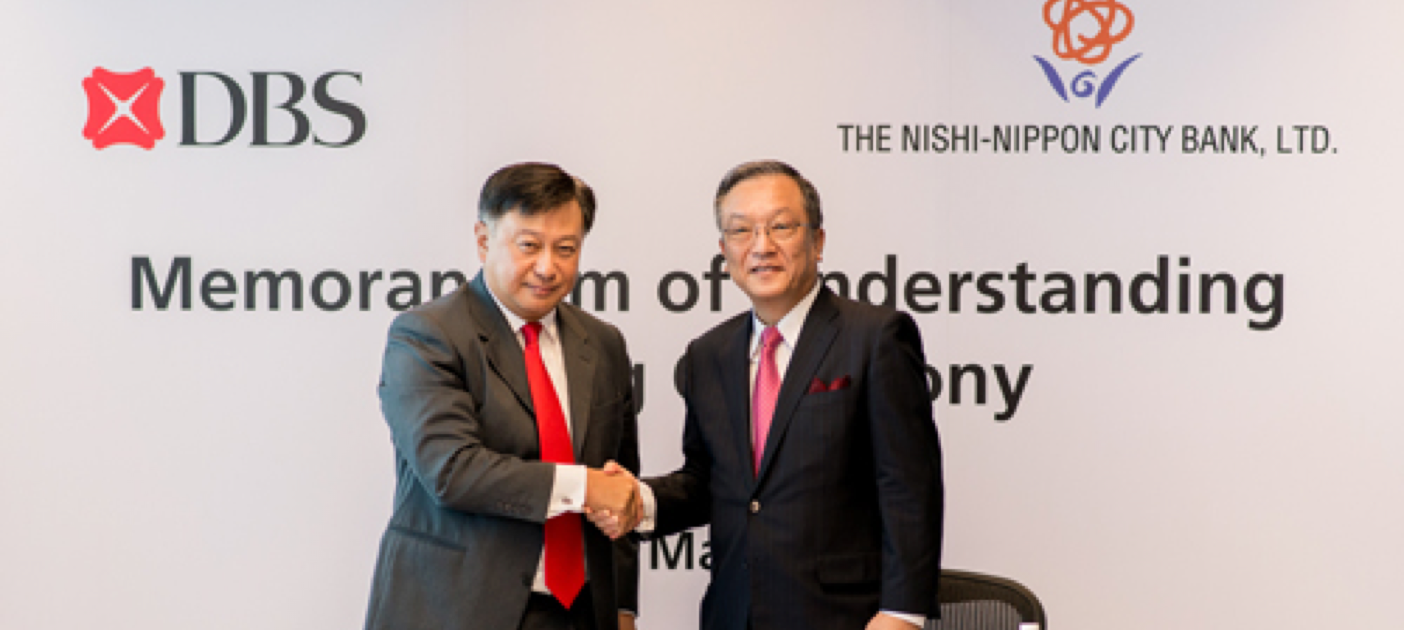 Images: (L-R) Mr Sim S. Lim, Group Executive of DBS and Mr Hiromichi Tanigawa, President of Nishi-Nippon City Bank sign MOU to collaborate in supporting Japanese SMEs in Asia.
According to the MOU, both banks will act as primary advising banks to letters of credit issued by each party and offer discounting of export bills. DBS will also issue bank guarantees such as performance and bid bonds on the back of a counter bank guarantee from NCB. In addition, DBS will provide investment banking and corporate finance advisory services to NCB corporate customers who are seeking to raise funds either through a primary or secondary listing on the Singapore Exchange.
Small and mid-sized Japanese companies, the main customers of regional banks like NCB, are making bigger inroads overseas, particularly into ASEAN countries. According to a whitepaper published by Japan' s The Small and Medium Enterprise Agency, 42.8% of Japanese SMEs have increased their presence overseas in ASEAN in 2013, up from 25.5% in 2010. In the Japan Bank for International Co-operation (JBIC)'s survey in December 2015, 75.2% of small and mid-tier enterprises said that they would "strengthen and expand" their overseas business in the medium-term. Regional banks like DBS are able to meet the increasing needs of Japanese SMEs in Southeast Asia for quality regional banking services.
Mr. Hiromichi Tanigawa, President of NCB said, "We opened our representative office in Singapore last March and our mission is to meet the various needs of our customers conducting business overseas. As DBS has an extensive network across Asia and expertise in serving SMEs, the partnership with DBS will help us better serve our SME clients who are expanding their business in Asia."
Mr. Sim S. Lim, Group Executive of DBS said, "We launched our securities business in Japan last August to act as an intermediary of investment flows between Asian corporates and Japanese investors. With this new alliance with NCB, we will be able to expand our Japanese client base to include small and medium enterprises with operations in Asia. We look forward to supporting their expansion here with our unique Asian insights and extensive network."
[End]
About DBS
DBS is a leading financial services group in Asia, with over 280 branches across 18 markets. Headquartered and listed in Singapore, DBS has a growing presence in the three key Asian axes of growth: Greater China, Southeast Asia and South Asia. The bank's "AA-" and "Aa1" credit ratings, is among the highest in the world.
DBS is at the forefront of leveraging digital technology to shape the future of banking, and has been named "
World's Best Digital Bank
" by Euromoney. The bank has also been recognised for its leadership in the region, having been named "Asia's Best Bank" by several publications including The Banker, Global Finance, IFR Asia and Euromoney since 2012. In addition, the bank has been named "
Safest Bank in Asia
" by Global Finance for eight consecutive years from 2009 to 2016.
DBS provides a full range of services in consumer, SME and corporate banking. As a bank born and bred in Asia, DBS understands the intricacies of doing business in the region's most dynamic markets. DBS is committed to building lasting relationships with customers, and positively impacting communities through supporting social enterprises, as it banks the Asian way. It has also established a SGD 50 million foundation to strengthen its corporate social responsibility efforts in Singapore and across Asia.
With its extensive network of operations in Asia and emphasis on engaging and empowering its staff, DBS presents exciting career opportunities. The bank acknowledges the passion, commitment and can-do spirit in all of our 22,000 staff, representing over 40 nationalities. For more information, please visit
www.dbs.com
.
About Nishi-Nippon City Bank
Headquartered in Kyushu's largest urban centre, Fukuoka City (population: 1.56 million), The Nishi-Nippon City Bank, Ltd. and the group companies of its holding company, Nishi-Nippon Financial Holdings, Inc. provide a diverse range of financial services, including investing and lending operations, credit guarantees and credit card services, as well as credit management and business consulting services.
The Group's core banking services provide community-oriented financial services that cater mainly to individuals and small and medium-sized enterprises (SMEs) in its host region of Kyushu, Japan.
As of March 31, 2017, The Nishi-Nippon City Bank, Ltd. has a nationwide network of 186 branches (Head Office, 164 branches, and 21 sub-branches), together with four representative offices in Hong Kong, Seoul, Shanghai and Singapore (newly opened in Mar. 2017).