DBS aims to hire another 100 of the best emerging technology talents
Brings back recruitment hackathon, Hack2Hire, to identify best candidates for eight tech roles
Singapore, 27 Mar 2018 - In an all-out effort to identify and hire the best emerging technology talent in Singapore, DBS announced today that it plans to hire up to 100 of the brightest tech sparks through its Hack2Hire programme. This will double the number of technology talent that the bank has hired through the same programme in 2017.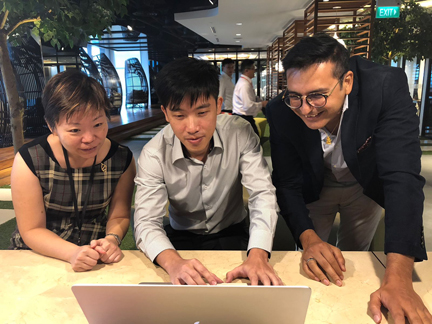 The DBS Hack2Hire programme consists of two parts. The first part is an online technical assessment designed by DBS's technology team to gauge the base skillsets required for the jobs. Those who pass the online technical assessment will then hack their way into solving real-life business use cases in a team setting using their technical, analytical and problem-solving skills in under 24 hours. Successful candidates will be offered a job within the same day.
Given the success of DBS' Hack2Hire recruits from 2017, DBS is expanding the programme's remit to hire for a wider range of technology skillsets. Last year, the bank recruited developers, data scientists and system engineers through the Hack2Hire programme. This year, it is not only hiring for these roles, but also looking to add scrum masters[1], user interface and user experience designers, mobile application developers, and solution architects, to create an all-rounded, Agile technology team[2].
Soh Siew Choo, DBS' Group Head of Consumer Banking and Big Data Analytics Technology, said that DBS is transforming digitally to keep pace with the fast-changing behavioural and consumption patterns of its customers. "To reimagine banking, it is important that we leverage the latest technology and embed ourselves in the customer journey. The new tech talents bring fresh perspectives and skillsets, and complement existing teams to enable us to continue making banking simpler and more effortless for customers."
The DBS Hack2Hire programme is the first such recruitment drive in Southeast Asia. Foo Cher Fong, a Data Scientist who joined DBS through Hack2Hire last year, said, "When I first joined DBS, it was completely different from what I imagined it to be. The culture is like a start-up and it is very dynamic. As an employee, I am constantly encouraged to give my best, learn more and improve further. In my previous company, I was dealing with data of a different variety, image processing and visual effects. The bank provided the relevant training to help me transition into my new role and learn how to master modern stack technologies."
Over the last five years, DBS has made significant investments in strategic technology initiatives to weave banking into the everyday life of its customers so that they can spend more time on people or things that they care about.
This includes initiating a comprehensive re-architecture of the bank's technology backbone as well as catalysing a change in culture within the bank to one that is more "startup-like" in nature. DBS' digital-first strategy has enabled it to broaden its footprint in growth markets like India and Indonesia without expensive physical distribution networks.
DBS has been recognised widely for its digital leadership, including being named "World's Best Digital Bank" by prestigious financial magazine Euromoney in 2016.
Candidates interested the DBS Hack2Hire programme should apply online https://www.dbs.com/hack2hire/sg/index.html
[1] Scrum masters are facilitators of an Agile team.
[2] An Agile team is a cross-functional team with different skillsets and knowledge to create new products and services.


[End]


About DBS
DBS is a leading financial services group in Asia, with over 280 branches across 18 markets. Headquartered and listed in Singapore, DBS has a growing presence in the three key Asian axes of growth: Greater China, Southeast Asia and South Asia. The bank's "AA-" and "Aa1" credit ratings, are among the highest in the world.
DBS is at the forefront of leveraging digital technology to shape the future of banking, and has been named "World's Best Digital Bank" by Euromoney. The bank has also been recognised for its leadership in the region, having been named "Asia's Best Bank" by several publications including The Banker, Global Finance, IFR Asia and Euromoney since 2012. In addition, the bank has been named "Safest Bank in Asia" by Global Finance for nine consecutive years from 2009 to 2017.
DBS provides a full range of services in consumer, SME and corporate banking. As a bank born and bred in Asia, DBS understands the intricacies of doing business in the region's most dynamic markets. DBS is committed to building lasting relationships with customers, and positively impacting communities through supporting social enterprises, as it banks the Asian way. It has also established a SGD 50 million foundation to strengthen its corporate social responsibility efforts in Singapore and across Asia.
With its extensive network of operations in Asia and emphasis on engaging and empowering its staff, DBS presents exciting career opportunities. The bank acknowledges the passion, commitment and can-do spirit in all of its 24,000 staff, representing over 40 nationalities. For more information, please visit www.dbs.com.