DBS' Neal Cross recognised as the most disruptive Chief Innovation Officer globally
Edges out competition across Europe and Asia to win Award; judges include Steve Wozniak and Richard Branson
Singapore, 30 Aug 2016 - A panel which consists of prominent business innovators including Apple co-Founder Steve Wozniak and Virgin Group Founder, Sir Richard Branson, has judged DBS' Chief Innovation Officer, Neal Cross, as the most disruptive Chief Innovation Officer (CIO)/ Chief Technology Officer (CTO) globally.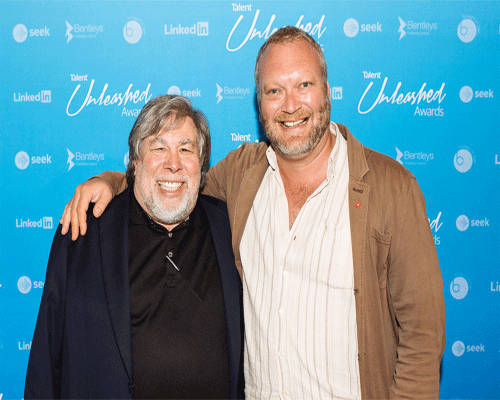 In a recent Talent Unleashed competition, which recognises exceptional individuals and organisations who are unleashing technology in the workplace and community, Cross edged out competitors from across UK, Europe, Asia, Australia and New Zealand to be recognised as the most disruptive CIO.
The judging panel was impressed with Cross' authenticity in catalysing innovation, enabling it to permeate the organisation, as well as his down-to-earth and practical approach in helping to roll out innovation across the bank.
Led by DBS CEO Piyush Gupta and his senior leadership team, together with Cross and DBS employees from virtually every part of the organisation, the bank has made re-imagining banking a significant part of its agenda. In July, DBS received worldwide recognition for its digitisation efforts and was the first bank to be named "World's Best Digital Bank" at the prestigious Euromoney Awards for Excellence. In so doing, it pipped BBVA, Citi and ING to this highly coveted award.
Said Gupta: "At DBS, we have spent the last three years intently pursuing a digital agenda. At the heart of this is our belief that with the rapid changes upon our industry, we need to transform the bank, and to turn it into a 22,000-person fintech. To be globally recognised at an organisational level by Euromoney, and now again as having the most disruptive CIO, is validation that our digital transformation is seen as being among the best in the world."
In recent years, DBS has undertaken an extensive innovation programme that includes the introduction of lean start-up thinking and human-centred design methodologies.
In 2015, DBS also enhanced its engagement with the start-up community with the launch of DBS HotSpot, a pre-accelerator programme for fintech, social enterprises and digital start-ups to encourage entrepreneurialism. The pre-accelerator was well received with over 250 applications made in the second run of the programme.
Wozniak, who led the panel selecting the Global winners, said: "The Talent Unleashed awards represent people who have had ideas, started companies and created products that either do good for society, help people or give us more in our life." He has been supporting the awards for the past three years.
Said Cross: "To be recognised at the global level is truly a great honour both for my team and myself. As a bank, DBS has been constantly driving innovation to re-imagine how banking can be done, so that customers can live more and do the things they want to do. We are honoured that the international community recognises these efforts."
The other winners at Talent Unleashed included:
- ODOCS as Best Start-Up – Social Impact
- CleverTar as Best Start-Up – Tech Innovation
- TherapyBox as Best Digital SME
- ResApp Health for Best Tech IPO/Venture Capital Raising
The five winners will travel to Silicon Valley for an exclusive tour of some of the world's leading technology companies and receive individual time with Wozniak to be guided on their continued innovation journey.

[End]
About DBS
DBS - Living, Breathing Asia
DBS is a leading financial services group in Asia, with over 280 branches across 18 markets. Headquartered and listed in Singapore, DBS has a growing presence in the three key Asian axes of growth: Greater China, Southeast Asia and South Asia. The bank's capital position, as well as "AA-" and "Aa1" credit ratings, is among the highest in Asia-Pacific.
DBS is at the forefront of leveraging digital technology to shape the future of banking, and has been named "World's Best Digital Bank" by Euromoney. The bank has also been recognised for its leadership in the region, having been conferred "Asia's Best Bank" by The Banker and Euromoney, and "Asian Bank of the Year" by IFR Asia. The bank has also been named "Safest Bank in Asia" by Global Finance for seven consecutive years from 2009 to 2015.

DBS provides a full range of services in consumer, SME and corporate banking. As a bank born and bred in Asia, DBS understands the intricacies of doing business in the region's most dynamic markets. DBS is committed to building lasting relationships with customers, and positively impacting communities through supporting social enterprises, as it banks the Asian way. It has also established a SGD 50 million foundation to strengthen its corporate social responsibility efforts in Singapore and across Asia.

With its extensive network of operations in Asia and emphasis on engaging and empowering its staff, DBS presents exciting career opportunities. The bank acknowledges the passion, commitment and can-do spirit in all of our 22,000 staff, representing over 40 nationalities. For more information, please visit www.dbs.com.