DBS/POSB – First bank in Singapore to introduce pop-up ATMs dispensing new notes this Lunar New Year
Offers customers numerous alternate locations to obtain new notes;further spreads festive joy through innovative digital offerings
Singapore, 20 Jan 2015 - Come this Lunar New Year, DBS/POSB customers will be able to get their new and good-as-new notes via specially configured ATMs – a first for a Singapore bank. The 29 pop-up POSB ATMs, specially designed to meet customers' need for greater ease and convenience, will be set up at 10 community clubs islandwide. DBS/POSB customers will also be able to withdraw new notes at all 58 SingPost branches in Singapore, up from six SingPost locations the previous year.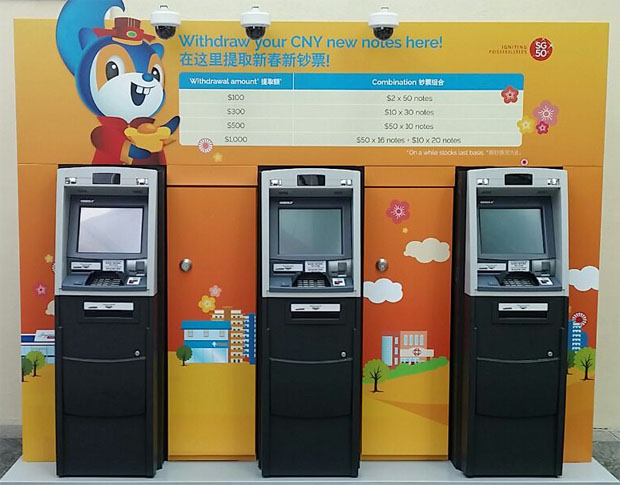 The pop-up POSB ATMs will be located at 10 community clubs at Bukit Batok, Chong Pang, Henderson, Kreta Ayer, Kampong Chai Chee, Mountbatten, Toa Payoh West, Yew Tee, Yuhua and Teck Ghee. The ATMs located at Chong Pang, Kampong Chai Chee and Teck Ghee will be in community clubs which are open from 9am to 10pm daily while the remaining ATMs in the other locations will be fully operational round-the-clock.
Jeremy Soo, Managing Director and Head of Consumer Banking Group (Singapore), DBS Bank, said, "The Lunar New Year season is a cherished time for our customers, their families and loved ones. We want to ensure that banking with us during this busy season will be as simple and fuss-free as possible, hence our push to provide as many alternate locations for notes exchange as possible."
"Many of the pop-up POSB ATMs will be operational round-the-clock so customers can obtain their new notes at a time most convenient to them. To celebrate this festive season, we are also introducing an array of innovative and meaningful digital offerings in the hope that they can help strengthen community ties and bring people closer together," he added.
Customers will be able to use their DBS/POSB ATM card to withdraw new and good-as-new notes in sums of SGD 100 (SGD 2 x 50), SGD 300 (SGD 10 x 30), SGD 500 (SGD 50 x 10) and SGD 1,000 (SGD 10 x 20; SGD 50 x 16) from these ATMs, up to their individual card limit. At all SingPost branches, customers can also use their DBS/POSB ATM card to withdraw new notes in two pre-packed options – SGD 500 (SGD 2 x 100; SGD 10 x 30) and SGD 1,000 (SGD 10 x 50; SGD 50 x 10).
The bank is also providing innovative ways to celebrate Lunar New Year via its new digital offerings. DBS PayLah! (go.dbs.com/PayLah), a mobile wallet that allows customers to easily send and receive cash via their mobile phones, now has a special "eAng Bao" feature. Users who have loved ones working or travelling this festive season can now send them an eAng Bao via DBS PayLah! anytime, anywhere.
Some things are even more precious than money – such as spending time with loved ones. Caught up in the busy rush of daily life and Lunar New Year preparations, many are hard pressed to set aside time to plan special activities with their family and friends. To celebrate this special season, DBS will be introducing DBS Joyous Moments, an online social tool that gives one that extra spark and push to spend quality time with loved ones. With DBS Joyous Moments, everyone can send tailored e-calendar invites to ensure that the holidays will be well-spent enjoying fun activities with family and friends. This service will soon be rolled out across four markets (Singapore, China, Hong Kong and Taiwan).
DBS/POSB Red Packets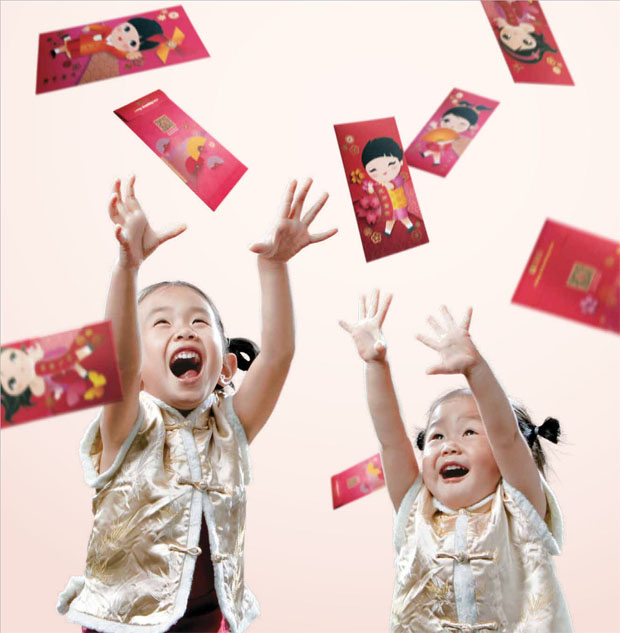 Customers withdrawing new notes at DBS/POSB branches and SingPost outlets will receive a set of either DBS or POSB red packets. The bank's staff situated at the pop-up POSB ATMs will also be distributing red packets to customers who have made withdrawals.
This year's highly anticipated DBS red packets showcasing the iconic and adorable DBS Girl and Boy, Xing and Jaan, will come in more varieties. Each packet now contains four designs featuring Xing and Jaan at play and celebrating the Lunar New Year by joyously spreading festive cheer. With the nation celebrating its golden jubilee this year, Singapore's well-loved mascot, Smiley, is placed in the front and centre of our POSB red packets. Always "Neighbours First, Bankers Second", POSB's red packets also depict multiple generations of Singaporeans celebrating the festive season in our heartlands and around Marina Bay.
Customers can also look forward to customising their red packets with auspicious red packet seals or stickers and to sending mobile/online Lunar New Year greetings to their family and friends by scanning the QR code on the back of the red packets.
For more information on DBS/POSB's new notes exchange initiatives this Lunar New Year, please visit www.dbs.com.sg/cnynotes or www.posb.com.sg/cnynotes.
(For high-resolution pictures, go here: http://go.dbs.com/17ZEW50)
[END]
About DBS
DBS - Living, Breathing Asia
DBS is a leading financial services group in Asia, with over 280 branches across 18 markets. Headquartered and listed in Singapore, DBS has a growing presence in the three key Asian axes of growth: Greater China, Southeast Asia and South Asia. The bank's capital position, as well as "AA-" and "Aa1" credit ratings, is among the highest in Asia-Pacific. DBS has been recognised for its leadership in the region, having been named "Asia's Best Bank" by The Banker, a member of the Financial Times group, and "Best Bank in Asia-Pacific" by Global Finance. The bank has also been named "Safest Bank in Asia" by Global Finance for six consecutive years from 2009 to 2014.

DBS provides a full range of services in consumer, SME and corporate banking activities across Asia. As a bank born and bred in Asia, DBS understands the intricacies of doing business in the region's most dynamic markets. These market insights and regional connectivity have helped to drive the bank's growth as it sets out to be the Asian bank of choice. DBS is committed to building lasting relationships with customers, and positively impacting communities through supporting social enterprises, as it banks the Asian way. It has also established a SGD 50 million foundation to strengthen its corporate social responsibility efforts in Singapore and across Asia.

With its extensive network of operations in Asia and emphasis on engaging and empowering its staff, DBS presents exciting career opportunities. The bank acknowledges the passion, commitment and can-do spirit in all of our 21,000 staff, representing over 40 nationalities. For more information, please visit www.dbs.com.