AETOS and DBS to convert full fleet to electric vehicles (EVS); Rolls out Singapore's first secure cash escort EV
As part of their commitment to carbon neutrality, AETOS and DBS will convert all 42 vehicles used by the bank to electric vehicles by 2026
Singapore, 04 Jun 2021 - AETOS and DBS today announced the launch of Singapore's first Electric Vehicle (EV) for Cash and Valuables Escort (CVE) services. The two companies have committed to convert the rest of the seven CVE vehicles to EVs by end-2023, and eventually all 42 of the operational vehicles used by the bank by 2026. This in line with the Singapore government's announced plans to phase out Internal Combustion Engine vehicles and boost the adoption of EVs by 2040.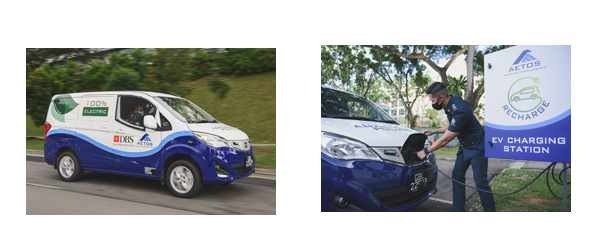 1. Aetos & DBS have committed to converting all 42 security vehicles used by the bank to EVs by 2026
2. Each AETOS EV charging station is able to fully charge an electric CVE vehicle in under eight hours
CVE vehicles are used to transport corporate cash from DBS/POSB's branches to a cash processing centre. On average, a single CVE vehicle travels more than 170 km daily. Using an EV instead of an internal combustion engine vehicle reduces carbon dioxide equivalent emissions (CO2e) by up to 47 kg per day – or some 17,100 kg of CO2e a year.
"AETOS is committed to achieving carbon-neutral operations as part of our drive towards sustainability with parent company Surbana Jurong. We strongly believe in working towards safeguarding the environment for future generations. We are glad to collaborate with DBS who supports our long-term goal for sustainability," said Mr Alfred Fox, Executive Director & CEO of AETOS Holdings.
Commenting on the partnership, Mr Shee Tse Koon, DBS Singapore Country Head said, "As part of our commitment to sustainable development, we have been encouraging partners within our ecosystem to adopt carbon reduction practices, in addition to lowering our own footprint. We are heartened to be working with a partner like AETOS, who has taken concrete and comprehensive steps towards reducing carbon emissions and who shares our vision for a better, more sustainable future."
In its drive towards EV adoption, AETOS will be installing charging infrastructure at their various operational bases, starting with the first alternative current (AC) charging station at their West Coast premises. Each station is able to fully charge an electric CVE vehicle in under eight hours.
Supporting a holistic effort towards long-term sustainability, other initiatives implemented by AETOS include tracking and monitoring of its operations' carbon footprint, rolling out electronic waste collection stations, and developing operational working apparel made from sustainable materials for its frontline officers by 2022.
In addition to working with its partners to reduce carbon emissions, DBS is committed to reducing its own environmental footprint as part of its sustainable development agenda. The bank has set targets for its operational carbon footprint to ensure net zero operational carbon by 2022. DBS is also re-designing its 24/7 self-service branches to be more energy efficient, reducing its office paper consumption and growing its solar energy capture spaces. In April, the bank also launched the DBS Green Solutions package which provides a comprehensive range of offerings and privileges so consumers can easily integrate green practices in their daily lives – from within their homes, to their transportation modes, to their payments and purchases.
[END]
About DBS
DBS is a leading financial services group in Asia with a presence in 18 markets. Headquartered and listed in Singapore, DBS is in the three key Asian axes of growth: Greater China, Southeast Asia and South Asia. The bank's "AA-" and "Aa1" credit ratings are among the highest in the world.
Recognised for its global leadership, DBS has been named "
World's Best Bank
" by Euromoney, "
Global Bank of the Year
" by The Banker and "
Best Bank in the World
" by Global Finance. The bank is at the forefront of leveraging digital technology to shape the future of banking, having been named "
World's Best Digital Bank
" by Euromoney. In addition, DBS has been accorded the "
Safest Bank in Asia
" award by Global Finance for 12 consecutive years from 2009 to 2020.
DBS provides a full range of services in consumer, SME and corporate banking. As a bank born and bred in Asia, DBS understands the intricacies of doing business in the region's most dynamic markets. DBS is committed to building lasting relationships with customers, and positively impacting communities through supporting social enterprises, as it banks the Asian way. It has also established a SGD 50 million foundation to strengthen its corporate social responsibility efforts in Singapore and across Asia.
With its extensive network of operations in Asia and emphasis on engaging and empowering its staff, DBS presents exciting career opportunities. For more information, please visit
www.dbs.com
.