DBS MAX removes the need for physical payment terminals, replacing them with mobile phones
When travel agencies like Chan Brothers Travel participate in offsite travel fairs, they often rent e-payment terminals to receive payment from their customers.
However, setting up these payment terminals can often be cumbersome, and may take up a significant portion of the front counter space – a valuable piece of real estate that could be better used for promotional activities or material.
DBS MAX could make physical payment terminals a thing of the past.
A mobile app designed for small and medium enterprises, DBS MAX allows business owners to generate QR Codes on their mobile phones, at any place and at any time, which customers can then scan to make payments in real-time.
The QR Code payments go through PayNow, a peer-to-peer funds transfer service available to retail customers of nine participating banks in Singapore. PayNow transfers can be made using any of the existing mobile banking apps of the participating banks.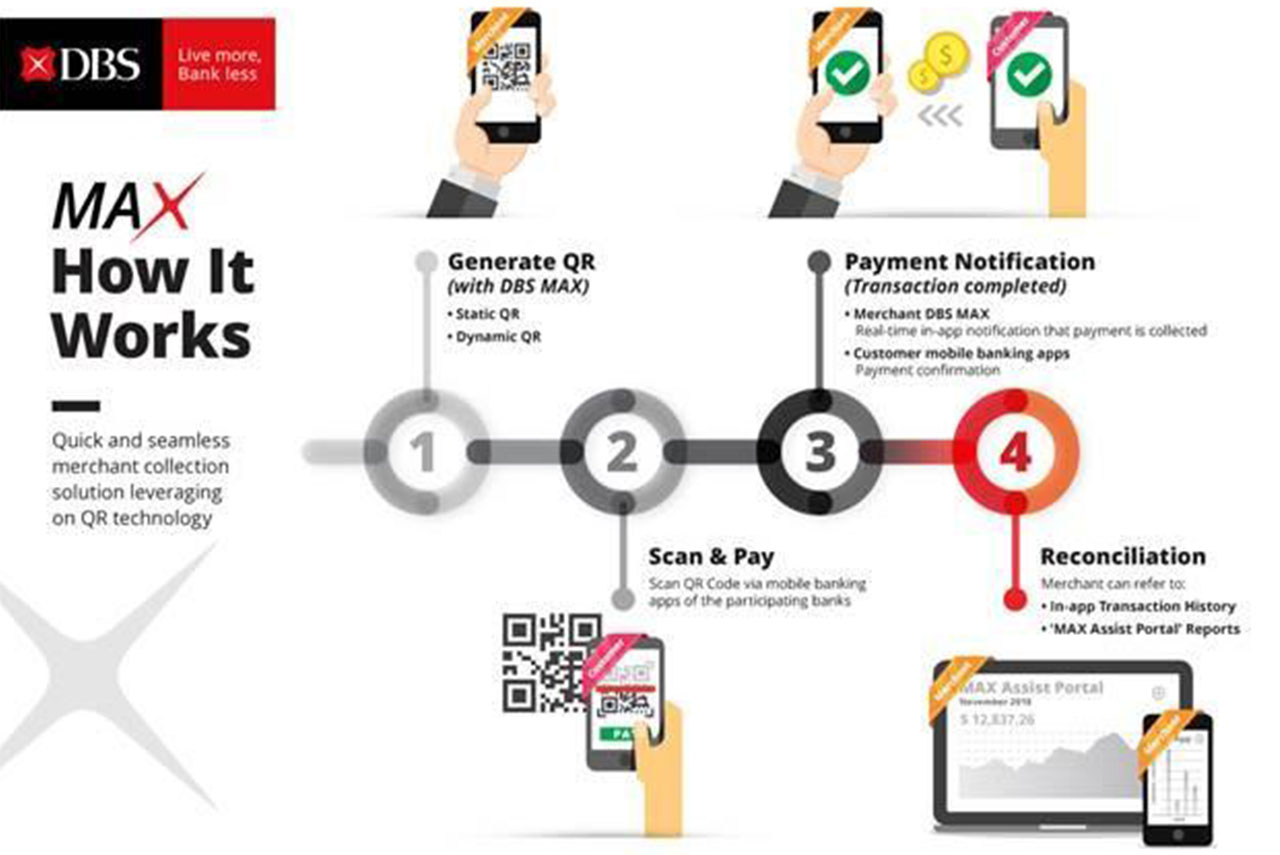 Chan Brothers Travel foresees that DBS MAX could allow it to be more creative when completing transactions with customers.
"We think that DBS MAX is a truly mobile solution which is not tied down by wires or terminals," says the travel agency.
"Especially for events like travel fairs, where speed and convenience are key, we foresee ourselves delivering an enhanced customer experience so that our customers can get onboard their dream vacation even faster. We look forward to getting onboard when the solution goes live this month."
– Chan Brothers Travel
Besides providing more convenient transaction points at no additional cost, DBS MAX also allows retailers to track their sales quickly and easily.
Once a transaction is complete, the funds will be credited to the business' bank account instantly, and all sales will be automatically consolidated into a report at the end of each day, automating the book-keeping process for SMEs. This is particularly useful for businesses with multiple outlets, as DBS MAX updates their headquarters of funds received in real-time across their entire franchise.
Ms Wong Mee Ching, a director at Cristofori Music says the automated end-of-day reconciliation is a key benefit she is looking forward to. She believes automating the book-keeping process can allow her centre managers to spend more time interacting with customers and less time on administrative duties.
"We currently have in place numerous point-of-sale terminals at our customer counters in each school. With DBS MAX, we can eliminate all that clutter and save on the rental cost of physical payment terminals," she says.
DBS MAX will be available to all DBS SME and corporate customers from 26 November 2018. During its pilot phase, the bank enrolled close to 1,000 businesses to gather their feedback on their ideal payment collection solution.
One pilot participant was homegrown SME, Happy Fish Swim School, which offers swimming lessons to children and adults of all ages.
Watch DBS MAX - A Happy Fish Story 1:30
"DBS worked with us to understand the pain-points in our business during the process of designing DBS MAX," says Mr Jay Tan Jian Yong, Director and Founder of Happy Fish.
"Our usual mode of payment collection was done via bank transfers and cash, which can be a hassle for our customers. But with DBS MAX, we are now able to collect payments instantly, helping us improve our cash flow and automatically reconcile our books at the end of each day, which is a win-win for us.
"The solution also reduced the administrative nature of manual payments so that our staff can focus more on providing a better service experience to our customers," he adds.
DBS MAX will be rolled out to Hong Kong by December 2018. The bank hopes to reach over 6,000 SMEs over the next six months, with plans to implement the solution in more countries in the coming year.