The talent incubator: Training, developing and upskilling new generations in DBS style
By DBS and The Nutgraf, 2 Aug 2023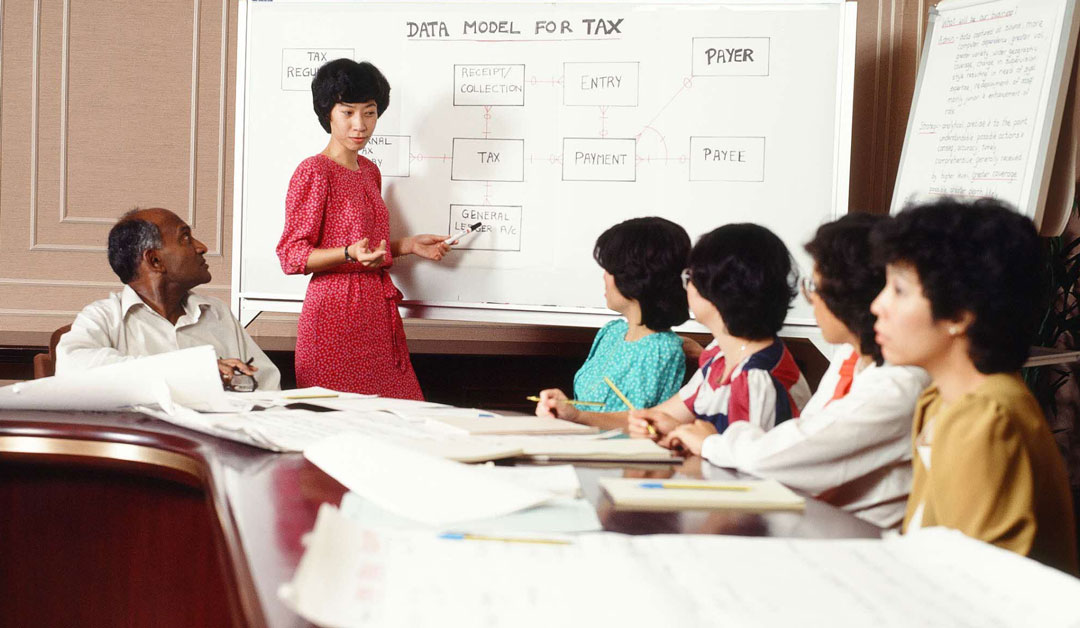 The articles in this series are presented jointly by DBS and content agency The Nutgraf. In the lead up to the bank's 55th anniversary, The Nutgraf team interviewed 12 alumni to uncover these lesser-known stories about the bank in its early days, and its key contributions to a young and developing Singapore.
The table is clad in white linen, the silverware meticulously set. The guests take their seats, gently unfolding their napkins and placing them neatly on their laps. A three-course meal is in order.
But first, the basics. Always start by using the outermost utensils, before working your way inwards as the next course arrives, they are told. Make sure to butter your bread on the plate, and only the piece you are about to break off to eat. Never rest your elbows on the table.
What seemed to be a luxurious night out was actually work. The 45 guests were, in fact, DBS employees attending an etiquette course at the Singapore Hotel and Tourism Education Centre (SHATEC) to learn the dos and don'ts of fine dining.
The reason? To woo customers in DBS' newly established custody banking business. Most of the bank's American and European clients often stayed for meals when they were visiting, meaning that staff had the additional responsibility of entertaining them. Competition was stiff as the bank was relatively late to enter the custody market in 1986, a "new kid on the block" where major competitors – Citibank, Standard Chartered and Hong Kong Bank – had already made their mark.
DBS pulled out every possible stop to catch up, including learning how to charm potential clients, making tangible improvements to their product suite and services through substantial investments in technology and training, as well as promising a 24-hour response time. The efforts paid off, with their customer base growing quickly.
By 1996, the custody team had grown almost four times in size to about 170 employees. Today, DBS has custody operations in China, Hong Kong, India and Indonesia.
As Mr Nawaz Vilcassim, who led the custody banking team in the late 1980s, quipped, "When there's a will, there's a way."
Indeed, there was a will and there was a custom – a custom of growing talent from within. The bank's deep commitment to training its employees, including in less intuitive areas like etiquette, lies at the heart of its success.
From its inception, it has always been a training ground for diverse talent from all backgrounds. Many of the bank's senior management and staff were not from finance backgrounds: Mr Vilcassim was a lawyer; Mr Loh Soo Eng built oil rigs in the shipbuilding industry before joining DBS' property unit; Ms Koh Soo Boon graduated in mathematics and started out as a trader despite having zero knowledge in banking – the list goes on.
"If you look at financial services, your biggest asset is actually people," said Mr Tan Soo Nan, who was Senior Managing Director at the end of his 29-year career at DBS. "Because with the right people, the right talent, the right motivation, the right commitment, you'll get what you want."
Setting the ball Rollei-ing
It was during the early Rollei days that DBS first witnessed the multiplier effects of nurturing talent.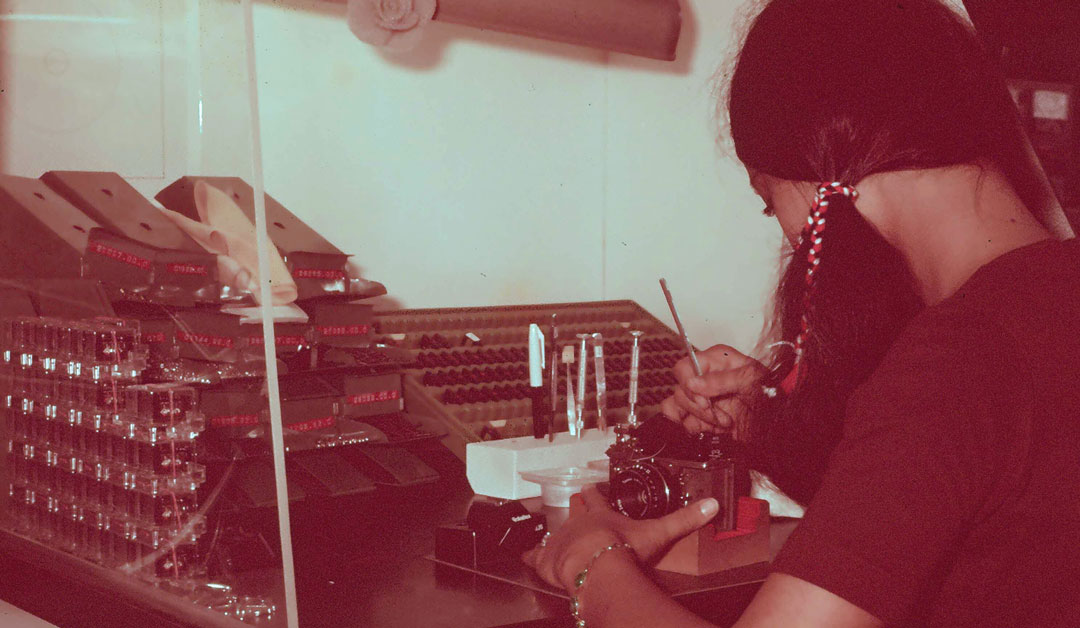 For one, DBS' financing of Rollei was a double bonus for Singapore. Rollei was a global leading camera manufacturer then and having a world-class company invest in a tiny island would help to win the attention of other big companies too.
But more importantly, this investment also had a more critical objective: talent building. The German manufacturing facility in Singapore created hundreds of high-value and high-skilled jobs, in line with the government's plan to pivot from labour-intensive industries to capital- and skill-intensive activities.
In particular, the facility would train a strong Singaporean base in technical operations – including the likes of lathe operators, tool and die engineers, optical engineers and craftsmen – which was hugely important at a time the country was starting to industrialise more aggressively. The Rollei Government Training Centre was also set up by the government to train both Rollei employees as well as Singapore industries at large for various technical jobs.
Rollei quickly became one of the largest investors in Singapore, employing over 5,000 people. Mr Vilcassim was one of them, joining in 1973 as a corporate secretary in charge of the company's insurance and other legal matters.
In fact, many Rollei-trained individuals went on to become key figures who kickstarted burgeoning industries. For instance, the founders and original team at world-class precision engineering company Amtek Engineering were ex-Rollei employees.
These training efforts were so successful that by the time Rollei closed in 1981 due to the onslaught of Japanese competition, most of Rollei's ex-employees were quickly snapped up by other companies within mere months.
Mr Vilcassim recalled converting the huge canteen at their Kampong Chai Chee headquarters into an HR recruitment fair so that his employees "could be employed straight away". HR managers across the nation were on the hunt for staff well-trained in precision technology and they wanted his people to get employed quickly. Indeed, in November 1981, Mr Vilcassim himself joined DBS.
Despite Rollei's eventual closure, there was no doubt that the investment had paid off, said Mr Vilcassim, adding that "DBS' investment in Rollei was hugely profitable from a national point of view".
Levelling the playing field
The Rollei episode underlined a key principle: people matter. And this was the guiding principle that the bank followed when it came to training its staff.
"When we worked with our counterparts in other banks, our people always stood out, despite how young they were. It was because of the training, the exposure and the coaching we provided," Ms Lim Sok Hia, who had been with the bank for 26 years, said.
At DBS, fresh graduates were not judged by their relative inexperience, but by their potential. They were brought to the table to interact directly with clients, albeit accompanied by their seniors – a deliberate move that signified the bank's trust in its people.
Ms Choong Yang Ping, then Chief Operating Officer of Group Technology & Operations, recalled being entrusted with important responsibilities even as a young officer. One of her major assignments included being tasked to work in Hong Kong to set up a new trade processing hub, in order for DBS to venture further into investment and business opportunities in China.
"I thought that was the recognition given to my contributions, from the bank's perspective. When I was asked to go to Hong Kong without any prior experience in doing integration, I took pride in that," she said.
When it came to recognising and rewarding talent, the bank looked beyond seniority and credentials, which was a norm in the banking industry in the 1970s and 1980s. Instead, it chose to look at attributes such as employees' abilities to deal with difficult situations and evaluate projects.
Mr Tan said, "For me it's always about looking at people and saying, 'I think you can do the work.'…Forget about (academic achievements or qualifications). They are no longer relevant when you join and work in a place like DBS."
Tried and trusted
Empowering employees was also a key thrust of the bank's talent development efforts. Gatekeeping and micromanaging were at odds with the egalitarian nature of the organisation, and seniors handed down the tradition of giving their subordinates autonomy and support to start new projects, manage new initiatives and make critical decisions.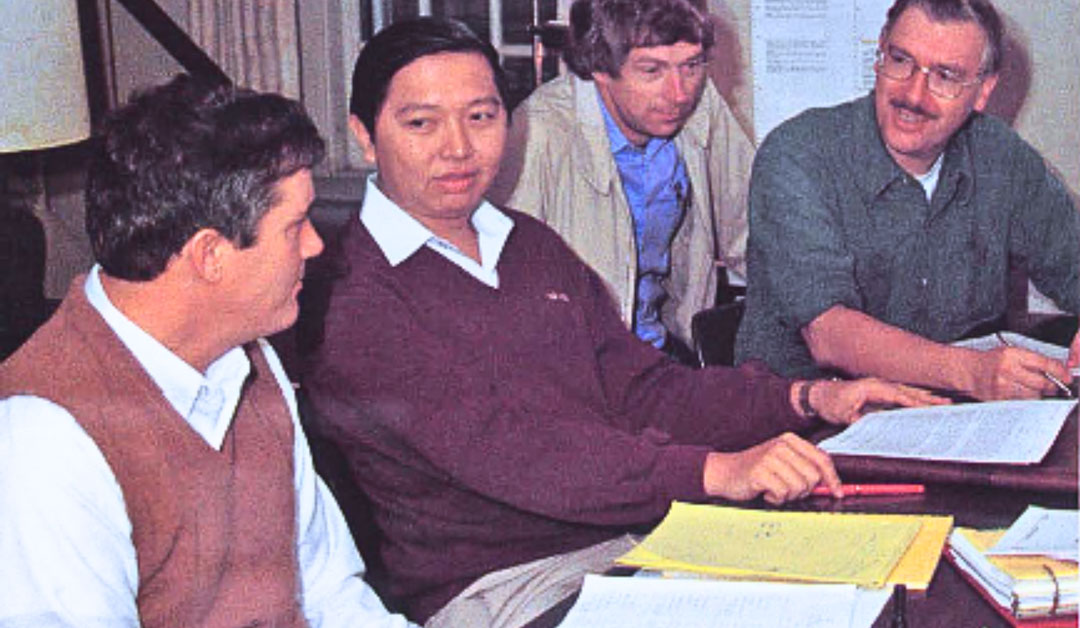 Though Mr Tan was considered to be the "father of custody banking" when it was set up in 1986, he never hogged the spotlight, making it a point to always keep Mr Vilcassim in the loop. A year and a half later, in 1988, he felt confident in handing over the reins to his disciple, giving him the space and latitude to handle this fledgling business.
"Soo Nan told me to visit the United States, Europe and Japan to meet with clients, to tell them that I was now in charge, and to bring in a new face to the product," said Mr Vilcassim. The fact that the business had earned over SGD 10 million under Mr Vilcassim's leadership was, no doubt, a plus.
It is a management style that Mr Tan inherited from his boss, Mr Howe Yoon Chong, Chairman and President of DBS from 1970 to 1979. He recalled an instance where DBS, the only Singapore bank in a group of international banks, was handling a transaction for the European Investment Bank. They had come to a stalemate on whether to lower or increase interest rates for a pricing issue regarding the Asian dollar bond market, resulting in a discussion that lasted for more than three hours past ten o'clock at night.
Mr Tan decided to keep Mr Howe in the loop, considering that this was an international transaction, but the latter's response was straightforward, and oddly comforting in its brevity: "If you had done your homework, and if you believe that your position is correct, stay with it. And if there should be any negative fallout or comment, don't worry, I'm with you."
As Mr Tan said, "His style, in a way, encouraged you to grow. Because it gives you room to explore new ideas...He encourages you to be more than what you think you can do."
Multiplying talent from the inside
But talent management was more than just ensuring DBS staff had the requisite skills. It also meant making sure staff kept up with developments in the industry.
Ms Choong, who joined DBS as a trainee officer in 1982 in the Bills and Remittances (B&R) department, remembered benefitting from the mandatory year of training that allowed her to learn the "nuts and bolts" of banking, while undergoing job attachments at other related departments to understand how the entire ecosystem worked together.
"The reason I stayed in DBS and never thought I would change my job is because I've been kept very busy, as there were so much to learn and grow" she laughed. Across her 14 years in B&R, she had rotated to all trade finance product areas as team lead, and later became Head of Trade Finance Operations before she headed up Cash & Trade Ops when B&R was merged with all other operational functions to form the Operation Unit called Processing & Servicing.
She wanted to pay it forward. Specifically, she understood the importance of training and was proactively involved in training and equipping new joiners in operations even at the early days of her career, an area in which she feels is sorely underrated. "(To me), operations should not be regarded as the back office and play a passive role. Though some people may think that operations only take instructions, but the truth is that if you see the bank as a restaurant, then operations is just like a kitchen. How can a restaurant be customers' top choice if it is unable to cook a fantastic meal?"
In around 2013, when Ms Choong was fully in charge of operations to support the Institutional Banking Group, she implemented the "Change-the-Bank" and "Run-the-Bank" organisation structure devising a standardised framework to achieve operational excellence across all of DBS' major markets and international centres so that the bank would continue to offer the best and standardised services to its customers worldwide at all times through continuous improvement.
In-house trade and cash academies were born. With structured programmes in place, all new joiners and newly promoted managers in all locations had to master comprehensive product knowledge to enable operations to serve as the bank's anchor.
Prior to 2013 while she was heading up T&O HK, she set up a Graduate Associate programme in Hong Kong to build a talent pipeline in operations. This programme was subsequently brought back home to Singapore and rolled out in other major locations. The programme has been run for more than 10 years since, and has been successful in achieving its objectives by equipping young talents with good operational knowledge and this benefits not just for Operation but for other Business and Support units as the talents get rotated across functions.
When DBS embarked on its digital journey in recent years, Ms Choong worked with Tech team to redesign operational and service fulfilment capabilities through deployment of advanced digital tools and knowhow. One key success factor is to rollout "Future Ready Workforce" program through identifying future skills required and equipping Ops folks to perform their new roles. Today, these initiatives continue as DBS looks to future-proof its workforce. The DBS Future Tech Academy, an in-house digital training institute launched in 2021, is just one of many examples.
If DBS were a football team, it is safe to say that nobody is a benchwarmer. As Mr Vilcassim once said, "You must take the ball and run." And one thing's for certain – everyone has a chance to take the field.