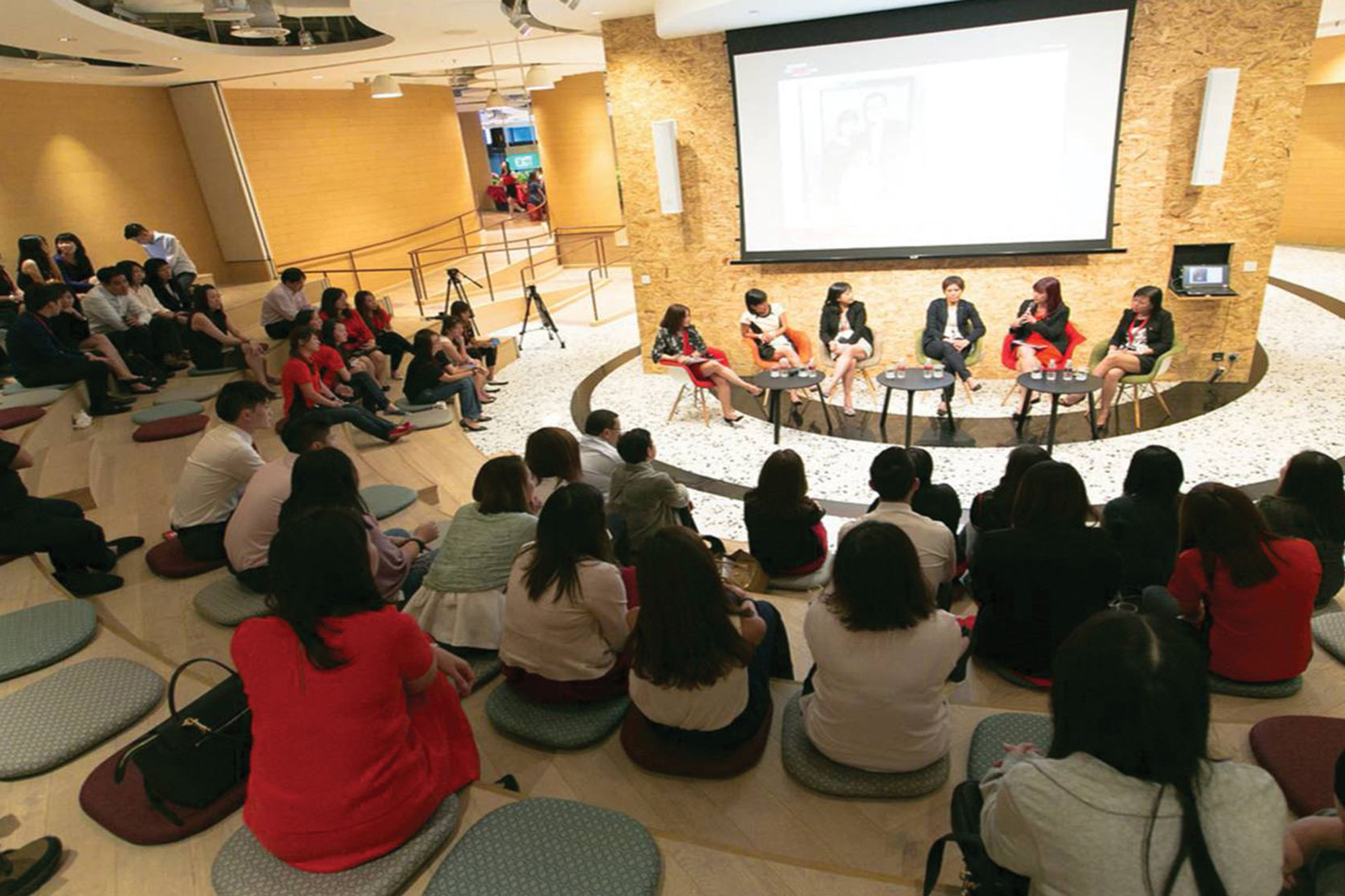 In today's fast-paced and constantly evolving business landscape, it's essential for employees to have the skills necessary to adapt to change and stay ahead of the curve.
To enable our employees to do so, upskilling and reskilling has been a key focus for the bank.
For instance, in 2020, DBS announced we would train over 8,600 employees across the bank in emerging areas with technological advancement such as design thinking, data and analytics, artificial intelligence, machine learning and agile practices. This was part of our range of initiatives to embrace the future of work amid the changes brought about by the pandemic, so as to bolster our future-ready workforce.
As we embarked on our digital transformation journey in 2014, we invested heavily to upskill our employees so that no one would be left behind. We were the first bank in 2015 to incorporate hackathons into our talent development programme, where we had employees partner start-ups to create prototype mobile apps, exposing them to fintech culture, agile methodology and more.
In 2017, DBS also announced a SGD 20 million investment over five years to equip 10,000 Singapore-based employees with skills in digital banking and emerging technologies.
In 2021, we also launched the DBS Future Tech Academy, an in-house digital training institute to keep its close to 5,000-strong technology workforce updated with skills in six areas: Site Reliability Engineering (SRE), Artificial Intelligence and Machine Learning (AI/ML), cybersecurity, cloud, blockchain and Internet of Things (IoT).
Here are other ways DBS Bank is committed to stay ahead by continuing to provide upskilling and reskilling opportunities for our employees.
Upskilling vs. Reskilling
Upskilling is the process of enhancing an individual's existing skill set, while reskilling involves learning new skills entirely. Both processes play a crucial role in ensuring that the workforce is prepared for the future. In fact, The World Economic Forum predicts that by 2025, 50% of all employees will need reskilling.
How the workforce benefits from upskilling and reskilling
When it comes to reskilling and upskilling programmes, we believe the learning experience should be enjoyable and engaging. DBS' training programmes are designed to provide employees with a hands-on, interactive learning experience that allows them to fully immerse themselves in the material. This approach to learning not only helps employees learn new skills, but also helps to build their confidence and motivation. This ultimately benefits the long term careers of our people.
One such example was the DBS x AWS DeepRacer League, in collaboration with Amazon Web Services (AWS) back in 2020, where some 3,000 employees learnt Artificial Intelligence and Machine Learning skills through a series of hands-on online tutorials.
Employees then put their skills to the test by programming their own autonomous model race car in a virtual racing environment.
For Ray Goh, Executive Director of Technology & Operations at DBS, this programme was his stepping stone to the global stage. In the AWS DeepRacer League F1 ProAm Event in May 2020, he emerged as the global champion, even surpassing McLaren driver Daniel Ricciardo.
"I'm delighted to be able to make Singapore and DBS proud, and more importantly, to inspire my colleagues to join me in developing a deeper level of mastery in Artificial Intelligence and Machine Learning, which are both important skills for the bank and the digital economy," he said.
Where to begin?
So, where should businesses begin in their efforts to upskill and reskill their employees?
First, it's important to assess the skill sets of individual employees and determine what areas they need to improve in. This will help to determine the best upskilling strategies for each individual. For example, some employees may need to develop technical skills in areas such as artificial intelligence or digital transformation, while others may benefit from leadership and communication training.
We offer a range of upskilling programmes to help employees bridge the skills gap. From leadership development to technical training, the bank provides employees with the tools they need to advance their careers and stay ahead of the curve.
One such initiative is "iGrow", a personalised career companion for every DBS employee. It uses machine learning and artificial intelligence to help identify future career paths, and the skills required to reach these goals.
It can also identify suitable roles employees can move into as part of DBS' internal mobility programmes.
Stay prepared for the future
Reskilling employees is also a crucial aspect of the learning experience. As the business world continues to evolve, and technological advancements are made, employees must be equipped with the latest skills and knowledge to keep up. DBS provides reskilling programmes as well as supports our employees who are keen to transition into new roles or industries.
Paremswari Rajandiran, a bank teller for 21 years, had always dreamed of becoming a Wealth Planning Manager. When her three daughters were old enough and busy in school, in the name of learning new skills, she enrolled in a part-time diploma in Business Accounting at Nanyang Polytechnic, with the full support of her manager.
For three years, her learning experience meant juggled work and night classes. When she graduated, she approached her manager to inquire about changing roles.
To become a WPM, she still had to sit for six additional tests, as required by the Monetary Authority of Singapore (MAS). DBS fully funded the course, and as of March 2022, she's now a full-fledged WPM.
"In my new role as a WPM, I'm glad that my decades of experience as a teller have come in handy – I am comfortable interacting with customers on a one-to-one basis, and meeting their every banking need.
At the same time, the role has challenged me to be more proactive, such as calling our customers from leads or setting up appointments. Previously, customers came to me, but now I have to run and chase after them!
Despite the steep learning curve, I've decided to take every day as an opportunity to grow. This means learning to be okay with failing, and not tiring from trying over and over again."
That was truly a benefit of reskilling. Thanks to the bank's initiatives, today, over one-third of all job vacancies in the bank are filled by internal candidates. Our employees also continue to remain highly engaged, with our ranking increasing from the 87th percentile in 2020 to the 91st percentile in the 2021 Kincentric My Voice Survey.
Helping businesses stay ahead
Our reskilling initiatives aren't just limited to bank employees - DBS has also partnered with SkillsFuture Singapore to launch the DBS SME Skills Booster Programme to help SMEs improve productivity and efficiency by creating a learning and development plan that is aligned with their long term business aspirations.
The benefits of reskilling and upskilling go beyond just individual employee development. By investing in their employees, businesses can close the skills development gap and stay ahead of the curve in the ever-changing world of work. In addition, a well-trained workforce can lead to increased productivity, better performance, and a more positive work environment.