We supported hard-hit communities in a myriad of ways – by providing meals and medical equipment to those in need, supporting social enterprises via grants and loans, banking underserved segments like migrant workers, and tackling loneliness and social isolation through our employee volunteerism programme.
Supporting hard-hit communities in the region
Set up the SGD 10.5 million DBS Stronger Together Fund to help communities hard hit by Covid-19 across the region. We provided 4.5 million meals and care packs to vulnerable segments, and funded the procurement of diagnostic test kits, personal protective equipment and other medical supplies for communities in need.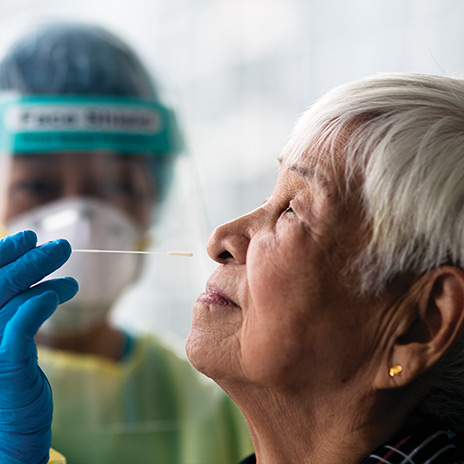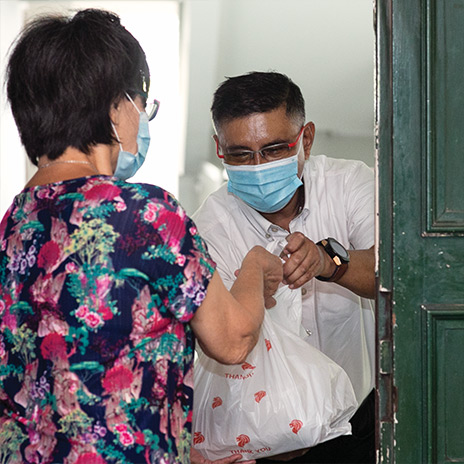 Doing good while supporting livelihoods
Rahim's job as a limousine driver for DBS Asia Treasures was impacted by Covid-19. Though he continued to receive a base salary, his earnings took a hit as he no longer had additional trip allowances from ferrying clients. To support Rahim and the bank's fleet of drivers, DBS reached out to them to support the distribution of free meals to the elderly and low-income families while providing them additional income from trips – all of which were made possible through the DBS Stronger Together Fund.
Providing funds to businesses for good
Stepped up support for social enterprises (SEs) with SGD 9 million in loans and grants. This is DBS' largest collective disbursement of loans and grants within a year to SEs since the inception of the DBS Foundation in 2014. Many of the SEs were able to use the funds to create and retain jobs, especially from disadvantaged communities.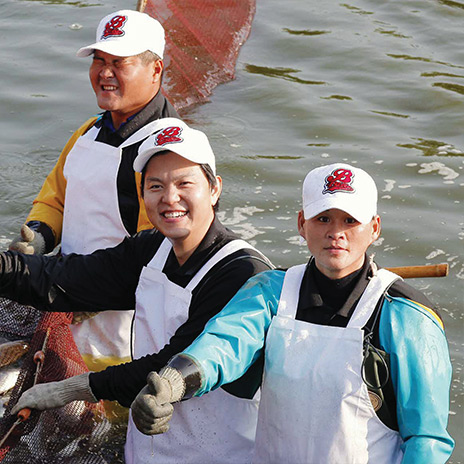 Providing essential supplies to those in need
By leveraging DBS' Stronger Together Fund, DBS India employees organised Operation Relief to provide supplies to 30,000 villagers in dire straits. To provide supplies as promptly as they could, the DBS team hired two 10-tonne trucks and carried out the operation in the months of March and April, going through long road journeys taking about eight hours each way to ensure supplies reached the villages, which were about 400km south of Mumbai.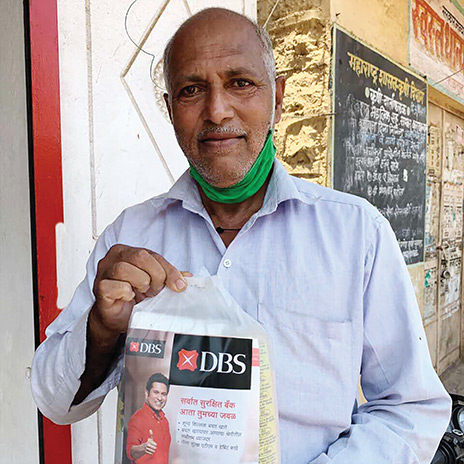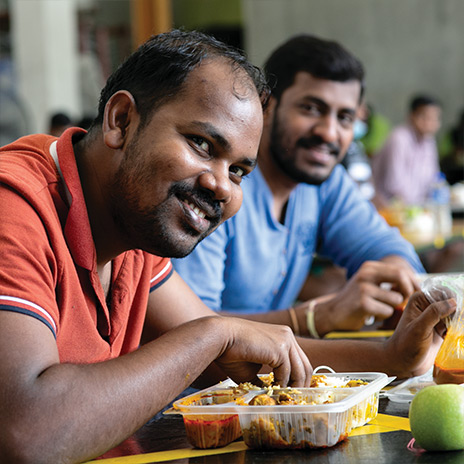 Banking migrant workers digitally
Processed almost 60,000 bank accounts for migrant workers in Singapore from April to June, enabling them to receive their salaries, remit funds home and conduct other banking transactions from their dormitories during Singapore's circuit breaker period. As at end December 2020, we have brought some 500,000 migrant workers and 120,000 Foreign Domestic Workers into the formal banking system, which is in line with our commitment to enable financial inclusion for all segments of society.
Greening the nation and enhancing our food resilience together
Appointed founding partner of National Parks Board's "Gardening with Edibles" programme. This aligns well with DBS' efforts to reduce food waste. In the first phase of the programme, more than 400,000 seed packs were given out to Singaporean households and DBS employees. DBS Taiwan also partnered with social enterprises such as BuyNearby, Goodwill Foods and Puremilk to redistribute more than 2,500kg of perishable fruits and 440,000 ml of milk, preventing wastage.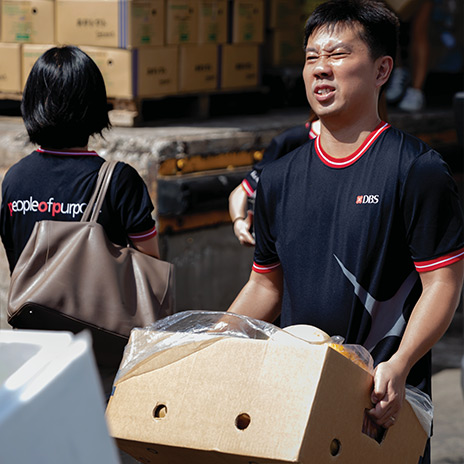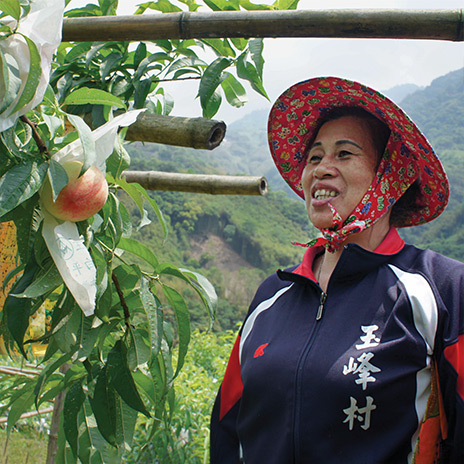 Supporting the farming community and reducing food waste
When Covid-19 hit, many farmers in Taiwan were left with truckloads of produce, including seasonal fruits like peaches and mangoes, that could not be sold. With support from DBS employees and social enterprises BuyNearby and Goodwill Foods, more than 2,000 kgs of orders were placed, resulting in much relief for the farmers.