Changing Destinies
One Classroom at a Time
Social enterprise Zaya brings education to children in the remote corners of the world. We helped ignite more possibilities by awarding Zaya top prize at the 2014 DBS-NUS Social Venture Challenge.
I can't find a better problem to work on. It's challenging and it excites me every day. It hasn't been solved, but yet, it makes me happy. So here I am, following my passion.
---
Neil D'souza
CEO of Zaya Learning Labs
For Neil D'souza, CEO of Mumbai-based social enterprise, Zaya Learning Labs, his dream is world-class education for underprivileged children around the world. The journey to realising this dream began when he was 12.
That year, Neil received a cassette tape with Pink Floyd's song "Time". As he listened to the lyrics, it dawned on him that most people spend their lives preparing for things to happen, failing to grasp that their lives, in fact, began the moment they were born.
No, I can't be preparing for life to happen, thought Neil. I have to live it now. He decided from that day on, that he would live in the moment, and pursue what truly mattered to him and made him happy.
No, I can't be preparing for life to happen, I have to live it now.
Neil D'souza
CEO of Zaya Learning Labs
He went to the United States to pursue a graduate degree in computer science and worked as an engineer in Cisco. As he began to realise the severe lack of good-quality education for children in the developing world, he became interested in helping orphanages in remote places around the world get access to better education. Neil then founded Zaya Learning Labs with Soma Vajpayee, who used to work in retail banking. Both share the same passion for technology in education.
A lot of my decisions about my career seem very unconventional and altruistic, but I do think they are quite 'selfish', in that I derive a great sense of satisfaction from them.
---
Neil D'souza
CEO of Zaya Learning Labs
Zaya equips classrooms with Zaya Labkits, each containing tablets, a projector and a portable device called a ClassCloud, which comes with wifi, storage, server and battery capabilities. Preloaded on the ClassCloud is a learning platform, complete with lesson plans for teachers and digital learning content for students. With the tools and content on the ClassCloud, teachers can lead classroom learning, and students can learn in small groups with friends or on their own using the wifi-enabled tablets.
Inspired by a Child
The name 'Zaya' reminds me of children like her, and how much their destinies are tied to access to good-quality education.
---
Neil D'souza
CEO of Zaya Learning Labs
Neil developed the ClassCloud prototype during his year-long sabbatical before founding Zaya. He used it to teach children in an orphanage in Mongolia. It was also in Mongolia that he found his destiny – through a Mongolian girl named Airun Zaya.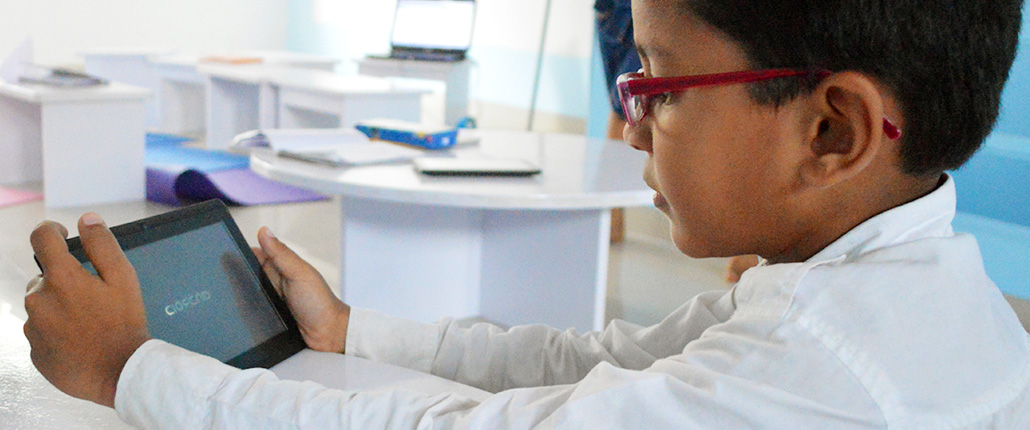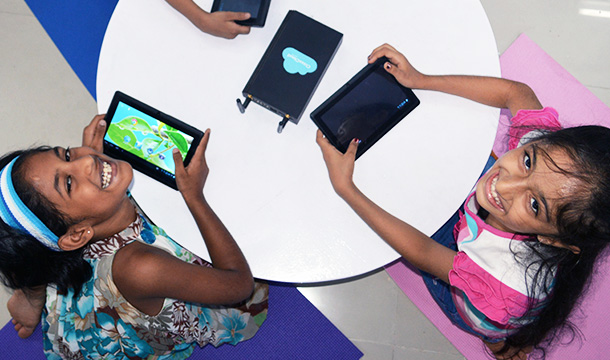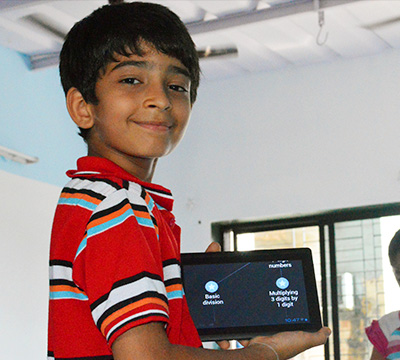 "There she was, not only learning the content, but also translating it from English to Mongolian. The translated content was eventually used in many places in Mongolia," says Neil. "I was very inspired to see a 15-year-old do this."
He changed the name of his social enterprise from Teach A Class to Zaya Learning Labs. "'Zaya' means fate, or destiny, in Mongolian," he explains. "I probably wouldn't have continued down this path if I hadn't met her."
'Zaya' means fate, or destiny, in Mongolian.
The Zaya model is designed to work anywhere in the world, whether online or offline. In other words, even a school in a remote location with no internet connection would be able to make use of the Zaya Labkits easily. The model's potential to be scalable and sustainable impressed the judges at the 2014 DBS-NUS Social Venture Challenge so much that they awarded Zaya Learning Labs the first prize. The Asia-wide competition seeks to identify and support new social ventures. The next social venture challenge will be launched in January 2015.
Empowering Communities
Previously, these kids had never even used smartphones. But within a week, they knew their way around the tablets. They have become future-ready, empowered for digital learning.
---
Soma Vajpayee
CEO of Zaya Learning Labs
The cash prize of SGD30,000 aside, the team was also rewarded with the validation that they were heading in the right direction. And because of the win, the social venture has been approached by a number of potential new partners.
Other good news for Zaya comes from the students and teachers, whose lives - and destinies - have changed. Soma, who is also Zaya's Director of Training, says that the students are not learning just content, but becoming digitally savvy.
Zaya has also used its technology to empower the women in the communities. Soma says: "The Zaya model converts these women from unskilled teachers into confident facilitators and teacher's assistants. In this way, the students also learn better than when they are taught by unskilled teachers."
Money is not my motivation. Zaya gives me a great sense of fulfillment. I see it as my legacy work and an extension of what I do as a mother.
---
Soma Vajpayee
CEO of Zaya Learning Labs
The Zaya system has been implemented in schools in Mumbai and Bangalore. Zaya motivates the schools by giving them the opportunity to be rewarded with the technology. "If the schools deliver results and hit their goals within the first two years, they will be able to own the technology," explains Soma.
The social venture looks forward to building a stronger organisation with more talents and expertise, and to improving its products with better technologies. It hopes that by the end of 2014, some 10,000 children in 60 schools in Mumbai, Bangalore, Aceh and Mongolia will be using the learning model. In the near future, Zaya will be launched in Hyderabad, Delhi and Africa.