Three in four SMEs in Singapore unfazed by proposed GST hikes
SMEs continue to stay focused and look to new productivity and development grants to transform their businesses
Singapore, 01 Mar 2018 - Amid the flurry of GST-themed debates in Parliament this week, a poll
[1]
of 240 Singapore SMEs banked by DBS revealed that they are unfazed by the impending GST hike. Three in four SMEs believe that the impending GST hikes would only have moderate to no impact on their businesses.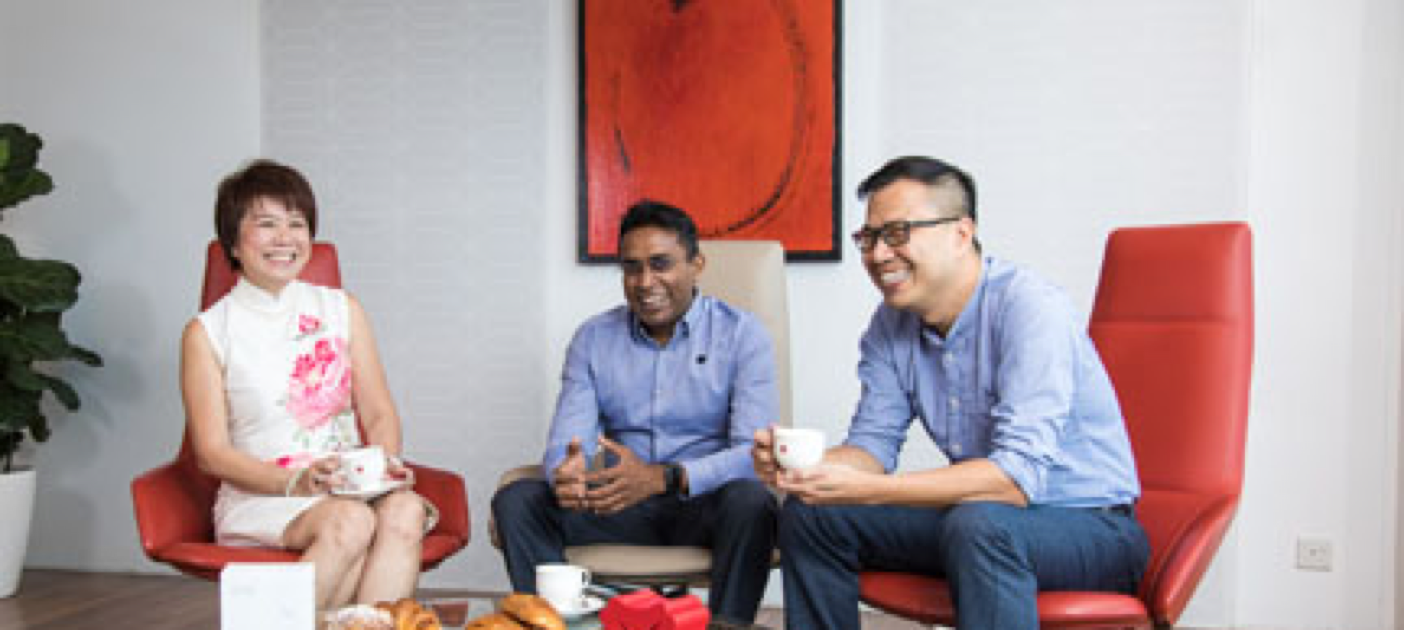 SMEs polled were confident of weathering the hike because they were of the opinion that new grants such as the Productivity Solutions Grant (PSG) and Enterprise Development Grant (EDG) would be able to provide some relief. More than half the SMEs polled said that they were looking to the grants to help address some of their business challenges such as reducing manpower costs, enhancing productivity, and increasing sales and revenue.
The extension of the wage credit scheme was well received, with 82% of SME owners responding favourably to it. This was especially important when labour costs continued to plague six in 10 of the SMEs who had taken the poll.
Joyce Tee, Group Head of SME Banking, DBS Bank said, "SMEs are resilient, and many are known to weather storms and the ups and downs of every economic cycle. The early proposal of the GST hike means that SME owners have enough lead time to plan ahead and ensure that they have the necessary provisions when the tax is implemented. SMEs are the backbone of the Singapore economy, and they need an ecosystem of banks, business partners and different government support plans as they look to grow and flourish not just in Singapore but also beyond our shores."
Most Singapore SMEs may not have the confidence to regionalise their businesses
One in three SMEs surveyed said that the lack of knowledge of new markets were hindering their overseas growth, and 30% of them cited the lack of capital as one of the biggest challenges when executing their regionalisation plans. However, eight in 10 said that they would be more confident about accessing regional market opportunities, given the right resources such as access to capital and market insights.
"SMEs owners continue to aspire to grow their business regionally and it weighs heavily on their minds. While they are confident of their ability to thrive in their home market of Singapore, some may lack the confidence to compete in new markets," said Tee.
Kausshal Dugarr, Founder and CEO of Teabox is one such SME owner who has taken the leap. Teabox now operates in Singapore and India, and supplies teas to over 110 countries worldwide. "When it comes to growing revenues and one's customer base, expanding a business overseas is a natural next step. While there have been ups and downs, I'm thankful to have DBS as a business partner. Over the years, the DBS team has given me extensive support, from funding to advisory services, their expertise has helped me scale my business and hit key business milestones," Dugarr said.
When it comes to regionalisation, 67% of SMEs polled felt that the double tax deduction for internationalisation was important when factoring in the opportunity cost of expansion.
"Expanding into new markets is a priority for us. However, breaking into overseas markets can be costly and the double tax deduction scheme will help me to save costs which I can then use to reinvest in my business," Dugarr said.
DBS has supported the growth and development of regional SMEs with a suite of digital products and services including DBS BusinessClass, a global social network for start-up and SME owners seeking business advice and cross-border opportunities; DBS Corporate Multi-Currency Account, where customers can manage up to 13 currencies in a single account; and the DBS-Xero partnership, where SME customers can enjoy simplified bill payments, even with invoices and payments issued from markets across the region.
[1]
The DBS post-Budget SME poll surveyed 240 SMEs banked by DBS with revenues of SGD 200million and below. The poll aimed to get their views on the Budget's proposed measures announced on 19 February.
[End]
About DBS
DBS is a leading financial services group in Asia, with over 280 branches across 18 markets. Headquartered and listed in Singapore, DBS has a growing presence in the three key Asian axes of growth: Greater China, Southeast Asia and South Asia. The bank's "AA-" and "Aa1" credit ratings, is among the highest in the world.
DBS is at the forefront of leveraging digital technology to shape the future of banking, and has been named "
World's Best Digital Bank
" by Euromoney. The bank has also been recognised for its leadership in the region, having been named "Asia's Best Bank" by several publications including The Banker, Global Finance, IFR Asia and Euromoney since 2012. In addition, the bank has been named "
Safest Bank in Asia
" by Global Finance for nine consecutive years from 2009 to 2017.
DBS provides a full range of services in consumer, SME and corporate banking. As a bank born and bred in Asia, DBS understands the intricacies of doing business in the region's most dynamic markets. DBS is committed to building lasting relationships with customers, and positively impacting communities through supporting social enterprises, as it banks the Asian way. It has also established a SGD 50 million foundation to strengthen its corporate social responsibility efforts in Singapore and across Asia.
With its extensive network of operations in Asia and emphasis on engaging and empowering its staff, DBS presents exciting career opportunities. The bank acknowledges the passion, commitment and can-do spirit in all of its 24,000 staff, representing over 40 nationalities. For more information, please visit
www.dbs.com
.