DBS wealth clients can now use WhatsApp and WeChat for banking services
DBS is the first in Southeast Asia to provide service allowing wealth clients to connect and transact with RMs via instant messaging platforms
Singapore, 11 Sep 2018 - DBS today announced the launch of DBS Wealth Chat, a service that will allow DBS' wealth clients to interact, exchange ideas and transact with their relationship managers (RMs) via popular instant messaging platforms WhatsApp and WeChat. The bank is the first in Southeast Asia to enable this service for its clients. Developed in partnership with regulatory technology (regtech) start-up FinChat, DBS Wealth Chat leverages DBS' best-in-class digital capabilities to allow clients to use their existing instant messaging platforms to access DBS' wealth services while meeting rigorous compliance standards.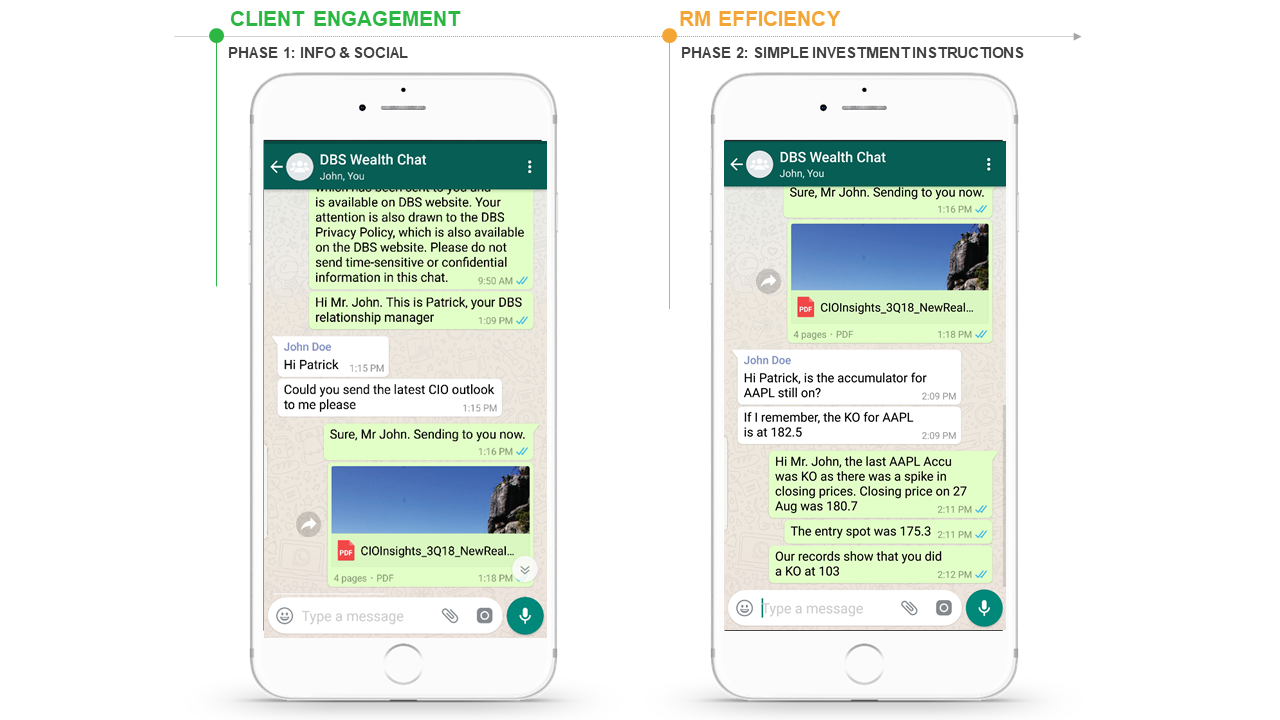 To access the service, RMs can register interested clients in a private chat group with the bank. Upon confirmation, DBS will set up a unique chat group administered by the bank between the client and his/her RM. Once the chat group between the RM and client is initiated, conversations and file exchanges that occur within the chat group will be archived by the bank without any intervention required from the RM. The entire process is fully automated.
At present, RMs need to ensure key client conversations take place via the bank's phone lines, where they can be recorded. DBS Wealth Chat allows RMs to communicate with clients on the go, on their clients' preferred instant messaging platform. This in turn allows for speedier service delivery to clients. The introduction of DBS Wealth Chat is estimated to save some 10,000 manhours on a yearly basis, while enhancing the ease and quality of RM-client interaction.
"We recognise that customers today are inundated with different apps and services and decided to go where our customers already are – WhatsApp has upwards of 1.5 billion users, while WeChat has close to one billion users. Our aim is to provide banking services that are embedded in our customers' everyday lives, while maintaining client privacy and keeping to our rigorous security requirements," said Tan Su Shan, Group Head of Consumer Banking & Wealth Management of DBS. "With DBS Wealth Chat, we can now meet both the communication needs of our clients and regulatory requirements. We look forward to realising the full potential of this tool, and to introducing more industry-leading solutions to our clients."
In the first phase, DBS will begin to register and onboard interested wealth clients in Singapore on the service, where content such as DBS Chief Investment Office reports, research insights and ideas, and exclusive invitations will be shared. Additional investment-related transactions (such as trade placement) will be introduced progressively in 2019.
[End]
About DBS
DBS is a leading financial services group in Asia, with over 280 branches across 18 markets. Headquartered and listed in Singapore, DBS has a growing presence in the three key Asian axes of growth: Greater China, Southeast Asia and South Asia. The bank's "AA-" and "Aa1" credit ratings are among the highest in the world.
Recognised for its global leadership, DBS has been named "
Best Bank in the World
" by Global Finance. The bank is at the forefront of leveraging digital technology to shape the future of banking, having been named "
World's Best Digital Bank
" by Euromoney. In addition, DBS has been accorded the "
Safest Bank in Asia
" award by Global Finance for nine consecutive years from 2009 to 2017.
DBS provides a full range of services in consumer, SME and corporate banking. As a bank born and bred in Asia, DBS understands the intricacies of doing business in the region's most dynamic markets. DBS is committed to building lasting relationships with customers, and positively impacting communities through supporting social enterprises, as it banks the Asian way. It has also established a SGD 50 million foundation to strengthen its corporate social responsibility efforts in Singapore and across Asia.
With its extensive network of operations in Asia and emphasis on engaging and empowering its staff, DBS presents exciting career opportunities. The bank acknowledges the passion, commitment and can-do spirit in all of our 26,000 staff, representing over 40 nationalities. For more information, please visit
www.dbs.com
.