DBS pioneers virtual account opening service for SMEs
Customers can now open a business bank account online and complete the process virtually; a first in Singapore
Singapore, 17 Mar 2015 - DBS Bank today announced a groundbreaking initiative which enables SME owners to open business accounts virtually. This first-of-its-kind service in Singapore brings greater convenience to time-strapped SMEs by shifting what was previously done at a branch to the virtual world.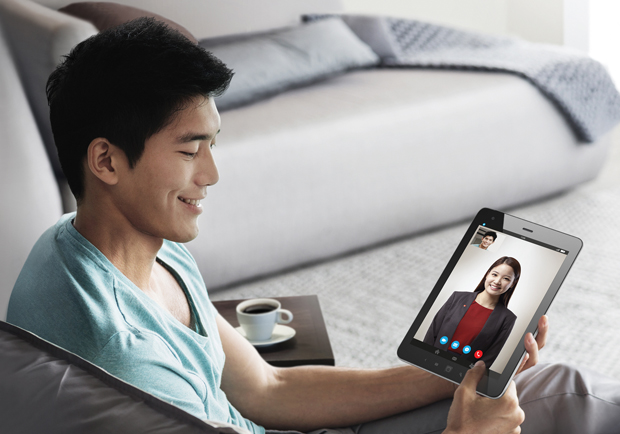 Today, across the banking industry, SMEs have to meet with a relationship manager (RM) or a branch teller to complete the process of opening a business bank account. With DBS' virtual account opening initiative, this is now unnecessary. Instead, SMEs can complete the application by speaking to their RM through mobile or tablet video applications such as FaceTime and Skype. RMs will verify the customers' particulars and complete their applications virtually, just as they would at the bank branch.
This complements an earlier online account opening service (OAOS) launched by DBS in December 2013. With OAOS, DBS has linked its backend systems to information obtained from the Accounting and Corporate Regulatory Authority's database via a service provider. This allows the bank to pre-populate account opening forms on behalf of the customer online, saving the SME owner time and also eliminating the need for unnecessary form-filling and data entry work.
After completing the application form online, instead of making a branch appointment, SME owners, who are new to the bank, can now opt to complete their application virtually. Existing retail and corporate DBS customers have the option of completing the application process through a phone call instead.
This virtual account opening initiative is the latest in a slew of initiatives by DBS to bring greater convenience and value to customers through digital banking, and to shape the future of banking.
Said Lim Chu Chong, Regional Head of SME Banking, DBS Bank, "With our SME customers becoming more tech savvy, since the launch of the OAOS service, we have seen a steady increase in the number of business accounts opened online. Today, over a third of DBS' new business accounts are opened via this online service. By enhancing this with a virtual component, our customers can gain greater flexibility and make better use of their time. We are constantly innovating and looking to improve the customer experience, making banking for SMEs simpler, smarter and more social."
The virtual account opening service is available to Singapore registered businesses that are operating entities in Singapore. New business account customers who sign up from 1 April 2015 to 31 December 2015 will enjoy fee waivers on DBS' corporate internet banking platform, DBS IDEAL™. These waivers apply to set-up fees and monthly subscription fees.
Last October, DBS also rolled out DBS BusinessClass, a programme which offers start-ups and SMEs valuable resources, including a unique mobile platform through which they can consult and connect with industry experts, investors and fellow entrepreneurs. More than 8,500 entrepreneurs have signed up as members to tap on the wisdom and experience of 30 seasoned industry veterans.
[End]
About DBS
DBS - Living, Breathing Asia
DBS is a leading financial services group in Asia, with over 250 branches across 17 markets. Headquartered and listed in Singapore, DBS has a growing presence in the three key Asian axes of growth: Greater China, Southeast Asia and South Asia. The bank's capital position, as well as "AA-" and "Aa1" credit ratings, is among the highest in Asia-Pacific. DBS has been recognised for its leadership in the region, having been named "Asia's Best Bank" by The Banker, a member of the Financial Times group, and "Best Bank in Asia-Pacific" by Global Finance. The bank has also been named "Safest Bank in Asia" by Global Finance for six consecutive years from 2009 to 2014.
DBS provides a full range of services in consumer, SME and corporate banking activities across Asia. As a bank born and bred in Asia, DBS understands the intricacies of doing business in the region's most dynamic markets. These market insights and regional connectivity have helped to drive the bank's growth as it sets out to be the Asian bank of choice. DBS is committed to building lasting relationships with customers, and positively impacting communities through supporting social enterprises, as it banks the Asian way. It has also established a SGD 50 million foundation to strengthen its corporate social responsibility efforts in Singapore and across Asia.
With its extensive network of operations in Asia and emphasis on engaging and empowering its staff, DBS presents exciting career opportunities. The bank acknowledges the passion, commitment and can-do spirit in all of our 21,000 staff, representing over 40 nationalities. For more information, please visit www.dbs.com