DBS launches India's first mobile-only bank, heralds 'WhatsApp moment in banking'
Singapore, India
.

26 Apr 2016
Breaks new ground with artificial intelligence-driven Virtual Assistant
Account-opening leverages Aadhaar, the world's largest biometric ID programme
Singapore, India, 26 Apr 2016 - DBS Bank, Singapore's largest bank and a leading bank in Asia, today officially unveiled digibank, India's first mobile-only bank. A revolutionary offering, digibank brings together an entire suite of ground-breaking technology – from biometrics to artificial intelligence (AI) – to enable customers to enjoy a whole new way of banking.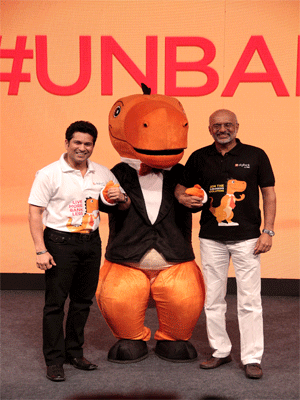 Breaking away from conventional banking norms with their onerous form-filling and cumbersome processes, digibank is a completely paperless, signatureless and branchless bank.
Account-opening can be done easily and effortlessly at an extensive network of outlets run by DBS' partners; for a start, this includes over 500 cafes across India. Significantly, there is no paperwork involved. Instead, customer authentication is done purely using the Aadhaar card, a biometrics-enabled ID which has been issued to over 1 billion Indians in what is the world's largest biometric identification programme.
Other revolutionary features include:
• Customer service provided by a 24x7 AI-driven Virtual Assistant. Wherever they are, whatever their need, digibank customers can converse with digibank's AI-powered virtual assistant to get their queries answered or banking transactions performed. "What is my account balance?", "Show me past transactions", "Pay Amit 100 rupees". Because the virtual assistant understands natural language and has learning ability, it is able to respond in real-time. Today, it can already anticipate and answer some 10,000 customer questions, with new knowledge added each passing day. This is akin to having a banker at one's beck and call, without having to speak to a call centre agent.
DBS is able to leverage futuristic AI technology to deliver hassle-free banking because of its partnership with US-based fintech Kasisto. In Asia, DBS is the only bank harnessing experimental conversational technology from Kasisto, a spin-off from SRI International which created the technology behind Siri.
• An intelligent, intuitive budget optimiser that helps customers be smarter about their money. In-built into digibank is a budget optimiser that helps customers do their budgeting, track expenses and analyse purchasing trends. The function is smart enough to understand customer behaviour and preferences, synthesise data, and provide recommendations.
For example, it can make sense of customers' spending habits to reward them with relevant, contextual marketing offers such as restaurant discounts for a foodie or coffee vouchers for a caffeine-lover. It also studies customers' spending patterns and prompts them if they are overspending. Conversely, if a customer's savings regularly exceed his or her expenditure, digibank will provide suggestions on how to make one's money work harder.
• Security is enhanced through dynamic inbuilt security, which is safer than OTP. Recognising that safety is uppermost on consumers' minds, digibank offers peace of mind through dynamic inbuilt security. Most bank customers are used to receiving One-Time Passwords (OTPs) via SMS, and then typing codes into pages to authorise their mobile banking transactions. digibank has an embedded soft token security, avoiding the need to wait for SMSs to arrive and providing even stronger security for transaction authorisation.
Not only does digibank provide hassle-free banking, its more efficient cost structure compared to brick-and-mortar banking allows it to offer better client value:
• Account-holders earn 7% interest from the first rupee, one of the highest in the market
• Customers enjoy unlimited free cash withdrawals at over 200,000 ATMs nationwide
• There are no minimum balance requirements
• A physical debit card, which comes with the account, can be used across all Visa-enabled online and point-of-sale transactions, as well as overseas
Said DBS CEO Piyush Gupta, "India's banking system is at the cusp of massive change, and as a bank committed to shaping the future of banking, we are excited to roll out a revolutionary, mobile-only bank. With digital, we are able to create a completely different customer experience. What's more, digibank's efficiencies and lower costs enable us to pass on significant benefits to customers in the form of greater customer value."
Said Surojit Shome, DBS India CEO, "Among the Singapore banks, DBS has the largest presence in India. This reflects our long-standing commitment and confidence in the market. Over the years, the bank has grown its corporate banking and SME franchise meaningfully. Going forward, we would like to extend our reach in the consumer segment as well. With a billion Aadhaar cards and over 200 million smartphone users in India, the opportunity for growth with digibank is huge."
Said Nandan Nilekani, co-founder of Infosys and former chairman of Unique Identification Authority of India, "I am very happy to hear that DBS is launching digibank. I have been a great believer that we are now at the 'WhatsApp moment of banking', where paperless, presenceless and cashless transactions are going to completely transform the banking industry. I believe digibank using Aadhaar is a great example of what's to come."
Said cricket legend Sachin Tendulkar, "With multiple commitments, time is at a premium and every minute matters. The simplicity and ease of digibank encourages customers to live more and bank less. DBS is known for values of being trusted and safe which make them a banking partner of choice."
DBS' efforts to be at the forefront of banking innovation have been widely recognised. The bank was recently named "Best Retail Bank in Asia-Pacific" by The Asian Banker. DBS was lauded as "Trailblazer of the Year, Asia" for the fourth year running, and for "Excellence in Internet Banking, Asia" at the Retail Banking International Awards. It has also been named "Safest Bank in Asia" for seven consecutive years from 2009 – 2015.
[END]


About DBS
DBS - Living, Breathing Asia
DBS is a leading financial services group in Asia, with over 280 branches across 18 markets. Headquartered and listed in Singapore, DBS has a growing presence in the three key Asian axes of growth: Greater China, Southeast Asia and South Asia. The bank's capital position, as well as "AA-" and "Aa1" credit ratings, is among the highest in Asia-Pacific. DBS has been recognised for its leadership in the region, having been named "Asia's Best Bank" by The Banker, a member of the Financial Times group, and "Best Bank in Asia-Pacific" by Global Finance. The bank has also been named "Safest Bank in Asia" by Global Finance for seven consecutive years from 2009 to 2015.
DBS provides a full range of services in consumer, SME and corporate banking activities across Asia. As a bank born and bred in Asia, DBS understands the intricacies of doing business in the region's most dynamic markets. These market insights and regional connectivity have helped to drive the bank's growth as it sets out to be the Asian bank of choice. DBS is committed to building lasting relationships with customers, and positively impacting communities through supporting social enterprises, as it banks the Asian way. It has also established a SGD 50 million foundation to strengthen its corporate social responsibility efforts in Singapore and across Asia.
With its extensive network of operations in Asia and emphasis on engaging and empowering its staff, DBS presents exciting career opportunities. The bank acknowledges the passion, commitment and can-do spirit in all of our 22,000 staff, representing over 40 nationalities. For more information, please visit www.dbs.com.