DBS commissioned "Sparks: The Musical" to commemorate Golden Jubilee
Musical paid tribute to bank's pioneers, as well as leaders and employees past and present
Singapore, 06 Aug 2018 - To commemorate its 50th Anniversary, DBS Bank commissioned a musical based on its web mini-series, SPARKS, which ran from 3 – 5 August 2018 at Capitol Theatre. The musical by Singapore theatre company Pangdemonium showcased Team DBS' camaraderie and passion for serving their clients, as well as their trials and tribulations. It served as a tribute to the bank's pioneers, as well as leaders and staff who had shaped DBS over the years. The gala show, on the evening of 4 August, was attended by Prime Minister Lee Hsien Loong, as well as many of the bank's leaders and employees from the early years, including S Dhanabalan, Ang Kong Hua, Patrick Yeoh and Ng Kee Choe.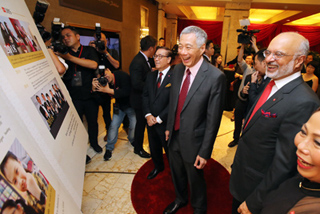 DBS Chairman Peter Seah, PM Lee and DBS CEO Piyush Gupta took a walk down DBS and the nation's history at DBS SPARKS The Musical
The musical capped off the first season of DBS' SPARKS, an award-winning 10-episode web series that followed a group of dynamic DBS bankers as they navigated the challenges and opportunities at work and in their personal lives. Inspired by real-life stories, SPARKS demonstrated how Team DBS is driven by a strong sense of purpose and the commitment to do the right thing. Since its 2016 debut, SPARKS has garnered over 150 million views and a slew of prestigious marketing awards.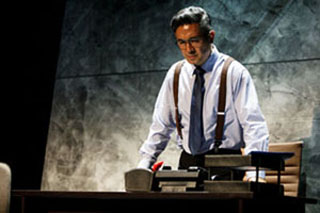 Adrian Pang reprised his role as Chester Teo in DBS SPARKS The Musical
In SPARKS: The Musical, Adrian Pang reprised his role as Chester Teo, a no-nonsense DBS banker who cared deeply about his clients, as he reminisced about his experiences -- personal and professional. The characteristics that Chester and his team embodied reflect the grit, gumption and purpose of the DBS people who made the bank what it is today.

Said DBS Chairman Peter Seah, "DBS' beginnings 50 years ago were humble but its mission was crucial – namely, to finance the industrialisation of Singapore. And as time would tell, its vision was grand and towering. Propelled by a strong sense of purpose and belief, over the last 50 years, the bank has played a key role in shaping the physical landscape of Singapore, diversifying its economy and catalysing the nation's development as a global financial centre. Sometimes, the initiatives pursued by the bank were groundbreaking, frontier-pushing. Oftentimes, there were no set paths. We had to find our own way to blaze a trail."

"Today, we are not just a leading bank in Singapore and Asia but also the World's Best Digital Bank. The last 50 years have been a tremendous journey, and we look forward to continuing to reimagine banking so we can continue to improve lives and livelihoods."

Said Tracie Pang and Adrian Pang, Artistic Directors of Pangdemonium, "We are privileged to already have a wonderful partnership with DBS as Production Sponsor for our previous shows, and so it was a natural fit for us to partner and create this special musical to commemorate DBS' milestone year. We ourselves have learned so much from the true-life stories of the many inspirational men and women who have shaped the incredible DBS story over the decades. SPARKS: The Musical is a fitting tribute to the past, the present, and future of DBS."

"It has been an absolute joy to revisit this character (Chester Teo) on stage – singing and dancing Chester is a revelation – and also to explore and expand the DBS SPARKS world, while uncovering such a rich and layered history," added Adrian Pang.

DBS, formerly known as the Development Bank of Singapore, was formed in 1968, three years after the independence of Singapore, with the express purpose of financing the industrialisation of Singapore. Over the years, it has financed a multitude of industries, from manufacturing to shipbuilding; led the way in property development including building the world's tallest hotel at one time (Westin Stamford); and helped to take many of Singapore's most iconic brands including Singapore Airlines and Singtel public.

Today, it is a leading bank in Asia, and recognised globally for its digital leadership. In July 2018, Euromoney named DBS the World's Best Digital Bank for the second time, and World's Best SME Bank. More information can be found in "The 50 Years", a book that chronicles DBS' Golden Jubilee and its mission to build the nation. Stories from "The 50 Years" are available at go.dbs.com/ourjourney, and the e-book will be made available for download from 15 August. Visit the SPARKS page (https://www.dbs.com/sparks) to catch up on the series, and get to know more about the real-life stories behind each episode.


[End]
About DBS
DBS is a leading financial services group in Asia, with over 280 branches across 18 markets. Headquartered and listed in Singapore, DBS has a growing presence in the three key Asian axes of growth: Greater China, Southeast Asia and South Asia. The bank's "AA-" and "Aa1" credit ratings are among the highest in the world.

DBS is at the forefront of leveraging digital technology to shape the future of banking, and has been named "World's Best Digital Bank" by Euromoney. The bank has also been recognised for its leadership in the region, having been named "Asia's Best Bank" by several publications including The Banker, Global Finance, IFR Asia and Euromoney since 2012. In addition, the bank has been named "Safest Bank in Asia" by Global Finance for nine consecutive years from 2009 to 2017.

DBS provides a full range of services in consumer, SME and corporate banking. As a bank born and bred in Asia, DBS understands the intricacies of doing business in the region's most dynamic markets. DBS is committed to building lasting relationships with customers, and positively impacting communities through supporting social enterprises, as it banks the Asian way. It has also established a SGD 50 million foundation to strengthen its corporate social responsibility efforts in Singapore and across Asia.

With its extensive network of operations in Asia and emphasis on engaging and empowering its staff, DBS presents exciting career opportunities. The bank acknowledges the passion, commitment and can-do spirit in all of our 26,000 staff, representing over 40 nationalities. For more information, please visit www.dbs.com.