DBS and Singtel join hands to give SMEs a boost in navigating technological shifts in the economy
Singapore, 21 Aug 2018 - DBS and Singtel today reaffirmed their commitment to helping small and medium enterprises (SMEs) in Singapore to digitalise their businesses and keep pace with the technological shifts in the local and global economy.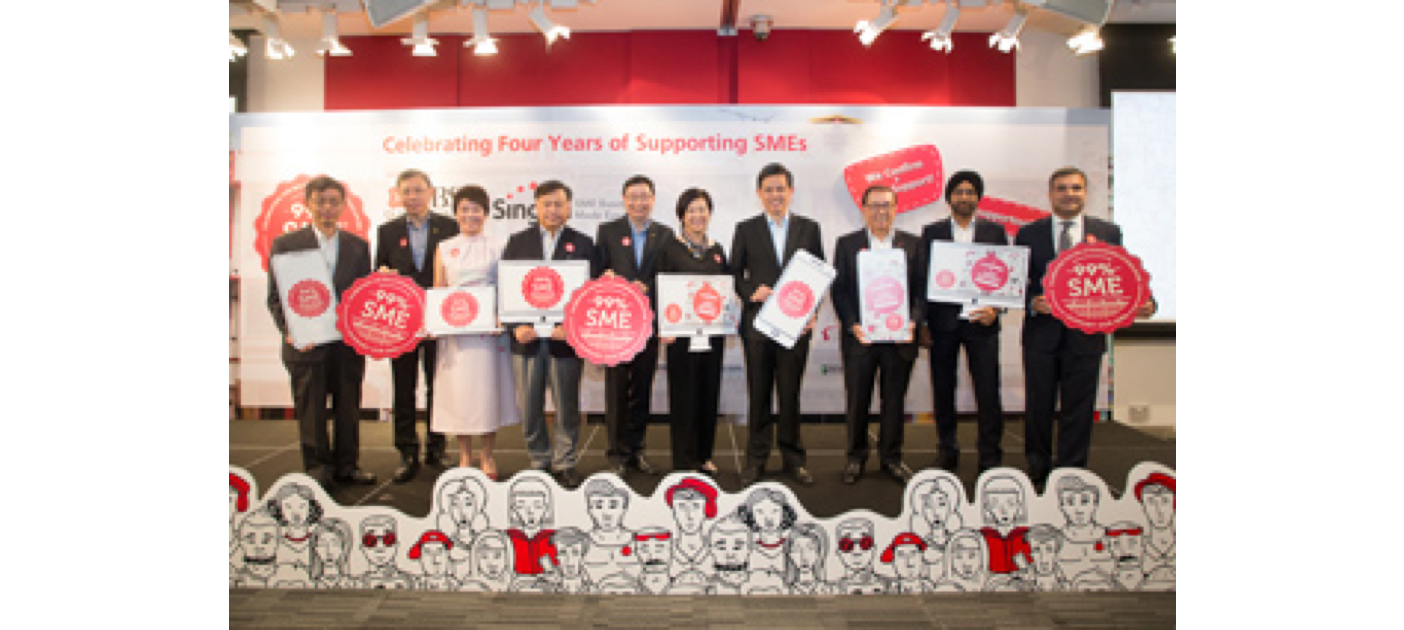 Through the nationwide 99%SME campaign that helps SMEs expand their business by digitalising their operations, DBS and Singtel will be enhancing the e-marketplace on the 99%SME portal next month. The enhanced e-marketplace will instantly connect SMEs, especially those without an online presence, to an e-commerce platform hosted on the 99%SME site.
The enhanced e-marketplace will give SMEs who are unsure of how to tap into online sales channels instant access to an online "shopfront" where consumers can browse and buy services and goods across different categories from fashion and beauty products to electronic goods and even stationery instantly, all at the click of a button. This will also help SMEs to raise their profile and grow beyond Singapore's shores to expand their customer base regionally and globally.
With growing trade uncertainties on the horizon, a recent survey[1] of 220 DBS SME customers conducted in the first week of August found that seven in 10 SMEs said that e-commerce channels and solutions would help drive and maintain their business growth. Of those who did not think that e-commerce channels and solutions would help their business' growth, the survey revealed that three in five of them did not have sufficient knowledge about digital sales channels and the resources to invest in digitalising their business.
Joyce Tee, Group Head of SME Banking, DBS Bank said that SMEs are the lifeblood of the Singapore economy. "With Asia being the fastest growing region globally, SMEs in Singapore need the right programmes and resources to give them a chance to realise their regional growth ambitions. SMEs are operating in a sweet spot, at a time where their business can grow at an unprecedented rate. This is due to rapid regional economic growth boosting domestic consumption and digitalisation opening doors to new markets and customers."
Andrew Lim, Managing Director, Business Group, Group Enterprise, Singtel said, "With digital disruptions becoming more pervasive, SMEs need to urgently transform their businesses so that they can thrive in the new economy. Through the 99%SME initiative, Singtel and other partners have pooled our resources with the view of helping at least 10,000 SMEs jump start and accelerate their digital transformation. We will support Singapore's SMEs to grow, transform and flourish in these rapidly changing markets."
Tee added, "To give SMEs a leg-up and encourage innovation, public sector partners and MNCs must collaborate and close the gap with SMEs to address technological shifts and also harness the power of technology to expand into Asian markets, grow revenue and drive economic and social development."
To help close the gap, DBS will be developing a B2B platform where SMEs can gain access to an e-marketplace to sell their goods and services to large corporate and multinational corporations (MNCs). This will be the first of its kind portal in Singapore. It will also grant SMEs access to supply chain connections, financing, and payment solutions that are usually only open to large corporates or MNCs. The development of the portal will also be supported by 99%SME partners Mediacorp, Mastercard and Singtel. It is expected to be launched by the end of 2018 and details will be announced in due course.
A retailer who has benefited from the 99%SME campaign is Tony Moly Singapore. Tony Moly is one of the top three cosmetics brands in Korea, popular for their beauty products. Wilson Lee, Director of Tony Moly Singapore said, "The 99%SME movement has been pivotal to our sales revenue from online channels. Web traffic to our online channels has increased significantly since September 2017 and we are happy that we tapped into 99%SME to grow our business."
Another SME involved in the 99%SME movement is social enterprise Oh My Goodness!, which employs ex-offenders and persons with disabilities. Said Ramya Ragupathi, CEO and Founder of Oh My Goodness!, "Running a small business is challenging, but it helps to have the right partners who share our mission as well as additional resources to help us along our journey. We are excited to be part of the movement this year and are looking forward to both the courses provided by The DBS SME Academy – we've already signed up for the Regionalisation 101 class – as well as the boost to sales that the 99%SME online marketplace could bring."
This year's 99%SME campaign was launched at the DBS Auditorium with the Minister for Trade and Industry, Mr Chan Chun Sing as the Guest-of-Honour. More than 200 SMEs were also invited to a closed-door session with one of Singapore's business pioneers, DBS Chairman Peter Seah who shared his views on the financial fundamentals of running and growing a business and adapting to change and challenges.
SMEs who wish to be part of the 99%SME movement can register their interest at
www.99sme.sg
. Workshops and training sessions on cash management, digital marketing, accounting and tax regulations will also be held from 4 September at various locations around Singapore. To find out more, please visit
99sme.sg
or
go.dbs.com/smeacademy
.
[End]
About DBS
DBS is a leading financial services group in Asia, with over 280 branches across 18 markets. Headquartered and listed in Singapore, DBS has a growing presence in the three key Asian axes of growth: Greater China, Southeast Asia and South Asia. The bank's "AA-" and "Aa1" credit ratings are among the highest in the world.
DBS is at the forefront of leveraging digital technology to shape the future of banking, and has been named "
World's Best Digital Ban
k" by Euromoney. The bank has also been recognised for its leadership in the region, having been named "Asia's Best Bank" by several publications including The Banker, Global Finance, IFR Asia and Euromoney since 2012. In addition, the bank has been named "
Safest Bank in Asia
" by Global Finance for nine consecutive years from 2009 to 2017.
DBS provides a full range of services in consumer, SME and corporate banking. As a bank born and bred in Asia, DBS understands the intricacies of doing business in the region's most dynamic markets. DBS is committed to building lasting relationships with customers, and positively impacting communities through supporting social enterprises, as it banks the Asian way. It has also established a SGD 50 million foundation to strengthen its corporate social responsibility efforts in Singapore and across Asia.
With its extensive network of operations in Asia and emphasis on engaging and empowering its staff, DBS presents exciting career opportunities. The bank acknowledges the passion, commitment and can-do spirit in all of its 26,000 staff, representing over 40 nationalities. For more information, please visit
www.dbs.com
.
About Singtel
Singtel is Asia's leading communications technology group, providing a portfolio of services from next-generation communication, technology services to infotainment to both consumers and businesses. For consumers, Singtel delivers a complete and integrated suite of services, including mobile, broadband and TV. For businesses, Singtel offers a complementary array of workforce mobility solutions, data hosting, cloud, network infrastructure, analytics and cyber-security capabilities. The Group has presence in Asia, Australia and Africa and reaches over 700 million mobile customers in 21 countries. Its infrastructure and technology services for businesses span 21 countries, with more than 428 direct points of presence in 362 cities.
For more information, visit
www.singtel.com
.
Follow us on Twitter at
www.twitter.com/SingtelNews
.