DBS and GovTech to pilot SingPass face verification technology for faster digital banking sign-ups
All SingPass holders can now sign up for DBS' digital banking services via a process akin to taking a selfie
DBS is the first bank to implement GovTech's latest service, to cater to the increasing number of mobile users here
Singapore, 29 Jul 2020 - Observing a rise in digital banking in Singapore amid Covid-19, DBS – which banks most of Singapore – has partnered with the Government Technology Agency of Singapore (GovTech) to pilot the latter's innovative SingPass Face Verification technology. This pilot programme aims to benefit more than one million DBS customers who are SingPass holders and do not use digital banking services, of which over 60% are seniors aged 62 and above. The technology will enable Singapore citizens and Permanent Residents to sign up for DBS' digital banking services from their homes, with instant access to their bank accounts and banking services. For DBS customers unfamiliar with online onboarding, the SingPass Face Verification feature is designed to help expedite their digital banking registration process in a more intuitive and seamless manner.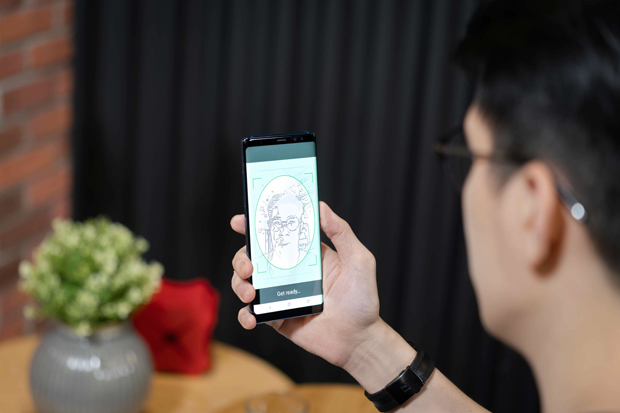 "Amid one of the greatest disruptions ever witnessed in our time, we are more cognisant than ever about the importance of leveraging digital technology to quickly serve up solutions that benefit the wider public," said Jeremy Soo, Head of Consumer Banking Group (Singapore) at DBS Bank. "In line with Singapore's Smart Nation agenda, we have been introducing innovative digital solutions over the years that provide easier, more seamless ways to bank. Together with GovTech Singapore, we aim to support those who are journeying into digital banking for the first time, and to help foster resilient digital habits that will last for years to come."

Kok Ping Soon, Chief Executive, GovTech, said, "We are delighted to partner leading digital bank DBS in piloting SingPass face verification for simpler customer journeys. As our Smart Nation digital identity, SingPass enables citizens to transact seamlessly with public and private sector services, accelerating digitalisation and strengthening trust in our digital economy. We look forward to building more impactful services with the financial sector and beyond, to bring greater convenience to our citizens."

How it works

SingPass, Singapore's national digital identity, has rolled out its latest face verification feature which offers a trusted and convenient mode of identity verification. Businesses match the user's presented facial image against the Government's biometric database, and do not collect nor retain any data submitted. This helps ensure the user's data privacy and security.

DBS/POSB customers who are keen to sign up for DBS/POSB digibank via the SingPass Face Verification may download the digibank mobile app via Apple App Store, Google Play or Huawei App Gallery.

To begin the registration process, customers need to select the identity type and enter the corresponding information. They should then select the "SingPass Face Verification" option and follow the instructions to take the selfie. The tool will scan the user's face, which will be matched against their latest NRIC/Passport photo records from the Government's biometric database instantly.

Upon successful matching, DBS will send an SMS-OTP to the user's registered mobile number for verification, after which the user may create his/her preferred digibank credentials. Users should not disclose their personal details to others, including digibank credentials.

In July 2020, DBS conducted a beta trial of the SingPass Face Verification technology with over 100 seniors and students from ITE College West. The trial concluded to positive response among the participants. The majority of participants said they would recommend that their family and friends use the SingPass Face Verification option to sign up for digital banking or other banking services once available in future, as they find it much quicker and easier than existing digital banking sign-up methods that conventionally require them to have their card and PIN details on hand to complete the registration process.

Said Nancy Yeo, 66 years old, "I didn't sign up for a digital banking account as I wasn't confident about completing the process, but this new face verification option helped me erase any doubts. The instructions were easy to understand and the process was surprisingly enjoyable, as it was just like taking a selfie photo with my grandchild on my smartphone! This definitely changed my view about online banking, that it really isn't as complicated as I had thought."

Previously, customers who signed up for digital banking services online were required to use their ATM, credit or debit card and PIN to complete the verification process before they could access digital banking services for the first time. Those who did not have their card and PIN would have to wait up to five working days to receive their items by post to activate their digital banking accounts. Beyond the pilot programme, DBS customers will also have the option of using the SingPass Face Verification technology to sign up for other products and services by the end of 2020.

The feature is also being piloted in view of significant consumer shifts towards digital services, coupled with the steady rise of mobile and smartphone usage among Singaporeans, where smartphone penetration is expected to reach 80 percent of the population by 2022[1]. By the end of 2019, the bank noted that the number of customers who had been conducting their banking needs solely via mobile on the bank's mobile banking app, DBS digibank, almost doubled from 2017 to 2019. Furthermore, close to one million DBS customers today are independent digital banking users, which means that they are active on the bank's digital banking platforms, and have gone more than a year without visiting a bank branch or calling the bank's contact centre for assistance. During Covid-19, more seniors have been turning to digital banking to meet their banking needs – the number of seniors who used digital banking in April and May 2020 more than tripled compared to the same period last year.

[1] https://www.statista.com/statistics/625441/smartphone-user-penetration-in-singapore/


[END]
About DBS
DBS is a leading financial services group in Asia with a presence in 18 markets. Headquartered and listed in Singapore, DBS is in the three key Asian axes of growth: Greater China, Southeast Asia and South Asia. The bank's "AA-" and "Aa1" credit ratings are among the highest in the world.
Recognised for its global leadership, DBS has been named "
World's Best Bank
" by Euromoney, "
Global Bank of the Year
" by The Banker and "
Best Bank in the World
" by Global Finance. The bank is at the forefront of leveraging digital technology to shape the future of banking, having been named "
World's Best Digital Bank
" by Euromoney. In addition, DBS has been accorded the "
Safest Bank in Asia
" award by Global Finance for 11 consecutive years from 2009 to 2019.
DBS provides a full range of services in consumer, SME and corporate banking. As a bank born and bred in Asia, DBS understands the intricacies of doing business in the region's most dynamic markets. DBS is committed to building lasting relationships with customers, and positively impacting communities through supporting social enterprises, as it banks the Asian way. It has also established a SGD 50 million foundation to strengthen its corporate social responsibility efforts in Singapore and across Asia.
With its extensive network of operations in Asia and emphasis on engaging and empowering its staff, DBS presents exciting career opportunities. The bank acknowledges the passion, commitment and can-do spirit in all our 28,000 staff, representing over 40 nationalities. For more information, please visit
www.dbs.com
.
About Government Technology Agency
The Government Technology Agency of Singapore (GovTech) is the lead agency driving Singapore's Smart Nation initiative and public sector digital transformation. As the Centre of Excellence for Infocomm Technology and Smart Systems (ICT & SS), GovTech develops the Singapore Government's capabilities in Data Science & Artificial Intelligence, Application Development, Sensors & IoT, Digital Infrastructure, and Cybersecurity.
GovTech supports public agencies to manage enterprise IT operations and develop new digital products for citizens and businesses. GovTech is the public sector lead for cybersecurity, and oversees key government ICT infrastructure, as well as regulates ICT procurement, data protection and security in the public sector. GovTech is a Statutory Board under the Smart Nation and Digital Government Group (SNDGG) in the Prime Minister's Office.
For more information, please visit
www.tech.gov.sg
.