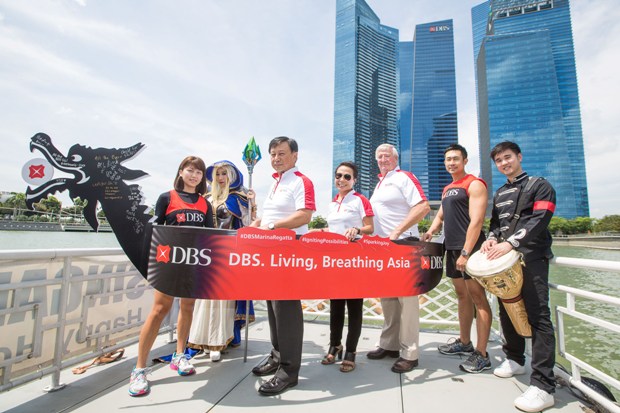 DBS Marina Regatta 2015 ignites the bay with the 28th SEA Games
Singapore's biggest watersports festival marks SG50 with an unprecedented three weekends of races, featuring Southeast Asia's best and one-of-a-kind experiences

Singapore, 08 Apr 2015 -
The DBS Marina Regatta is back, and this time, it is bigger and better than ever. This year's regatta holds special significance as it:
• Joins DBS Marina Regatta with the 28th Southeast Asian (SEA) Games to bring the best of the region's sailing and dragon boating teams to Marina Bay in celebration of SG50
• Spans three weekends, enabling even more people to join in the fun. Each weekend will offer something different for the community, including those who live and work around the bay, sports enthusiasts and families.
• Brings trendy, meaningful and fun experiences to Marina Bay including the "Paddle for Good" initiative to support inclusive sports and raise funds for the community, transforming the Promontory into an urban beach with pop-up cafes, conducting urban farming workshops and stand up yoga classes.
Organised in partnership with the Singapore Dragon Boat Association (SDBA), the 2015 edition of DBS Marina Regatta will see an estimated 2,500 paddlers take to the bay to compete in exhilarating races across nine categories for SGD 215,000 in prize money – Asia's highest – as they power their way through the same waters that will host the region's best at the SEA Games in subsequent weekends.
Weekend 1 (30-31 May) – Paddle for Good
DBS brought international dragon boat competitions back to Singapore after a 12-year hiatus with the inaugural DBS Marina Regatta in 2012. The regatta has become a marquee event, synonymous with dragon boating, and this year, more than 200 races are anticipated.
DBS Marina Regatta's open and women races will be held on 30 and 31 May. Beyond the dragon boat races, Singapore's biggest watersports festival will feature an even more diverse range of activities designed to appeal to more varied interests.
One of the regatta's key aims is to unify everybody, regardless of one's background and physical abilities, with the vision of a more inclusive society, through sports. To this end, the event will debut "Paddle for Good" on 30 May where the public are challenged to form teams with and paddle alongside persons with disabilities (PwDs). "Paddle for Good" simulates a dragon boat race, but on land, with the use of indoor ergometer machines instead of boats. For every one kilometre paddled, DBS will donate SGD 100 to organisations that will use the funds to organise sports activities for PwDs. Donations will be matched dollar-for-dollar by the Care and Share movement led by Community Chest.
The event will also, for the first time, include urban farming workshops to teach people how to farm sustainably in their homes. An estimated 5,000 attendees – comprising DBS employees, Social Enterprises, Voluntary Welfare Organisations (VWOs) and their family members – are expected to attend during that weekend.
Said Sim S. Lim, DBS Singapore Country Head, "As we celebrate Singapore's 50th year of independence, we are proud to showcase DBS Marina Regatta and the 28th SEA Games races at one of our nation's most iconic locations. Marina Bay, a space that did not exist just 11 years ago, has undergone a radical transformation. Today, it is a vibrant and dynamic place that has ignited countless possibilities and is a testament to the vision of our late founding Prime Minister Lee Kuan Yew, who first conceived of the Marina Bay back in 1987. We hope to build on his legacy by making the bay a place for everyone to enjoy."
In addition, on 29 May, to further nurture young athletes and promote dragon boating, the annual National Inter-Schools' Dragon Boat Championship, which is open to all secondary school and junior college students, will be held at the Marina Bay for the first time.
Weekend 2 (6-7 June) – Best of Southeast Asia Dragon Boating
For the first time in almost 22 years, the SEA Games is back in Singapore. The SEA Games' Traditional Boat Races (Dragon Boat Races) will take place at the Marina Bay and race viewing will be free of charge. The races will comprise 12-crew and six-crew men and women categories, with the six-crew boats making their worldwide debut.
With the DBS Marina Regatta's mixed dragon boat teams and the SEA Games' races being held in the same weekend and in the same waters, the weekend promises to be a showcase of the best in Southeast Asian dragon boating talent, with paddlers exhibiting grit, resilience and endurance amid fierce competition. National dragon boat teams expected to compete include Indonesia, the reigning Asian Games champion, making the SEA Games a must-watch for everyone.
Mr. John P. McGrath, Senior Vice President of the SDBA said, "The DBS Marina Regatta has contributed largely to the revitalisation of dragon boating throughout Asia. Over the last four years, the DBS Marina Regatta has helped to develop dragon boaters in the region by giving them the opportunity and the platform to measure themselves against one another. That the DBS Marina Regatta is being held in conjunction with the SEA Games' Traditional Boat Races (Dragon Boat Races) this year is testament to the growth of the sport in Singapore."
Weekend 3 (13-14 June) – SEA Games Sailing @ the Urban Beach
During the DBS Marina Regatta's final weekend of festivities, DBS seeks to ignite possibilities at the bay by transforming the Promontory into Singapore's first urban beach by the bay. Eclectic offerings such as pop-up cafes, stand-up yoga and paddling are more reasons for people to visit Singapore's new downtown.
The weekend will also have the SEA Games' Sailing teams competing by the bay, providing even more impetus for the public to come and enjoy the unique experience of lounging by a beach while watching world-class sailing teams compete for gold.
DBS Marina Regatta 2015 will once more feature popular events such as the Regatta Cosplay Challenge, the Asian Food Festival and the Asian Drum Challenge. The well-received DBS Dragon Tap will also return with more fun features such as "Challenge a Friend". Leading up to the regatta, the bank will also showcase cinemagraphs by Singapore's popular street photographers that capture their perspectives of the DBS Marina Regatta.
In 2013, DBS committed SGD 10 million over three years to enliven the Marina Bay area. Since then, through initiatives such as the DBS Marina Regatta, the bank has enabled more than 50,000 people to enjoy different facets of the bay. For example, members of the public get to sail around the bay with the DBS Marina Bay Sailing Programme, enjoy outdoor cinema with DBS Movies by the Bay, as well as cycling and yoga activities by the bay – all complimentary events organised by the bank.
For more information, visit www.dbsmarinaregatta.com
For more information on race details, DBS Marina Regatta festival highlights and quotes from Dragon Boaters, click here.
[End]
About DBS
DBS - Living, Breathing Asia
DBS is a leading financial services group in Asia, with over 250 branches across 18 markets. Headquartered and listed in Singapore, DBS has a growing presence in the three key Asian axes of growth: Greater China, Southeast Asia and South Asia. The bank's capital position, as well as "AA-" and "Aa1" credit ratings, is among the highest in Asia-Pacific. DBS has been recognised for its leadership in the region, having been named "Asia's Best Bank" by The Banker, a member of the Financial Times group, and "Best Bank in Asia-Pacific" by Global Finance. The bank has also been named "Safest Bank in Asia" by Global Finance for six consecutive years from 2009 to 2014.
DBS provides a full range of services in consumer, SME and corporate banking activities across Asia. As a bank born and bred in Asia, DBS understands the intricacies of doing business in the region's most dynamic markets. These market insights and regional connectivity have helped to drive the bank's growth as it sets out to be the Asian bank of choice. DBS is committed to building lasting relationships with customers, and positively impacting communities through supporting social enterprises, as it banks the Asian way. It has also established a SGD 50 million foundation to strengthen its corporate social responsibility efforts in Singapore and across Asia.
With its extensive network of operations in Asia and emphasis on engaging and empowering its staff, DBS presents exciting career opportunities. The bank acknowledges the passion, commitment and can-do spirit in all of our 21,000 staff, representing over 40 nationalities. For more information, please visit www.dbs.com.