DBS Bank provides SGD40 million loan facility to Sembcorp Industries for Singapore's first single large-scale floating solar photovoltaic system
Project is one of the world's largest, inland floating solar photovoltaic systems to date
DBS is the sole financier for the project
Singapore, 20 Aug 2020 - DBS Bank has provided a SGD40 million loan facility to Sembcorp Industries (Sembcorp) to build a 60 megawatt-peak (MWp) floating solar photovoltaic (PV) system on Tengeh Reservoir in Tuas. The bank is the sole financier for the project.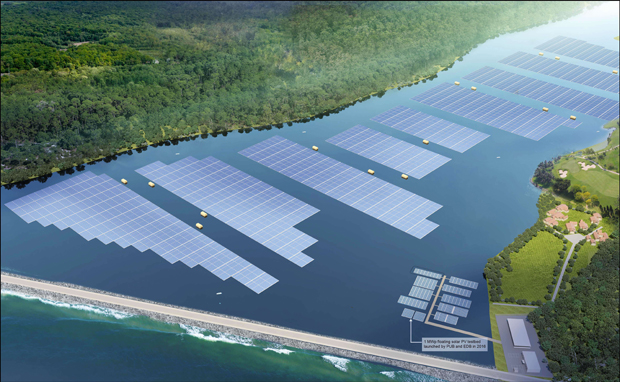 Scheduled to be completed in 2021, the project will be Singapore's first single large-scale floating solar PV system as well as one of the world's largest, inland floating solar PV systems. Awarded by PUB in February, the project will cover an area of around 45 football fields and generate enough energy to power about 16,000 four-room HDB flats for a year, offsetting about 32 kilotonnes of carbon emissions annually – equivalent to taking approximately 7,000 cars off the roads.
Koh Chiap Khiong, Head of Singapore, Southeast Asia and China (Energy), Sembcorp Industries
, said, "This floating solar PV system for PUB is a landmark project that demonstrates Sembcorp's commitment and expertise in developing large-scale renewable energy projects to contribute to Singapore's transition to a low-carbon economy. We are pleased to have DBS Bank as the sole financing partner for this project as we build an advanced and sustainable platform to deliver long-term value for PUB and Singapore."
Lim Wee Seng, Head of Energy, Chemicals and Infrastructure, DBS Bank
, said, "Enabling renewable energy financing is at the core of DBS' agenda and is one of the key tenets of our sustainability strategy. We are heartened to support Sembcorp Industries in this landmark transaction which demonstrates Singapore's transition towards a low-carbon economy. It builds on our recent financial advisory roles in Taiwan's largest floating solar project and also Taiwan's largest ground-mounted solar project – and that's where DBS seeks to differentiate itself in renewables financing – capturing financial advisory opportunities so we shape and influence early. Despite Covid-19, we closed the two solar financial advisory mandates in Taiwan and garnered four new advisory mandates across solar, wind and geothermal assets in Indonesia, Taiwan and Vietnam this year."
With this project, Sembcorp will be one of the largest renewable energy players in Singapore with approximately 240MWp of solar capacity in the country. The project also underscores Singapore's continued efforts to work towards achieving its solar target of at least 2 gigawatt-peak (GWp) by 2030.
DBS' commitment in developing Asia's renewables landscape
Since 2018, DBS has completed 29 renewable projects amounting to around SGD3.6 billion across Asia. The bank also has strong expertise in advising and arranging for financing across a broad spectrum of renewable energy projects in Singapore and the region, in areas such as floating solar and rooftops, onshore and offshore wind, hydro, and geothermal.
"Renewable energy has been scaling up rapidly across the region over the last decade, giving rise to the need for more financing to fund its development, especially in developing countries, to meet climate and sustainable development goals. As a purpose-driven bank and as part of our commitment to develop Asia's renewables landscape, we have dedicated SGD10 billion to finance renewable and clean energy development across the region by 2024, with an expected double-digit growth annually," said Lim.
Walking the talk, DBS is also the first Asian bank and Singapore company to join the global renewable energy initiative,
RE100
, and has committed to utilising 100% renewable energy across all its markets, with an interim target of 100% in Singapore by 2030. To date, DBS has been making steady progress with about 14% of the bank's total electricity consumption across its six core markets derived from renewable sources.
[END]
About DBS
DBS is a leading financial services group in Asia with a presence in 18 markets. Headquartered and listed in Singapore, DBS is in the three key Asian axes of growth: Greater China, Southeast Asia and South Asia. The bank's "AA-" and "Aa1" credit ratings are among the highest in the world.
Recognised for its global leadership, DBS has been named "
World's Best Bank
" by Euromoney, "
Global Bank of the Year
" by The Banker and "
Best Bank in the World
" by Global Finance. The bank is at the forefront of leveraging digital technology to shape the future of banking, having been named "
World's Best Digital Bank
" by Euromoney. In addition, DBS has been accorded the "
Safest Bank in Asia
" award by Global Finance for 11 consecutive years from 2009 to 2019.
DBS provides a full range of services in consumer, SME and corporate banking. As a bank born and bred in Asia, DBS understands the intricacies of doing business in the region's most dynamic markets. DBS is committed to building lasting relationships with customers, and positively impacting communities through supporting social enterprises, as it banks the Asian way. It has also established a SGD 50 million foundation to strengthen its corporate social responsibility efforts in Singapore and across Asia.
With its extensive network of operations in Asia and emphasis on engaging and empowering its staff, DBS presents exciting career opportunities. The bank acknowledges the passion, commitment and can-do spirit in all of our 29,000 staff, representing over 40 nationalities. For more information, please visit
www.dbs.com.