DBS Hong Kong and Taikoo Place launch the highest urban farm atop One Island East with the goal to close food waste loop | 繁體
Hong Kong
.

15 Nov 2021

.

3 min read
Hong Kong, 15 Nov 2021 - DBS Hong Kong has partnered with Taikoo Place and Rooftop Republic, a local social enterprise supported by DBS Foundation, to build an urban farm atop One Island East (OIE) in Taikoo Place. Situated 300 meters above ground, the farm is the highest urban farm in Hong Kong. Named The Loop at One Island East, more than 30 types of organic seasonal crops are being grown at the urban farm throughout the year. At the first harvest this September, 24 kilograms of fresh veggies were donated to local food bank Feeding Hong Kong.
Food waste accounts for 30% of Hong Kong's municipal solid waste[1] and is a significant source of carbon emissions. When we waste food, we also waste all the energy and water it takes to grow, harvest, transport and package it. To address the food waste issue, DBS Hong Kong continues to team up with Taikoo Place and will launch a revamped collection process to convert the food waste from its OIE office into compost to nourish crops being grown at the farm.
The initiative aligns with the sustainable development strategies of both companies. DBS' latest Towards Zero Food Waste (TZFW) programme aims to raise both the public and employees' awareness on reducing food waste and adopting a more sustainable lifestyle. It will also be part of DBS' effort to achieve net zero operational carbon emissions across the bank by 2022. On the other hand, guided by Swire Properties' Sustainable Development 2030 Strategy launched in 2016, its more aggressive Science-based Targets to help limit global temperature rising to 1.5°C were recently approved by the Science Based Targets initiative, with energy conservation and waste reduction a key part in its decarbonisation journey.

Priscilla Li, General Manager of Taikoo Place, Swire Properties, said, "We're excited to partner with DBS Hong Kong on the creation and launch of The Loop at One Island East. This project is part of our ongoing efforts to engage partners to reduce waste, which in turn contributes to decarbonisation to fight climate change. We look forward to working with more like-minded tenants like DBS Hong Kong to create a more sustainable environment for future generations."
Amy Wu, Executive Director and Head of Group Strategic Marketing and Communications, DBS Hong Kong, said, "Our goal to achieving a lower carbon future is clear. DBS as a purpose-driven bank, our sustainability strategy is built on three essential pillars, namely Responsible Banking, Responsible Business Practices and Creating Social Impact. The Loop at One Island East is a perfect example of how we can reduce our carbon footprint by converting employees' food waste from our office into fertiliser to grow fresh produce and donate them to those in need in Hong Kong. It is a meaningful, cross-industry effort to close the food waste loop. We are glad to have partnered with Taikoo Place in this green journey to drive a sustainable future."
[1] https://www.epd.gov.hk/epd/english/environmentinhk/waste/prob_solutions/food_waste_challenge.html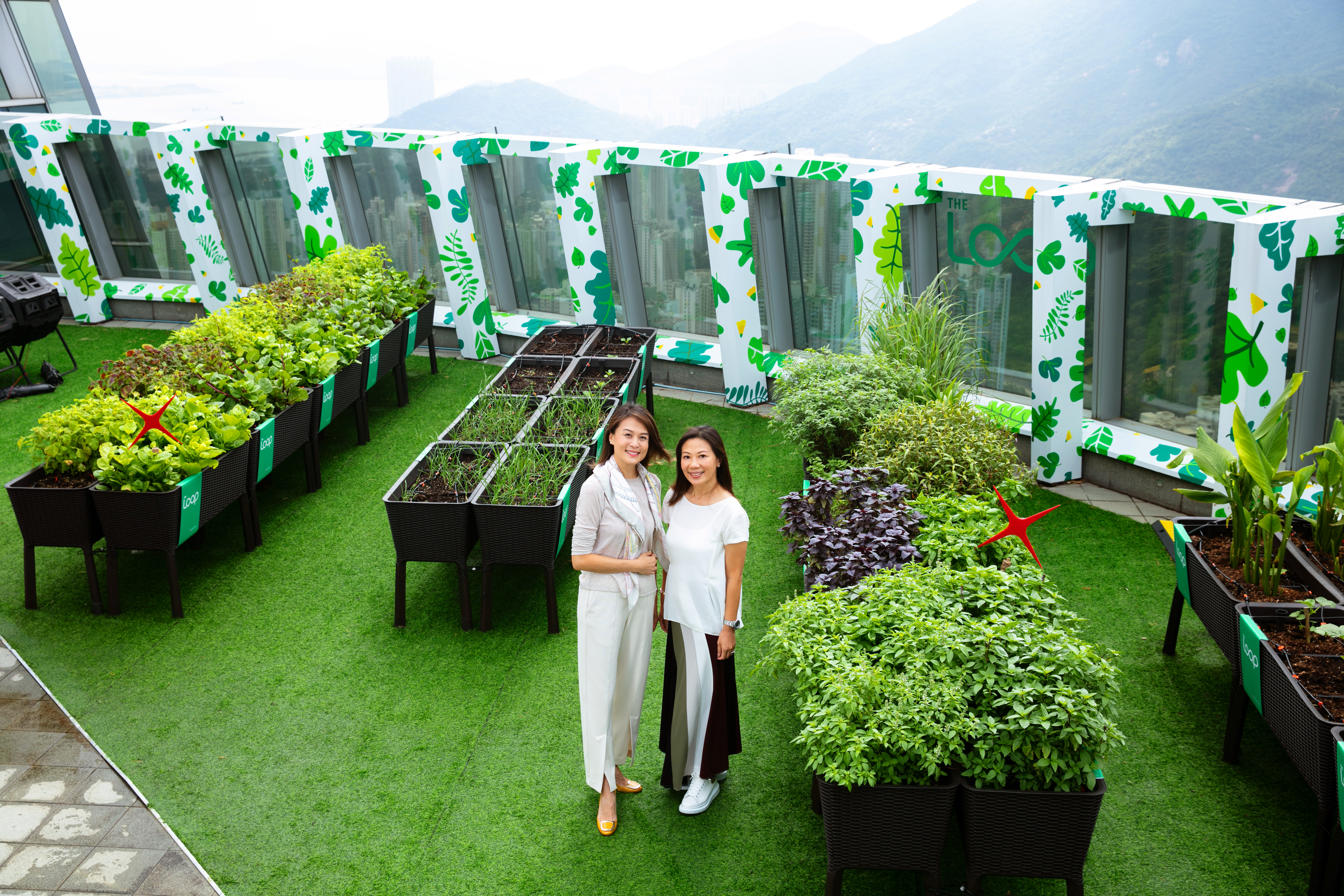 Priscilla Li, General Manager of Taikoo Place, Swire Properties (L),
Amy Wu, Executive Director and Head of Group Strategic Marketing
and Communications, DBS Hong Kong (R), visited The Loop
at One Island East, Hong Kong's highest urban farm that helps
contribute to closing the food waste loop and reducing carbon footprint.
[END]


About DBS

DBS is a leading financial services group in Asia with a presence in 18 markets. Headquartered and listed in Singapore, DBS is in the three key Asian axes of growth: Greater China, Southeast Asia and South Asia. The bank's "AA-" and "Aa1" credit ratings are among the highest in the world.

Recognised for its global leadership, DBS has been named "World's Best Bank" by Euromoney, "Global Bank of the Year" by The Banker and "Best Bank in the World" by Global Finance. The bank is at the forefront of leveraging digital technology to shape the future of banking, having been named "World's Best Digital Bank" by Euromoney and the world's "Most Innovative in Digital Banking" by The Banker. In addition, DBS has been accorded the "Safest Bank in Asia" award by Global Finance for 13 consecutive years from 2009 to 2021.

DBS provides a full range of services in consumer, SME and corporate banking. As a bank born and bred in Asia, DBS understands the intricacies of doing business in the region's most dynamic markets. DBS is committed to building lasting relationships with customers, and positively impacting communities through supporting social enterprises, as it banks the Asian way. It has also established a SGD 50 million foundation to strengthen its corporate social responsibility efforts in Singapore and across Asia.

With its extensive network of operations in Asia and emphasis on engaging and empowering its staff, DBS presents exciting career opportunities. For more information, please visit www.dbs.com.


About Taikoo Place

Recognised as one of Hong Kong's best-planned business hubs, Swire Properties' Taikoo Place is home to over 300 multinational corporations, including many Fortune 500 companies. The first business hub in Hong Kong to be fully equipped with the 5G network, the portfolio houses more than 30,000 office workers, offering over 7.1 million sq ft. It comprises a network of 10 office towers including One Taikoo Place – the first commercial building in Asia to achieve WELL Core & Shell Version 1 Final Platinum Certification, and One Island East, as well as Two Taikoo Place, scheduled to open in 2022. A wide range of business and leisure amenities are situated within the area, including multipurpose venue ArtisTree, the co-working hub Blueprint, the private members' club The Refinery, the landscaped garden Taikoo Park, and a variety of restaurants and cafes. Within a five-minute walking distance are the shopping mall Cityplaza, lifestyle business hotel EAST Hong Kong, and EAST Residences.
Visit Taikoo Place's website at www.taikooplace.com.


Sustainability