In Time Of x DBS Weekend Market: No More Food Waste Tomorrow | 繁體
Hong Kong
.

16 Sep 2022

.

3 min read
Hong Kong, 16 Sep 2022 - The
In Time of x DBS Weekend Market: No More Food Waste Tomorrow
is a weekend pop-up market, to be held for the upcoming two weekends, that aims to promote zero food waste through green shopping, food waste recycling and upcycling workshops. Visitors can take home a Coffee Grounds Planting Kit to start planting, harvesting, consuming and recycling food waste from scratch.
The market will feature:
Eight collaborators including: MioX' Plus, Clover Seed; GreenPrice; LabOver; FurryGreen; Eco-Greenery SEED and BottLess who will sell products which are homegrown or made from upcycled food waste. They will also host a series of workshops to demonstrate food waste upcycling.
Green Footprints which visitors can collect to receive a Coffee Grounds Planting Kit, to grow their own red cabbage with food waste compost, and start on their journey to growing their own veggies at home.
An introduction of the commitments of Nan Fung Group and DBS on pushing "Towards Zero Food Waste", strive to increase public awareness of food waste and encourage people to start their own #TowardsZeroFoodWaste journeys.
The collaboration between In Time Of and DBS Hong Kong is a realization of their commitments to promoting the concept of zero food waste. With cultivating a food resilient future as the focus of In Time Of's Programmes this year, a series of activities have been kicked off. Closely working with the farming industry, food industry and local creative forces, issues such as the development of local farming, sustaining the food chain and preserving local food culture have been explored.
Whereas DBS, committing to pushing #TowardsZeroFoodWaste and building a more sustainable future, has been combining forces from the communities, partners, staff and the public to take part in reducing food waste. In 2021, DBS Group successfully saved more than 600,000 kg of food across Asia through food waste reduction and recycling, as well as food donation and redistribution to reduce carbon emissions and address climate change.
"In Time Of x DBS Weekend Market: No More Food Waste Tomorrow"
17-18, 24-25 Sept (Sat & Sun)​
12nn – 6pm​
1/F, The Mills, Tsuen Wan​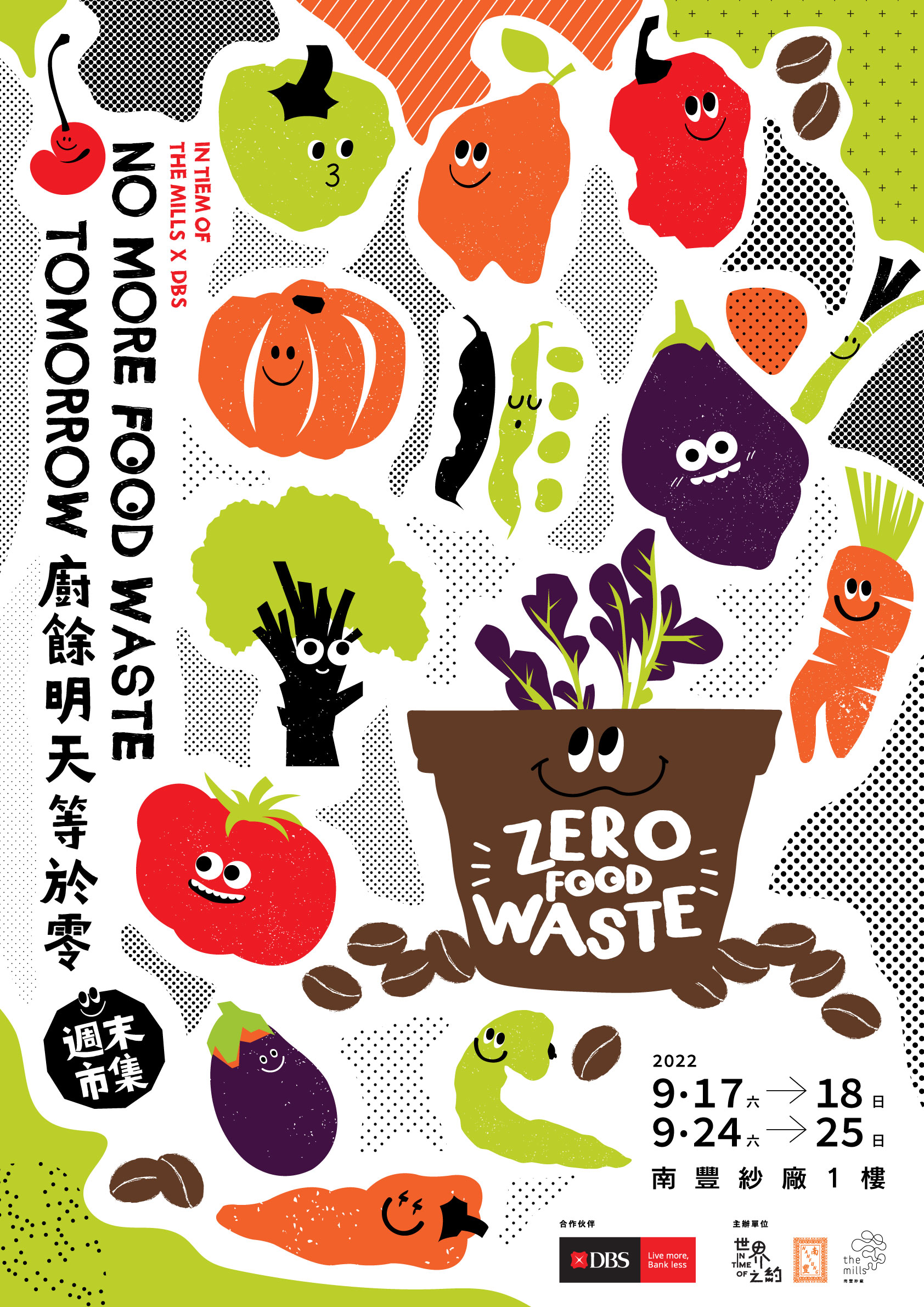 [End]
About DBS
DBS is a leading financial services group in Asia with a presence in 18 markets. Headquartered and listed in Singapore, DBS is in the three key Asian axes of growth: Greater China, Southeast Asia and South Asia. The bank's "AA-" and "Aa1" credit ratings are among the highest in the world.

Recognised for its global leadership, DBS has been named "World's Best Bank" by Global Finance, "World's Best Bank" by Euromoney and "Global Bank of the Year" by The Banker. The bank is at the forefront of leveraging digital technology to shape the future of banking, having been named "World's Best Digital Bank" by Euromoney and the world's "Most Innovative in Digital Banking" by The Banker. In addition, DBS has been accorded the "Safest Bank in Asia" award by Global Finance for 13 consecutive years from 2009 to 2021.

DBS provides a full range of services in consumer, SME and corporate banking. As a bank born and bred in Asia, DBS understands the intricacies of doing business in the region's most dynamic markets. DBS is committed to building lasting relationships with customers, as it banks the Asian way. Through the DBS Foundation, the bank creates impact beyond banking by supporting social enterprises: businesses with a double bottom-line of profit and social and/or environmental impact. DBS Foundation also gives back to society in various ways, including equipping communities with future-ready skills and building food resilience.

With its extensive network of operations in Asia and emphasis on engaging and empowering its staff, DBS presents exciting career opportunities. For more information, please visit www.dbs.com.
About "In Time Of"
The "In Time Of" programme is a community initiative launched by the Nan Fung Group that engages society on multidisciplinary levels ranging from culture and arts to social design and sustainable development. Inspired by the global "Resilient Cities" concept that refers to cities with the resilience to absorb, recover from and prepare for future shocks in different areas of society including economic, environmental, social, infrastructural, and institutional. The programme aspires to empower the community to accumulate social capital in neighbourhoods, advocating sustainability, and reshaping a continuous relationship that bridges humanity and nature.
The Group will partner with a diversity of social stakeholders including non-profit organisations, social enterprises and community designers through the "In Time Of" programme to develop sustainable community programmes including exhibitions, seminars, workshops, and guided tours, realise social empowerment and improve the efficiency of resource utilisation in the hope of creating a more resilient future for local neighbourhoods.
About Nan Fung Group
Nan Fung Development Limited is a subsidiary of the Nan Fung Group, one of the largest privately held conglomerates in Hong Kong with global interests in real estate development and investment. It holds a welldiversified and substantial financial investment portfolio. The Group was founded in 1954 and has a track record spanning over 50 years with over 165 projects including residential, commercial and industrial buildings. The Group also strategically focuses on first-tier cities in mainland China and recognises attractive opportunities for development and investment overseas, including New York and London.
In recent years, the Group has expanded its investment focus to ICE (Innovation, Creativity and Entrepreneurship), exemplified by its signature project, The Mills, a revitalisation of its legacy yarn factories into a hub promoting techstyle (intersection of technology and style) and an integrated destination housing an experiential shopfloor, startup incubator and interactive gallery. The Group has also made significant progress in investments related to life sciences in the US via Pivotal; and in Mainland China via an affiliate, New Frontier, which focuses on healthcare, elderly care, education, and new technology.
To find out more about "In Time Of" and "In Time Of Food", please visit the official website and follow the social media platforms below.
Website: https://www.intimeof.com/
Facebook: https://www.facebook.com/InTimeOf
Instagram: https://www.instagram.com/intimeofhk/
Social Enterprises