I did a career reset to be a self-taught programmer in DBS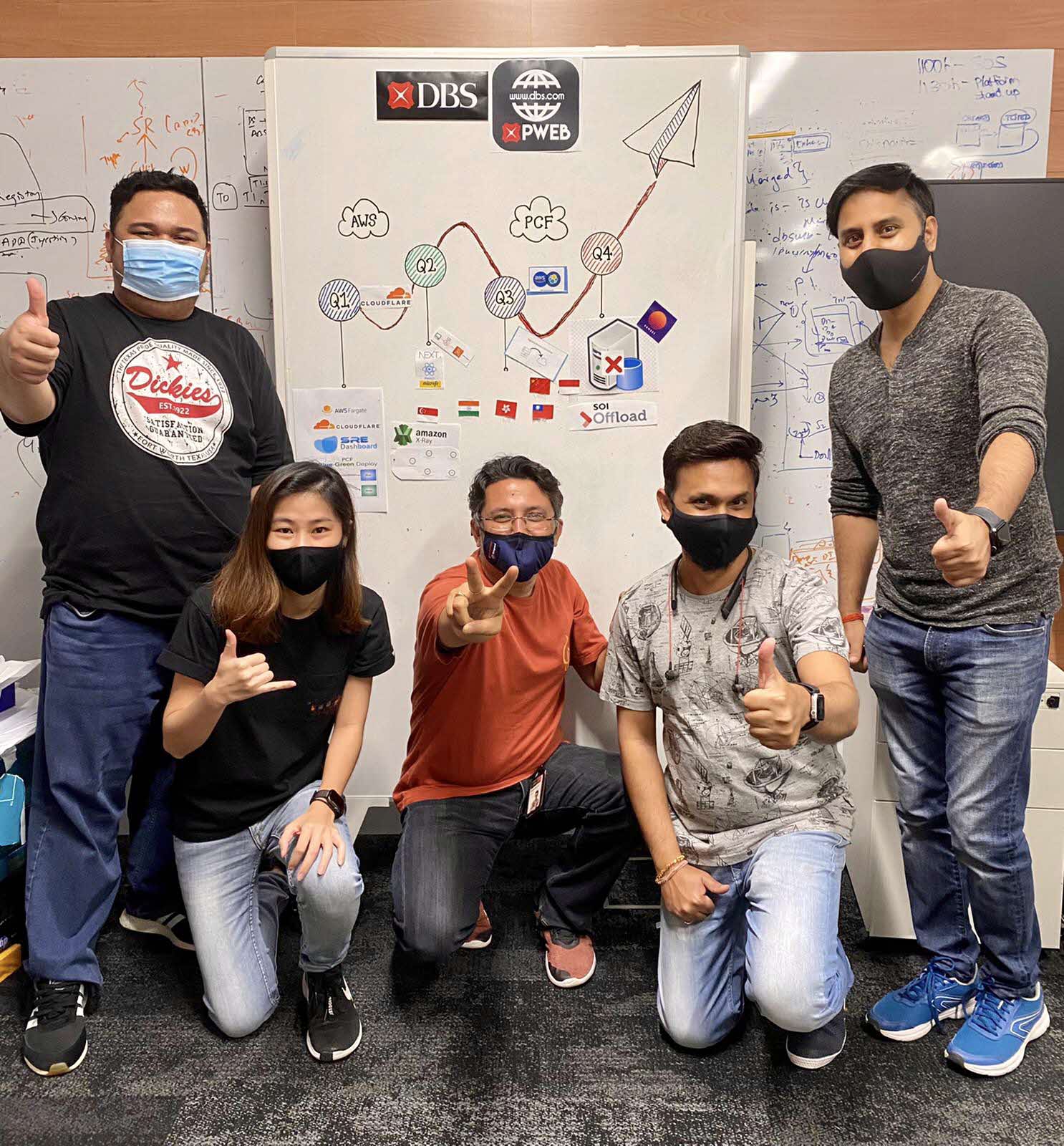 "When I was toying with the idea of switching careers, there were a lot of doubts in my mind – will I be throwing away my degree and years of experience in the construction industry? Will I be able to compete with other programmers who have spent years studying software development?
…which company would hire me?"
Andrea Lau was a Quantity Surveyor in the construction industry. In 2020, she took a leap of faith to switch careers. Now, she's a frontend developer for DBS Bank, working on applications for the DBS website and DBS Marketplace. This is her story:
"For 5 years after graduation, my daily tasks circled around developing construction cost estimates from architects' blueprints and managing budgets through auditing contractors' claims.
During my time in construction, the Building & Construction Authority (BCA) was leading a digital transformation campaign, pushing firms to explore digital capabilities such as 3D modelling and automation. These tools, which aided data integrity and rapid workflows, made my job much more efficient when it previously involved a lot of manual work.
After expressing my interest in learning how to use these technologies, I was gradually offered more opportunities to work on projects that involved automation and 3D modelling. Eventually, I started spearheading these projects.
This sparked my interest in software development. At the same time, my colleagues and friends could sense that I was passionate about the field and were telling me stories of how people they knew from a non-tech background switched careers after going through part or full-time courses.
But I was still apprehensive, as it didn't seem attainable to me. How could I catch up with those who had spent years studying?
I mulled over it for a long time, and thought about how this is finally a field that I'm passionate about. I had decided on my major in university at a time when I didn't really know what I wanted.
The stories I heard spurred me to take a leap of faith. If you never try, you will never know, right?
I left my profession in construction and enrolled myself in an intensive 3-month programming bootcamp. Honestly, it was a steep learning curve. I think I even shed a few tears in the beginning because the concepts were so unfamiliar to me! Thankfully, I had wonderful classmates and we helped each other through tough assignments over Zoom calls.
After completing the course, I read about the DBS Women in Tech hiring drive in the newspaper. I thought I stood a slim chance against the more experienced developers, but nearer to the closing date, I went for it and got through the first round, a technical assessment on the HackerRank platform.
The speech that Siew Choo [Group Head of Big Data/AI and Consumer Banking Technology at DBS Bank] gave during the hiring drive was very inspiring to me and I knew then that this was the right field and company for me.
I was in disbelief when I got the offer to be hired as a frontend developer, but now, I'm developing reusable User Interface (UI) components and micro-frontends, including their integration into customer-facing web applications that are built on top of modern tech stacks.
Of course, I still have to put in time and effort to learn as I go but the community within DBS is very supportive and nurturing. My colleagues are always willing to lend a helping hand and there are a lot of learning and upskilling programs that not only strengthens our skills in our current verticals but also provides us with the opportunity to dive into other tech verticals.
Being in a digital-first, data-driven organisation, I also get to work on the newest and most updated technologies, which helps in keeping our skills relevant.
To everyone from a non-tech background but aspires to join the tech or fintech industry, I want to say that it is possible, you just have to take the first step."
- Andrea Lau, Frontend Developer, DBS Singapore