How hackathons became integral to DBS' culture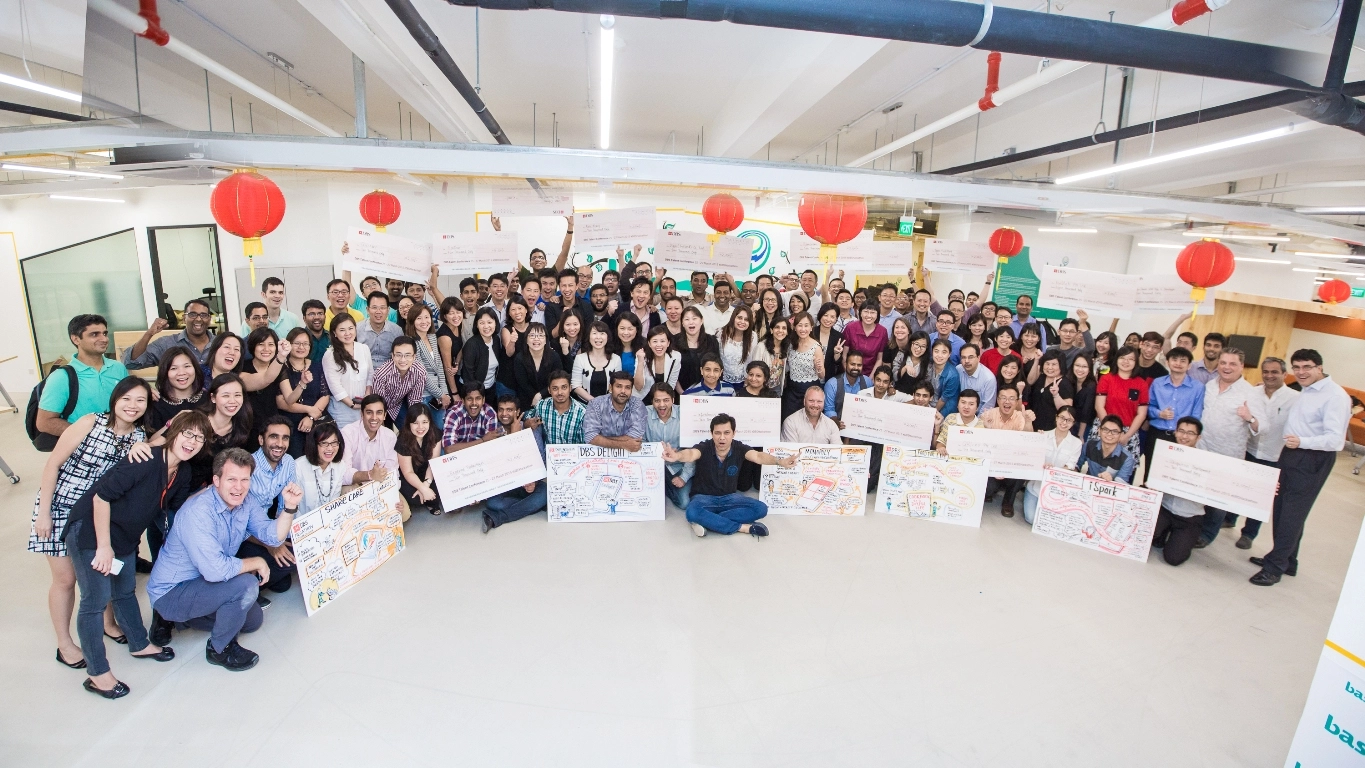 "How did hackathons become such an integral part of DBS' culture?
Back in 2015, many staff at DBS felt that innovation could only be done by very creative types of people - so we threw 85 senior execs into a 5-day MegaHackathon with 20 startup teams, to a grand total of 150 participants.
Their goal was to come up with prototypes alongside startups that could tackle business and societal challenges. One of the winning ideas included an app that connects caregivers to a support network that includes peers, social enterprises and other healthcare organisations.
But the true purpose of these accelerators was a chance for our executives to learn key skills like lean startup methodology and human-centred design from the startups, and to be able to identify and act on opportunities quickly.
Of course, bringing two different generations together led to some extraordinary moments - our middle-aged bankers would be introduced to a 20 something year old coder from a startup, and he'd say, "Let me tell you how this is going to be." And the young guy'd say, "No, I don't think so…" They'd go through a storming-norming cycle very quickly.
Thankfully, everyone quickly bonded and delivered something within 72 hours. A lot of staff who participated look back on those days fondly, and recount that it was a truly transformational experience because it gave them the belief that they could operate at that kind of speed.
Over the years, our approach to innovation has evolved, from running hack-to-hires to attract and hire the best tech talent, to opening an innovation hub, DBS Asia X, in the heart of Singapore's version of "Silicon Valley"."
Paul Cobban, former Chief Data & Transformation officer
Back in 2015, DBS was the first in Singapore to incorporate hackathons into its talent development programme. These events aimed to encourage further collaboration between organisations and startups, and help build up the startup ecosystem in Singapore.
At the same time, DBS had collaborated closely with FinTech startups in its inaugural DBS Accelerator in Hong Kong. With more than 150 applications globally, it aimed to shape the future of finance with innovative FinTech solutions in areas such as artificial intelligence, blockchain, gamification and more.
In 2017, the bank has expanded its use of hackathons - from hiring the best tech talent in our hack-to-hire events. In 2019, it to Hackathon for a better world, in collaboration with the Singapore Judiciary.
Guided by our need to constantly innovate and give our best to our customers, and convicted about the importance of driving impact beyond banking – we've never let the notion of what a conventional bank should be define us. More like a startup, more like a friend, more like a business partner. And less like a bank. That's what makes us a #differentkindofbank.