Why managing personal finances well means so much to Evy Wee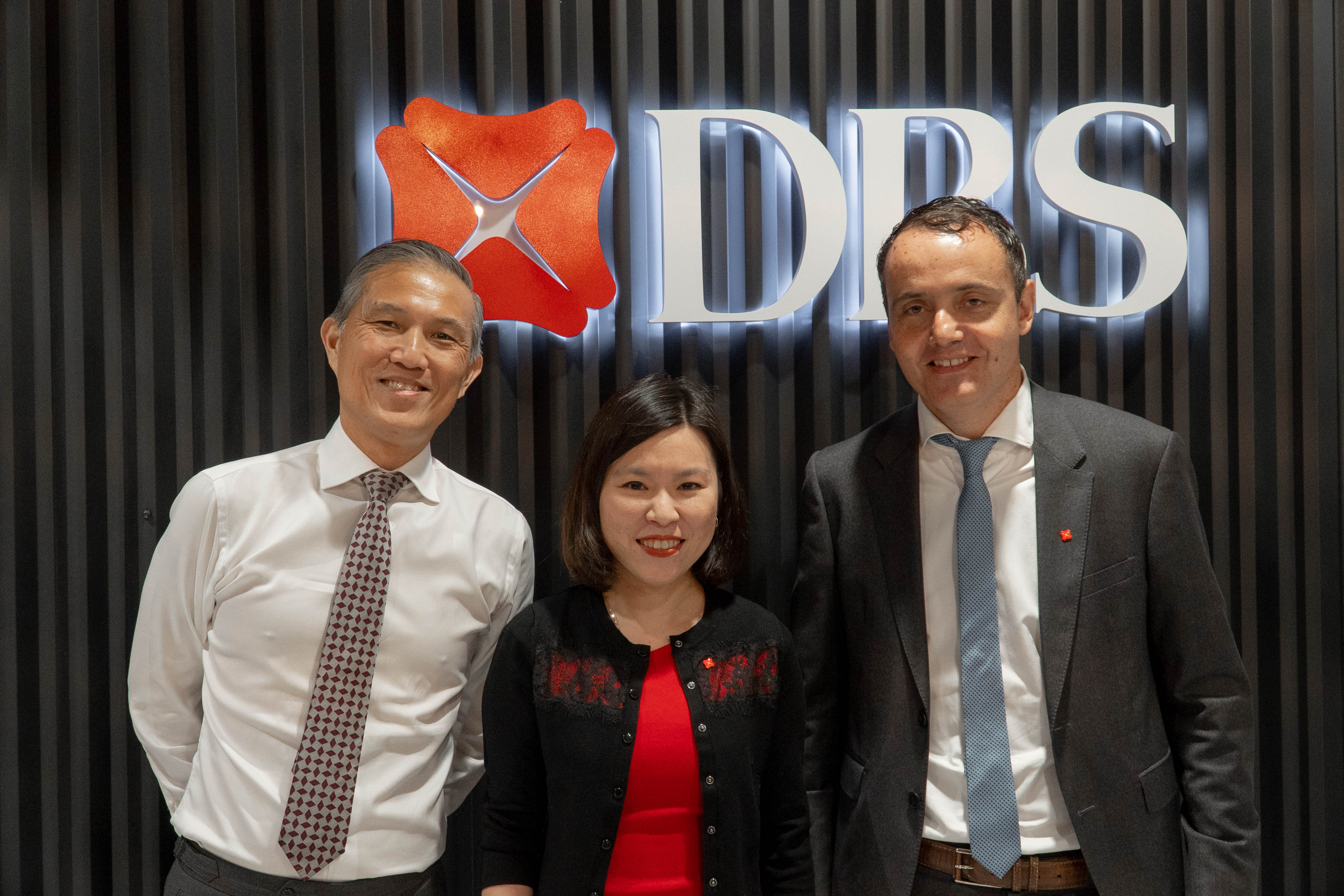 Photo: Evy (centre) with Singapore Head of Consumer Banking Jeremy Soo and Head of Discretionary Portfolio Management Christophe Marciano.
For Evy Wee, a humble sandwich made with Gardenia bread means more than just a source of nourishment. To her, the simple meal is also a reminder of the struggles she faced early in her career, when she had to penny-pinch whenever possible to help clear her family's debt.
"I think I literally just ate Gardenia bread or just carbs for almost every meal during my first three years at DBS," said the now-Head of Financial Planning and Personal Investing at the bank.
"So much so that even now, when I'm stressed or upset and need some comfort food, I always get a sandwich," she added.
Evy became the breadwinner of her family at the age of 23, just after graduating from university. Her father, she said, was faced with some financial lawsuits, which eventually led to her family being evicted from their home.
"It was heartbreaking to see my parents lose the home that they had spent so many years building up almost overnight," said the Malaysian-born 39-year-old, who is now married to a Singaporean marketing professional.
"We had so little time to pack, and the moment that we saw our house being locked up was particularly devastating not just for my parents, but for myself as well, having lived and grown up there nearly my whole life."
But even giving up their home was insufficient to fully repay the family's debt, Evy recalled. The family moved into a temporary housing space, while Evy and her older brother worked to pay off the debt.
"I think we were also very determined to get the house back for my parents, so that they can go back and stay where they belong, where their community is, and where their friends were," she said.
"I think that was the day when I became more disciplined with my money, because we really had a single-minded focus to get the house back. It was also during these years when we were working hard to get back our house that I really learnt the value of money and importance of saving and gaining financial freedom," she added.
Helping others manage their money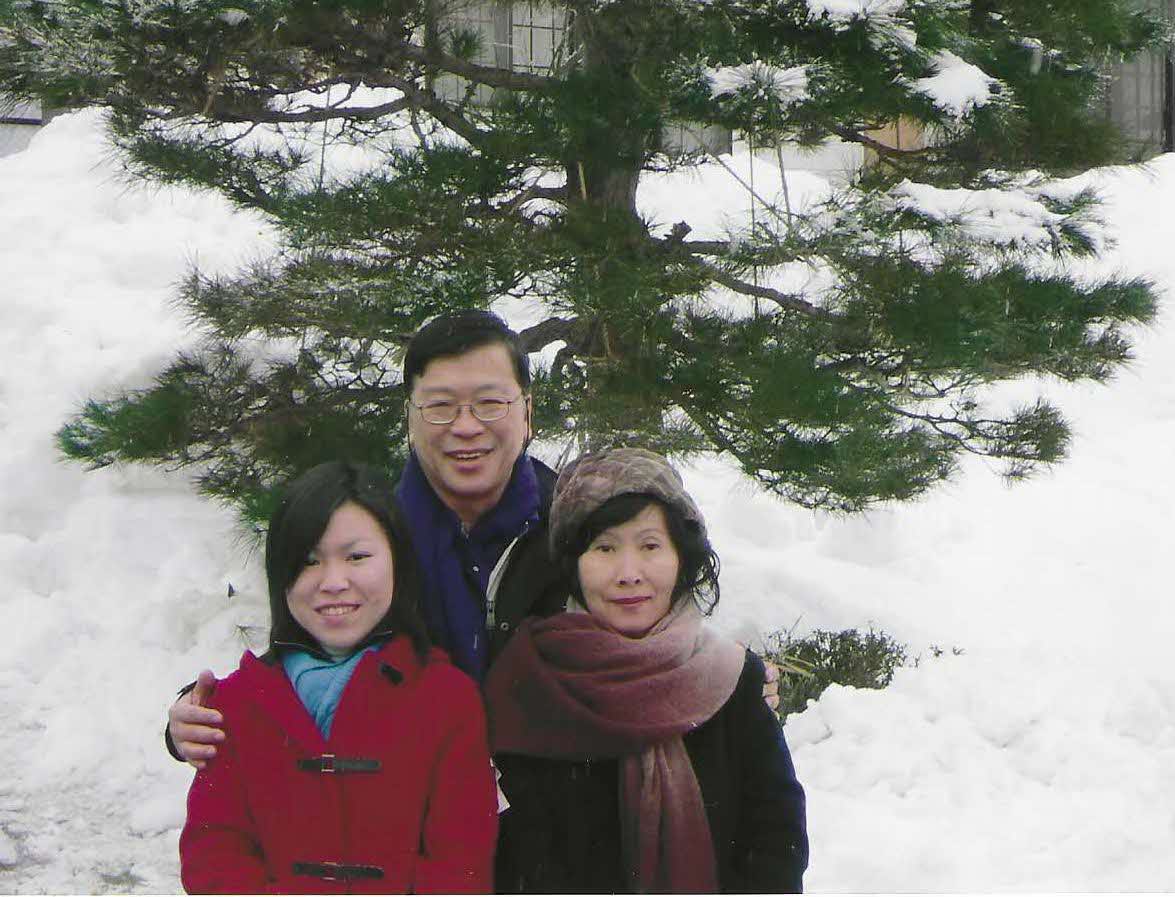 Photo: Evy (bottom left) on a trip with her parents
Evy moved to Singapore when she received the opportunity to work at DBS. Back then, the bank had opened up its Management Associate programme to include South-east Asian talents for the first time.
"To be honest, I really didn't know what to expect, or even really know whether I wanted to work at a bank. But I guess I was really lucky that I applied," said the now-Managing Director at DBS.
Fortune also favoured Evy when it came time for her to travel to Singapore for the job interview.
"I remember I received a call from the head of DBS' Labuan branch in Kuala Lumpur telling me that I should go to Singapore, and even though he didn't know about my family's financial issues at time, for some reason he offered me some money as an allowance so I could travel here," she said.
"After I got the job offer, I went to thank him personally, because I was telling him about my family's circumstances and just how much this opportunity meant for me.
"And I promised him that I would work very hard, not just for the sake of my family, but to pass on his act of kindness and help others as well," she said.
Evy believes her current role at DBS allows her to do just that. As Head of Financial Planning and Personal Investing, Evy is heavily involved in projects that aim to help customers manage their personal finances better, including planning for their retirement or making wise investment choices.
Some of Evy's more recent notable projects include launching DBS Nav Planner – a tool in the digibank and iWealth apps that delivers personalised financial advice to customers based on their income, expenses, investments and other financial commitments – as well as digiPortfolio – a hassle-free, ready-made investment portfolio that allows anyone to begin investing with just SGD 1000 through a mixture of human expertise and robo-technology.
For Evy, this idea of helping others take charge of their own personal finances not only stemmed from her early experiences as her family's breadwinner, but also what she went through when planning to buy a home with her husband.
Back in 2015, the couple realised that their savings alone would not be enough for them to buy their dream home unless they compromised on their financial freedom. The couple ultimately bought a more reasonably priced apartment, even saving money on the renovation by designing the home on their own, instead of relying on an interior designer.
"My husband and I really sat down and had a lot of important and honest conversations before deciding to buy the house," said Evy.
"We both value our financial freedom and neither of us wanted to strain the other financially if something unfortunate happens and only one of us is working and paying the mortgage alone.
"So yes, I think it is definitely important to have all these difficult conversations upfront. I must say that I'm very fortunate that my husband and I share very similar values about our finances, and because we're in together, any compromises we make don't really feel like sacrifices."
In pursuit of financial freedom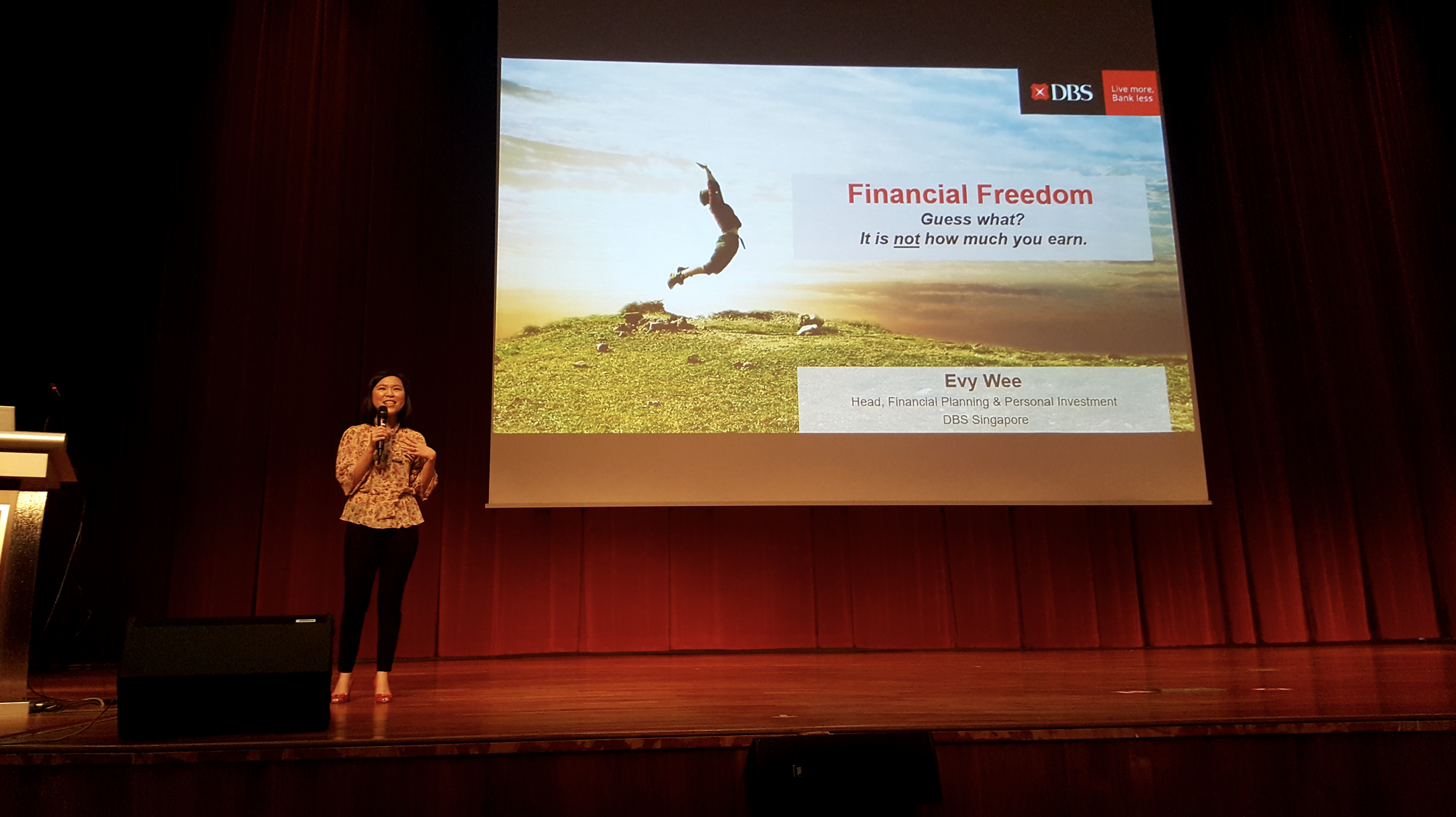 Whether by happenstance or just a case of excellent timing, it was around this same time that Evy moved to the Regional Investment Products and Advisory Team at DBS, after spending nearly 11 years at the institutional banking group in various roles.
Based on her homebuying experience and her new role, Evy became more interested in learning more about investing. Personally, she realised that saving up cash alone would not be enough to achieve the level of financial freedom she desired.
At the Regional Investment Products and Advisory Team, she learnt about the nuts and bolts of investing, from the basics like different investment products and the importance of a diversified portfolio to advanced technicalities like technology's role in investing. This in turn, helped her make more informed decisions about her investments, including investing with a cause and purpose in mind – particularly looking for opportunities with environmental, social and governance (ESG) exposure.
"I think we still do see many people, whom if you ask 'why are you investing', they'll probably answer 'because my friends or family members said it would be a good idea'.
"While I do think the intent is right, to invest your money if you have the financial capability to do so, but you really need to do your homework – to understand what you're investing in, the profile of the companies you're investing in, what are the risks involved, and what kind of social impact are you making," she said.
The culmination of her experiences can now be seen in DBS NAV Planner and digiPortfolio – tools that allow anyone to track, protect and grow their money in a way that works for them, as an individual, rather than having a one-size-fit-all model.
Evy was also in the working group for the Monetary Authority of Singapore's (MAS) new Singapore Financial Data Exchange (SGFinDex), an open banking platform that enables Singaporeans to share and consolidate their financial data, rather than having to scour through different sites.
Evy explained: "If you've just graduated from university and started your new job; your income goes into your bank account and you start contributing into your CPF, while you might start a couple of credit cards from different banks and consider buying an insurance plan. Then soon, you may take up a HDB loan, or set up a joint bank account with your spouse, or even start investing through the SGX.
"In this scenario, you'll have assets and liabilities everywhere. That means to plan your finances properly, you'll have to comb through all the different places for the necessary data. "With SGFinDex, all this information can be consolidated, which can make it easier for you to make the decisions that really work for you," she said.
On DBS' part, the DBS NAV Planner tool, if consent is enabled, can pull all the data and give customers personalised financial insights and recommendations, Evy added. After consent to obtain the data is first given, DBS NAV Planner will provide personalised insights and recommendations based on each person's financial circumstances and life stage.
"I think what SGFinDex really does is give users a full more complete picture of their financial situation , so they can make informed decisions about pursuing their financial goals and aspirations," Evy said.
Paying it back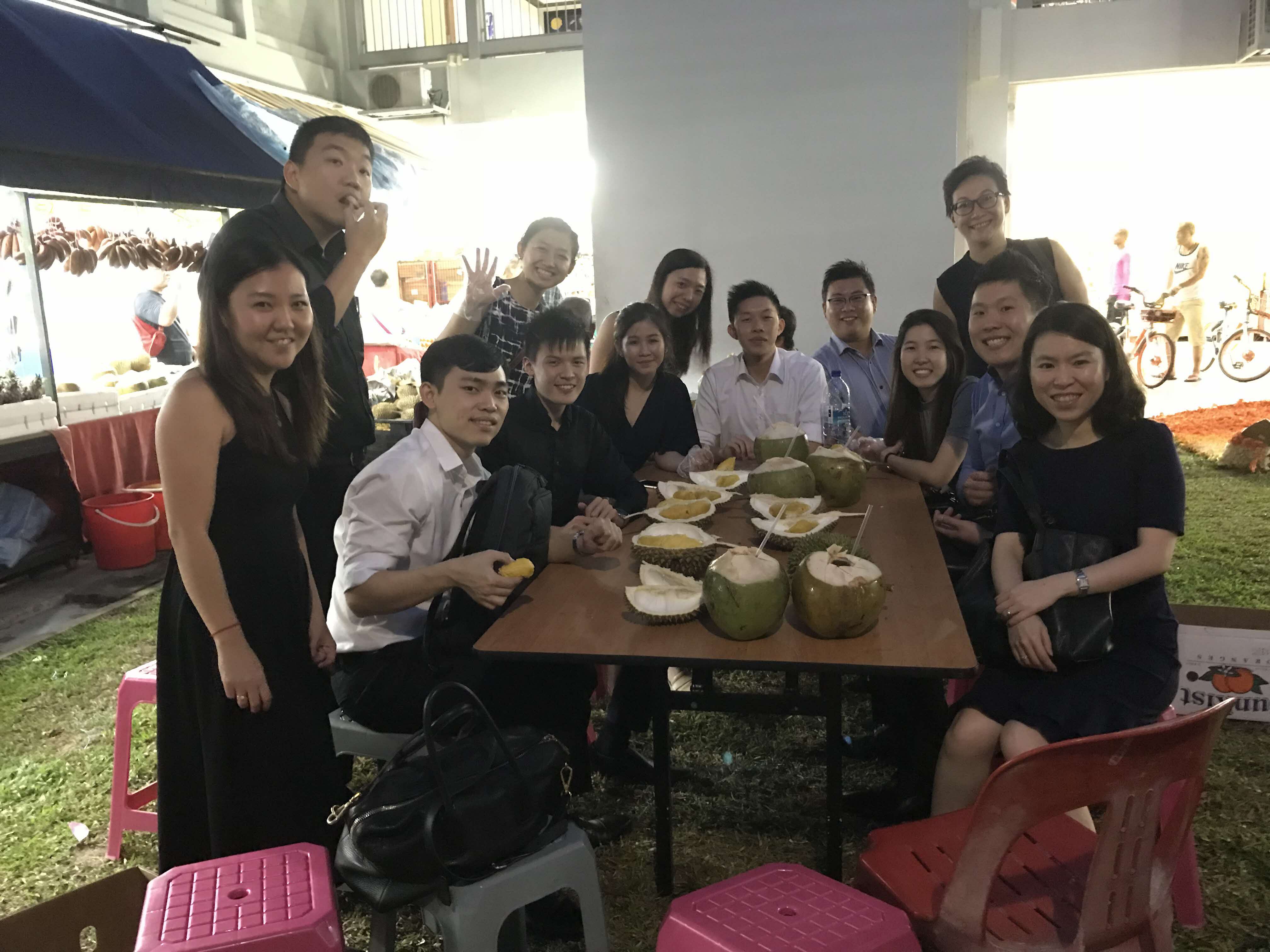 Photo: Evy (seated, far right) at a get together with colleagues from the Equity Product Group.
Marked by her personal experiences, Evy says she will continue advocating financial freedom for all, even when she moves to another role.
"We all want and need to be financially independent, whether it is to meet our needs, live in relative comfort or, where possible, have the freedom to pursue our passion projects," she said.
"But it takes a lot of planning and continual calibration to achieve this," she added. "The approach should be to cultivate financial planning as a critical life skill and arm yourself with the right tools and knowledge to understand the trade-offs. In this way, you can confidently make the right financial decisions that are customised to your needs and circumstances." Today, Evy often offers advice to others on financial planning, whether it be through personal interactions or articles and videos. She draws on her personal experiences to share the importance of good financial management, adding, "I think these experiences probably made me a more determined and resilient person."
After about four years at DBS, Evy managed to repay her family's debt; and later, Evy and her brother saved enough money to buy back their family home, where their parents still live today.
"One of the first luxuries I indulged in after buying back our home was a trip to Japan with my parents," she said.
"It was our first trip together in a very long time and despite all the breath-taking sights, seeing my parents enjoy themselves was the most important highlight of the trip."