What will this Singaporean collector sell to achieve his dre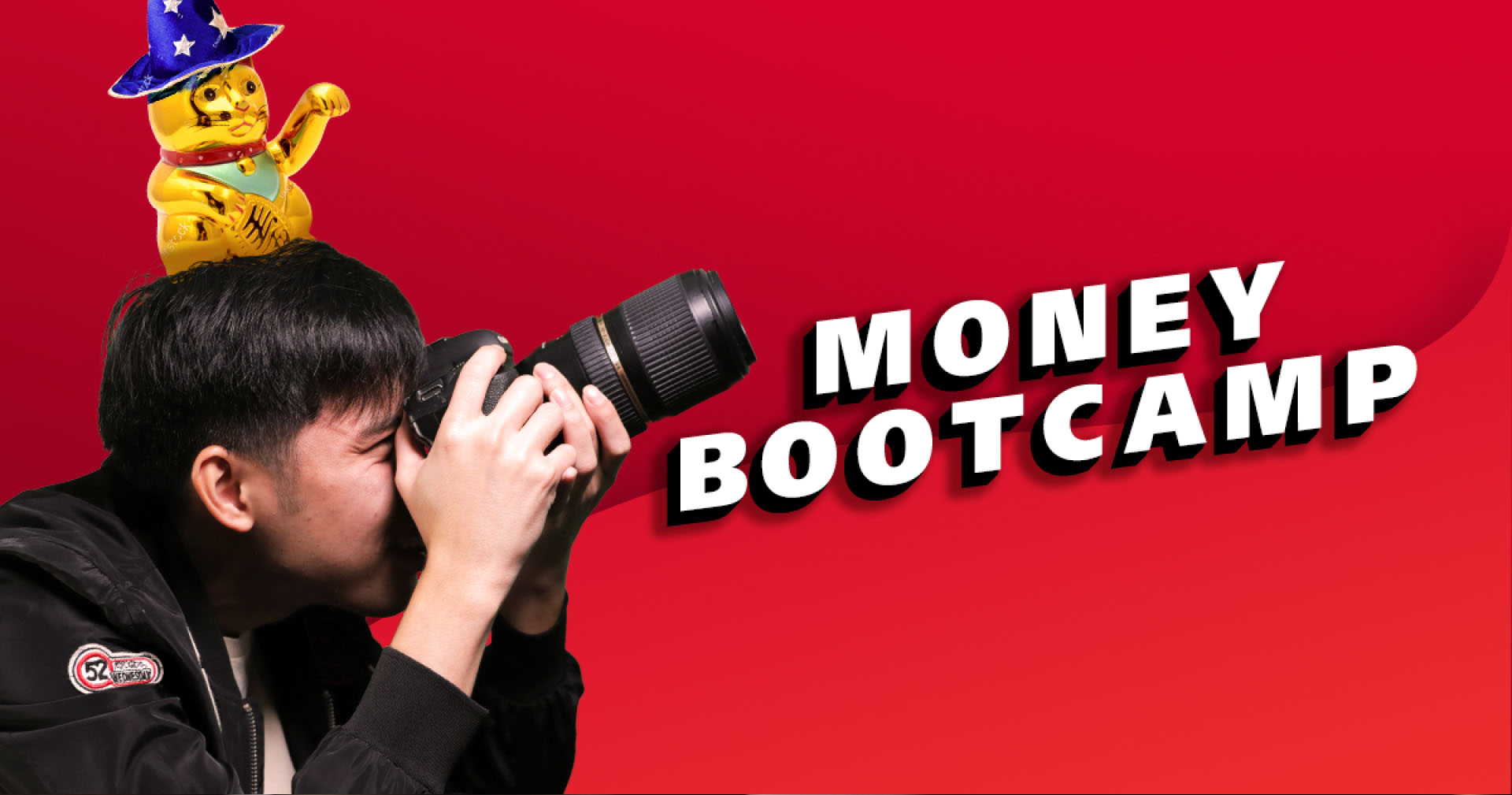 A fortune cat and prized posters – they all had to go.
The Rules of the Game:
Welcome to Money Bootcamp, where we help our readers reach their personal goals by putting them through a rigorous financial transformation. We'll be tracking their spending over the course of a week, and keeping them accountable to every dollar spent.
To prevent cheating, participants will make purchases exclusively via DBS PayLah! Cash purchases that are unavoidable must be deducted from their wallet balance.
Our fifth intrepid spender/saver is Timothy Chan, a 24-year-old videographer who just entered the working world. Fascinated by his Dad's film camera when he was a child, Tim threw himself headfirst into the world of photography, spending hours in the library learning and teaching himself the basics. Today, he's one of the lucky few who managed to turn their passion into a career. However, Tim has never actually used a camera he can call his own.
"Right now, I'm using a camera a good friend very kindly lent to me. I mean, it works great but I ultimately want something I can call my own; something that can help me take my work and skills to the next level. I think it's about time I take my craft seriously.
Saving for this will definitely be tough. Although I don't particularly enjoy going for after-work drinks or checking out new cafés on the weekend (unlike my colleagues and friends), I must admit I spend quite a bit on little knick-knacks that eventually end up on my desk/shelf "collecting dust" as my parents like to say. Collectibles, toys, figurines, you name it, I've spent money on it.
To be able to afford my own camera, not only will I have to find cheaper alternatives in terms of food and leisure, I'll also have to sell some of my "junk" while resisting the temptation of buying more stuff."
Oh boy.
My life at a glance:
Age: 24
Industry: Media
Income: S$2,100 (after CPF deduction)
Goal: Having enough money to buy a Sony α7R III camera and a Sony G-Master 24-105 lens.
Estimated total cost: $5,000
Ouch.
Fixed monthly (recurring) expenses:

Transport($80)
Insurance($150)
Spotify($10)
Parents($400)
Total: $640/month, or $160/week.
Savings: Currently $600/month.
What's Left (food, leisure, shopping, etc): $860
The Challenge:
Because I want to buy my Sony α7R III and lens in 6 months or less, I've decided to use a bit of my prior savings to cover half the $5k cost. But this means I'll still need to save an extra $420/month or $105/week—half my current expenditure.
*Gulp*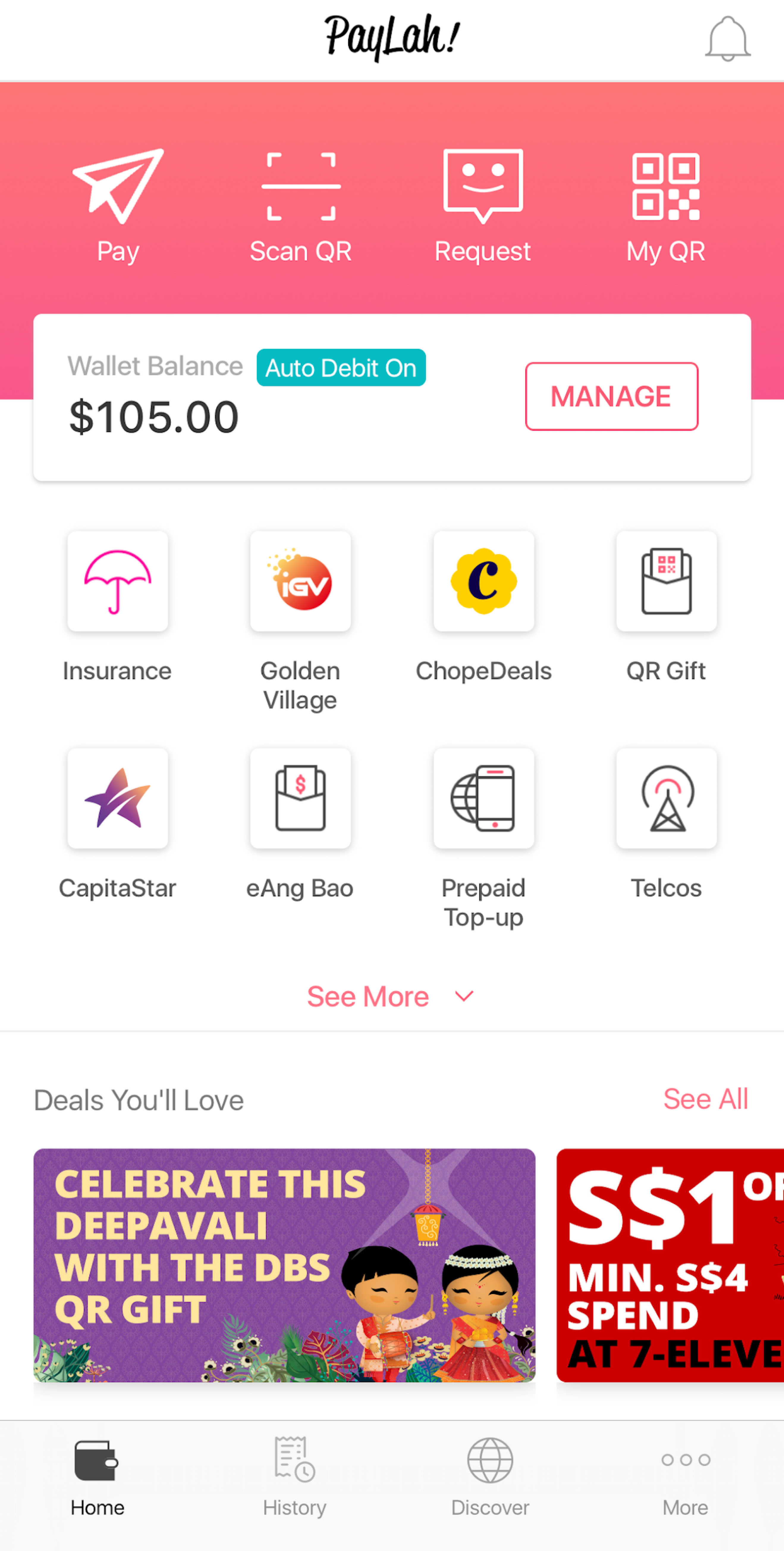 Sunday – Time to Say Goodbye.
I'm not looking forward to this week at all. It's not that I don't want to be able to afford my own camera. Rather, I'm just not keen on the idea of selling my stuff.
Friends and colleagues have remarked that I'm making up for my childhood now that I finally have financial freedom. Perhaps they're right. But it's time for this kid to grow up. And since part of growing up is recognising the difference between a 'need' and a 'want', I spend the entire day clearing my room.
In between the mass exodus of personal possessions, and the fervent listing of my precious collection on Carousell is lunch and dinner. Both come in the form of my mother's cooking. It's great, and no, I'm not just talking about the food.
You see, my favourite flavour in this world is 'free'. My meals were prepared with love and only cost me a thorough vacuuming of the whole house. Not a bad deal.
Day 1 total: $0.00
Monday — Money, Money, Money.
Fully aware of the week's challenge the minute I wake up, I stick to my plan of forgoing my usual Starbucks latte on the way to work. Instead, I make myself a cup of 3-in-1 instant coffee that comes courtesy of the office pantry. Gotta say though, the cup of joe doesn't taste as good but I make do. So far, so good.
However, even the best-laid savings plans can—and will—go awry when you're blessed with both selective hearing and memory. I totally forgot about the monthly (and mandatory) team lunch.
This time, my colleagues choose to head to a café down the road where the cheapest thing on the menu is Spaghetti Bolognese ($18). 18!! For!! Western!! noodles!!! 6 times the amount I spend on my normal caifan/chicken rice lunches. Sigh.
The rest of my day is spent editing videos while scowling at my colleagues for walking right past the coffee shop earlier this afternoon.
In fact, I'm so annoyed that I leave the office as soon as quitting time rolls around in favour of working late and having to rely on (and pay for!!) McDelivery for sustenance. On the train home, I drop my mother a text asking her if she could pick up some food on her way home. She replies that she has a piece of meat she wants to cook.
Fantastic. That's dinner sorted.
Day 2 total: $18 with a side of irritation. Pffft.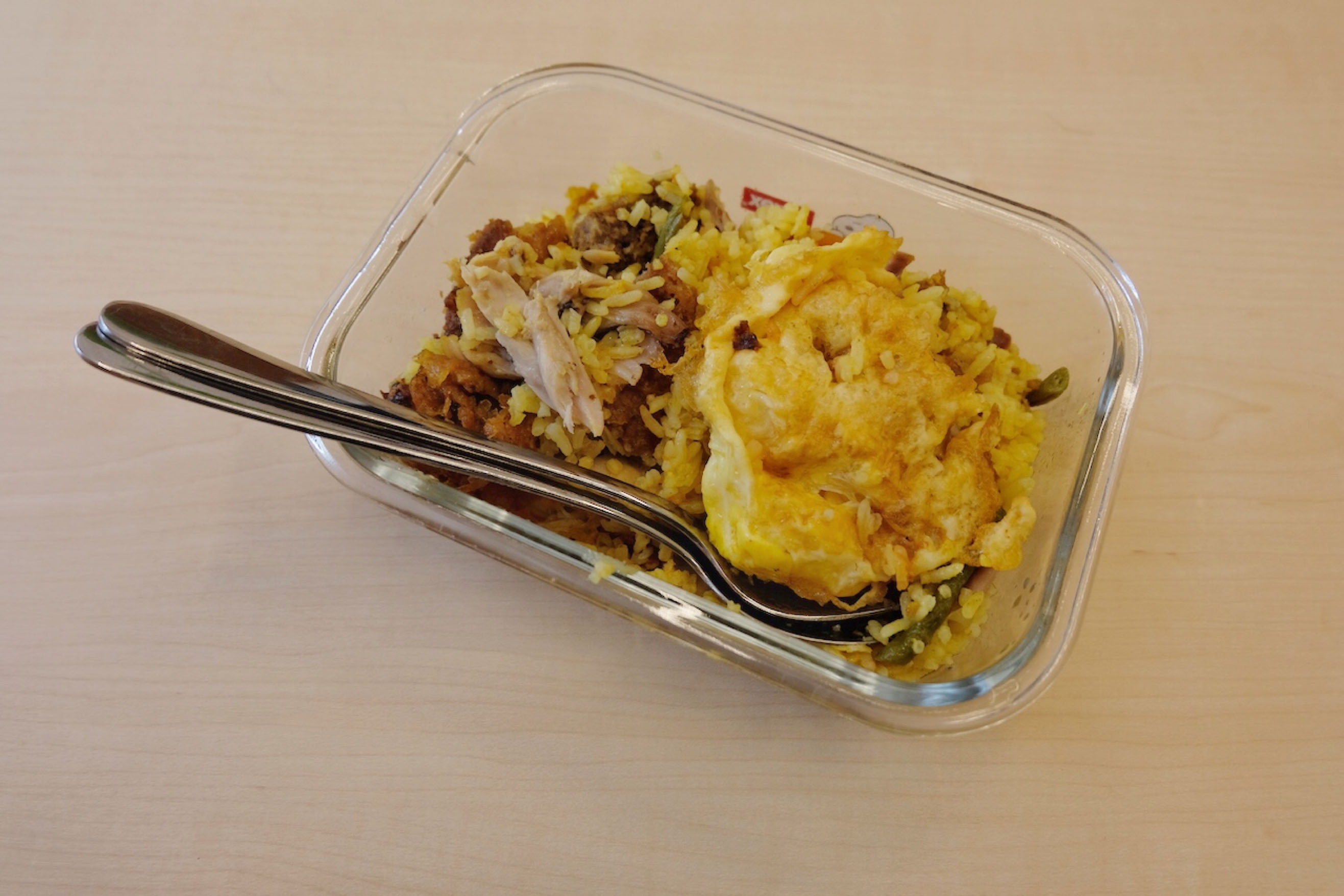 Tuesday — Give It Away
Thanks to the massive hit my wallet took for lunch the day before, I came prepared.
Once again, I skip getting my morning latte and the second I step into the office, I make a beeline for the pantry. But the first thing I reach for isn't a packet of delightful instant coffee mix. Nope, it's the fridge door. Stowing last night's leftovers in an obscure corner, I head to my desk with a spring in my step.
As it turns out though, maybe I needn't have bothered. All throughout the day I receive inquiry after inquiry about the stuff I listed on Carousell and I spend my afternoon half-working, half-brokering deals.
Since I was expecting a substantial amount of money coming in during the course of the week, I decide to treat myself and meet my friends for a nice steak dinner ($30). I deserve this.
Day 3 total: $30.00. No guilt this time though!
Wednesday – The First Cut is the Deepest.
Today is not going to be a good day.
During my lonely Chicken Rice ($3.50) lunch, I get a notification on my phone which sends me into an emotional tailspin. The potential buyer of the fortune cat I bought in Hong Kong texts to confirm the time and place of our meeting tonight. My heart breaks a little.
It takes every ounce of resolve not to cancel on him. But looking at the beat-up camera on my desk, I know that big dreams require big sacrifices. I schedule to meet him at 8 PM.
In a quiet corner of my void deck, I bid my angry kitty a tearful farewell in exchange for a crisp $50 note. In a moment of weakness, I walk to McDonald's and order a box of 20 chicken nuggets ($13.30) to try and numb the pain.
It doesn't work.
Day 4 total: $16.80 BUT I make a profit of $33.20 so there's that, I guess.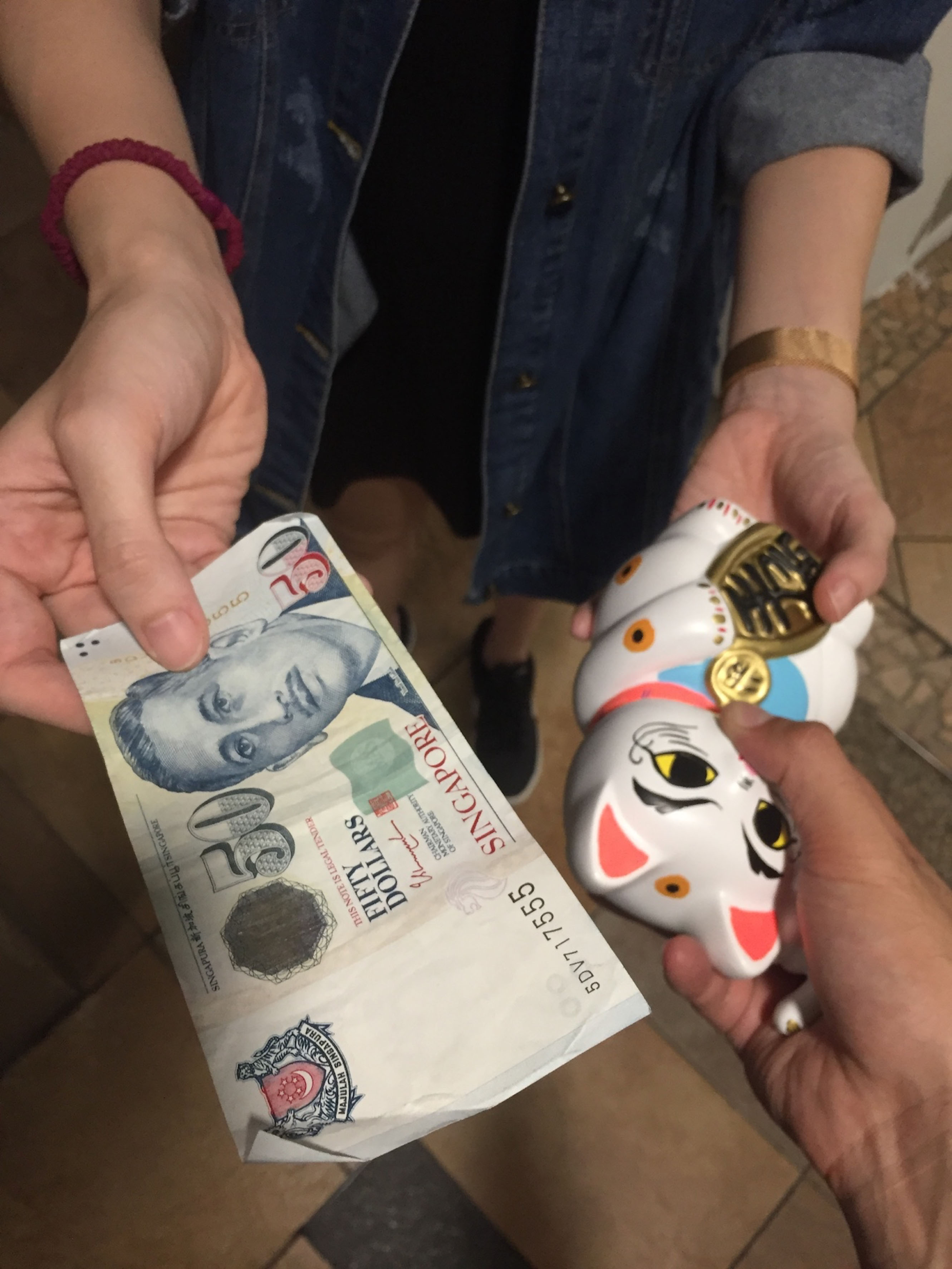 Thursday — I Feel a Sin Coming On.
Because I made the impromptu decision to have nuggets last night, the fried rice my mom cooked yesterday is now today's lunch. However, my wallet is not the only thing that remains heavy. My heart is too.
I'm still reeling from the loss of kitty. As I surf the net between mouthfuls, my thoughts drift to replacing her. All throughout the day I try my hardest to resist the temptation but though the mind is willing, the body is weak.
I give in, eventually ending up on the webpage of the store I bought her from. Worse, I have 5 other tabs of online shopping open.
Thankfully, before my finger clicks the 'check out' button, my colleague Collin next to me glances over at my screen and sees me keying in my credit card details. He's one of the few people I told about my savings plan. Shaking his head in disappointment, he immediately switches the monitor off.
I'm thoroughly ashamed and a mere 5 minutes later, my phone lights up with another notification from Carousell. It's a test. And I'm delighted to report I pass with flying colours.
That evening, after handing my framed Harry Potter posters over to their new owner, I realise I don't feel as sad anymore. Instead, I feel empowered. Collin's tough love had woken me up—he'd reminded me of what was truly important: bettering myself and my career.
Doesn't mean the sale is easy to stomach though. Literally. I skip dinner.
Day 5 total: $0.00 Profit: $40.00 Not bad I guess.
Friday — Friday I'm In Love.
Friday gets off to a rough start. Once again, skipping dinner means I wake up famished. But despite not eating anything since yesterday's fried rice, I realise I'm filled with a renewed sense of purpose. I wasn't cutting back for fun. I was doing this for a reason.
Glancing at my phone, I grab a pack of biscuits from the kitchen before I leave for work. As much as I would like to pick up a packet of bee hoon to satisfy my hunger, I just don't have the time to sit down and enjoy a meal. I have too much work to clear before noon, especially since my lunch hour is going to be spent meeting the guy who wants to buy a couple of my rare wrestling trading cards.
Returning to my desk after my little afternoon meeting, I can't help but sneak a peek at the stack of notes in my wallet every once in a while. I must confess: seeing that much money gave me a slight buzz. Alcohol? Who needs alcohol?
Declining the invitation for post-work drinks from my colleagues, I bid them a happy adieu before heading off for a date with Netflix and a home-cooked meal prepared with love.
Ahh, my kind of TGIF.
Day 6 total: $0.00. Profit: $95.00 I could get used to this.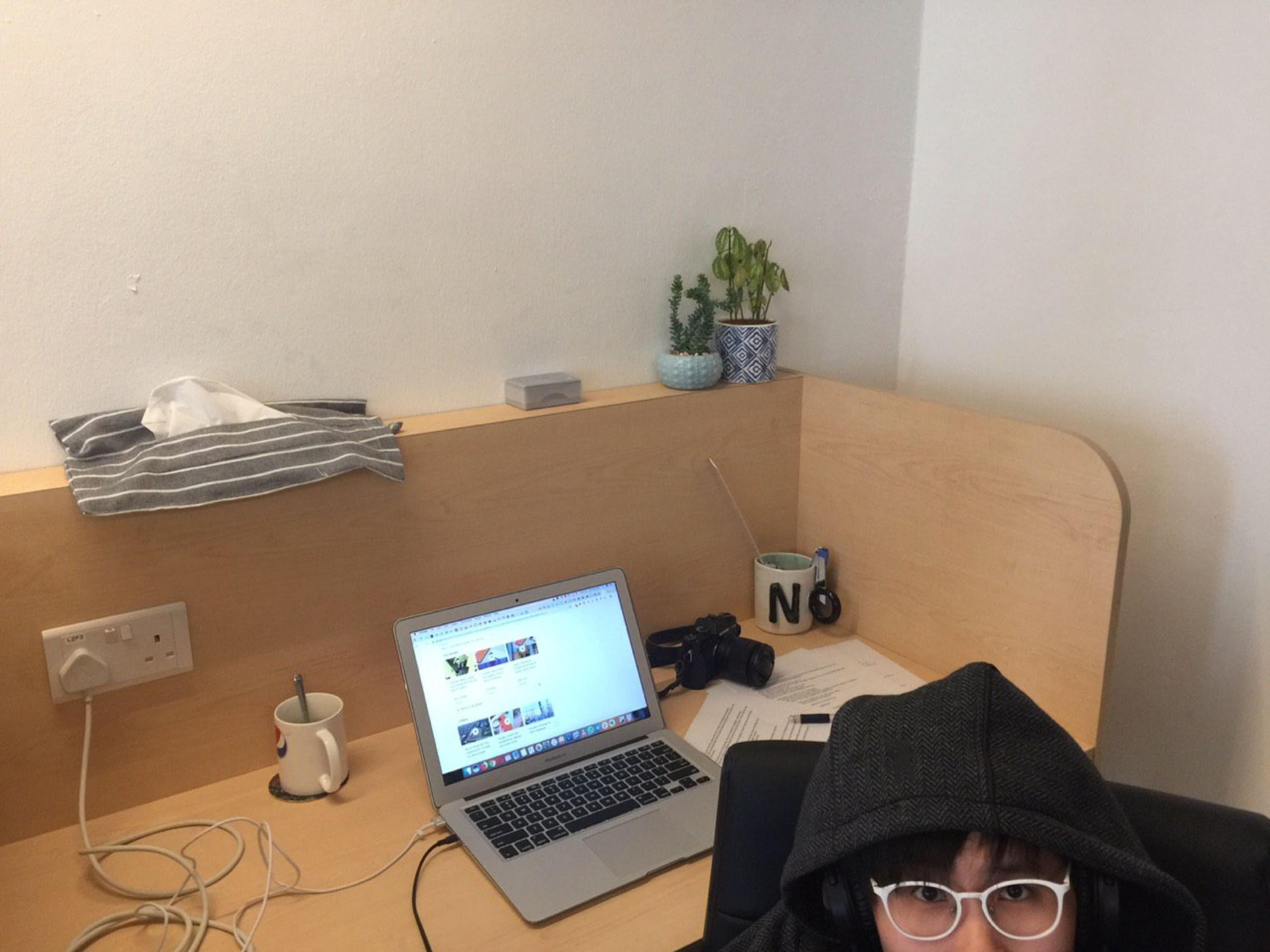 Saturday — I Can See Clearly Now
The last day of my week of saving goes remarkably well.
By now, choosing cheaper food options had become second nature and if I really needed to, I knew I could always have my meals at home—something I choose to do today since it's a weekend.
Likewise, parting ways with my once-treasured knick-knacks was now a lot easier. Instead of feeling like a child clinging on to his dearest possessions, I felt like a man prioritising his future. In fact, I spend most of my day traipsing around the island meeting buyer after buyer, selling off most of my stuff.
It wasn't even a sacrifice anymore. I was just happy to do it. I made me feel like I was finally going somewhere in life.
I tell my folks this over dinner while showing them how much I both saved and made so far.
I've never seen them look prouder.
Day 7 total: $160.00 KA-CHING!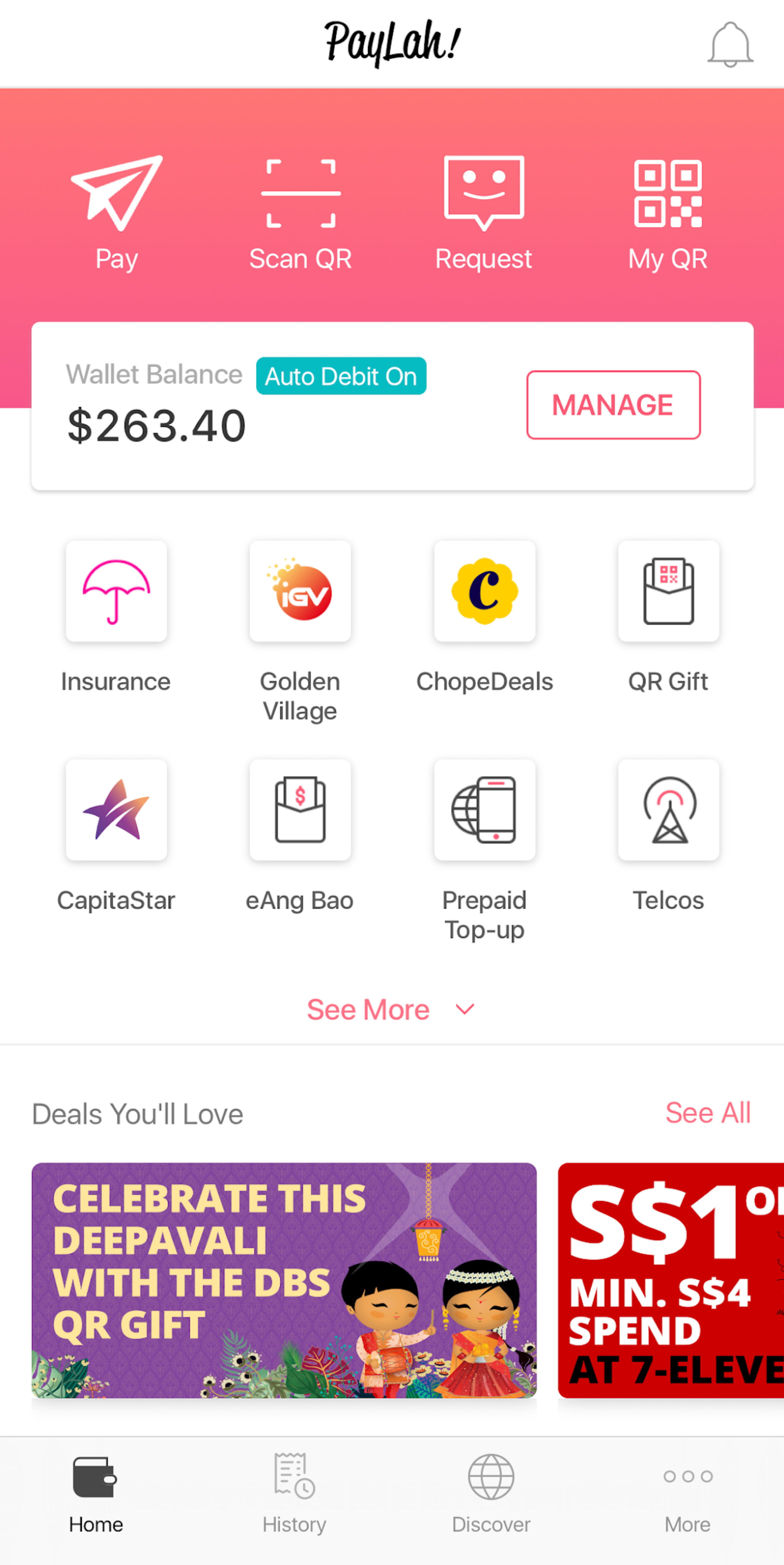 Total Weekly Earned: $263.40
Money Bootcamp Results:
All in all, the week was pretty tough but still manageable. It wasn't as difficult as I imagined it to be and I learnt a number of things.
For instance, my parents were right. As much as I hate to say this, I have, in fact, spent a great deal on toys that wound up on my shelf "collecting dust". They didn't add value to my life. In actuality, they prevented me from reaching my goals much sooner.
Marie Kondo was right too. KonMari-ing my stuff sparked joy (although I have to admit it was probably 80% due to the money I received than actually throwing junk away). It was oddly therapeutic. I learnt how to differentiate between a want and need and by eliminating the superfluous, felt like a new person, ready to adult properly for once in my life.
Any change in lifestyle will be tough. No one likes change and you will most definitely want to give up, eventually reverting to your old ways. But you just have to remember why you started in the first place. In my case, it was the camera I wanted to buy in order to up my photography game. I was doing this for my future career.
Once you bear that reason in mind, it's much easier. You just have to get used to it. That's all.
Our Money Bootcamp trainer, Jenny Goh, NAV Wealth Planning Manager says: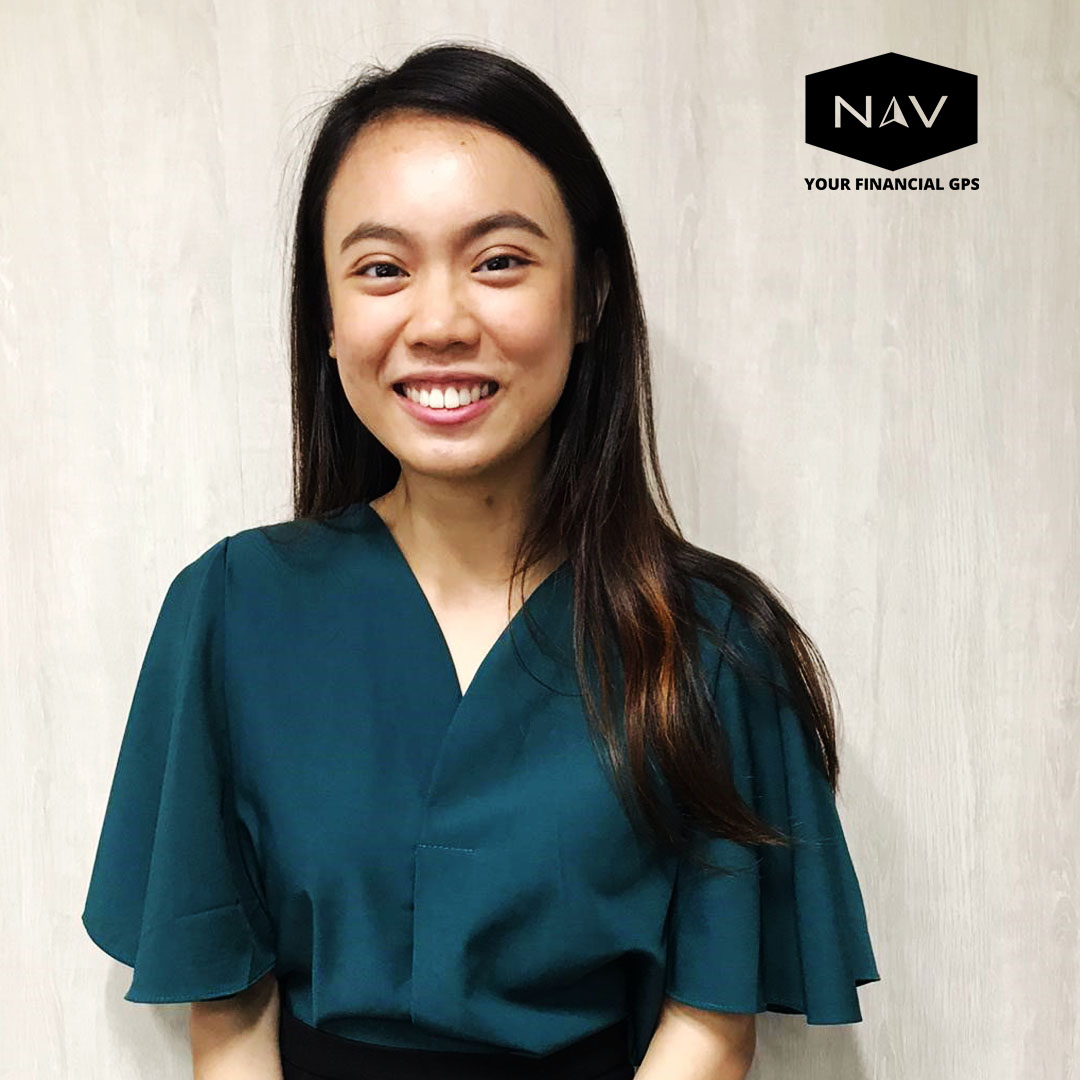 Kudos for Kondo-ing, Timothy! It's a real feat that you're clearing your collection to advance your photography career and have saved two times of your weekly target in your first week.
Keep up your daily habits of opting for more affordable alternatives and consider setting aside your earnings to avoid temptations and overindulgence. You may also consider putting your Spotify subscription on hold for this period too. Remember, every dollar saved is a step closer to your goal!
Head to your bank to find out more about the available bank-and-earn programmes and savings accounts, which reward customers with higher interest rates on their savings or even cashbacks on their transactions! Make use of digital banking tools such as DBS - Your Financial GPS to set a monthly budget, so that you're aware when you've exceeded and have better awareness of your spending habits.
I hope you are encouraged by your progress and learnings in your first week and continue to feel empowered as save towards your goal in next few months. All the best! :)
This article first appeared on RICE Media