16 July 2018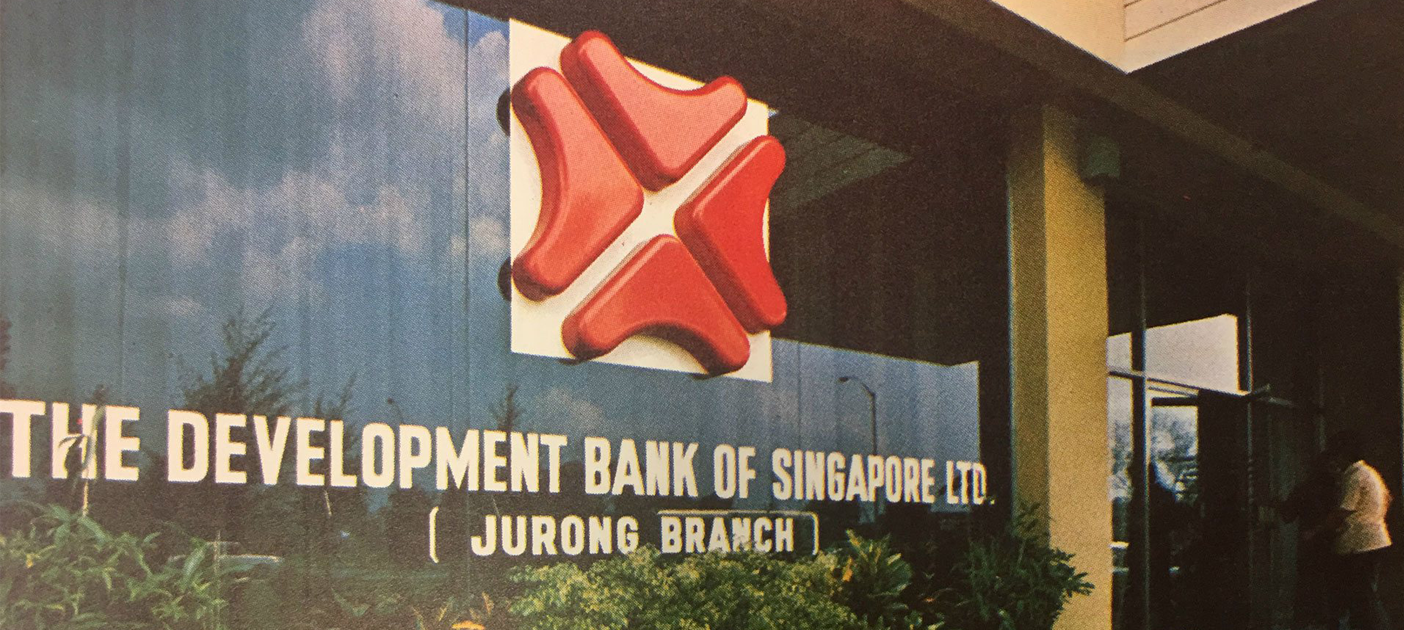 With a three-week deadline and a team of 11 – all of whom she had never worked with before – the late Mrs Shirley Loo-Lim was handed the challenge of setting up DBS' first branch in 1972.
"I remember. The phone rang. It was a summon to be at Executive Vice President S Dhanabalan's office as soon as possible," Mrs Loo-Lim, who became the bank's first branch manager, wrote in DBS' 20th anniversary publication, BankNotes.
She recounted Mr Dhanabalan's instructions – "Shirley, I would like you to kick off the Bank's first branch as its manager." When she raised her lack of experience, he responded, "You will gain the experience while managing it."
This was par for the course for bank employees then, going by the recollections of various DBS pioneers. Many were encouraged – or challenged – to take on new ventures, and learn on the job. Inexperience was seldom an impediment.
Still, "I was enveloped in fear and apprehension," revealed Mrs Loo-Lim. She handed over her duties in corporate finance, and on the same day, viewed the bank's premises at the EIDA Building – later called NES Building – along Corporation Road in Jurong.
The next day, she mobilised her 11 staff members to set up shop. Together, they handled everything, from the nitty-gritty (ordering stationery, filing cabinets, door mats, plants and so on) to crucial branch operations, such as formulating procedures for introducing saving accounts, opening current and fixed deposit accounts and the sale of cashier's orders.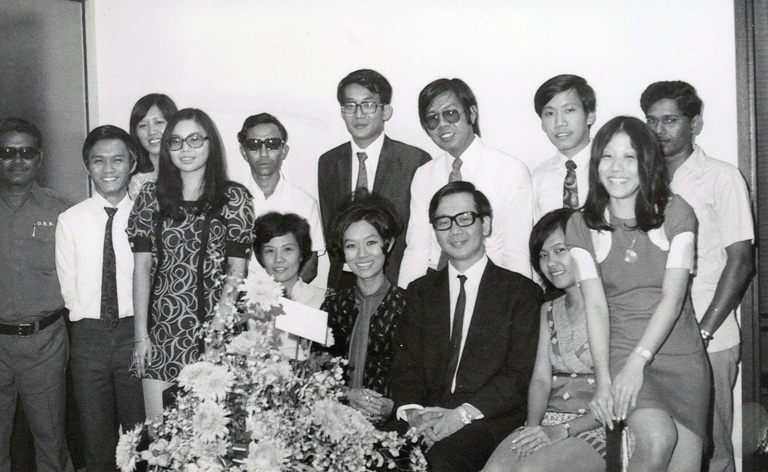 Group photo of bank staff at the opening of the Jurong branch. Seated from left: Ching Poh Hua, Shirley Loo-Lim, Shirley's husband Professor Lim Pin, Mary and See Soo Eng. Standing from left: Gimson, Chin Suang, Geraldine, Lee Siang, Mohamed Kassim, Seck Wing Chee, William, Tong Nam Yong and Rajoo.
There was no training department, Mrs Loo-Lim wrote. "I went to the Clearing House and, standing unobtrusively at a corner, observed how banks cleared their cheques."
She also paid courtesy calls to new and existing corporate clients. Moving tirelessly from factory to factory to factory, she introduced DBS' presence in Jurong and how the bank could help them. Mailers were sent to practically all the general managers of factories in Jurong; pamphlets were distributed to stallholders at the Jurong meat and vegetable market, as well as residents living in the area.
"The joy of seeing the first customer entering the branch was shared by every staff and everyone came forward to welcome him."
Mrs Shirley Loo-Lim, DBS' first branch manager
Soon, the bank was serving customers from various walks of life.
"Gimson, the first and only watchman cum carpark attendant in the history of DBS Bank, directed the parking of our corporate clients' cars. We also routinely welcomed the fishmongers and stallholders who came in clogs and carrying paper-bags of cash for banking-in each morning."
Mrs Loo-Lim added, "With the permission of several financial controllers, a team of two staff, on rotational basis, set up a desk at shipyards and factories to open personal accounts for factory workers. We introduced direct salary crediting to factory staff accounts on receipt of funds from factory employers."
On 1 December 1972, the Jurong branch was officially opened, heralding DBS' entry into active retail and commercial banking. The opening was graced by then-MP for Jurong, Mr Ho Kah Leong. As a gesture of goodwill, the bank donated SGD 5,000 – then a substantial sum – to the Jurong Town Community Centre building fund.
"In the days that followed, I received calls from various bankers enquiring why the Bank, a development bank, was turning commercial," Mrs Loo-Lim recounted. "They sensed competition."
The Jurong branch broke even after 10 months of operations based on retail banking and consumer financing businesses alone.
Mr Peter Tham, who worked at the branch from 1975 to 1990, recalled the good relations between the branch tellers and customers. Corporate clients, who came to the bank to withdraw money for staff salaries, would call ahead of time to let tellers know the required amounts. The tellers would then prepare the cash beforehand.
Mr Tham still he keeps in touch with some customers from his branch days. "One of them has become a friend of almost 40 years. He invited me to his home for his 70th birthday last year!"
Among the branch employees, relations were also tight-knit. "We used to organise quite a lot of activities… even organised games with customers," said Mr Tham, who is still with the bank. "We played table tennis at the branch or played netball at the car park after work. Very good memories." In fact, he quipped, working together at Jurong branch brought several couples together and some of them got married!
In late 1973, Mrs Loo-Lim returned to the head office to take charge of the Client Services Division and to set up more branches. Four more branches were opened within two years – at Plaza Singapura, Queensway Shopping Complex, Toa Payoh Town Centre and Wonde​​rland Shopping Centre (Katong).
"Those (were) exciting and rewarding pioneering days," Mrs Loo-Lim said.