16 July 2018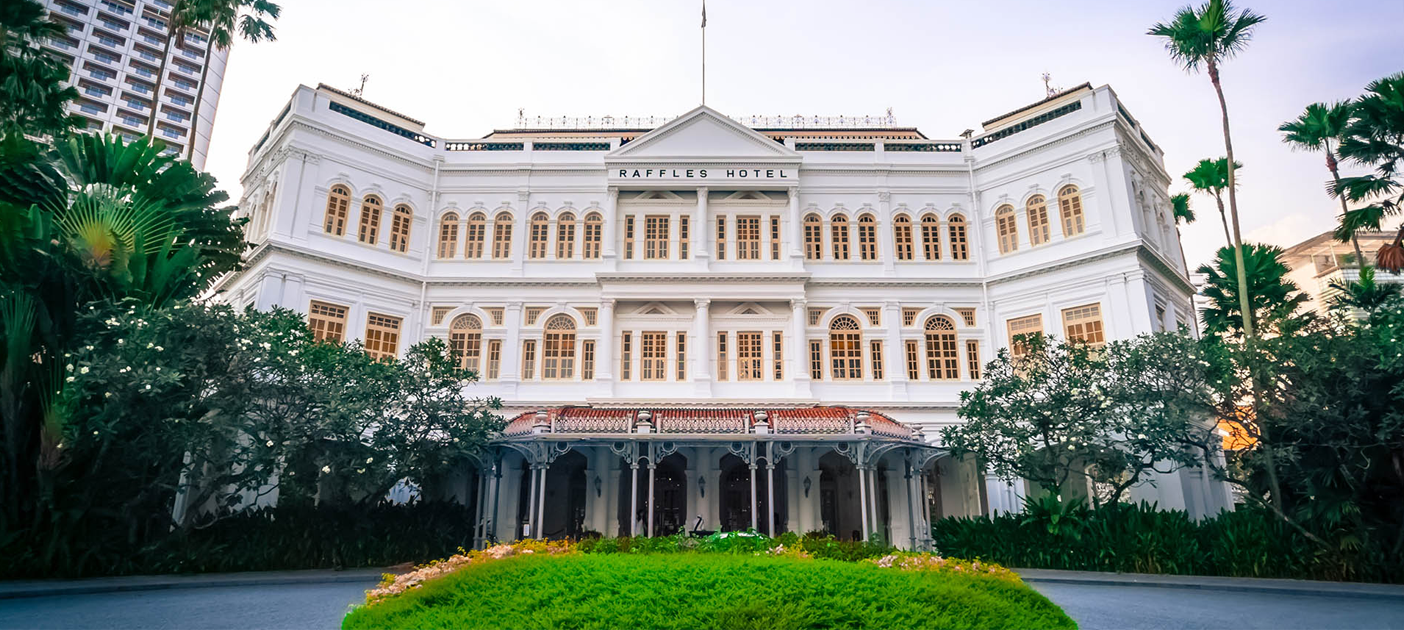 Photo: Phillip Maguire/Shutterstock.com
Raffles Hotel has a long and fascinating history dating back to 1887.
This story begins in 1972, when a substantial part of Raffles Hotel was sold to DBS. The remaining part of the hotel was owned by Raffles Hotel Ltd, who operated the hotel by leasing the DBS-owned portion.
At the time, Raffles Hotel was already a tourist attraction because of its great history, but it was deteriorating and needed refurbishment.
Loh Soo Eng, who was working in DBS and later became General Manager of DBS Land, shares his memories about the restoration of Raffles Hotel.
Grand old dame gets a facelift
Talks about how to proceed with the refurbishment of Raffles Hotel were underway by the early 1980s. In 1988, DBS Land and Raffles Hotel Ltd, represented by OCBC Bank, agreed to form a joint venture company, Raffles Hotel (1886) Pte Ltd, to refurbish the hotel and restore its original splendour.
This was a year after DBS Land, which had been a wholly-owned subsidiary of DBS, was listed on the Stock Exchange of Singapore with DBS taking 49% ownership.
But truth be told, whether we were DBS Bank or DBS Land staff, there was no difference to us. Our mission was still to do things for the good of Singapore.
The joint venture company also acquired the Urban Redevelopment Authority (URA) site at North Bridge Road to make the hotel complex more complete by adding a ballroom and restoring Jubilee Theatre. Property Management Pte Ltd (PMPL), a subsidiary of DBS Land, was the project manager, leading the team of consultants.
We decided we should restore the original façade of Raffles Hotel.
This meant retaining the main building, Palm Court wing, and the block along Bras Basah Road. Certain sections that were not part of the original structure had to be removed.
Besides the countless meetings among consultants, designs were to be submitted to a Design Review Committee headed by the URA for approval. These meetings would usually start from 5pm and end around midnight!
It was during these meetings that Mr Liu Thai Ker, then-CEO of URA, suggested having the iconic pebble driveway in front of the hotel – a nod to the days when roads were built with pebbles, not bitumen.
Measures were put in place to ensure members of the public could have a good view of the hotel and yet protect the privacy of hotel guests. Various security gates were installed, accessible to hotel guests only with their room keys.
In 1987, Raffles Hotel was gazetted as a national monument. In 1989, the grand old dame was closed for two years for the restoration.
Great care was taken to make sure no part of the building collapsed during construction. Many of the rooms had to be refurbished individually as they were not of standard size.
Choosing a hotel manager was a big issue. It was suggested that we should recruit someone from Scotland or Switzerland. But DBS Land suggested a local manager.
It was eventually due to the persuasive skills of Mr Lim Yong Wah, who led the DBS Land team, that Ms Jennie Chua became the first lady General Manager of the reborn hotel in 1990!
After all the hard work, I felt very sad when in the 2000s, Raffles Hotel was sold to a foreign party. Still, I hold many fond memories of this hotel and the friendships made during that time. In fact, several of us who were part of the redevelopment team still meet regularly for lunch!
Loh Soo Eng joined DBS Bank in 1974. He was transferred to DBS Land in 1980 and became its General Manager in 1982. He left DBS Land in 1991.