I'm an engineering grad who found my way back to tech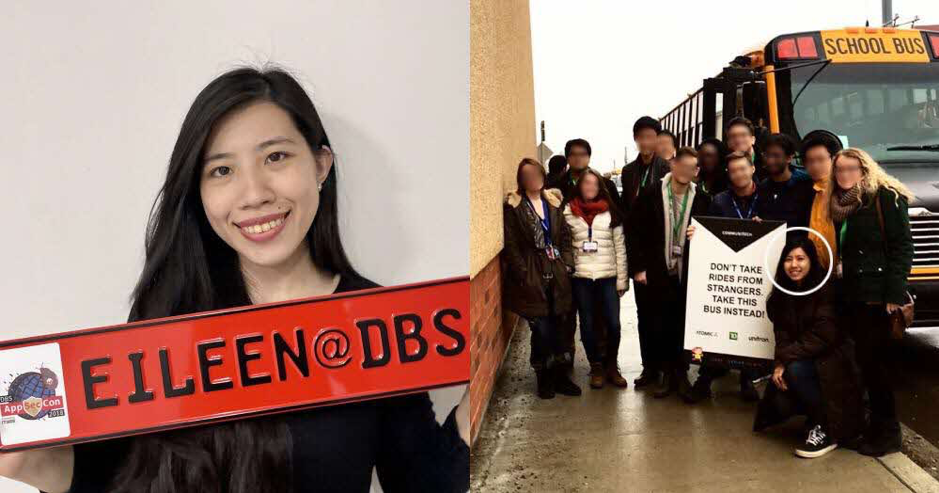 Sometimes it takes doing what you don't like to figure out what it is that you truly enjoy doing.
At least that's the experience of 26-year-old Eileen Chua. Hers is a story that perhaps many who are preparing to apply to a university can relate to.
Chua had entered Nanyang Technological University (NTU) in Aug 2014 after being accepted into its Electrical and Electronic Engineering course.
But it wasn't her first choice. Deep-down, she knew that being an electrical engineer was not for her.
"To be honest, deep down, I was hoping to get into computer science, but I didn't get in," she shared candidly.
But she took up the engineering course in the end, believing that her specialisation would not be a complete waste of time since there were some overlapping modules between engineering and computer science.
"I thought that if there were some software development related courses, I could still work towards my goals."
Actively finding her way back to tech
Utilising the time she had outside of the classroom in university, Chua explored tech specialisations she was interested in, such as front-end development, data analytics and UI/UX design, either on her own or through short courses.
It gradually became clear to Chua that tech was not just a passing interest but a passion.
More than half-way into her degree programme, she thought it would be too late to change course.
"By then, I was quite certain I was not looking to build a career in engineering. So I decided to focus on exploring the tech field and to gain as much experience as I can," Chua reasoned.
Rather than wait for the right opportunity to knock on her door, Chua decided to take matters in her own hands.
Apart from exploring tech specialisations that piqued her interest, Chua also joined several hackathons and other tech events. Chua further honed her web development skills during a half-year internship where she worked on various projects in the e-Commerce domain. She was also a volunteer instructor & assistant at the Code in the Community programme organised by Saturday Kids where she taught Python to students.
"I think at that point I wanted to explore and learn and also have fun…. And there's also lots of free food", laughed Chua.
On her exchange in Canada as a third-year student, Chua participated in a UI/UX design competition and got into the finals, surprising even herself. That provided her an interesting opportunity to experience one of Canada's tech hubs.
It gave her some confidence, but she felt it wasn't enough.
"By the time I was about to graduate, I felt like I had some breadth in terms of the skills and experience that I would be able to bring to a job."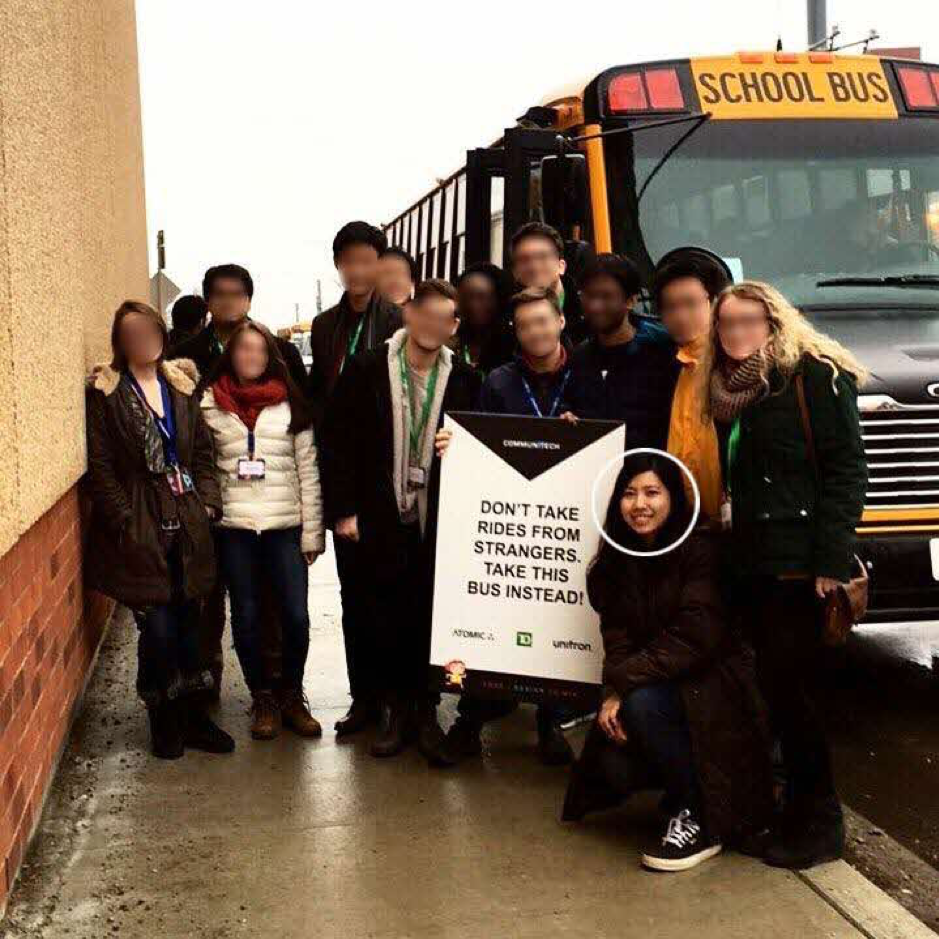 As a generalist, what Chua felt was missing was deep technical knowledge.

When applying for jobs in the tech field, Chua sometimes felt disadvantaged and discouraged when she struggled to prove herself to interviewers. It did not make her imposter syndrome any better.
"I had to convince them that I was willing to learn, even though my foundation was not as strong as others who went through a computer science programme," she admitted.
That was when Chua learnt about the DBS Skill Enhancement Education & Development (SEED) Programme, which she applied for in 2018, right before she graduated from university.
The two-year DBS SEED Programme, which was supported under the TechSkills Accelerator (TeSA) Company-Led Training programme, is designed to groom young professionals for tech roles in the financial services sector.
"I thought entering a technology graduate programme would help me develop my skills for a tech career," said Chua, noting that the DBS was a digital frontrunner in the banking sector.
She submitted her application in March 2018, and was accepted into the programme in May the same year, after going through an initial online coding challenge. The programme started in August with more than 60 other trainees.
Opportunities and challenges
Chua spent her first year at DBS being involved in project management and coordination while orienting herself to the bank's systems and processes. During this time, she also had some exposure to mobile application development.
But the work was not what she saw herself doing for the long-term.
When an opportunity for Chua to try out another role presented itself in her second year, she jumped at the opportunity, taking on the position as a front-end developer.
Even though she had the passion for the role, Chua felt some frustration at the beginning as a result of her rusty coding skills which had been neglected for a year.
"I thought I could get up to speed very quickly because I had some prior experience but I felt like I had to learn everything all over again, using a stack that was new to me. Though it took time to be productive, I used this time to learn from others and to understand more about the pain points we were solving at the enterprise level."
Making full use of a complimentary subscription to an online education platform that DBS provides its employees to encourage continuous learning, Chua eventually picked up the skills again.
"I just put myself back into a beginner's mindset to try to learn everything and cover my skill gaps and really focused on my learning," said Chua. She attributed her rapid learning to the DBS SEED Programme's robust training curriculum as well as the bank's Triple E framework, which emphasises Education, Exposure, and Experience for holistic employee growth.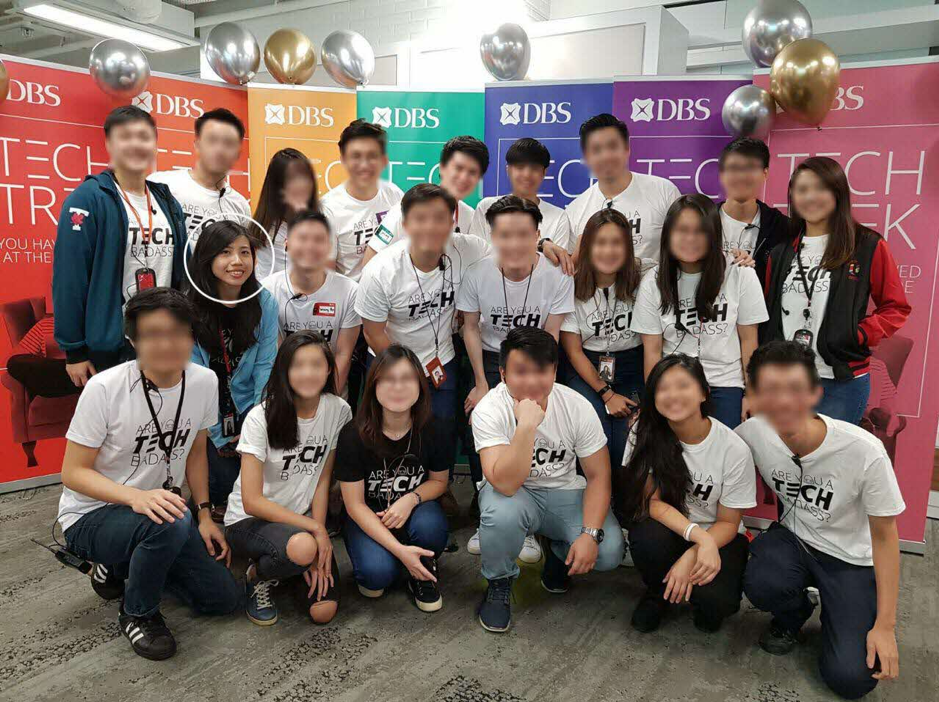 Coupled with guidance and mentorship from more experienced colleagues at work, Chua gradually got the chance to build bigger, more complex web application features and was soon leading projects on her own.
'More than just coding'
Now a team lead, Chua shared that one of the most enjoyable aspects of her job is being able to see her work immediately benefit customers and end users. Chua added that positive feedback spurs her to keep sharpening her skills so that she can do even better and deliver quality solutions.
"By learning more about how they make use of the applications that I work on, I'll hopefully be able to create better products for others."
She's also grateful for the people skills she honed in the process – an unexpected part of the job she didn't expect.
"Something I realised along the way was that soft skills – such as communication skills and project management skills – are just as important as technical skills.
Learning how to manage stakeholders as well as their expectations are also just as important. It's more than just coding."
Three years since she joined the DBS SEED Programme, Chua is now mentoring new programme entrants, sharing: "I was in their position before, so I try to support them in their journey and guide them through the learning process."
The support given includes sharing sessions that Chua organises and facilitates within her team. Such sessions help to engage the team as well as allow them to learn from one another.
Growing confidence
Now into her fourth year with the bank, Chua feels that her confidence has grown with every project she takes on. Her recent projects include industry-wide initiatives such as DBS InvoiceNow and eGIRO for corporate customers.
"I'm now able to make contributions and suggest things that help to improve the development process."
"When you start to see more impact in your work, that's when you feel you've made the right choice and that you're on the right path," added Chua, explaining how she derives the most satisfaction not just from coding, but also from the teamwork and the completion of a project.
"There will definitely be doubts along the way because you're working in a different environment and with relatively less experience, but persevere and eventually you'll be able to see your own progress," shared Chua.
​​The TechSkills Accelerator (TeSA) initiative, driven by Infocomm Media Development Authority (IMDA) offers various programmes to support tech and non-tech professionals to upgrade and acquire new in-demand tech skills to stay competitive and meet the challenges of a fast-moving digital landscape. Find out more at go.gov.sg/tesa.

All photos by Eileen Chua.
This article is sponsored by Infocomm Media Development Authority (IMDA).
This article was first published by Mothership on Mar 3, 2022