From 'running a neighbourhood shop' to becoming head of POSB
21 October 2020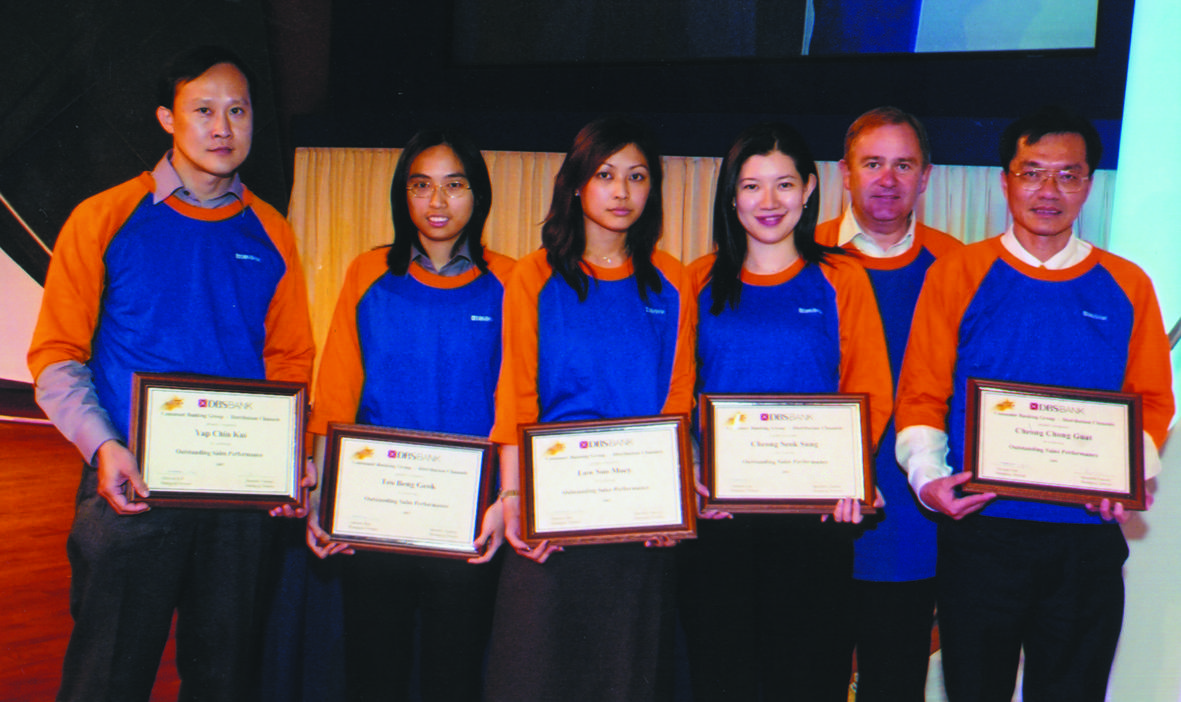 Photo: Susan (third from right) at an event with other DBS branch managers in 2002.
When former POSB head Susan Cheong was still working at branch early in her career, she was met with a fairly unusual request from one of her customers: to look after the woman's kids.
"The husband had to be posted overseas for work, and the wife was going along with him, but they wanted their kids to continue studying in Singapore," recalled Susan.
"The children lived with their grandma for awhile, but you know, the mother told the children, 'if you ever run out of money, you go to the bank and look for Auntie Susan, she will help you and she will know how to contact me'."
Being involved in her customers' lives was all in a day's work for Susan back then, when she was working as a credit officer at the DBS Thomson branch some 22 years ago. Among some of her fondest memories of her time there included serving a number of customers who owned businesses in the building, staff from the nearby LTA, Mount Alvernia Hospital etc. who used to bring large stacks of cash to deposit at the branch.
Susan likened the experience of working at the Thomson Branch to be "almost like running a small neighbourhood shop", especially as she had lived nearby and grew to forge close relationships with not just the customers in her community, but also her fellow colleagues who had taught her much.
"I was straight out of university, wasn't married yet, and was still living with my parents in a HDB flat around Toa Payoh. And then I went to work at the DBS Thomson branch, which is like really very near right?" she reminisced.
"So, back then, I really felt like 'wow, this is so nice'. In the branch, it was a family environment. Your colleagues are friendly, and after a while the customers become familiar faces. It was very comfortable."
And as for the couple that entrusted her kids into her care, she still keeps in contact with them till this very day.
"They treat me like a trusted friend, and until today, we are still in contact. Sometimes they'll reach out to me when they need some help on their banking, but they also taught me a lot about life. The wife for example was an educator, and she shared a lot with me about raising children and their education," Susan remembered. "And I attended the wedding of her son."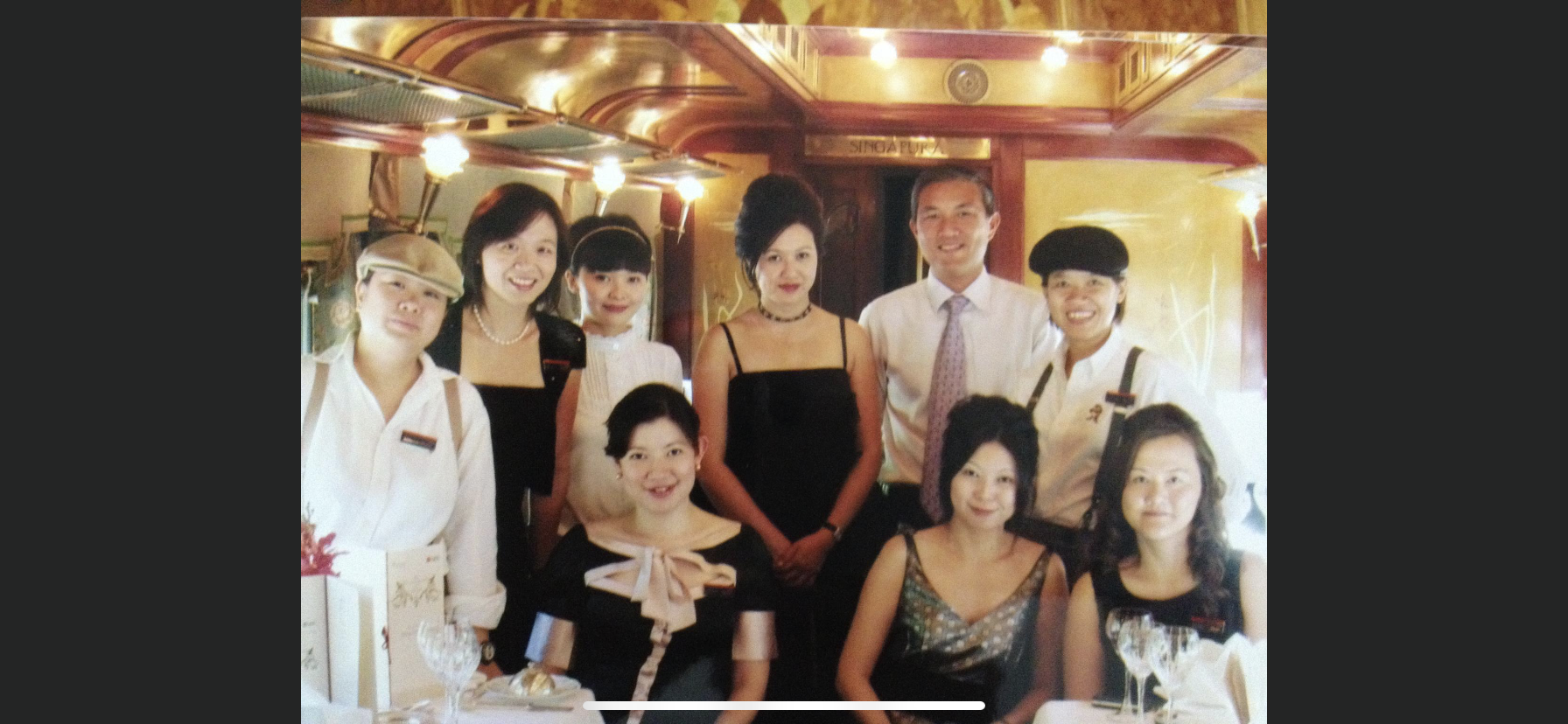 Photo: Susan (seated, 1st from left) with a DBS Treasures team

Branching out
Her time at Thomson would ultimately set the foundation for her entire banking career. As trainee officer, she was progressively given more and more opportunities to develop, including later becoming a branch manager elsewhere, then moving on to the corporate office, when she was appointed as a Treasures Business Director in 2005, where she would lead a team to serve affluent customers, and subsequently became Treasures Business Development Director.
In 2008, she became head of Service & Sales Management team in the Consumer Banking Group – Singapore (CBG SG), before handling business operations and quality. In 2012, she was promoted to the rank of Managing Director. Two years later, she became the Chief Operating Officer of CBG SG, and from 2016 to 2019, she held the role of Head of Distribution and POSB.
Although Susan no longer works on the frontlines at a branch, her time there gave her important life and career lessons, which she has taken to the corporate office, especially when it comes to leading her various teams.
"In the branch, you work with a very diverse group of people. Everyone comes from different cultural or family backgrounds, are at different stages of their lives, and we may all have different career aspirations.
"And in any team, whether at a branch or in the office, we see different groups for e.g. the 'superstars' or high performers; those who may need a bit more help; and the in-betweens who may not shine as brightly but are reliable, hardworking and committed.
"I think we, or any company in fact, need to be mindful not to focus solely on the 'superstars'.
"The reality is not everyone falls into that group. But we all need to be developed and groomed as individuals. I think as a manager, it is important to grow, develop across all groups in the team especially those who form the backbone of any organization. It is about helping individuals find a way to meet their own aspirations and needs, which may not necessarily be career-driven."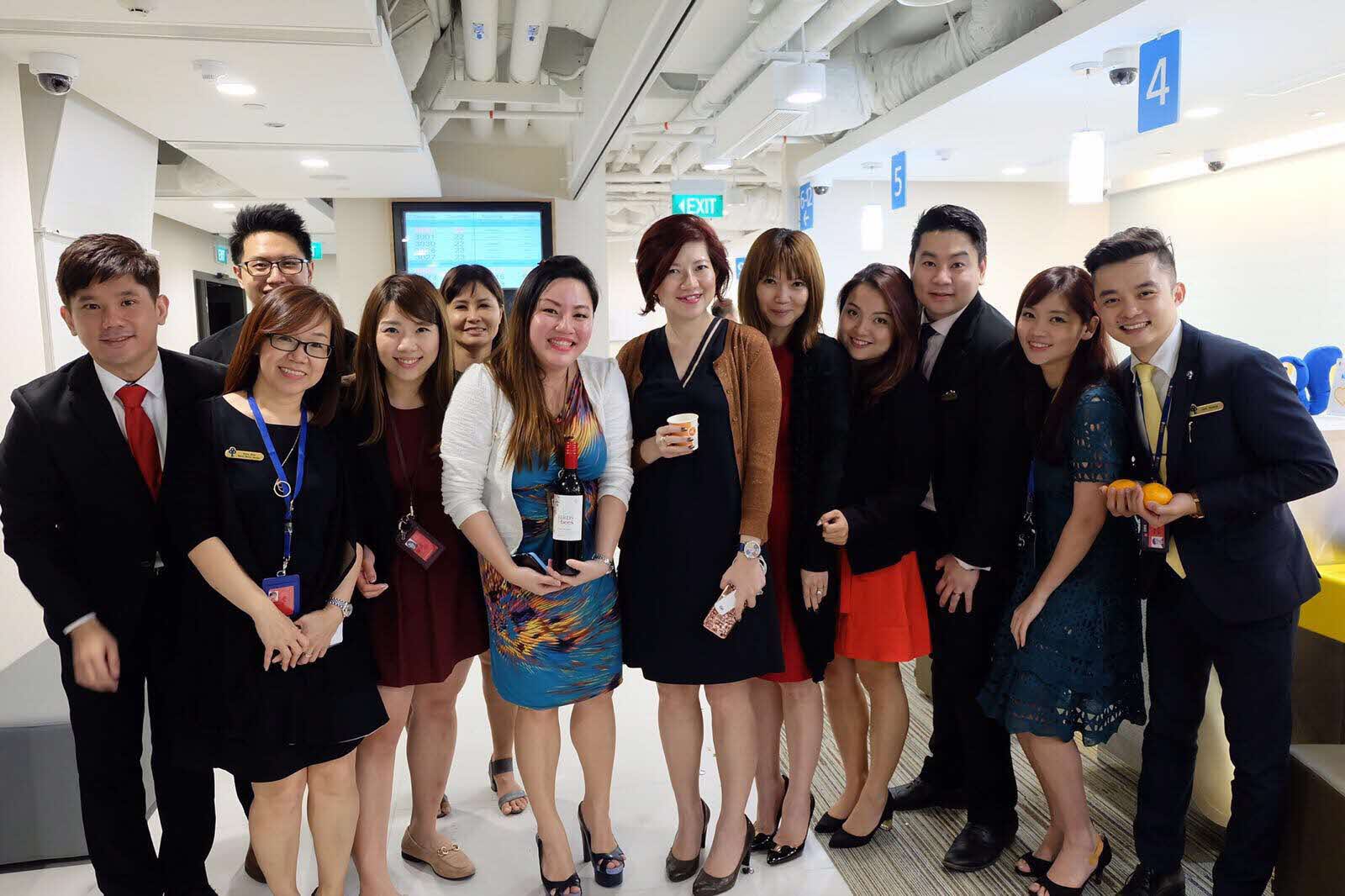 Photo: Susan (6th from right) at the opening of the POSB Kampong Admiralty branch

The human element of management
In 2015, a story about Susan was published in The New Paper, when her team had prepared personalised cans of Coca-Cola for an offsite event. The Coke cans replaced name plates on the tables to indicate where each employee was to be seated. It was a fun and memorable way to thank the team for their contributions and hard work.
"It was really just to create some fun and excitement for everyone," Susan remembered. "I guess that bit of personalization did add to the hype (when some employees had posted on social media, which is how the media got wind of it), but I think the most important thing to me was the people element, which is not forgetting to have fun as a team even while we're in the midst of work," she said.
For Susan, learning the "people element" of being a manager harkens back again to her branch days, when her colleagues would look out for each other, both emotionally and workwise.
When she was still a young branch manager, Susan faced a difficult period in her life when she was expecting her first child.
"It was a difficult pregnancy," she recalled. "I had to be out of action for four to five months on bed rest.
"And I will always remember the support from my managers, my colleagues in the branch, the other branch managers who were my peers etc. Many of them who were much older than me had good advice for me. Through them, I have learnt life lessons which have kept me grounded."
"They told me 'don't worry, take a good rest, take care of your baby, we will help you cover your branch duties'. And you know at the time, I belonged to a group of younger managers who were extremely driven to excel in our careers. But it was the group of more experienced and senior managers, some nearing retirement age who taught me about the value of life in its larger context.'
"They taught me to take a hard look at what I really wanted in life, what matters most. To this day, I have no regrets on my decision, thanks to my peers - Susie, Francis, Andrew, Stephanie, most of whom have retired.'

Facing new challenges constantly
Today, twenty-two-and-a-half years after joining DBS at a career fair in her school, Susan is facing a new challenge: to find the next generation of leaders for the bank that can fully embrace the company's culture and values.
This year, DBS has pledged to hire over 2,000 people in Singapore alone, including more than 700 opportunities available for fresh graduates and young talents to join the bank either as part of specialised programmes or traineeships.
Appointed to the role of Talent Acquisition head in 2019, this is Susan's first-ever role working outside of the Consumer Banking group.
"Obviously when you're looking to hire, technical competency is a key criteria to look at. But beyond that, values and how an individual interacts and manage relationships would be extremely important."
"Especially for future potential managers, you need to find someone who has the ability to keep learning and adapting... to behave like a sponge and have that open mind to absorb everything that comes your way. I think it can even surprise you that learning can come from so many different directions, in many different ways."
Video: Susan speaking about internal mobility in 2016.
For instance, Susan says she often learns some very important lessons from her two boys on being authentic and genuine.
"You know kids have a very open mind, they are not closed to new thoughts and information, they just want to keep asking 'why, why, why' and get to the bottom of any topic.
"And because they're so pure with their intent and genuine in their communication, they often get the responses they want. I think that's a good lesson for me to be authentic in my communication – whether it's to external customers or internal colleagues."
This is the first in a series of stories covering the personal journeys of DBS employees who have grown and developed at the bank. Stay tuned for more.