16 July 2018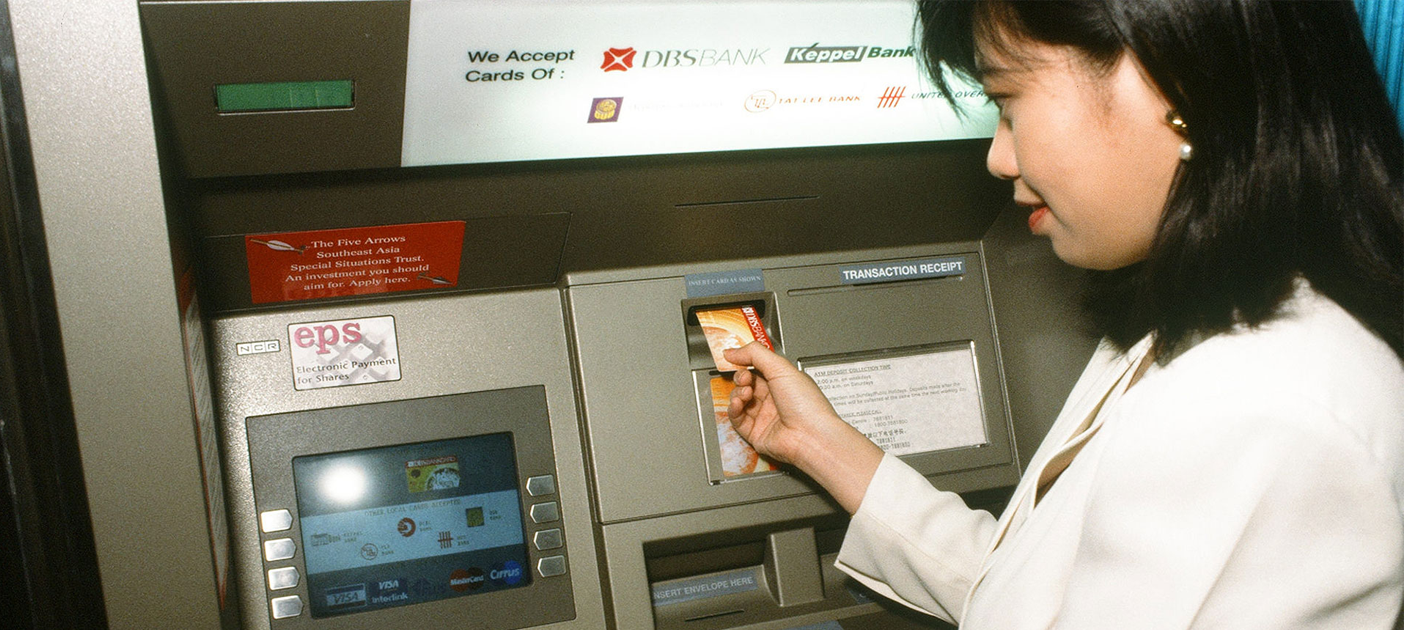 It was the largest initial public offering (IPO) in Singapore's history at the time, creating a new generation of equity investors overnight.
In October 1993, the Singtel IPO raised SGD 4.3 billion for the telco. Over 1.4 million Singaporeans bought Singtel shares.
DBS managed this IPO, making special arrangements to cope with the huge demand. During this time, DBS introduced a technological feat: for the first time in the world, potential investors could purchase shares through automated teller machines (ATMs).
It was the start of several innovations related to Electronic Shares Application (ESA) for DBS. DBS was the first bank in Singapore to launch online ESA through its iBanking platform in 1997. In 2003, DBS pioneered the first-come-first-served placement offering via ATMs for IPOs. In 2013, DBS was also the first in Singapore to introduce ESA through mobile banking.
Elsie Foh shares her recollections of how ESA was conceived.
A game-changing first
I was at DBS for more than 30 years, and what I was most proud of was being in a team that was pioneering a lot of innovations, daring to challenge the status quo in order to create positive change.
ESA was one of the best examples of this. When it was introduced, even the foreign banks were surprised. It really cemented Singapore's place as a growing global financial centre.
The idea for ESA didn't come from the top of the organisation. Rather, it was from the people who had been dealing directly with clients, like the customer service team.
In the past, the process of buying shares was quite long and tedious. People first had to queue up at a bank branch to get a cashier's order, and our branch staff would be overwhelmed because so many people were lining up.
We were issuing cashier's orders by the thousands, and our investment banking colleagues then had to work overnight to clear and process the papers.
I remember many colleagues were saying things like, "Oh, this is madness, working very late just to clear" or "The queues at the branches are just way too long" and "We have got to find a better way to do this".
During that time, we already had one of the largest ATM networks around, and we wondered if there was a way to utilise them further. After all, when people go to the ATMs, they could already do printouts of their transactions – when they withdrew money, for instance.
We thought, "Why can't our ATMs do printouts for cashier's orders too?"
We had to persuade the stock exchange to accept these cashier's order equivalents. It went through and largely solved the problem of long queues at the branches. Some people, of course, still wanted their cashier's orders to be done at the branch, probably because they were used to doing things a certain way for a long time.
Still, there was the issue of our investment banking colleagues working late into the night to check and clear all the applications.
So, building on the cashier's order equivalent, we thought again – since we had already simplified this process through our ATMs, why couldn't we just use the ATMs again to let people apply for shares?
From that thought, ESA was born. Now you can apply for shares through the internet, but it all started from the ATMs and our resolve to be a game changer.
Elsie Foh worked at DBS from 1974 to 2010. During her tenure, she was also Chief Operating Officer (COO) for DBS' Consumer Banking Group in Singapore. In her capacity as COO, she oversaw the core operations of the bank's retail business.