16 July 2018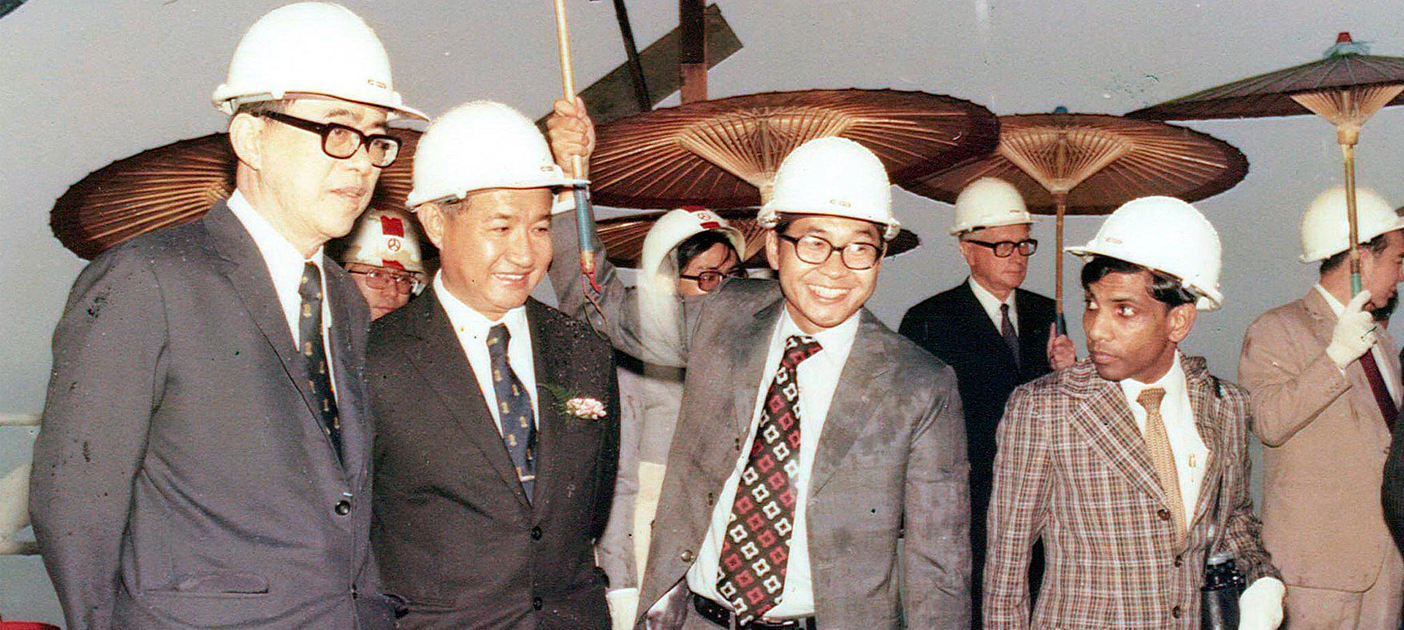 Mr S Dhanabalan (front, first from right) with then-Finance Minister Hon Sui Sen (first from left) and then-DBS Chairman Howe Yoon Chong (second from right) at the DBS Building topping off ceremony on 9 September 1974.
Right from birth, the Development Bank of Singapore was markedly different. Through its actions, DBS showcased its unique mission and purpose.
Having been part of the original team that left the Economic Development Board (EDB) to set up DBS, S Dhanabalan tells his story.
A bank is born
In 1968, DBS was established with SGD 100 million capital. At the start, the Government invested SGD 49 million, commercial banks and other financial institutions took SGD 25 million, while other companies and the public took SGD 26 million.
In the case of banks taking up 25%, I was very much involved – writing to them, explaining what DBS was for, why it was important to Singapore and asking if they were prepared to take a share.
When it came to the public, we handled the public issue all on our own. And, we were one of very few – I can't remember anybody else – who raised money from the public without a track record.
In those days, there were no investment bankers or merchant bankers who were active in Singapore. A company that wanted to list on the stock exchange would publish a prospectus and pay brokers a fee of 2% for promoting the shares. The brokers got a fee according to their success rate. Or, in my view, for doing nothing.
So, we did the issue ourselves. I remember writing everything by hand – all the legal and commercial components.
I thought it was too much to pay 2% to stockbrokers, who would merely put a stamp on the forms. I discussed with Mr Hon Sui Sen, who was the designated Chairman, and we decided that if the brokers were not prepared to waive the fee, we would publish the prospectus and form in the newspapers.
People could cut the form from the newspapers, fill it up and send it to us. In the end, the brokers agreed to distribute the forms without any fee!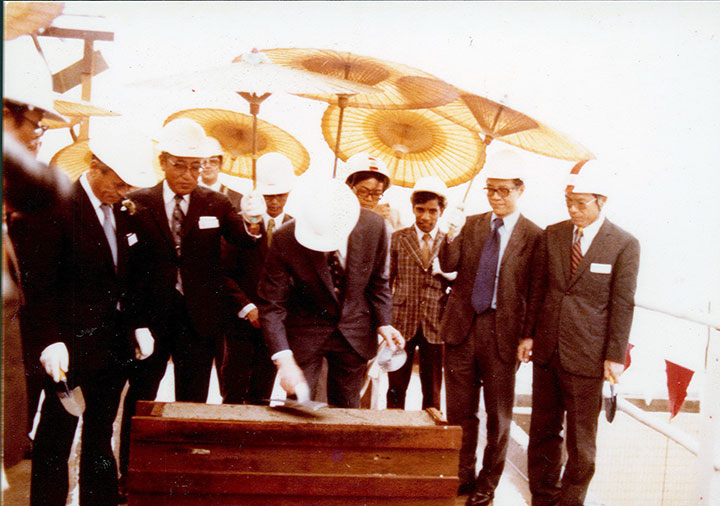 Then came the selection process. Many people applied. In those days, when balloting for shares, the applications were grouped according to the number of shares applied for. From each group, a certain number of applications were selected at random as the successful applications. For those who were not successful, the form and the original bank draft were sent back.
We decided that every applicant should be allotted at least 1,000 shares. This meant, for somebody with an application for 10,000 shares, we had to prepare a new SGD 9,000 cheque to return.
A lot more work was involved, but we did it. After all, the idea was, as a national institution, we should not deprive anybody a share. We wanted as broad a participation from the Singapore public as possible.
Before we started our first year of operations, we had to prepare the organisation chart. This was done by Mr V Havlicek, who's passed on, and myself.
I remember exactly the day we were settling the organisation chart – 15 August. I was in a discussion in Mr Hon's room, when his PA asked me to go out; I had a call. I went out and took the call from my brother-in-law – my son had been born in KK Hospital!
That's why I remember the date!
Moving into our first year, we did long-term financing. We used our SGD 100 million to take over EDB's portfolio of loans and the pipeline of outstanding loan applications.
Subsequently, we took equity stakes in new projects that applied to DBS for financing. One company was Mitsubishi Shipyard. The other one was Rollei, which manufactured cameras. I was on the board of Rollei here and in Germany. The company ceased operations in 1981 because it was not viable anymore. Still, Singapore benefitted from these two projects.
Very soon, we realised: here we were, financing companies and taking the most risk (financing equipment, financing factory buildings, putting in equity) but all other kinds of income from the companies (financing working capital, buying bills and so on) were being done by commercial banks.
It didn't make sense. We took the risks, but we didn't get the full returns. So, we felt we should start commercial banking.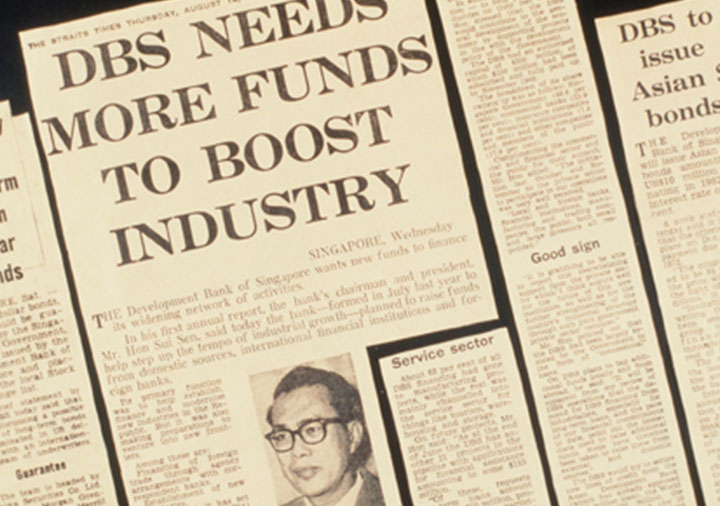 The board was against it, because they were all commercial bankers, who naturally did not want competition. Moreover, there was a change in policy then, and new banks were being given licences to conduct business in Singapore. So, competition was increasing.
Initially, then-Finance Minister Dr Goh Keng Swee was also not in favour because we had raised money on the basis that we were going to be a long-term financial institution.
Fortunately, Mr Hon persuaded him. We put up a case, and Mr Hon forwarded it to Dr Goh, who then approved. So that was the start of our commercial banking business: a little counter at the entrance of our rented premises in Shenton Way, and two cashiers.
S Dhanabalan was part of the original team that left EDB to start DBS in 1968. He started as Vice President, and was Executive Vice President from 1970 to 1978. He left the bank to take up office as Senior Minister of State for National Development. He later returned as DBS Chairman from 1999 to 2005.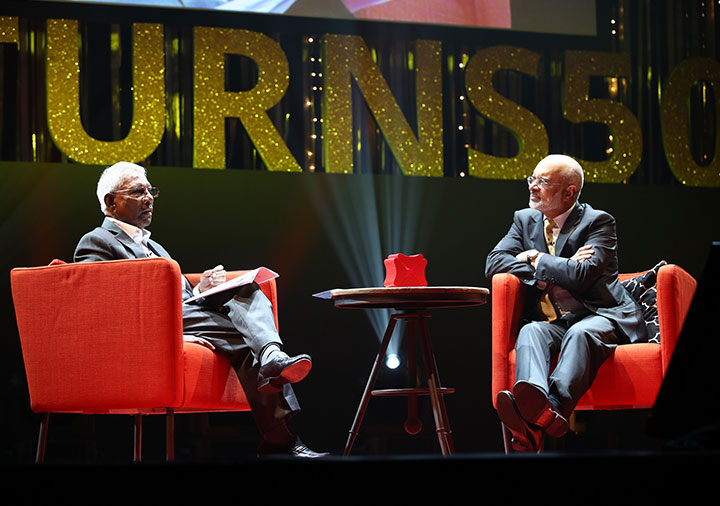 Mr S Dhanabalan (left) sharing his memories of DBS' establishment with DBS Chief Executive Officer Piyush Gupta at the bank's Golden Jubilee townhall on 6 July 2018.