Buying a home or car? It's much easier now
By Joy Fang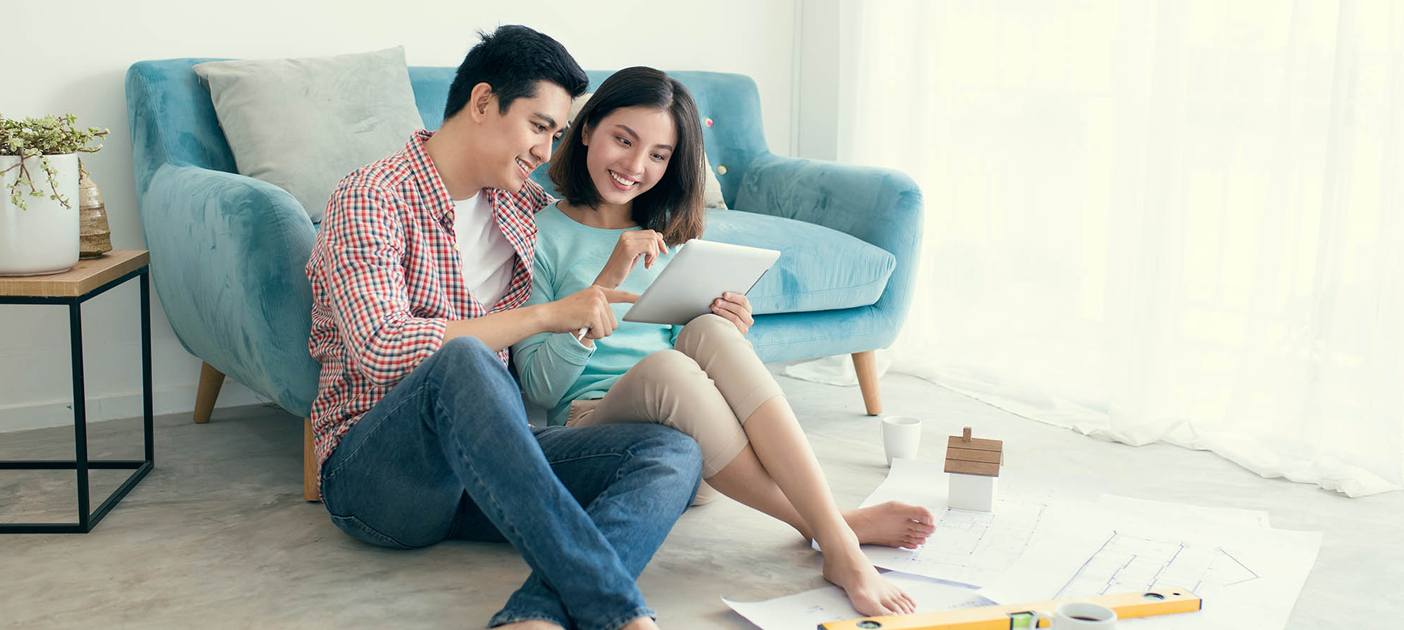 You no longer need to sweat the small stuff when making big decisions
Getting a new home or car, preparing for a big holiday. These are exciting experiences to look forward to. What's probably less exciting, however, is the prep work – from carefully managing your finances to save up for that big trip to the nitty gritty details of buying a property.
There are, however, a range of options available now to make these purchases or decisions a whole lot simpler. Have a look at them here:
If you are buying, selling or renting a home
Searching for that dream home? DBS Property Marketplace takes the hassle out of home-buying so you can enjoy the experience.
It is a one-stop shop aims to cover your various needs – from planning your finances to settling into your new abode and setting up essential services such as utilities. Services are being rolled out progressively, with the full suite of services to be in place by 2019.
The site, launched in July 2018, is a partnership with online property listing platforms, EdgeProp and Averspace.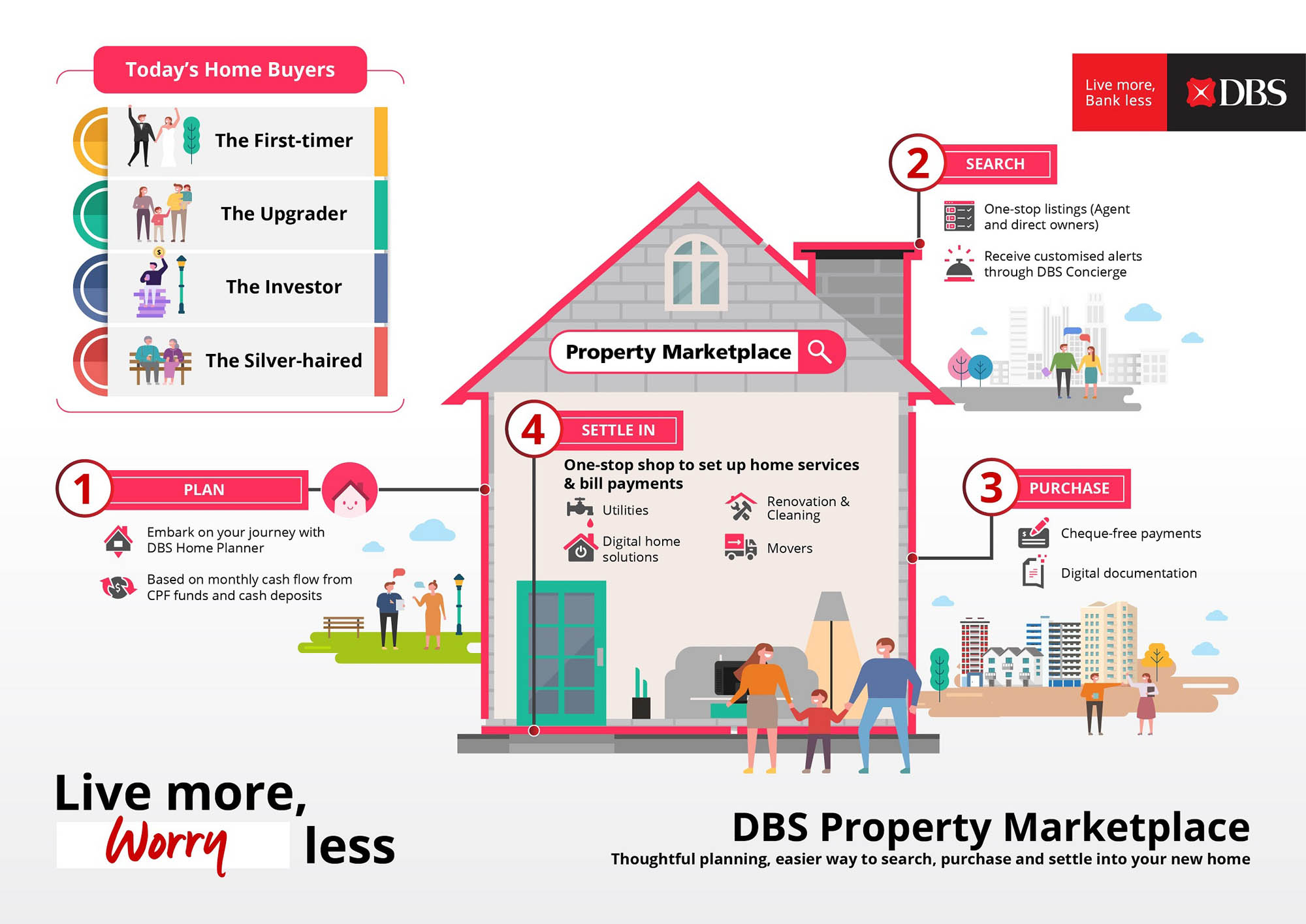 Click image to zoom
You start with the platform's financial home planner to work out a sum you can afford. Then, search from among some 100,000 listings for suitable options. You can filter properties by neighbourhood or MRT station; key in the property type you want, price range and number of bedrooms for a list of options.
The process is similar if you are looking to rent a place.
Other services to be implemented include end-to-end paperless transactions, from cheque-free payments to digital documentation. To help you settle into your new home, the marketplace will be partnering essential service providers, including utilities, digital home solutions such as internet and TV services, renovation, cleaning and moving services.
If you're selling your home or renting it out, the site currently allows you to list your property online for free. Just complete a form, snap photos of your property and list it!
If you are buying or selling a car
If you're looking to buy or sell a car and prefer to take a more hands-on approach, consider DBS Car Marketplace, a one-stop shop for new and pre-owned cars.
It was first launched in August 2017 with sgCarMart and Carro, and now has six car dealers onboard, including Alpine Group, Select by Performance Premium Selection and CarTimes.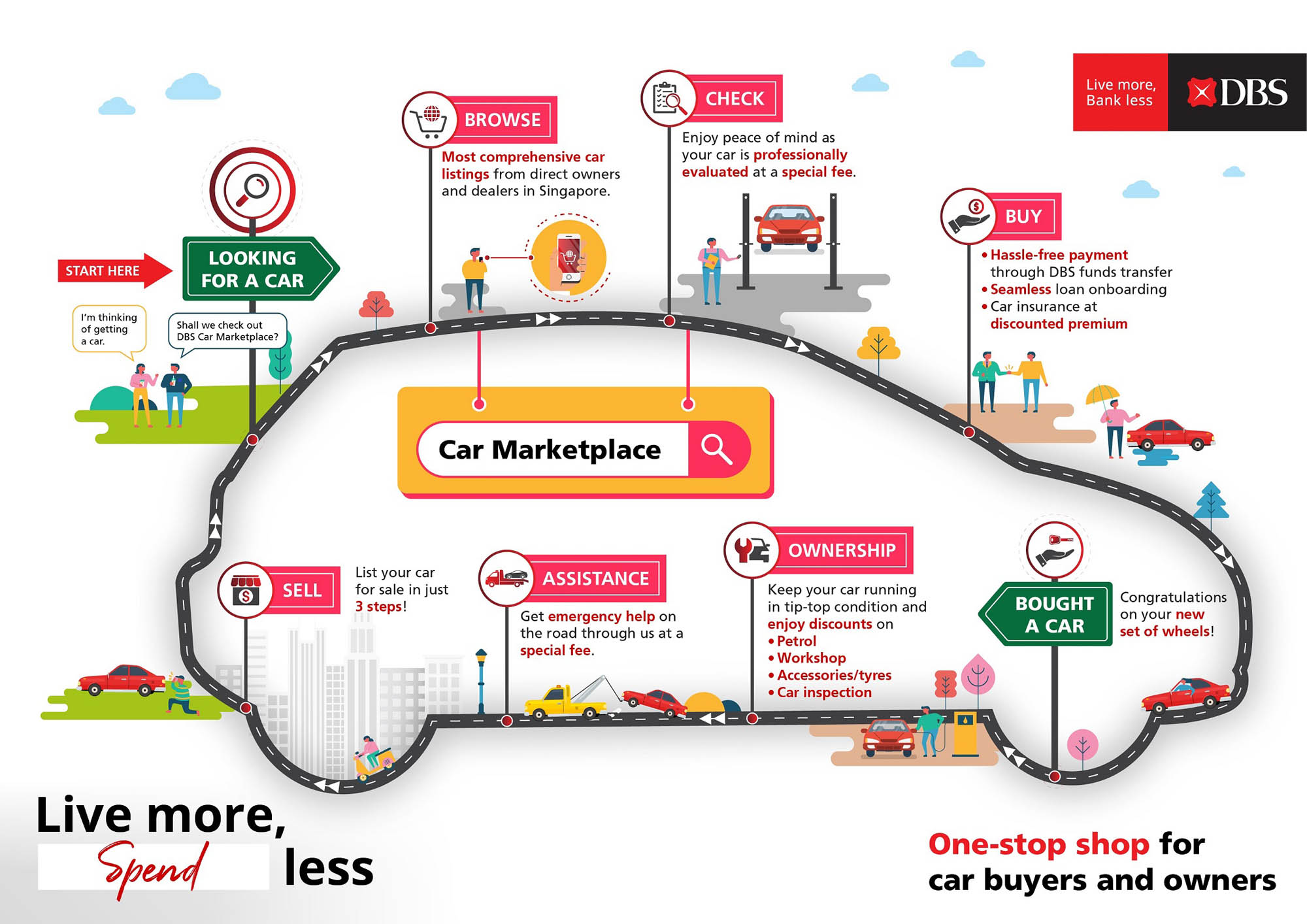 Click image to zoom
Other than searching for a suitable car on this platform, you can also calculate your budget, and arrange for a pre-owned car evaluation service. Once you've decided to buy a car, you can – through the marketplace – make payment via DBS funds transfer, buy insurance and apply for a car loan as well.
It's an equally simple process for you to sell your own wheels.
Since it was launched, the platform has clocked some 350,000 unique visits and facilitated some SGD 50 million worth of transactions.
If you are saving up for a special occasion
"How did small expenses here and there add up to so much?" If you find it hard to keep track of your expenses, DBS' recently-launched in-app digital financial advisor could help.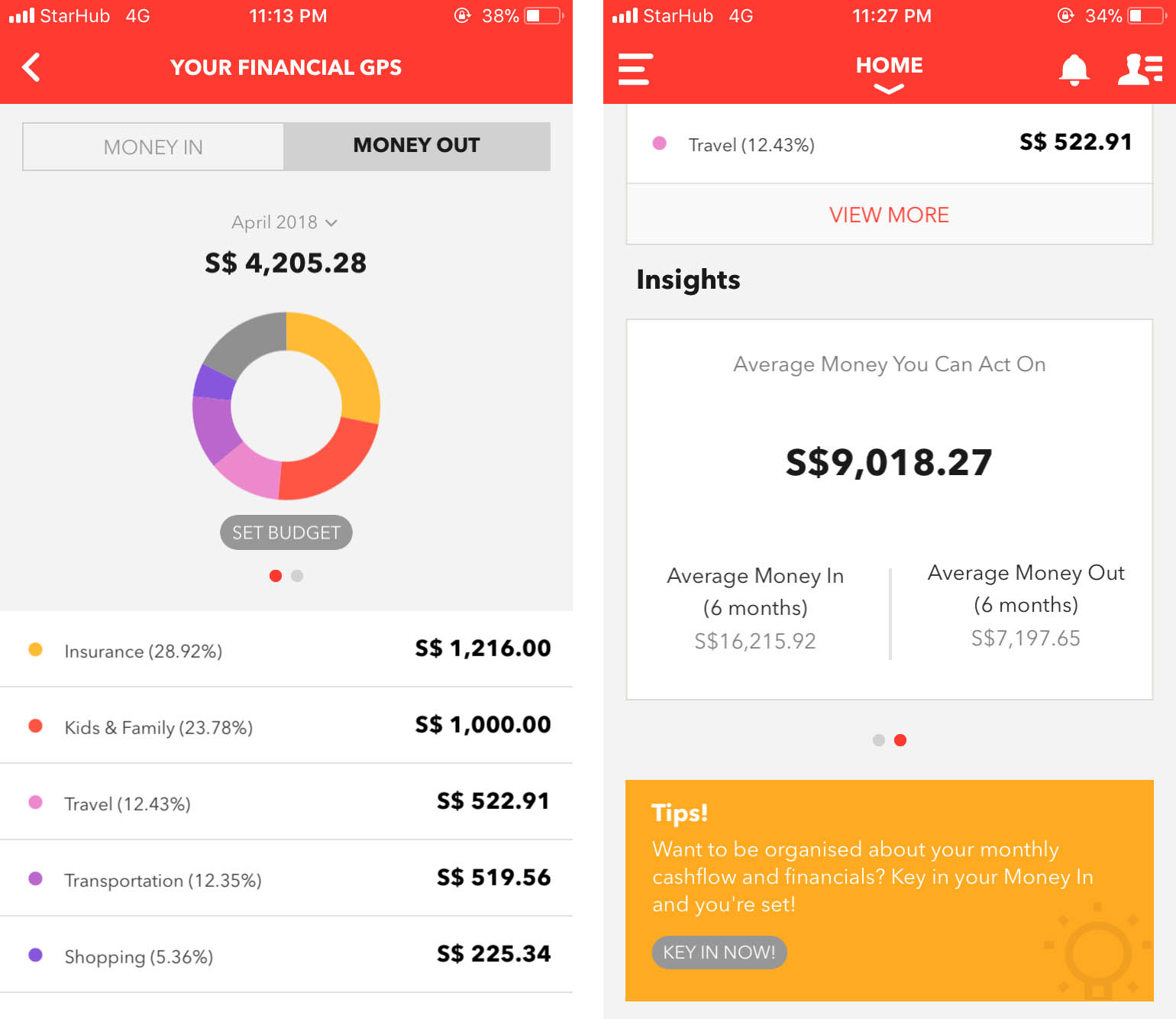 Found in DBS/POSB iBanking and digibank apps, the advisor, called Your Financial GPS, tracks and automatically categorises your income and expenses.
You can set budgets and long-term financial goals, and the advisor tracks how you are faring on these fronts. The advisor can also analyse your financial position and offer tailored advice.
If you need to send money abroad
Need to urgently money to someone overseas? You can do so with ease, without being charged additional fees, even if you are not a DBS/POSB customer.
SmartSend is an online remittance service by DBS that allows non-DBS customers to make secure, same-day money transfers to eight markets around the world. They are: Australia, Hong Kong, India, Indonesia, Malaysia, Philippines, United Kingdom or United States.
Just register for an account on the site and enter the details of your recipient. Once that's confirmed, you can make a FAST transfer from your bank account. There's no need to fret about security – DBS' Online Money Safe Guarantee backs transactions so you can be sure your money is protected.
SmartSend mirrors the ease of use and convenience that DBS customers currently enjoy with DBS Remit, which allows them to transfer money online anytime, anywhere via DBS/POSB digibank.
And if you happen to be living in Jurong…
You can suss out the best electricity price plans and seamlessly switch to another retailer, through the DBS Electricity Marketplace.
Compare plans from participating retailers (currently iSwitch and Keppel Electric), pick a plan, apply via DBS/POSB digibank and pay by Giro. The switch is done!
Since its launch in March 2018, DBS Electricity Marketplace has attracted some 190,000 unique visitors. DBS has plans to get more electricity retailers onboard as well as extend it to households beyond Jurong, so stay tuned!