5 luxury hotels in Singapore innovating for sustainability
BY DBS 05 SEP 2023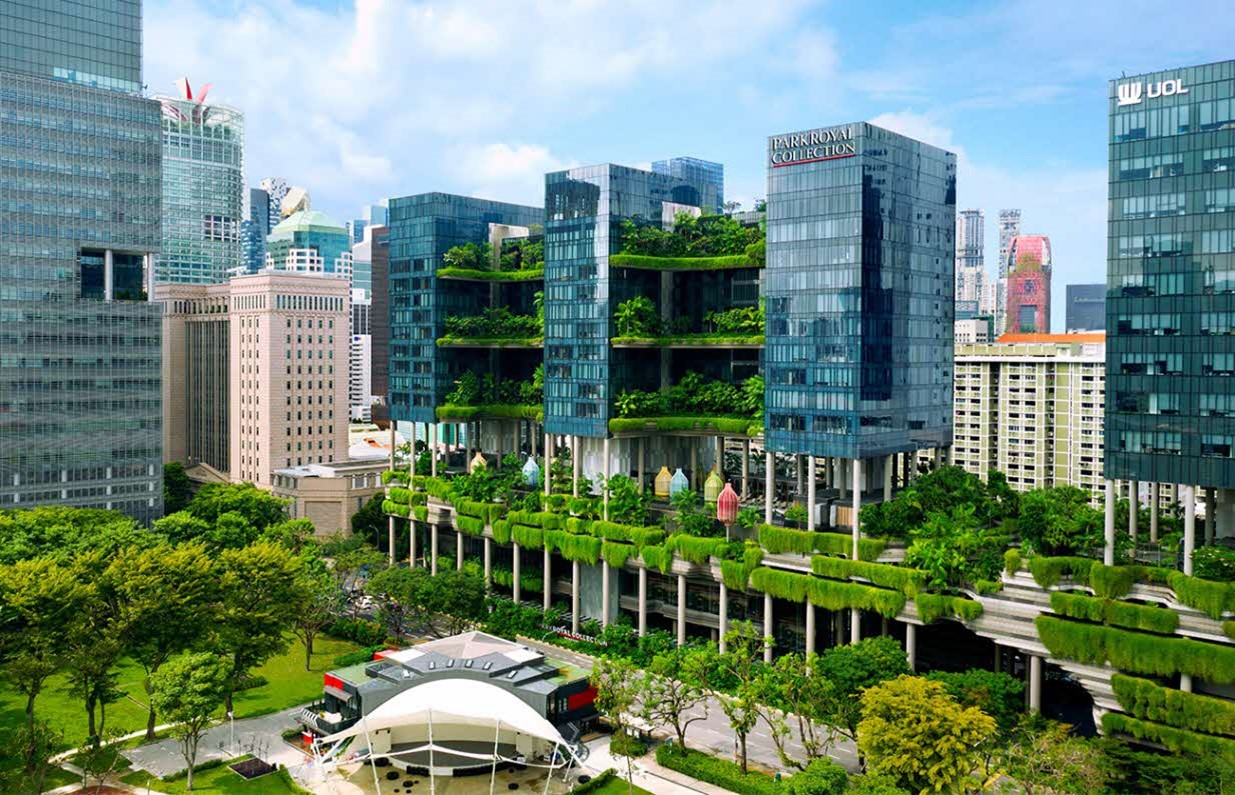 From beautiful lush green facades to innovative energy-saving practices, these hotels are creating memorable stays for the eco-conscious.
A refreshing wave of change has been sweeping through the world of hospitality in recent years, as hotels across the globe are making conscious efforts to do better for the environment in their operations.
In Singapore, hotels are required to track their carbon emissions and implement steps to reduce them by 2030 as part of the wider industry's goals to achieve net-zero emissions by 2050. This is part of the targets outlined in the Hotel Sustainability Roadmap by the Singapore Hotel Association and Singapore Tourism Board.
At the same time, travellers are becoming increasingly conscious of their environmental footprint and 76% of people want to make their holidays more sustainable, according to Booking.com's 2023 Sustainable Travel Report.
The same report found that people have taken some steps to minimise their environmental footprint when staying in hotels. More than half of respondents have turned the air conditioning, lights and appliances off at accommodations when they weren't there, re-used the same towel multiple times, and used their own reusable water bottle during their travels.
Bookmark these five hotels in Singapore if you'd like to experience what the hospitality sector is doing to continue providing luxurious experiences to their eco-conscious guests.
1. PARKROYAL COLLECTION Pickering
Known as Singapore's first 'Garden-in-a-Hotel', the hotel is covered in 15,000 sqm of lush greenery from sky gardens and planter terraces to cascading vertical greenery.
The hotel has implemented a range of sustainability initiatives – from operations to guest experience. It incorporates rainwater harvesting and NEWater as part of its water saving operations while its sky gardens are powered by 60kWp solar cells. Its eco-friendly features clinched it the accolade of Asia's Leading Green Hotel from 2015 - 2022 at the World Travel Awards.
On the rooftop is its urban farm, home to 50 varieties of vegetables, fruits, herbs and edible flowers that supplies the Lime Restaurant and Bar, COLLECTION Club Lounge and St. Gregory spa, bringing the farm to table concept alive.
Address: 6 Raffles Blvd, Singapore 039594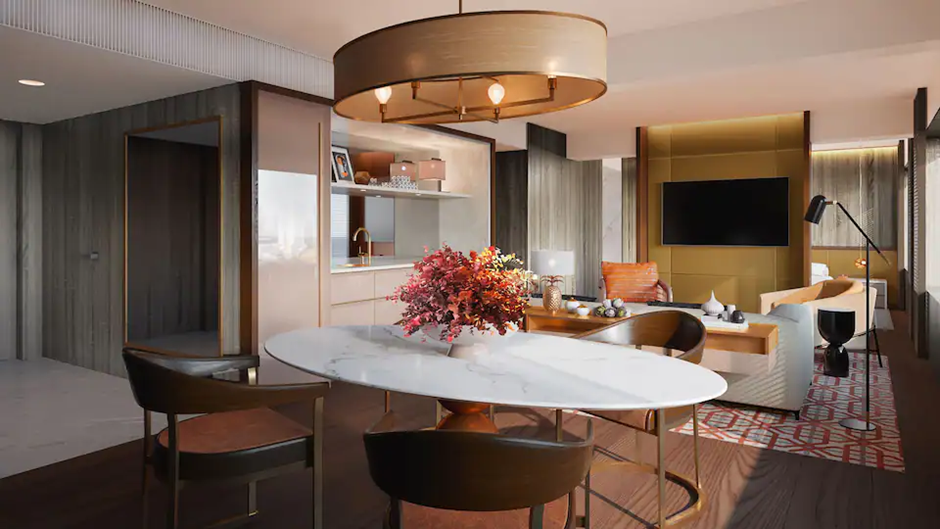 2. Grand Hyatt Singapore
Grand Hyatt Singapore's sustainability efforts began in 2002 with the implementation of a green energy management system that replaced the central air-conditioning.
In 2011, it became the first hotel in the world to install a gas-powered Tri-generation plant to provide 30% of its electricity, heat, and cooling for laundry and air-conditioning needs.
The food it serves is also ethically sourced. For instance, 80% of seafood is certified sustainable by Marine Stewardship Council and Aquaculture Stewardship Council, and it imports carbon-neutral certified lamb and whole carcasses of beef from ethical farms in Australia to minimise wastage. Its five-star restaurant mezza9 also introduced zero waste dishes in 2021.
Taking food waste reduction further, the hotel has an in-house waste management plant that converts daily food waste into fertilisers.
When it comes to the reduction of plastic waste, the hotel recycles any plastic bottles found in the hotel into linens for use, and offers straws made of sugarcane and recyclable pens.
What's more, it even uses its own measuring system called Hyatt EcoTrack to track its progress in greenhouse gas emissions, energy and water consumption, waste production and recycling.
Currently undergoing renovation, the hotel will be installing a food waste management plant and systems for rainwater harvesting and laundry water recycling. It is expected to reopen at the end of 2023.
Address: 10 Scotts Rd, Singapore 228211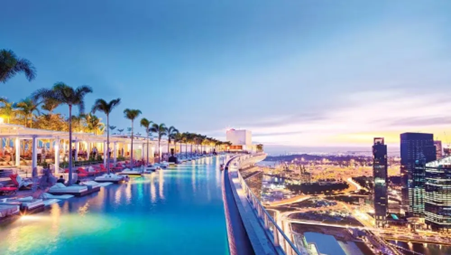 3. Marina Bay Sands Hotel
A local icon that has etched itself into the skyline of Singapore, the Marina Bay Sands hotel has reduced its carbon footprint by over 50% and water consumption by 13% from 2012 in its commitment to being environmentally responsible.
Walking through the expansive lobby, visitors will notice the enormous skylight which lets in natural daylight to reduce the need for energy consuming lights.
The lighting features of the iconic SkyPark with its famous infinity pool is powered by a solar power system that helps Marina Bay Sands save 70 tonnes of carbon emissions annually.
To also reduce its food waste, the hotel has its own herb garden with over 100 edible plants that supply Marina Bay Sands' restaurants. Food waste is managed through five anaerobic digesters while the company's partnerships with charities ensures that extra food goes to their beneficiaries.
Address: 10 Bayfront Ave, Singapore 018956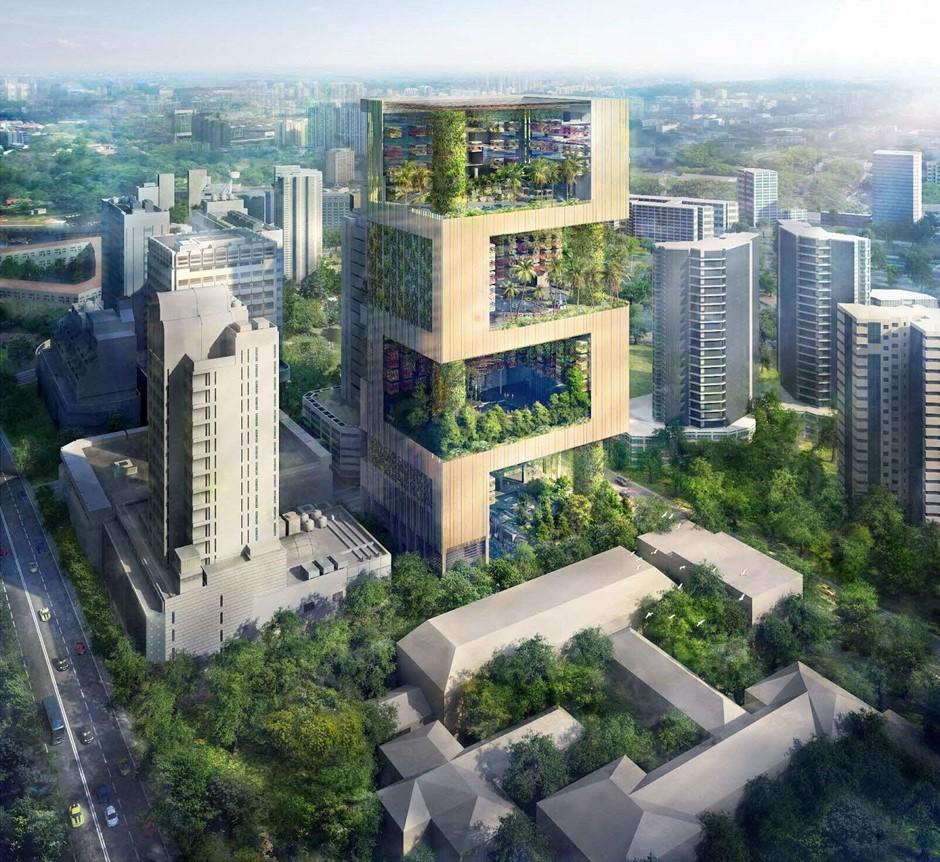 4. Pan Pacific Orchard
Newly opened in 2023, the hotel's eye-catching cube-like design with a lush green facade stands out in a busy corner of Singapore's shopping district of Orchard Road. In fact, 200% of the hotel's land area is occupied by greenery, and skillfully incorporated into the hotel's bold design.
It's divided into four areas across its 23 floors with four open-air sky terraces, connected by a massive 120m-tall column filled with thriving flora that help cool the environment.
With a rainwater harvesting system, solar panel technology, and a bio-digester that turns food waste into cleaning water, the hotel strives to harness innovation to operate more sustainably.
Address: 10 Claymore Rd, Singapore 229540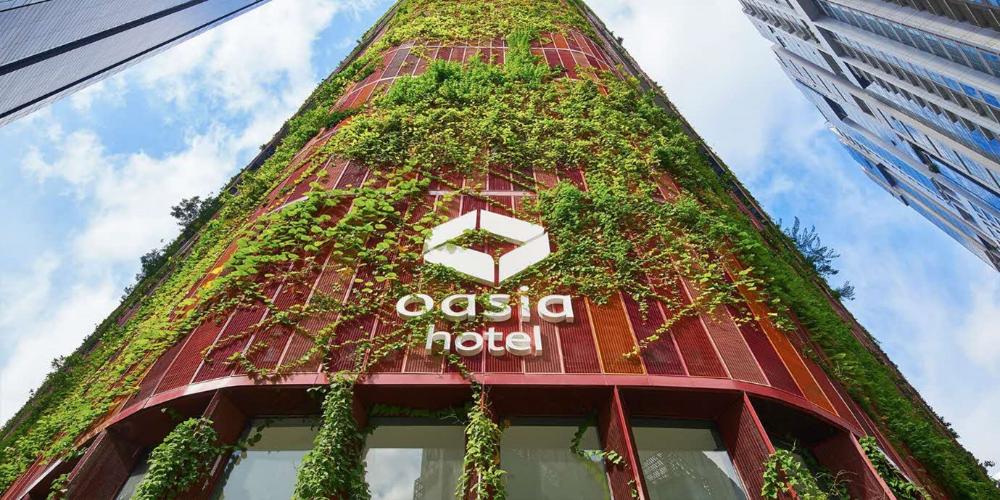 5. Oasia Hotel Downtown: Urban retreat with a green heart
Nestled in the heart of Singapore's buzzy Tanjong Pagar district, Oasia Hotel Downtown's verdant facade is a 'living tower' and features 21 species of climbing plants.
Within the building, there are four naturally ventilated sky terraces and a total of 33 plant species that allow for cross-ventilation, and offering great vantage points for guests.
Overall, the hotel has 25,000 square metres of greenery, designed to be safe spaces for birds and insects for a biodiverse environment, and of course, reduce its carbon footprint.
The hotel also invites guests to think about sustainability through its activities. In partnership with treatsure, a social enterprise supported by DBS Foundation, it offers workshops for guests to learn about sustainable and zero-waste food culture.
Address: 100 Peck Seah St, Singapore 079333