How We Hire
As we journey towards becoming the best bank for a better world, we are spurred by our people's relentless drive and passion. If you are excited by innovation, enjoy collaborating with visionaries and aspire to make an impact in your community, DBS could be the place for you. Get to know more about our culture and the benefits of working here.
Our Process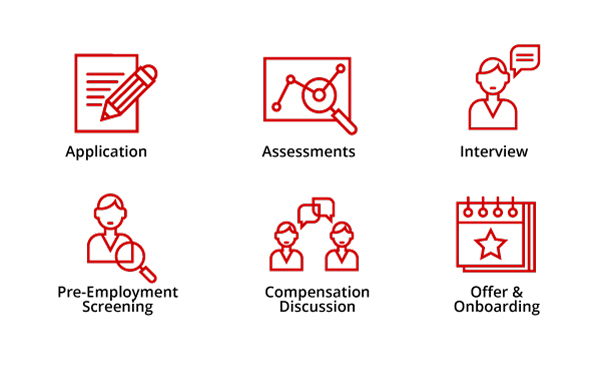 Application and Assessments
At DBS, we take pride in our progressive working culture and values, and we want to know if you will make a great fit. We have reimagined our HR processes to make the hiring process fun for you! You may be invited to speak with our virtual recruitment chatbot, play games as part of your psychometric assessments, or solve technical case studies to demonstrate your skills. Actual assessment procedures will vary according to your applied roles.
Interviews
Through our interviews, we hope to find out more about you, and how you work. Share with us about how you have made an impact in your previous roles, and why you are interested in this opportunity with us. You may be asked scenario-based questions, so that we can learn about your values and working style.
Here are some tips to help you prepare for your interview:
Learn more about the team, and the work they do.
Find out more about the role that you are interviewing for. We are eager to hear about how your experiences may add value to the role, and to the team .
Check with your Talent Advisor if you need to bring anything along.
Don't be afraid to ask us questions!
Explore your next opportunity with us at DBS

Notice on Fraudulent Recruitment Offers
If you have queries regarding the legitimacy of the recruitment offer that you have received, you may send your query to hrrecruit@dbs.com. Learn more