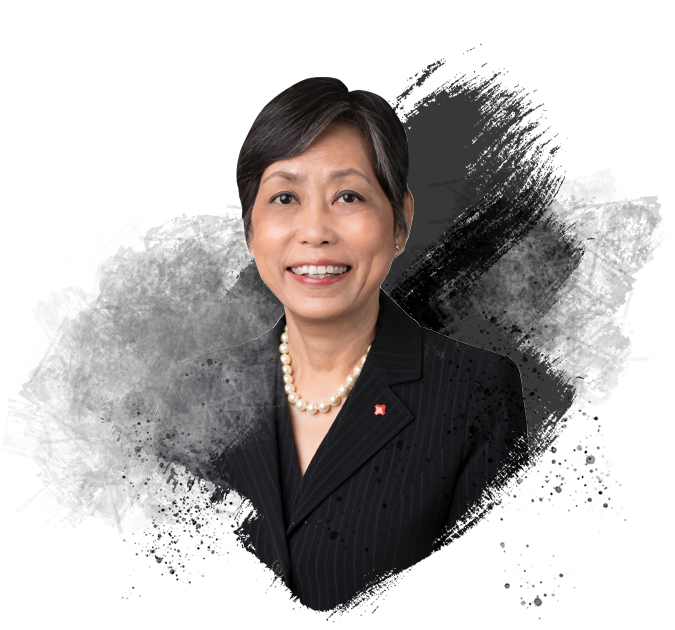 Euleen Goh
吴幼娟
Chairperson
DBS Foundation
Ms Euleen Goh is the Chairperson of DBS Foundation Ltd, a not-for-profit company established to strengthen DBS' corporate social responsibility efforts across Asia.
Euleen is the non-executive Chairperson of the Board of Directors of SATS Ltd, and is also a non-executive board member of Singapore Health Services Pte Ltd, and Royal Dutch Shell plc. She is a Trustee of the Singapore Institute of International Affairs Endowment Fund and also Chairman of Singapore Institute of Management Group Limited.
Euleen was the non-executive Chairperson of the Singapore International Foundation from April 2008 until she stepped down on 1 April 2015. She was previously the Chairperson of the Accounting Standards Council and a director on the Boards of DBS Group Holdings Ltd and DBS Bank Ltd. from 1 December 2008 until she stepped down on 30 March 2021.
A Chartered Accountant with professional qualifications in banking and taxation, Euleen held various senior management positions in Standard Chartered Bank, retiring in March 2006 after some 21 years with the Bank. She was Chief Executive Officer of Standard Chartered Bank, Singapore from 2001 until March 2006. In that role, she was responsible for driving the Bank's corporate governance and strategic agenda in Singapore.
Before becoming the Chief Executive Officer of Standard Chartered Singapore, she was Group Head, Local Corporates and Specialised Businesses, including structured trade solutions and private equity. Other senior positions held included market risk, asset and liability management and sales. She has travelled widely throughout the Group's operations in the course of her duties.
Euleen was named as Her World Woman of the Year 2005. She was awarded a Public Service Medal for her contributions to the Financial Services sector by the President of Singapore in the same year.