Redefining the future of banking as a technology company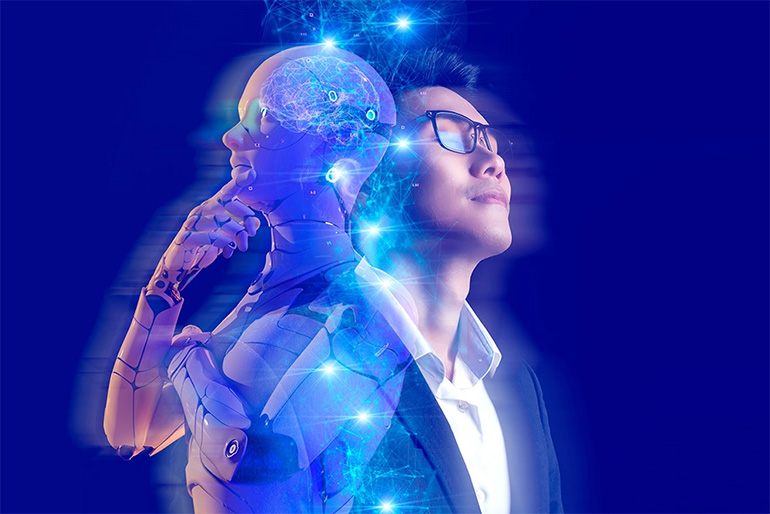 What makes a bank truly digital?
When DBS embarked on its digital transformation journey more than eight years ago, start-ups which offered unbundled banking services were coming on the scene while platform giants were beginning to experiment in the financial space.
To stay ahead, DBS resolved to go beyond putting on "digital lipstick". It had to become digital to the core, from backend to middleware to the frontend. This called for a re-architecture of its technology stack to be cloud native. At the same time, it had to completely reimagine its processes to be centred around customer journeys and inculcate a more start-up-like culture across the organisation.
The bank's efforts to build a robust and scalable foundation have reaped dividends, enabling DBS to cope with the massive uptick in demand for digital banking services during the Covid-19 pandemic while delivering new digital services and differentiated experiences for customers.
As the world emerges from the shadows of the pandemic, DBS continues to be at the vanguard of harnessing emerging technologies to reimagine the future of banking. DBS has immersed itself in blockchain and artificial intelligence/machine learning (AI/ML), and, as these reach a tipping point, the bank is actively translating its capabilities into solutions that are disrupting the financial sector.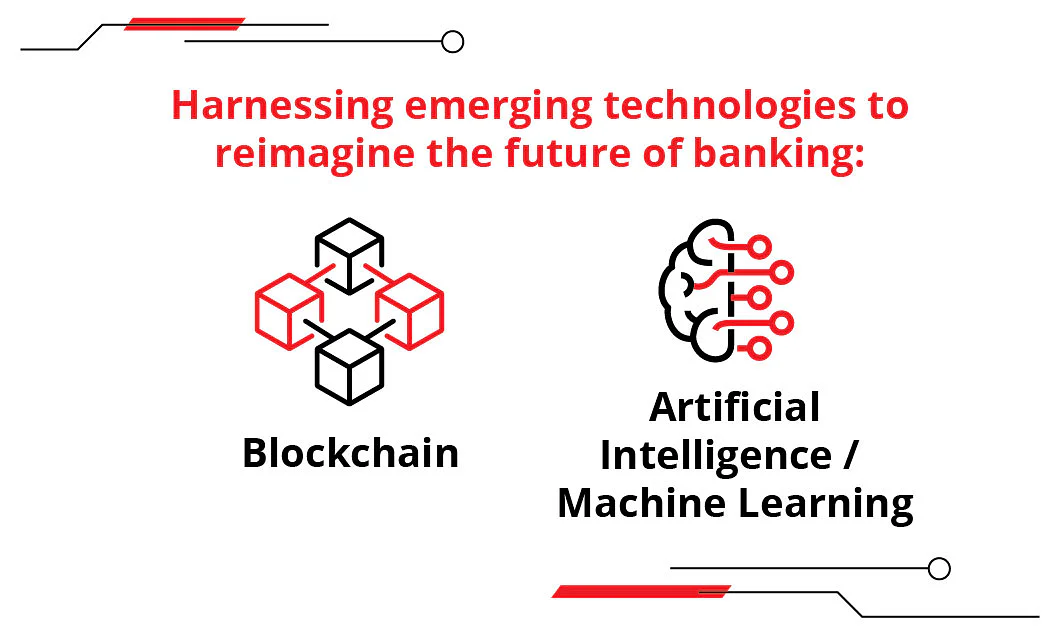 Unlocking new digital innovations on the blockchain
DBS is committed to unlocking the power of distributed ledger technology and the blockchain, which have the potential to redefine the back office of the world by fundamentally changing cross-border payment systems. Its early investments in this space are starting to pay off, and DBS has established a number of blockchain-enabled businesses, including the DBS Digital Exchange (DDEx) and Partior.
DDEx anchors the bank's integrated digital asset ecosystem. To date, DBS is the only bank that offers corporate and accredited investors a unified suite of solutions, including deal origination, tokenisation, listing, trading and digital asset custody. Amid unprecedented volatility in the digital asset industry in 2022, DBS has benefited from a flight to safety as investors seek safe harbours to trade and store their digital assets. More recently, DBS enabled self-directed trading on DDEx via the bank's digibank app, availing its digital asset services to an additional 100,000 wealth clients in Singapore.
Partior, a blockchain-based cross-border clearing and settlement provider, harnesses the power of smart contracts to transform the future of payments by enabling more efficient digital clearing and settlement solutions across the global banking sector.
Becoming an AI-fuelled and data-driven bank
DBS is industrialising the use of AI/ML to power differentiated experiences for its customers. To enable this, DBS has built its own proprietary AI/ML machinery: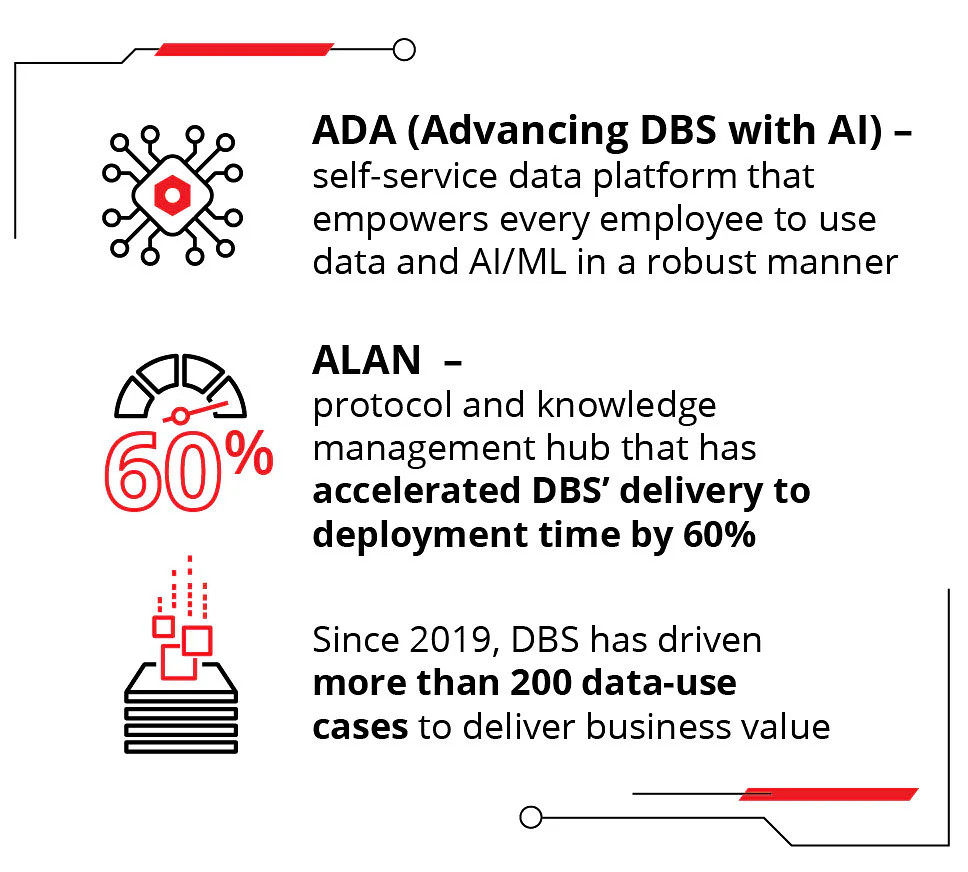 DBS has scaled its foray into intelligent banking – a holistic approach which combines predictive analytics, AI/ML and customer-centric design to convert data into hyperpersonalised "nudges" that guide customers in making more informed banking and investment decisions.
Today, over 3.5 million of the bank's retail and wealth customers engage with more than 30 million hyperpersonalised nudges every month in Singapore alone. DBS' focus on data and AI/ML has benefited some 2.8 million customers, mostly between the ages of 21 and 50, who use NAV Planner, the bank's industry-leading digital advisory tool. The nudges generated by the AI-powered investment adviser contributed to a fourfold increase in customers who were able to complete their investment journeys.
Through AI and data analytics, SMEs banking with DBS can access working capital almost instantly. DBS Quick Finance provides SMEs with the convenience of applying for a loan in just one minute with almost instant approvals, and, in some cases, even immediate disbursement, with no additional paperwork. DBS is also able to provide SMEs with early alerts of credit risks even before problems emerge. By putting these risks on their radar, DBS can partner SMEs to act pre-emptively and nip potential credit issues in the bud.
Leveraging the cloud as a force multiplier
DBS' successes in blockchain and AI/ML were enabled by its cloud capabilities, which provided the compute power necessary to drive these initiatives. DBS adopts a hybrid, multi-cloud infrastructure which results in greater resilience and scalability, reduced infrastructure costs and the flexibility to move between computing models and service providers.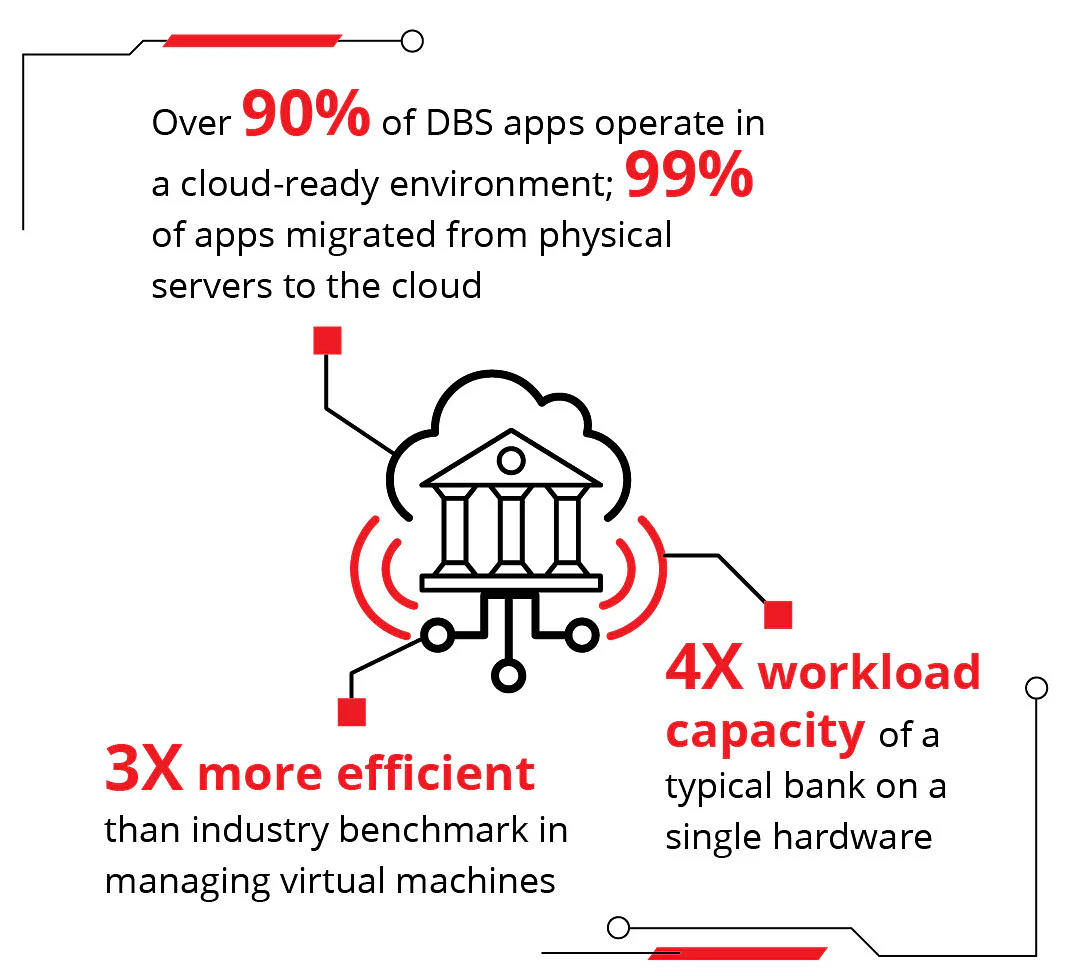 Building on its cloud capabilities, DBS has developed a suite of in-house solutions to further accelerate its cloud transformation. These include Evolve PavedCloud, a public cloud solution with built-in security controls that enable developers to deploy and manage applications securely and consistently, and Technology Marketplace, a self-service platform to help developers with platform visualisation and automation. These have increased DBS' public cloud adoption by more than 16 times.
Building a future-ready technology workforce
As it doubles down on unleashing the benefits of emerging technologies for customers, DBS continues to strengthen its technology workforce. In January 2021, DBS launched its in-house Tech Academy to sharpen its capabilities in disciplines, including blockchain, AI/ML, cloud, cyber security and site reliability engineering. DBS also became the first bank in South-east Asia to launch a Distinguished Engineer Programme, which recognises technologists in the bank who have attained deep technical expertise and are accepted in the industry as eminent thought leaders of their domains.
DBS supports Singapore's push to build a strong pipeline of local technology talent. It participates in a range of industry initiatives, including the Technology in Finance Immersion Programme and the TechSkills Accelerator, to help Singaporeans build lasting fintech careers. In October 2022, the bank established the DBS FinTech Apprenticeship Programme with Temasek Polytechnic and Nanyang Polytechnic to prepare polytechnic graduates for fintech roles.
Disrupting the financial industry as a technology leader
DBS continues to keep a close pulse on emerging technologies which could revolutionise banking. DBS recently announced a partnership with The Sandbox to demonstrate how the metaverse can be used as a force for good – making DBS the first bank in Singapore to announce a foray into the metaverse.
Today, DBS is recognised globally for its technological prowess, having been feted by Euromoney as the World's Best Digital Bank thrice, in 2016, 2018 and 2021, Harvard Business Review as one of the world's top 10 business transformations of the decade, and by Fast Company as one of the 100 Best Workplaces for Innovators.
"Our strategy of being digital to the core, embedding ourselves in the customer journey and operating with a start-up culture has transformed DBS into a force to be reckoned with in the technology arena," says Jimmy Ng, group chief information officer and head of technology & operations, DBS.
"With the world changing at a rapid clip, it is important that we continue to have the gumption to learn by doing. Just as we experimented with blockchain and AI while the technologies were nascent, we will pursue emerging fields such as 5G, the metaverse and digital twin technology to give us a first-mover's advantage when use cases become clear."
Find out how DBS harnesses emerging technologies to offer banking solutions seamlessly woven into your daily life: https://www.dbs.com/technology-future/index.html
Check out the latest thought leadership pieces from our top engineers at: https://medium.com/dbs-tech-blog