Sparking new life into old parts
For most people, old automobile parts are nothing more than dirty scrap iron and steel. In Telly Woo's eyes, however, they carry a unique creative spark despite their dull metallic texture and oily odour. This ignited her spark to create a social enterprise.
My dream is to set up a brand that makes and impact on people and contributes to environmental protection.
Telly Woo—a designer by profession —launched social enterprise ATB Auto Art in 2011 with two of her best friends, Alex and Beatrice, both of whom were devoted to upcycling old automotive parts into useful, fashionable and distinguished art furniture.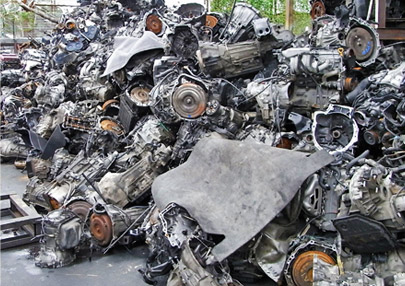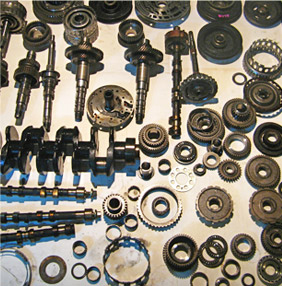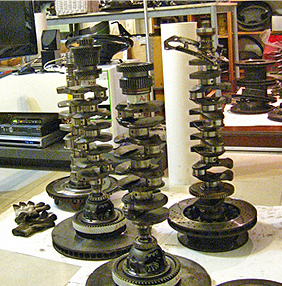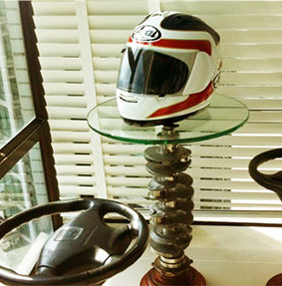 In the beginning, the trio rented a village house in Sai Kung as their creative space and visited abandoned car lots for "treasure hunts" every weekend. They climbed giant round tins and strolled around idling old metals before carrying the heavy parts weighing dozens of pounds back to their place and all the way to the rooftop. There, they would spend the whole night polishing them. What for? To spark new life in these old parts!
---
A car is actually a high quality piece of art. It is one of the most refined products in the world. Most of its materials are splendid and durable steel.
---
We did a lot of market surveys and research before lauching the company and found that up to 80 million tonnes of scrap steel is handled in Hong Kong every year; equivalent to 80 million large trucks. The scrap steel, as well as the industrial waste produced by leather goods factories are responsible for the heavy burden of waste on the environment.
Upcycling can effectively expand the life span of used automotive parts, which reduces the carbon emission that results from waste disposal.
On the other hand, they also discovered that there was market potential for designing such unique products in Hong Kong.
---
The local market is flooded with mass-produced goods but lacks in specially designed and individualistic products. Our first product was a coffee table and a chair. They were soon sold to a car aficionado, convincing us of a real market demand. I resigned from my design job in 2011 and sold my flat to raise the start-up captial for my business venture.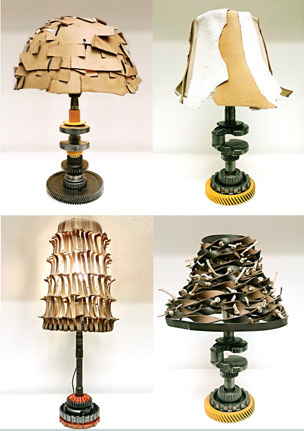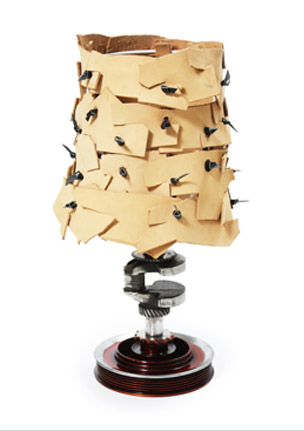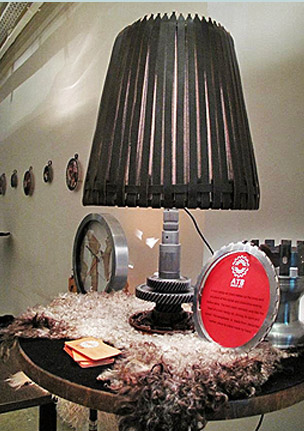 For raw materials, Telly uses discarded parts such as crankshafts, steering wheels and pipes. She upcycles them fashionably into superior furniture like standing lamps, coffee tables and chairs.
Many people misunderstand social enterprises; thinking they are vulnerable and offer only cheap products or that recycled goods are generally cheaper. Although automotive parts are of good quality, they are exposed to some impurities during the recycling process. The production cost is quite high as upcycling requires several procedures such as recycling, transportation, cleaning, designing and processing. The products Telly designs can be sold for over a thousand or even tens of thousands of HK dollars, showcasing the coexistence of social responsibility and commercial value.
---
With the sophisticated skill of professional artisans as well as the fantastic design, we manufactured a set of coffee tables from the components of a racing car, continuing the glorious story of the car with the identity of a coffee table.
Besides the goal of reducing carbon emission, Telly pulls together workers from vanishing industries, like sewing workers and metal workers, to manufacture furniture, offering them alternative job opportunities. She has been devoted to raising public awareness on environmental protection and recycling, to promote the concept of environmental friendliness by organising upcycling waste workshops for local students.
In 2011, the designers were invited to participate in the world-renowned ART HK exhibition to cooperate with BMW, a famous car brand. BMW supplied them with the used parts to create furniture. The exhibition showed the international recognition of the design and product quality of ATB Auto Art, and confirmed further the artistic status of the brand.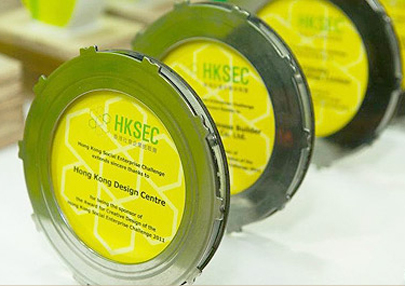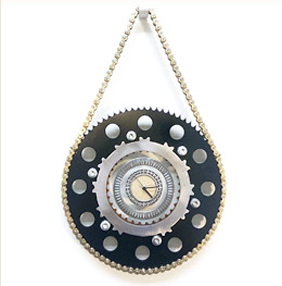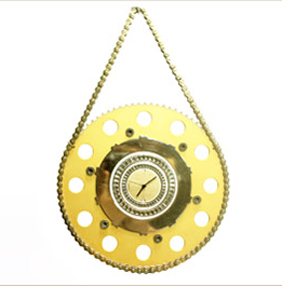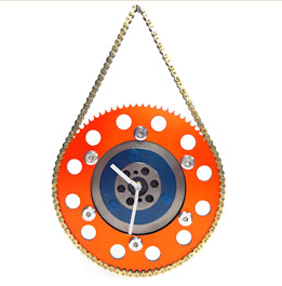 The DBS Social Enterprise Advancement Grant aims to scale up the business and impact of local social enterprises. In 2013, the Grant subsidised ATB Auto Art by installing an ultrasound oil removal machine and an NSP chroming machine, which helped further enhance product quality and production efficiency. It also develops new niche products, such as trophies, key holders and photo frames, in an effort to expand its customer base and satisfy order requests made by corporations.