One by one, they entered the backstage dressing room at The Esplanade. A palpable sense of anticipation and nervous energy filled the room, not at all wilted by the day's relentless humid heat.
These 39 models-to-be were just hours away from making their debut at the DBS Perspectives' first Intergenerational Fashion Runway. Harking from different generations and backgrounds, these models, aged 5 to 75, would be dressed in the finest pre-loved clothing as part of the night's theme of sustainable fashion.
And you could tell, even as they waited patiently to do their hair, make-up and get dressed, they were ready for their time in the spotlight.
"Woah… Nice ah," one of the senior models gasped as she entered the brightly lit room, scanning the lines of mirrors decorated with lightbulbs around them.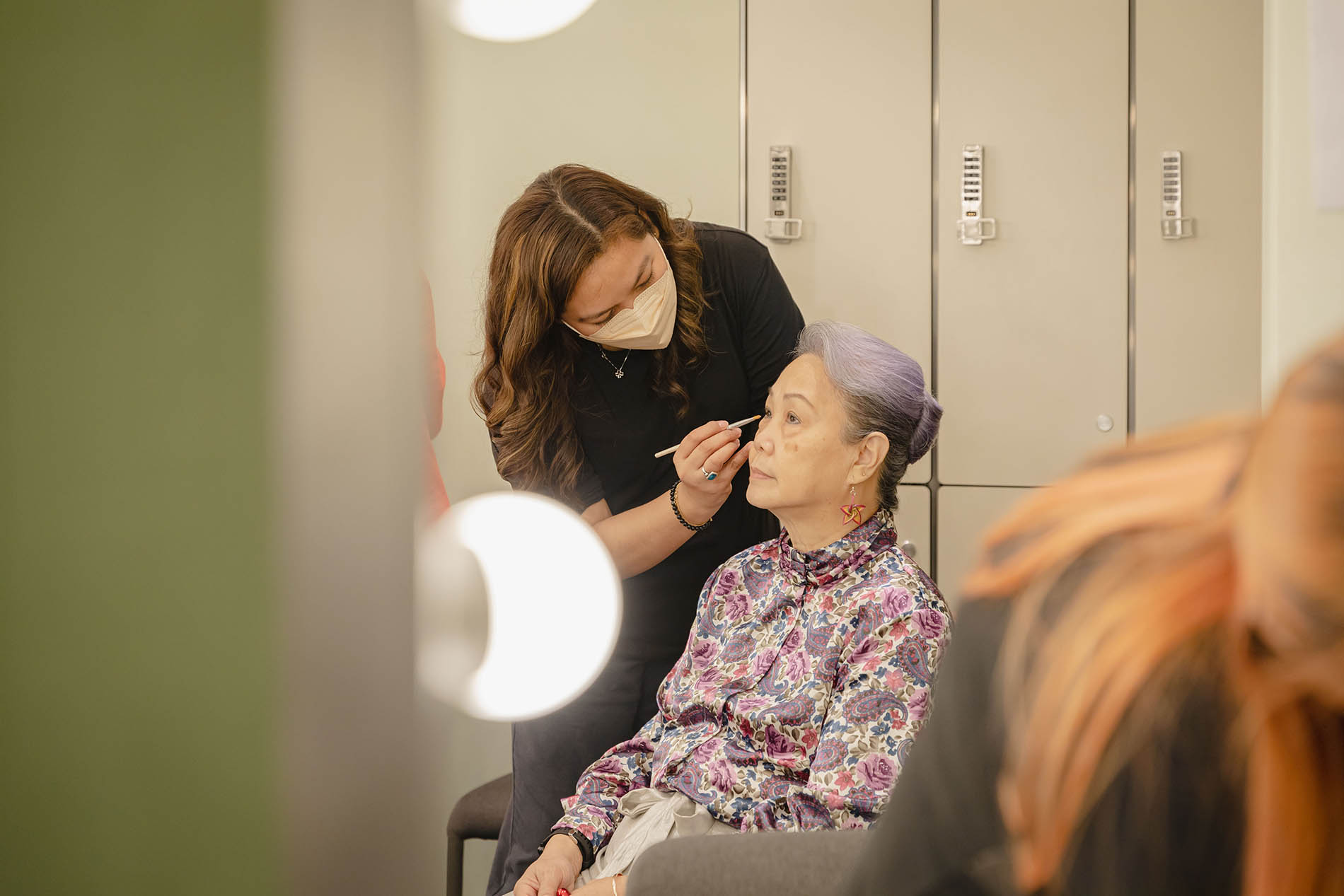 "I've never had my make-up done professionally before. I feel very special today," another of the models, in her 70s, confided.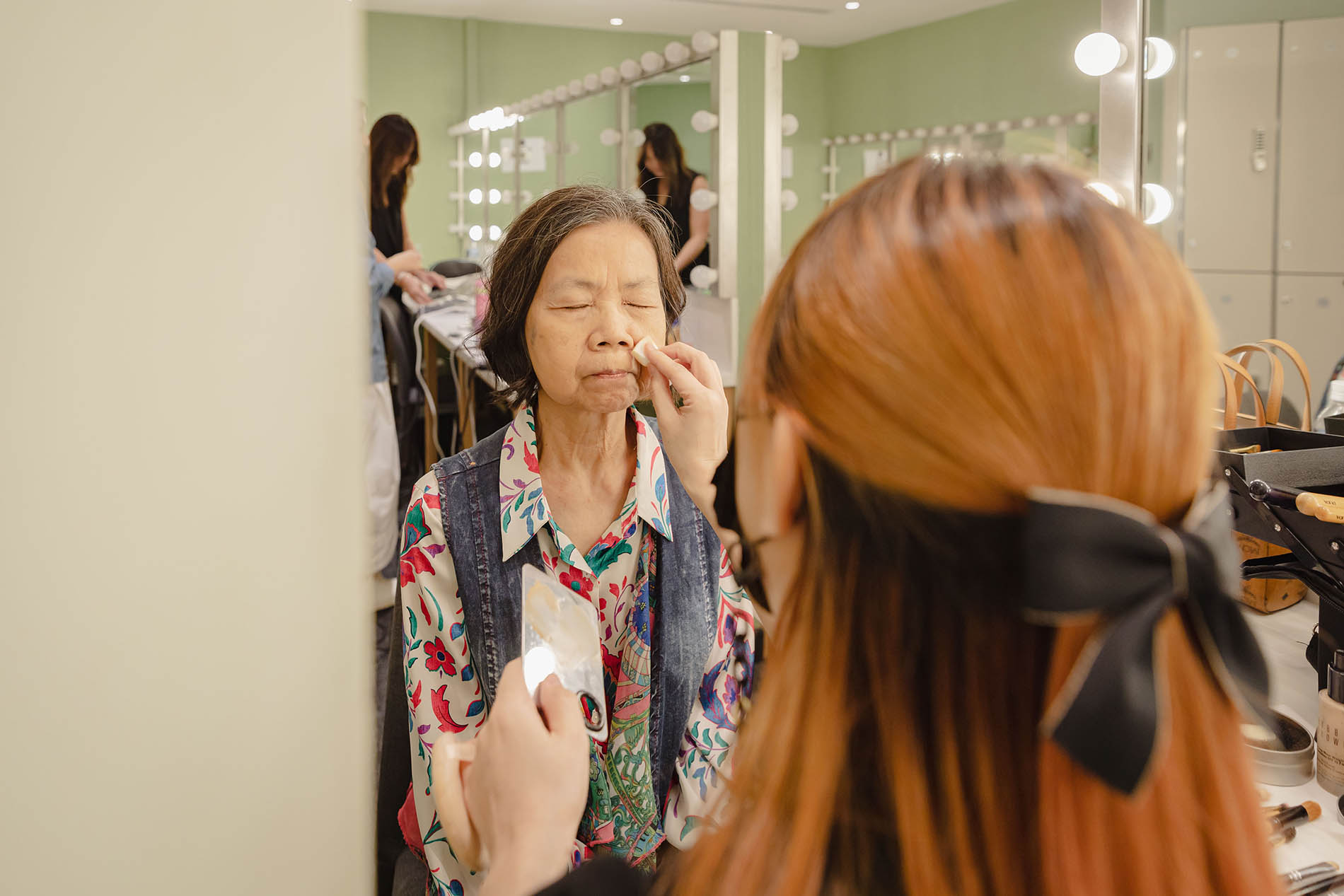 The older female models were from Sree Narayana Mission, a a social service agency, and were featured as the Golden Girls of the night. Other volunteer models included youths from social enterprise Fashion For A Social Cause as well as mothers with their children.
Soon, the room was filled with sounds of photo taking. It could only mean one thing – they were all ready, and feeling confident in their upcycled designer clothing provided by Cloop.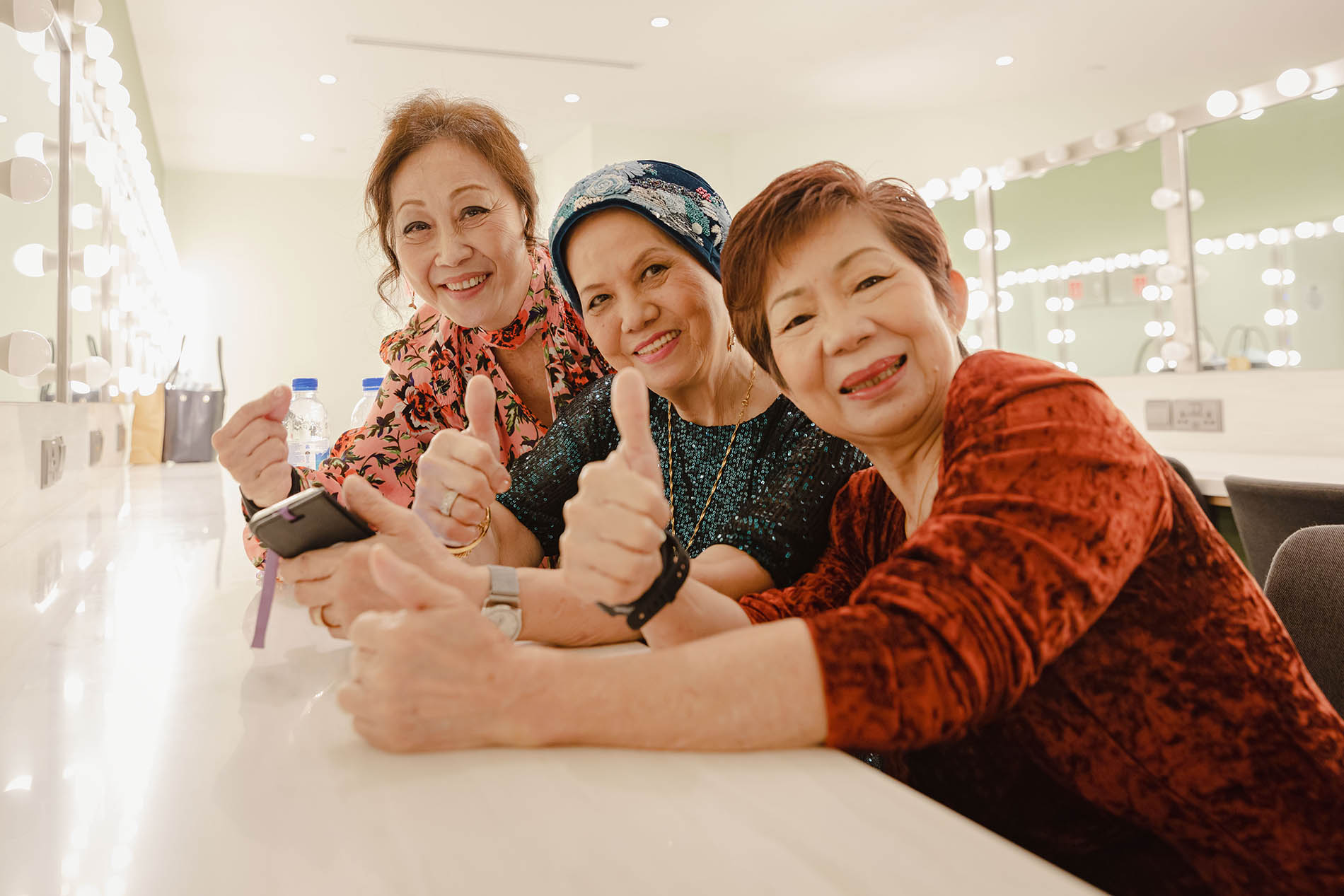 Some of our models from Sree Narayana Mission posing at the make-up room for our cameras!
Let's check out their transformations!
Soon, it was showtime. With huge smiles on their faces and ever-so-confident walks, the models took to the runway and brilliantly showed off their outfits.
No one could tell that just minutes before, many of the models' excitement had given way to a bundle of nerves – some paced up and down the dressing room while others sat quietly trying to calm themselves. Some were really hardworking, practicing their poses up till the last minute.
The golden girls, for instance, were the epitome of warmth, colour and vibrancy!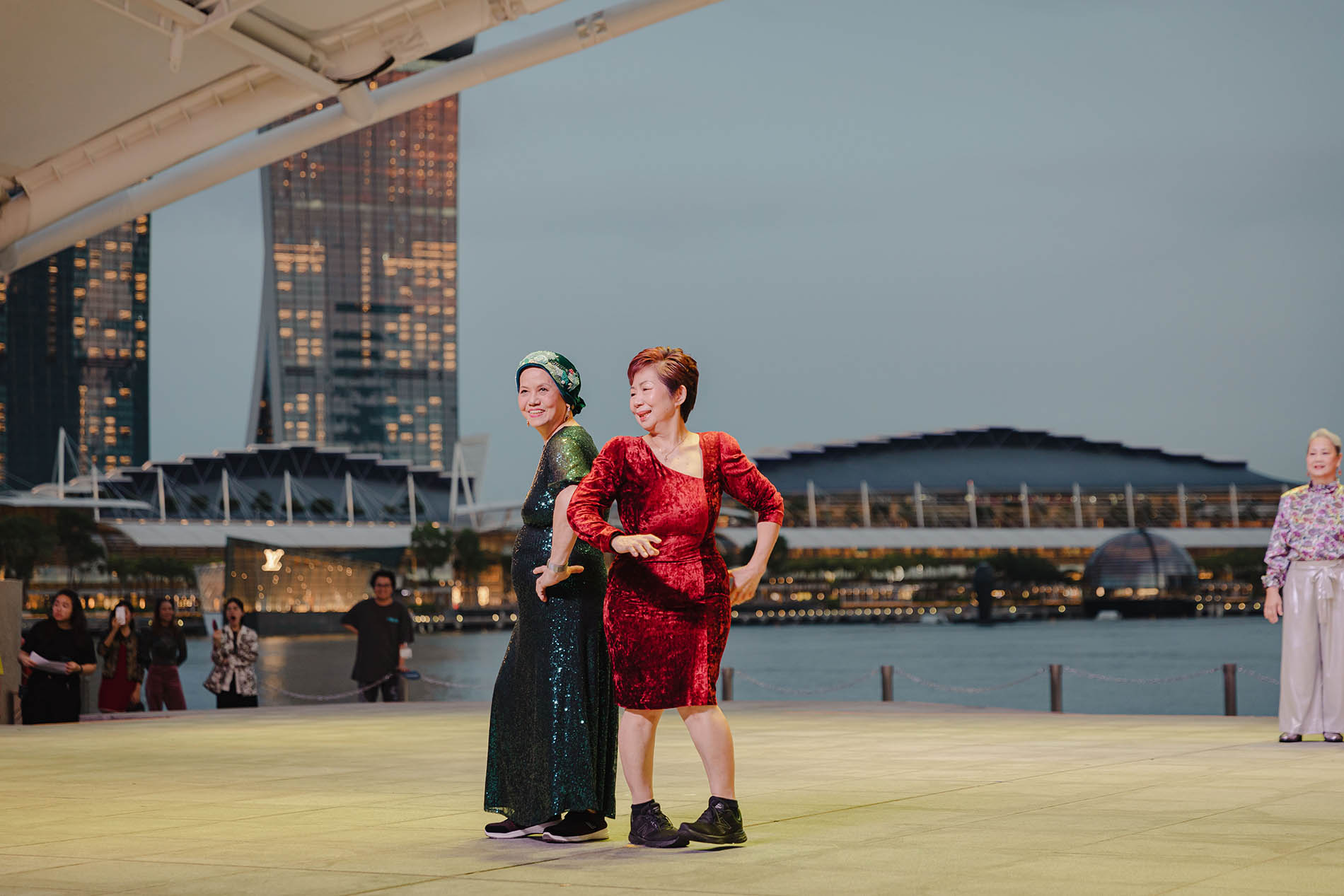 Along with them walked Mdm Nancy Kwek, 74, and Ms Rohana, 45. The pair are very close friends despite the age gap, having first met at the Madam Singapore 2022 pageant, where Mdm Kwek was crowned Madam Singapore.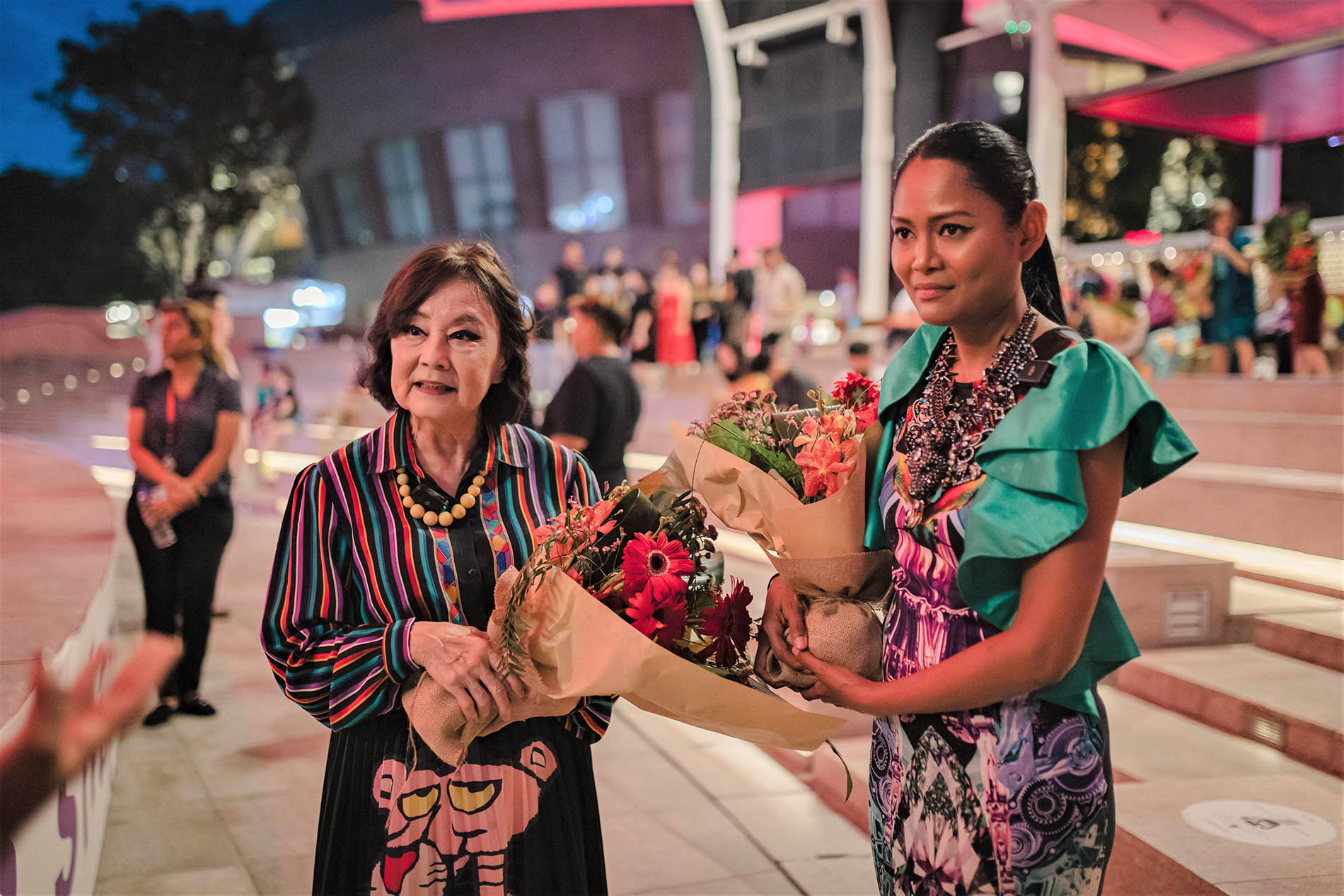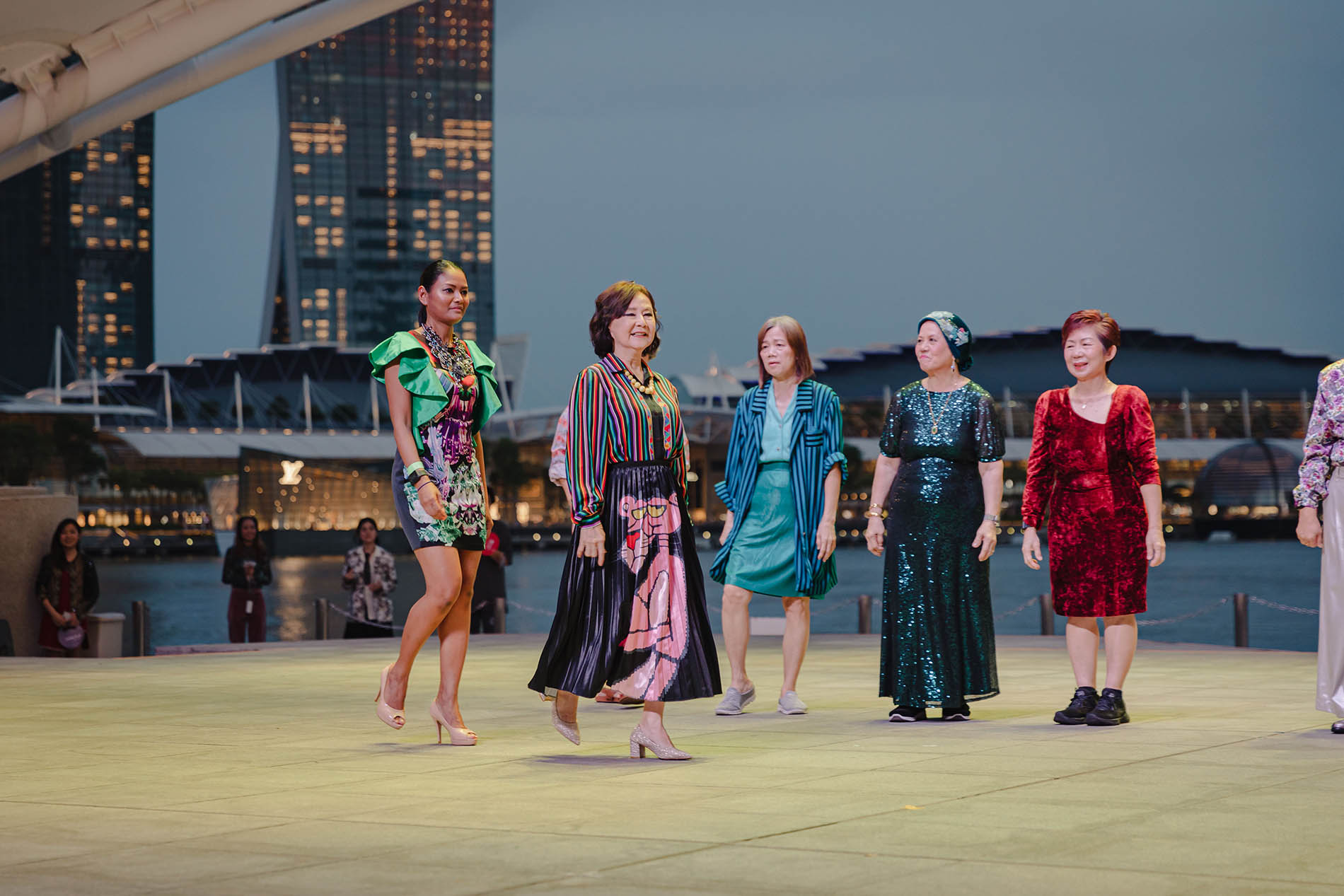 "I don't see her as a 74-year-old, but more as a very good friend. To me, age is just a number. It is the relationship that matters. She has taught me a lot of values as well, which I appreciate," explains Ms Rohana.
Both are active volunteers and often participate in fashion-related courses together. Their friendship grew when they participated in the World Madam beauty pageant.
Mdm Nancy shares, "We are very close. Wherever we go, we go together. We also have the same interests. Even if you are old, you can have a younger mindset and be young at heart."
The duo were not the only ones breaking stereotypes that day. The youths with special needs from Fashion for a Social Cause shone on stage like the true stars they are!
"The route to the backstage was rather far. Seeing them persevere through the walk from the stage to the backstage to the makeup room, and then back to stage again for rehearsals - it really touched my heart. It was a hot, humid day and some youths also had mobility issues, yet they were putting on their best smiles and strutted down the runway so well!" shared Eileen Yap, Founder of Fashion for a Social Cause.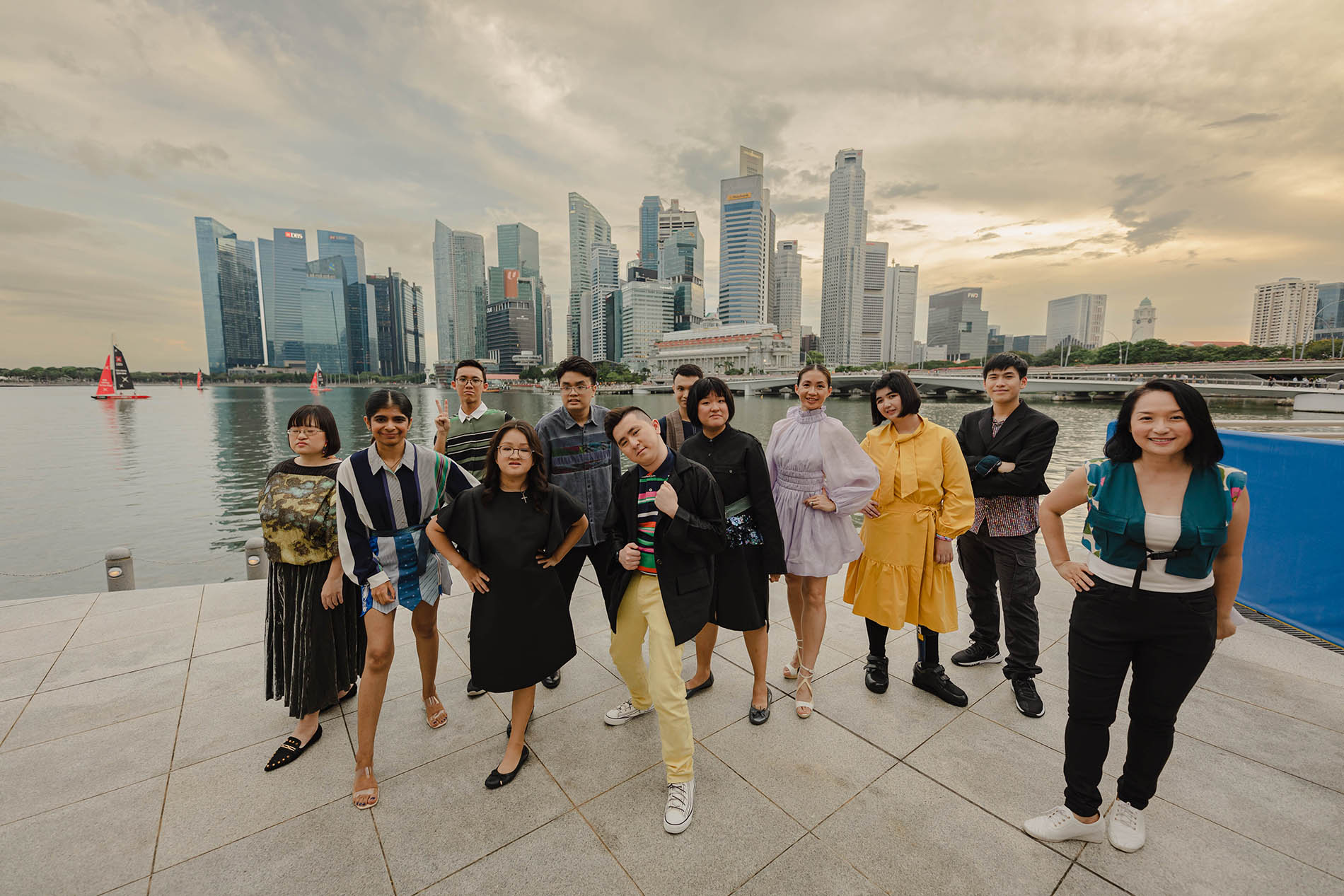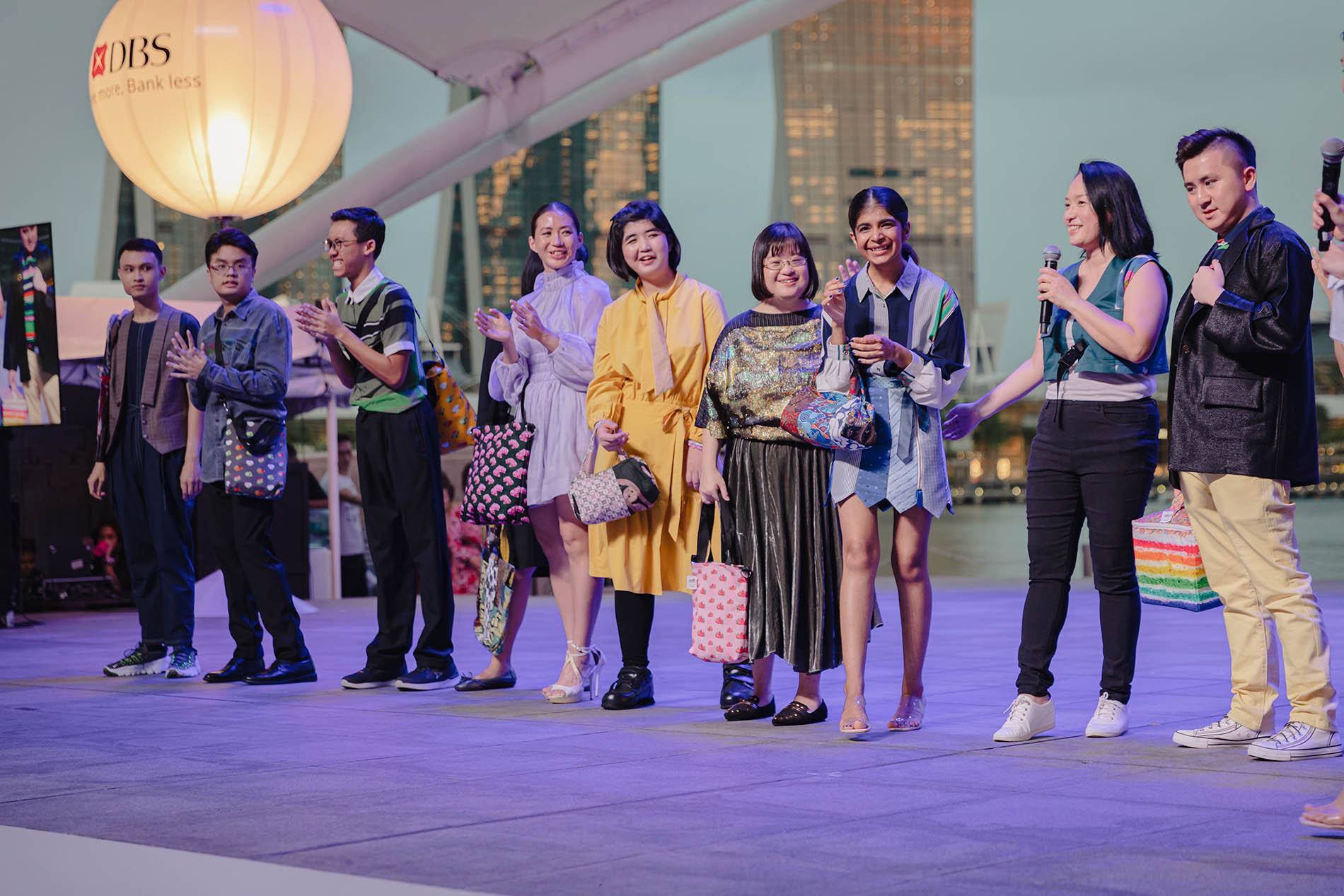 One of the young models was Low Vuitton, a 19-year-old youth with special needs. Vuitton's kindergarten teachers had shared with his parents that he had ADHD, and they were subsequently informed that he also had dyslexia and speech delay.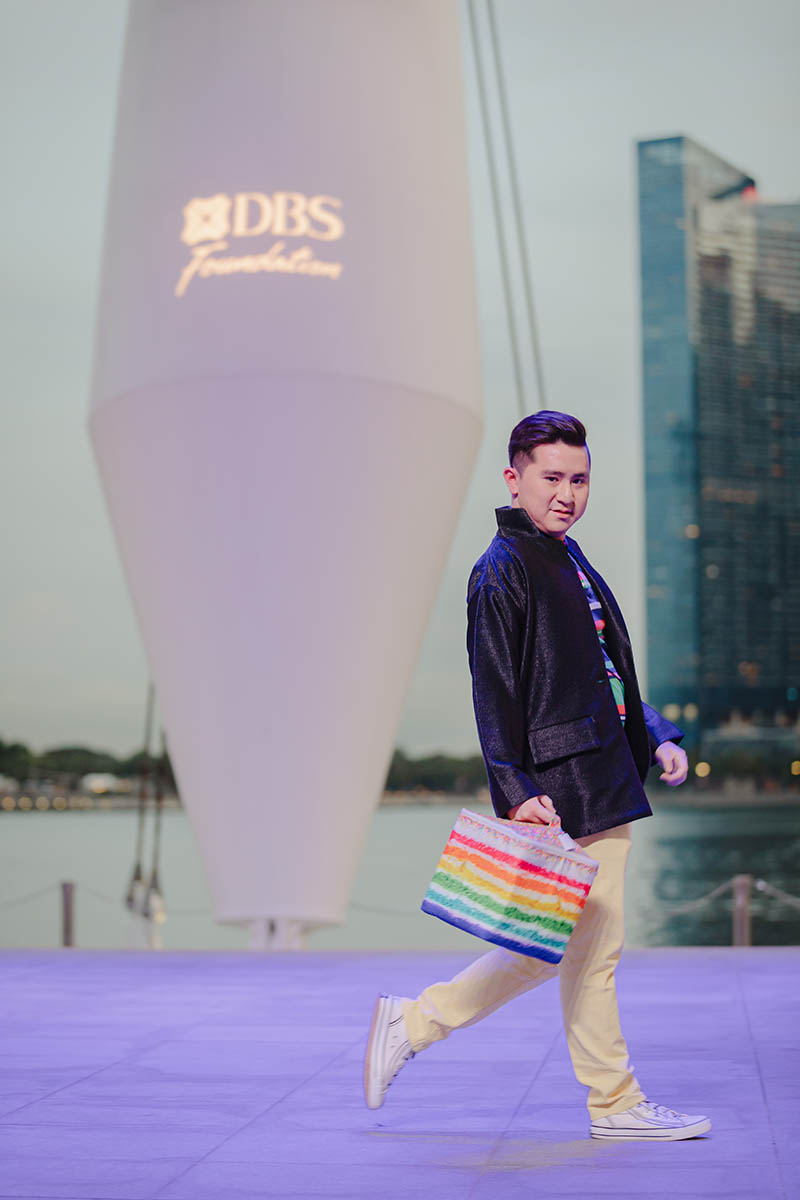 But that did not stop Vuitton. Growing up, he was always a curious child with a love for learning. He was open to new experiences and adventures. One day, Vuitton was presented an opportunity to perform on stage where everyone learnt of his natural talents in modelling and dancing.
Today, not only does he model and dance, he also works as a retail lead at Fashion For A Social Cause @ Esplanade, where you can find the most unique products hand-made by Vuitton's friends.
The young superstars from Fashion For A Social Cause showcased their handmade fashion products as they gracefully posed in their pre-loved costumes.
From the models featured to the clothing displayed, this was certainly a very different kind of fashion show – one that was filled with support and love for sustainable fashion and for those who come from various walks of lives.
---
Partnering social enterprises The Fashion Pulpit, City Sprouts and Fashion for a Social Cause, the event saw 39 models of various generations and backgrounds dressed in pre-loved clothes and accessorised with sparkling confidence. The showcase demonstrated that preloved clothes can still be very fashionable and created a platform for harmony, inclusiveness, and a space for new conversations. This initiative is part of DBS' free programme series in partnership with Esplanade titled DBS Perspectives @ Esplanade.
The DBS Perspectives @ Esplanade line-up seeks to bring diverse segments of the community together to explore, connect, and engage on pertinent societal themes interlacing Singapore's past, present, and future – with topics ranging from a light-hearted look into intergenerational dynamics within the family, to unpacking the nation's sustainability concerns, to diving into much-needed discussions around issues such as mental health, among others.
Find out more about the upcoming events here: go.dbs.com/lmbtb