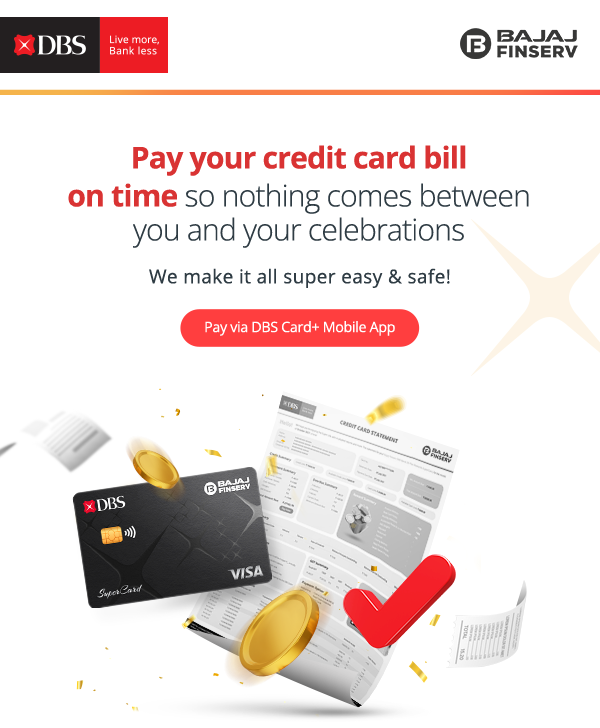 Timely bill payments help you continue multiplying your celebrations! That's why, we bring you multiple ways to pay your Bajaj Finserv DBS Bank SuperCard bill.
Take your pick from any of these options
Choose any of the above to continue multiplying your
celebrations safely and effortlessly!
Guess what? There's more where that came from.
Stay tuned for more on the Super Life in your inbox.
Click here to see all credit card related Terms & Conditions
If you notice any suspicious/unauthorized activity on your Credit Card, please either login to your DBS Card+ IN app to block your credit card immediately or contact our 24*7 Bajaj Finserv DBS Bank SuperCard Customer Care at

1860-267-6789 (local) , +91 4469046789 (international) to report such activities.
| | |
| --- | --- |
| | DBS Bank India Limited or our partners will never ask for your Credit Card number, Expiry date, Card Verification Value (CVV), One Time Passwords (OTP), Credit Card PIN. Do not share such information with anyone, even if they claim to be from DBS Bank, Bajaj Finserv, RBI, Income Tax department or other regulatory bodies etc. Please do not click on any links or attachments received from unknown sources. We also recommend not to store any important banking data on the mobile, email or wallet (physical/electronic). |
This is a system generated email, do not reply to this email. For any queries write to us at

[email protected]
To read the disclaimer, please click here.
Don't want to see you go but if you wish to unsubscribe, click here.