Being a daredevil at an all-action bank
By DBS and The Nutgraf, 4 Aug 2023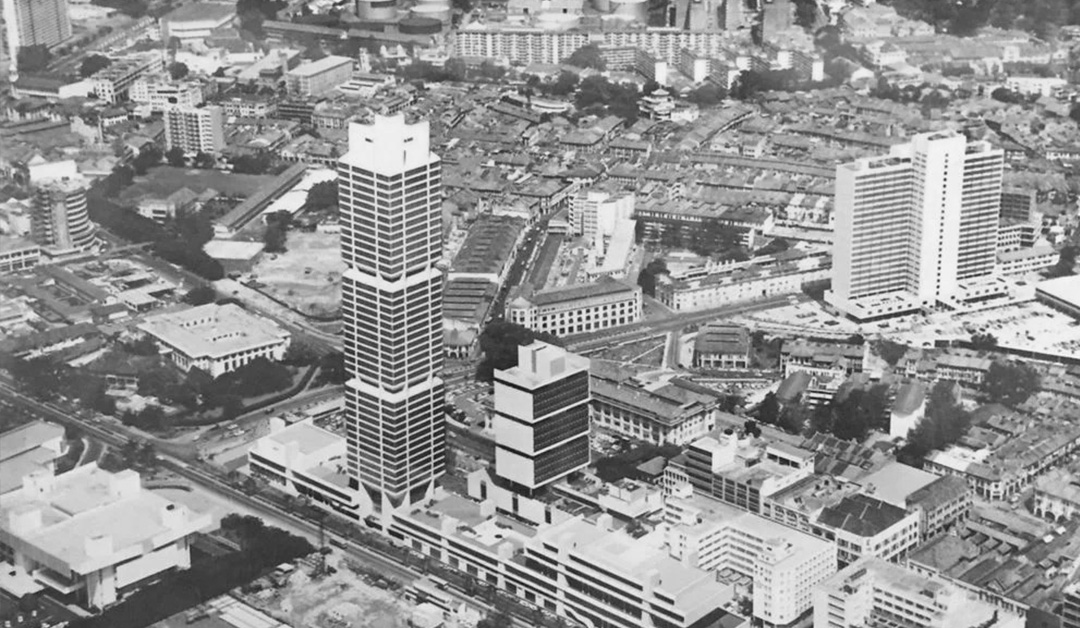 Mr Lock Sai Hung joined DBS in 1969 just months after the bank was established, on the urging of then DBS Vice President S Dhanabalan. The duo had previously worked together at the Economic Development Board. The pioneer veteran saw the bank through its formative years, helping to develop DBS' commercial services ranging from investment banking to international banking. In this first-person account, he tells of the challenges and triumphs of the bank's founding years.
Just four years into my DBS career, I had to solve a formidable problem for one of our joint venture partners: cement manufacturer Ssangyong Cement Singapore.
The 1973 global oil crisis had caused clinker – a crucial material used to produce cement – to become costlier than the price of cement itself. Essentially, this meant that the more cement you manufactured, the more money you lost.
Our joint venture was getting clinker from our parent company in South Korea, Ssangyong Cement – one of the world's biggest producers of the material. We had to get the prices down, or risk folding our business.
I flew to South Korea for a meeting with their Senior Vice President of International, requesting a more reasonable price. But they promptly turned us down.
No matter, I had a backup plan – you must always have a Plan B. Before the meeting, we had already secured an offer to get clinker at a lower price from another company, Taiwan Cement. I revealed this at the meeting, and the Senior Vice President was livid. But my plan did not stop there.
I also informed him that if a favourable price was not given, I was prepared to liquidate Ssangyong Cement Singapore. DBS provided the loans for the company – we could withdraw them as well. I was ready to play this game of brinksmanship. The Senior Vice President was so angry that he slammed his fist on the table.
I went to meet his Chairman since I didn't want to talk to someone with such a nasty temper. He had already heard what transpired at the meeting. "Mr Lock, don't worry. I will give you a price much lower than what you got from Taiwan Cement," he said. That price reduction allowed us to remain profitable. Eventually, Ssangyong Singapore was listed on Singapore's bourse in 1983. A win-win for everyone.
This story exemplifies a key mantra that defined my two decades at DBS: sometimes you have to take a bit of risk to serve the best interests of your customers and partners. This was also very much aligned with the DNA of DBS then, where taking calculated risks was often encouraged. You could say that we were an all-action bank – always looking forward, always on the move.
Going for broke
This ethos emboldened me to adopt an all-or-nothing approach right from the start.
During my first year in 1969, I joined the board of Singapore Textiles Industries (STI), which was facing an existential crisis.
Singapore's separation from Malaysia four years earlier had upended the company's plan to tap on the sizeable Malaysian domestic market. They had already invested millions in the best people and high-end textile equipment from Switzerland.
With the likes of Europe and the United States also imposing import restrictions on textiles, STI had no customers. Their state-of-the-art equipment stood idle. At my very first board meeting, everyone looked to me to solve their conundrum.
This is where resourcefulness comes into play. Doing a bit of quick thinking, I tapped on my contacts and got in touch with the boss of South Grand Textiles (SGT) – another DBS client – and asked him for help. He duly agreed to buy over STI, and I had to quickly facilitate the acquisition.
But there was an issue – SGT specialised in lower-end fabrics. They had no use for all of STI's high-tech equipment and were unwilling to pay for them as part of the takeover. A little creative thinking was required. SGT made arrangements to relocate the machinery to another country in an attempt to seek a joint venture with a company there.
This brought the value of STI's shares to a level that South Grand Textiles deemed fair, and the High Court approved the whole scheme – all in just six months. For STI's board members, it was like removing an albatross around their neck. Problem solved.
A legendary trio
DBS' high-stakes, all-action approach worked thanks to one key reason: the solid foundations established by the top management that demanded sky-high standards from all of us.
Three people, in particular, had an outsized impact in influencing my working style and management philosophy: Mr J Y Pillay, Mr S Dhanabalan and Mr Hon Sui Sen. Each of them came with different management styles.
Mr Pillay, who was DBS Chairman from 1979 to 1985, had a brilliant mind and high expectations. Everyone had to perform to his standards. Despite being a mechanical engineer by training, he was so widely read that he had an encyclopaedic knowledge of a huge range of subjects. He was completely knowledgeable with the economic principles.
You had to be 100 per cent confident of your facts – there was no pulling wool over his eyes. If you submit something half-baked, you will be in big trouble. We all worked doubly hard to try and surpass his knowledge. It was a tough feat, but this helped raise standards and instil discipline all around.
Mr Dhanabalan, DBS' Executive Vice President from 1970 to 1978, was as personable as Mr Pillay was strict, with a focus on developing relationships with his colleagues and subordinates, while still maintaining the same high standards.
Then there was Mr Hon, DBS' first Chairman and the epitome of a gentleman. He was always calm and collected – even in the face of earth-shaking problems. At DBS, I often had the honour of seeing him in action as he mediated issues between opposing parties. He would listen to arguments from all sides, letting everyone speak their minds, even if it was sometimes irrelevant.
These were the three who taught me invaluable lessons about setting standards and people management. And I applied them throughout my time at DBS, passing them down to future generations of employees.
Sink or swim
With high standards central to everything DBS did, we confidently groomed our people and expanded into new ventures. Some of our forays failed. But that is the nature of doing business – you cannot start one and expect it to be instantly profitable. What is more important is to keep trying. This was a key reason why DBS grew to become Singapore's largest bank within just a decade of its establishment. It was all about getting the job done.
We even took risks at the recruitment phase: hire first, train later. We offered jobs to university graduates without any working experience. Many did not have a banking background. We got business graduates and chemical engineers. Some even had degrees in Zoology. It was a whole mixed bag of people, like rojak.
How were they trained? To be honest, in the early years, there was no training programme. You learned on the job, by swimming in the deep end right from the start. We gave new hires free rein in their responsibilities. It was all action right from day one. We didn't have people looking over their shoulders all the time. You either sink or swim. Maybe that was what made working at DBS so exciting then.
But that's not to say that they were completely left on their own. These novices had vastly experienced and competent supervisors who rigorously assessed their performances, intervening when they were on the wrong track.
This approach helped many flourish, such as Mrs Chng Sok Hui, who joined DBS in 1983 as part of its credit administration division and rose through the ranks to become the bank's Chief Financial Officer today.
What was most important of all, however, was not the technical aspects of the job. At DBS, we believed that having the right mindset was more crucial. After all, our employees were not just at any regular bank – they were at the financial heartbeat of Singapore's industrialisation efforts, helping to drive the country's development and employment numbers forward and upwards.
We were playing a crucial role in Singapore's growth, and that was the mindset we looked to cultivate at DBS – it was a highly motivating objective worth working for. We even went beyond finance when we ventured into real estate, building Singapore's first shopping malls and high-rise buildings.
Entering new worlds
It started with the DBS Building, which was arguably the crown jewel of its property projects. At 50 storeys high, it was the tallest building in Singapore at the time of its completion in 1975, quickly becoming an iconic feature of the burgeoning Singapore skyline. It was the brainchild of Mr Hon, who always had envisioned a home for DBS to call its own.
Property development, which fell under my charge as Executive Director of DBS properties, was a completely different challenge. Take Plaza Singapura – Singapore's first multi-storey shopping centre – for instance. As it was being constructed just outside the Istana, which was a very sensitive location, no one but DBS could have been trusted to work on this project. We had to put in place precautions like security screenings during the building process.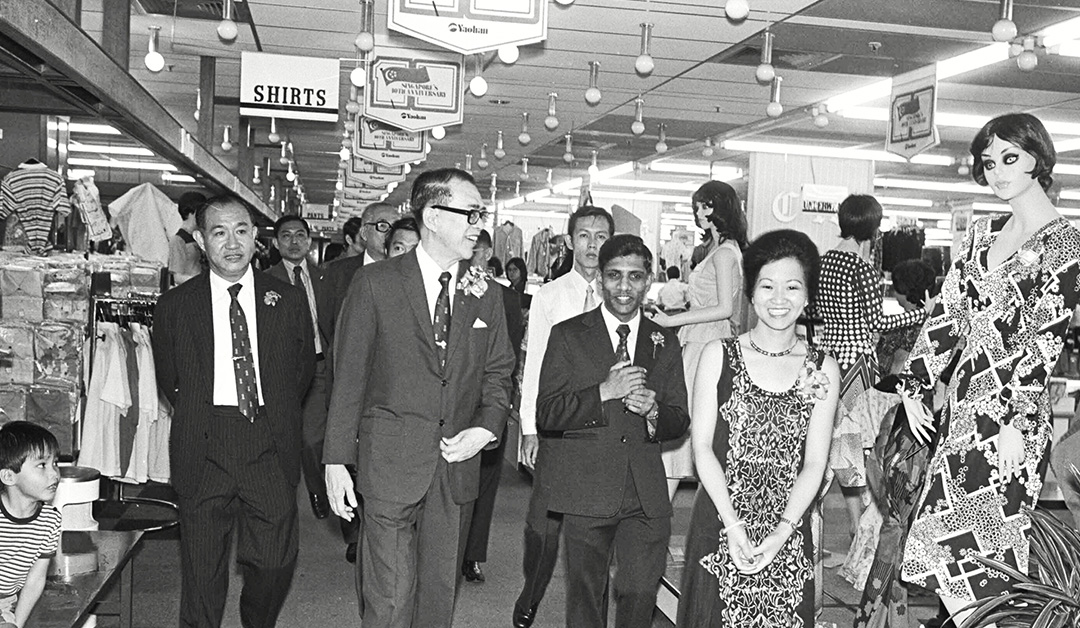 But constructing the building was only half the job done. There was also the issue of finding tenants for such a huge space, which was a novel concept in Singapore. For this, we looked for overseas operators with the experience of operating in sprawling shopping malls. We found Japanese retail group Yaohan, and they proved to be a roaring success.
Upon its opening in 1975, Plaza Singapura exploded in popularity, revolutionising the way Singaporeans did their shopping. They no longer had to shuffle from shop to shop – everything was now available under one roof. At times, the number of visitors reached 110,000 per day. Incredible. Everybody just wanted to be there.
The resounding success spurred DBS to continue its property spree. Whether it was residential or commercial, we did it all. We built the likes of Thomson Plaza, the Pandan Valley condominium complex and Raffles City, literally helping to break new ground for Singapore.
Sound principles that have guided the way
While much has changed at DBS over the decades, especially in its array of services and technology developments, the fundamentals of banking very much remain the same.
The first is serving the best interests of your customers. To achieve this, you need to anticipate their requirements. That is why DBS, originally set up to provide development financing, swiftly branched out into commercial banking.
The bank quickly realised that it also had to provide the likes of overdrafts, funds management and short-term facilities to complete the range of services that clients wanted. You must always look at the needs of your customers.
The second is ensuring integrity in corporate governance. If there is no proper enforcement of your governance structure, things can go wrong very quickly. Integrity is the cornerstone of any successful bank.
Finally, a bank always needs to have accountability. You cannot afford to have an employee incur a huge hole in the balance sheets simply because there was huge money to be made in a risky bet. Prudential ratios don't mean very much if they are not enforced in the end.
Set high standards, abide by solid principles, and take calculated risks. And above all, don't be afraid to take action. This is the DBS way.
The articles in this series are presented jointly by DBS and content agency The Nutgraf. In the lead up to the bank's 55th anniversary, The Nutgraf team interviewed 12 alumni to uncover these lesser-known stories about the bank in its early days, and its key contributions to a young and developing Singapore.