DBS and IMDA introduce industry-first TeSA Fintech programme to train young professionals in deep technology skills

***

Top performers will be groomed to be future technology leaders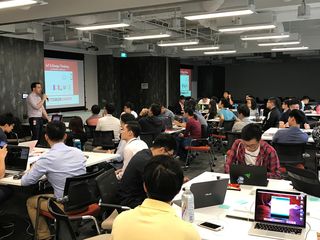 SINGAPORE,15 September 2017
-
DBS Bank has partnered Infocomm Media Development Authority (IMDA) to create the first fintech training programme under the TechSkills Accelerator (TeSA) initiative. The programme will groom young professionals skilled in agile development, DevOps, information security and data analytics for the financial services sector. DBS is the first bank to partner with IMDA to train over 85 young professionals in these technology skills, under TeSA's Company Led Training (CLT) programme. This collaboration comprises the launch of the new DBS Skills Enhancement and Education (SEED) Programme[1]; and the ongoing DBS Business Analytics Graduate Immersion Programme (BAGIP)[2].

Angeline Poh, Assistant Chief Executive, Industry Development, IMDA said, "Finance is an important driver of Singapore's economy, accounting for more than 14%[3] of our nation's Gross Domestic Product in 2016. The digitalisation of our economy brings about opportunities for the creation and delivery of new products and services. By deepening digital capabilities, banks and financial institutions here will be better-positioned to capitalise on such opportunities to grow their businesses. IMDA is pleased to support this industry-led project by DBS to jointly develop a pool of skilled tech talent for the finance sector to contribute to the development of our digital economy."

James Loo, Executive Director, Group Human Resources, DBS Bank said, "Banks of tomorrow will look very different from the ones today. In order for Singapore to maintain its competitive edge as a leading Asian financial hub, it is crucial that we focus on building a strong talent pool with the right technology and innovation skillsets. Partnering with IMDA to create these training programmes will present a valuable opportunity for the next generation of passionate digital bankers, as well as build a strong Singapore core of fintech professionals."

The 12-month DBS SEED Programme is open to Diploma or Degree holders, who have graduated in information technology or science, technology, engineering, mathematics-related disciplines for less than three years. The programme was well-received by fresh professionals and gathered overwhelming responses for participation.

Trainees joined the bank's Technology & Operations department and will gain exposure and experience through on-the-job training and assigned projects while being mentored by senior technology managers at DBS. They will learn how the bank is applying technology to create a digital and agile environment.

Graduates of the SEED programme can look forward to exciting job prospects in the banking and finance sector, as well as the growing fintech sector in Singapore. Top performers in the SEED programme will be groomed to become future technology leaders in DBS.

The DBS BAGIP, launched in 2013, is a 12-month accelerated programme that focuses on developing core analytical skills essential to business growth. In the last two to three years, more than 30 young professionals have been trained.

As the digital revolution redefines the banking industry, DBS is committed to equip employees with the relevant skills and mindsets to help them navigate a fast-changing landscape. The bank announced last month that it is investing SGD20 million over five years in a broad-based programme to skill its employees in digital banking and emerging technologies, enabling them to thrive in the digital economy and adapt to the future of work.

Each year, up to 150 DBS interns, new graduates and young professionals are also put through various training initiatives where they can be immersed in new technologies, a start-up culture, agile methodology and other digital working concepts, in addition to accelerated training, job rotations, networking sessions and mentoring from senior leaders.

[1] The DBS SEED Programme trains professionals in tech areas including agile development, DevOps and information security.
[2] The DBS BAGIP trains graduates in the data analytics field.
[3] The Finance & Insurance sector is the fourth largest sector behind Manufacturing, Wholesale & Retail Trade and Business Services in 2016, based on the Department of Statistics Singapore (DOS), www.singstat.gov.sg
Appendix
Skill Enhancement Education & Development Programme (SEED)
Launched this year, the DBS Seed Programme is a 12-month training programme designed to equip professionals with specialist technology skills to thrive in the workforce of the future. Building on core technology skills across DevOps, Information Security and Infrastructure Development, they will learn how the bank is applying technology to create a truly digital and agile environment. They will gain exposure and experience through on-the-job training, projects and supplementary training under the mentorship of industry leaders across technology and finance companies. The programme will help to develop fresh professionals for the following job roles:
• Business Analytic – Analyst
• Trainee Engineer (DevOPs)
• Trainee Engineer (Development)
• Trainee Engineer (Information Security)
• Trainee Engineer (Platform-Infrastructure)
• Trainee Engineer (Support)

The training plans for these roles will help to develop competencies aligned with the National Infocomm Competency Framework (NICF).

Business Analytics Graduate Immersion Programme (BAGIP)
Over a 12-month period, they will embark on an accelerated programme that focuses on core analytical skills essential to business growth. Launched in 2013, the programme covers technical and business analytics training, ranging from SAS programming and statistics analysis, to using data mining techniques to meet industry challenges. Graduates will also receive on-the-job training and mentorship by some our bank's most experienced analysts. Here, they will be given the opportunity to be part of big data team projects and pick up data extraction, reporting, and business advisory skills.

TechSkills Accelerator (TeSA)
The TechSkills Accelerator (TeSA) is a tripartite initiative between the government, industry and the National Trades Union Congress (NTUC), to build and develop a skilled Information and Communications Technology (ICT) workforce for the Singapore economy, and to enhance employability outcomes for individuals.

The Infocomm Media Development Authority (IMDA), which drives TeSA for ICT professional development, takes an integrated approach to ICT skills acquisition and practitioner training – in core ICT skills and in sector-specific ICT skills – and enhance employability outcomes through place and train programmes, and career advisory services. As of September 2017, TeSA has enabled more than 13,000 ICT professionals to up-skill and re-skill themselves.
-END-
About DBS
DBS DBS is a leading financial services group in Asia, with over 280 branches across 18 markets. Headquartered and listed in Singapore, DBS has a growing presence in the three key Asian axes of growth: Greater China, Southeast Asia and South Asia. The bank's "AA-" and "Aa1" credit ratings, is among the highest in the world.
DBS is at the forefront of leveraging digital technology to shape the future of banking, and has been named "World's Best Digital Bank" by Euromoney. The bank has also been recognised for its leadership in the region, having been named "Asia's Best Bank" by several publications including The Banker, Global Finance, IFR Asia and Euromoney since 2012. In addition, the bank has been named "Safest Bank in Asia" by Global Finance for nine consecutive years from 2009 to 2017.
DBS provides a full range of services in consumer, SME and corporate banking. As a bank born and bred in Asia, DBS understands the intricacies of doing business in the region's most dynamic markets. DBS is committed to building lasting relationships with customers, and positively impacting communities through supporting social enterprises, as it banks the Asian way. It has also established a SGD 50 million foundation to strengthen its corporate social responsibility efforts in Singapore and across Asia.
With its extensive network of operations in Asia and emphasis on engaging and empowering its staff, DBS presents exciting career opportunities. The bank acknowledges the passion, commitment and can-do spirit in all of our 22,000 staff, representing over 40 nationalities. For more information, please visit www.dbs.com.