DBS wins prestigious 'Best of the Best' Employer Award from Aon Hewitt

***

Bank was also named Best Employer in Singapore for the second consecutive year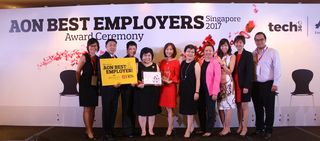 SINGAPORE,06 September 2017
-
DBS Bank was conferred the prestigious 'Best of the Best' award at the Aon Hewitt Best Employer Awards yesterday night. The bank was also named the Best Employer in Singapore for the second year running. The results were determined after a stringent research process conducted by Aon Hewitt.
Lee Yan Hong, Managing Director and Head, Group Human Resources, DBS Bank said, "Our employees are the heart of our organisation and we are committed to building employee engagement and empowering them to lead fulfilling lives. We want to create a workplace where employees can be the best, be the change, and be the difference. One of our priorities is also to future-proof our people and equip them with the necessary skills and tools to stay ahead of the curve, so as to create better business outcomes for our customers. To receive the "Best of the Best" award from Aon Hewitt is an honour, and testament to our efforts in helping our people be the best they can be."
The bank is committed to creating an engaged and healthy workforce by building an environment where employees feel valued, connected and are able to grow in their personal and professional capacity. Through a holistic people programme encompassing rewards and recognition platforms, staff benefits, as well as learning and development resources, DBS has ensured its staff are one of the most engaged workforces in the world.
A firm believer in creating a culture of appreciation, DBS recently launched a digital platform for employees to share success stories and recognise the efforts and hard work of their fellow colleagues.
DBS' benefits schemes are geared towards ensuring the wellness of our employees, with key initiatives under our iHealth programme designed to encourage an active lifestyle. The bank also promotes work-life balance through family-friendly programmes. In addition to paid childcare and family leave, employees are given the option to take up flexible work arrangements in order to balance their work and personal commitments. Staff can also enjoy banking privileges including preferential interest and loan rates.
In support of lifelong learning and transforming our employees into a digital workforce, DBS recently announced that it will invest SGD 20 million over five years to skill its employees in digital banking and emerging technologies, enabling them to thrive in the digital economy and adapt to the future of work. This will be done through a broad-based programme comprising an artificial intelligence-powered e-learning portal, experiential learning, grants and scholarships, and innovative learning spaces.
[END]
About DBS
DBS is a leading financial services group in Asia, with over 280 branches across 18 markets. Headquartered and listed in Singapore, DBS has a growing presence in the three key Asian axes of growth: Greater China, Southeast Asia and South Asia. The bank's "AA-" and "Aa1" credit ratings, is among the highest in the world.
DBS is at the forefront of leveraging digital technology to shape the future of banking, and has been named "
World's Best Digital Bank
" by Euromoney. The bank has also been recognised for its leadership in the region, having been named "Asia's Best Bank" by several publications including The Banker, Global Finance, IFR Asia and Euromoney since 2012. In addition, the bank has been named "
Safest Bank in Asia
" by Global Finance for eight consecutive years from 2009 to 2016.
DBS provides a full range of services in consumer, SME and corporate banking. As a bank born and bred in Asia, DBS understands the intricacies of doing business in the region's most dynamic markets. DBS is committed to building lasting relationships with customers, and positively impacting communities through supporting social enterprises, as it banks the Asian way. It has also established a SGD 50 million foundation to strengthen its corporate social responsibility efforts in Singapore and across Asia.
With its extensive network of operations in Asia and emphasis on engaging and empowering its staff, DBS presents exciting career opportunities. The bank acknowledges the passion, commitment and can-do spirit in all of our 22,000 staff, representing over 40 nationalities. For more information, please visit
www.dbs.com
.