DBS/POSB launches Singapore's first solar-powered ATM kiosk
Singapore, 25 Mar 2022 - To mark Earth Hour on 26 March, DBS/POSB has launched Singapore's first solar-powered ATM kiosk. Located at Blk 528 Ang Mo Kio Ave 10, the POSB ATM kiosk which has long been a feature of the neighbourhood since the 1990s, has been refreshed with solar panels and a new look. Today, 30% of the Ang Mo Kio ATM kiosk's annual energy consumption comes from self-generated solar energy from the solar panels installed on its roof. Customers can also view a solar energy dashboard at the ATM which displays the energy being generated in real-time.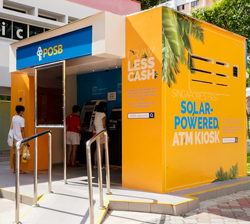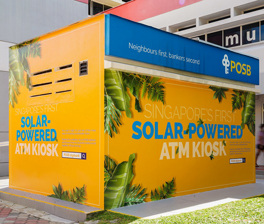 To mark Earth Hour on 26 March DBS/POSB has launched Singapore's first solar-powered ATM Kiosk
Such ATM kiosks are now increasingly rare in Singapore. Built in the 1980s and 1990s, these kiosks were deliberately situated at heartland areas, when there were fewer HDB commercial shop units. Entire structures were built to house the ATMs for customers, and to provide space as then technicians could only perform maintenance services at the back of the machine. Today, ATM machines have been designed to be more compact, and maintenance functions can easily be accessed from the front.
The bank is also participating in Earth Hour. On 25 March, DBS will switch off lights and air-conditioners in offices for one hour from 12pm to 1pm (Singapore time) across its six key markets (Singapore, Hong Kong, China, India, Indonesia and Taiwan). On 26 March, all six markets will have their building signages turned off for one hour from 8.30pm to 9.30pm (Singapore time).
DBS was the first Singapore bank to join the United Nations-convened Net-Zero Banking Alliance in 2021, committing to be net-zero by 2050. In the area of responsible business practices, the bank is on track to achieve its goal of net-zero operational carbon emissions in Singapore by 2022. In July 2021, DBS announced that its four-storey office building in Newton will be transformed into a net-zero property with climate-friendly features – the first by a bank in Singapore. As at end 2021, close to 100% of DBS' new suppliers have also committed to the bank's Sustainability Sourcing Principles
[END]
About DBS
DBS is a leading financial services group in Asia with a presence in 18 markets. Headquartered and listed in Singapore, DBS is in the three key Asian axes of growth: Greater China, Southeast Asia and South Asia. The bank's "AA-" and "Aa1" credit ratings are among the highest in the world.
Recognised for its global leadership, DBS has been named "
World's Best Bank
" by Euromoney, "
Global Bank of the Year
" by The Banker and "
Best Bank in the World
" by Global Finance. The bank is at the forefront of leveraging digital technology to shape the future of banking, having been named "
World's Best Digital Bank
" by Euromoney and the world's "
Most Innovative in Digital Banking
" by The Banker. In addition, DBS has been accorded the "
Safest Bank in Asia
" award by Global Finance for 13 consecutive years from 2009 to 2021.
DBS provides a full range of services in consumer, SME and corporate banking. As a bank born and bred in Asia, DBS understands the intricacies of doing business in the region's most dynamic markets. DBS is committed to building lasting relationships with customers, and positively impacting communities through supporting social enterprises, as it banks the Asian way. It has also established a SGD 50 million foundation to strengthen its corporate social responsibility efforts in Singapore and across Asia.
With its extensive network of operations in Asia and emphasis on engaging and empowering its staff, DBS presents exciting career opportunities. For more information, please visit
www.dbs.com
.