Why you need "collision courses" and not mere workspaces for innovation
It all began in the proverbial hotbed of innovation, Silicon Valley. Tech giants started wondering about the potential of the workspace in facilitating and catalysing innovation. Mile-long desks at Facebook, vast outdoor areas between floors at Samsung designed to draw employees out, "hot desking" at Telenor and winding cafeteria queues at Google are symptomatic of this thinking, put into action.
There is data to support this, too. According to a 2012 study by the Human Dynamics Laboratory at MIT, an increase in face-to-face interactions could alone account for a "35% of the variation in a team's performance".
Despite virtual tropes like video and audio conferencing, webinars, online collaboration tools, enterprise social networking and the like, the allure of face-to-face precedes all. Reports like APQC's "Preparing for the Future of work" in 2017 established this belief amongst employees across industries. The reasoning is simple: The desire for contact is hardcoded into the human psyche. Virtual facilitators aid efficiency but when organisations accommodate employees' need for in-person interaction, a variety of positives come to light -> innovation being a key output.
Doing so isn't quite so simple, though. Facilitating face-to-face interactions that create opportunities for collaboration and set off a chain reaction to spark new ideas requires a substantial investment of time, liquidity, effort and resources.
Unlocking innovation in every interaction
For this to occur, the workspace needs to enhance interactions, nay, the chance of healthy "collision" for optimal collusion, as we like to call it, between employees.
Imagine an open and agile floor design bereft of cubicles, drawers anddesk separators. Team members can now freely engage those that they sit around for small-group collaboration. This translates EXACTLY in the output. Not a problem here, don't you think?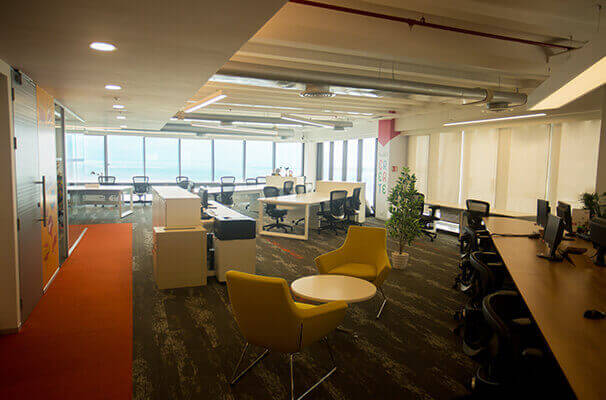 What about interactions between teams? Imagine social hubs, communal spaces and game rooms that employees across departments may huddle in. Throw in a healthy dose of activity-based workstations so that depending on who you need to work with on the day, you can simply avail of flexi-seating options.
Now, insights and ideas that inevitably strike in narrow hallways, corridors and around coffee machines have an informal, playful and beautifully designed space to converge in. Tediously booking scarcely available meeting rooms and connecting over phone calls no longer pose a hindrance.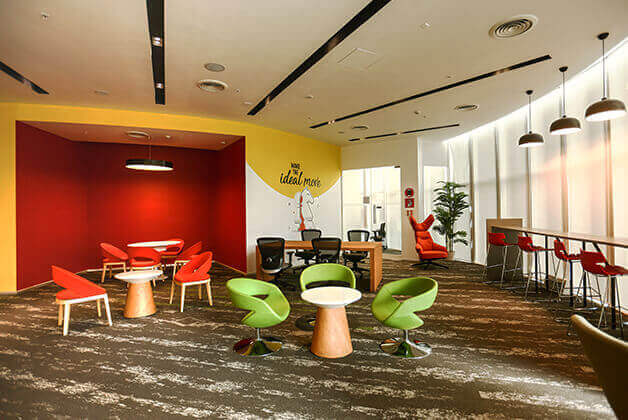 Finally, are there any looming privacy concerns or distractions that may turn things off-kilter? Various articles in reputed news dailies like The Washington Post and Bloomberg circa 2015 have cited concerns about openness inadvertently making the workspace oppressive.
The answer is balance. After all, with mobility comes responsibility. Specifically, certain departments warrant data security and silence. Even at an individual level, working solo in peace and quiet makes for a conducive work environment.
Think a hub-and-spoke model where some departments have earmarked, fixed spaces with access provided to relevant others. Think "zen zones" - quiet rooms, solo pods, phone booths where individuals may retreat to for quietly intense brainstorming, introspection or even to take that important call.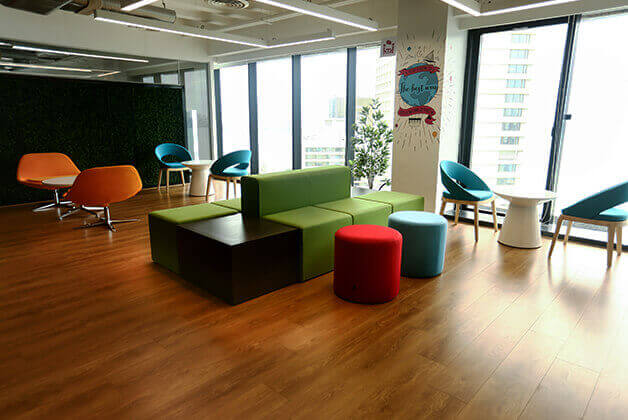 The future workspace is already here
We're firmly debunking the myth that the future workspace is necessarily all virtual with hi-tech gadgets, analytics and trackers. Instead, it is one that fosters collaboration with a view on sparking innovation in every interaction.
At DBS, we are charting our own journey towards digital reinvention, against the backdrop of the fin-tech movement and having incepted pioneering products and services in this space.The pictures you have seen are not of yet another upcoming tech start-up but those of our very own new office at Express Towers in Nariman Point, Mumbai, India. Redefining boundaries between teams and individuals in what has historically been seen as both metaphorically and literally, a staid, safe and conservative space, ergo, banking, is yet another step in our journey towards reimagining the future of banking and work - making it collaborative, innovative, responsible and fun!