Unleashing India's heterogeneous spending potential
Since time immemorial, India has always been one of the global centres of trade. Some of the world's earliest traders, businessmen, and multi-national companies struck gold on the Indian soil, an economic storehouse that still brims over with potential.
Even today, India's economy is a perfect storm of demographics, development initiatives, and digitisation. The world continues to look towards the East, and especially towards India for growth opportunities. The United Nations says that India's Gross Domestic Product (GDP) is expected to grow by 7.2% in 2018 and 7.4% in 2019. This not only makes the country one of the fastest growing economies in the world, but also sets the stage for it to be one of the largest by 2030.
The base of India's economic infrastructure is made up of its flourishing software and services industry, investment in digital and physical infrastructure, tax reforms and the Unique Identification Number or Aadhar. It comprises a mosaic of a teeming middle class with a thirst for everything convenient that is global, glitzy and new. With 440 million people from the millennial generation and 390 million Gen Z teens and children, India's consumer class is going to be a force to reckon with in the next 20 years1.
Today, about 800 million Indians use cell phones and nearly 430 million, or one-third of the country's population, have access to the Internet2. By 2026, India is expected to have about 916 million internet users — more than twice the size of the current population of the US2. In the next three years, nearly 51% of India's white–collar workforce will constitute the millennial generation2.
It is often touted that the India's latent growth is bursting at the seams. Cognisant of this fact, several multi-national companies have stepped in to capitalise on the country's future consumer potential.
Finding the needle of opportunity in a haystack
Despite being a market rich in promise, several MNCs often find it challenging to conduct business in India as they navigate through a maze of technological preferences, diverse socio-economic strata and multiple languages. Several challenges spring from the complex nature of the Indian market: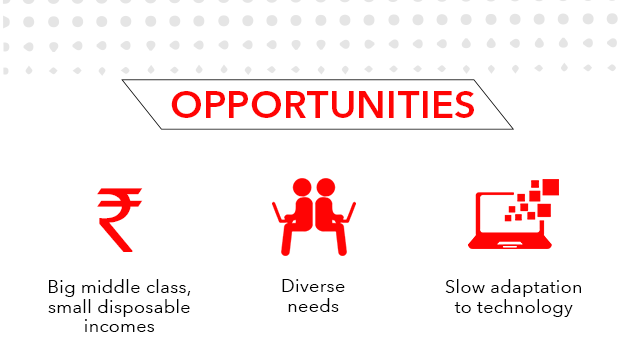 Big middle class, small disposable incomes: Though large sections of the Indian population have risen above the line of poverty, chunks of the country's middle class still reserve a large portion of their wealth for food, education and healthcare, and find it difficult to afford luxuries that MNCs offer. According to a recent survey, 80% of adults with internet access in metropolitan areas said they spent only on their basic needs4.
Diverse needs: Not long after Prime Minister Modi attained his post, he was quoted as saying that "pluralism" is India's biggest strength. The chances of two Indians sharing a single mother tongue are less than 20%, according to a study by Romain Wacziarg of the University of California, Los Angeles8. This scale of diversity often leaves MNCs gobsmacked as they struggle to implement standard global structures and protocols locally as is.
Slow adaptation to technology: Despite being the largest exporter of software solutions, India is yet to internalise high-tech gadgets into its way of life. Of the several number of internet users, only 4% have a bandwidth higher than 10 Mbps5. A wide income gap and lower disposable income has also led to slower transition to smartphones.
McDonald's, KFC, Walmart, Amazon, IBM, Cisco, Samsung and Google are fine examples of multi-national companies who have managed to hit the home run while adapting their global business models, services and products to India's ground realities. It is therefore imperative for companies looking at India to catapult their businesses to adopt a congregation of diverse strategies: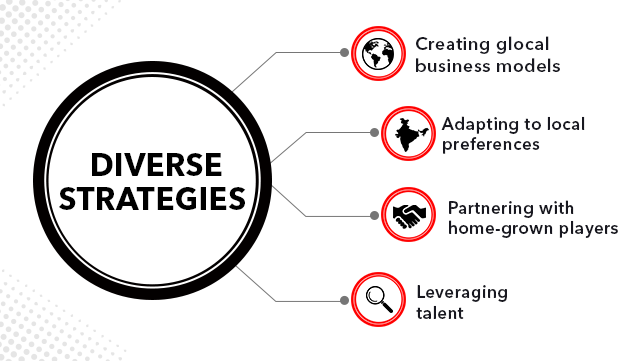 Creating glocal business models: To succeed in India, it is not enough to simply replicate a global business model. To build in-roads, it is vital to be persistent and adapt global offerings to suit the country's unique needs. For instance, foreign food chains such as McDonald's and Kentucky Fried Chicken (KFC) brought in global food practices, but created a local menu to cater to India's tastes.
Similarly, DBS identified the coffee-going culture of a niche urban segment and integrated it into its global business model. DBS' digibank, India's first mobile only bank, partnered with Café Coffee Day, a local coffee chain, for its mandatory know-your-customer regulatory step of customer identification during the account opening process. It also leveraged on locally available platforms such as the Aadhar platform to fulfil an e-KYC (Know Your Customer) requirement to enable its customers to open verified bank accounts on their mobiles without engaging in any physical interactions with the bank.
Adapting to local preferences: Being a largely cash-led economy, India has compelled MNCs to offer the option of "cash on delivery" to its customers. Both Amazon and Uber recognised this affinity for cash and launched cash-based models, but also partnered with payment gateways to influence consumer behaviour to simultaneously encourage digital payments.
While the introduction payment gateways eased transactional processes for MNCs, DBS recognised that the SMS-led authentication process was proving to be far too cumbersome for Indians given the sketchy mobile network leading to long waits. DBS addressed the problem by building in soft tokens in digibank. These tokens did away with the need of waiting for one-time passwords to arrive through SMS, providing stronger, simpler and automatic authentication for each transaction.
Partnering with home-grown players: In a country where digital literacy is lower than average, multinationals can find it difficult to penetrate the Indian market with their global high-tech business models and products. That is why, several MNCs have invested in local properties to encourage the local populace to easily integrate technology in their lives and to improve their way of living.
Google, for example, came up with a digital foundation for its prospective customers and initiated a digital literacy program called Internet Saathi to educate rural women on the benefits of internet. It then partnered with Tata Trusts, the philanthropic arm of the Tata Group to spread this initiative further to grassroots levels in India.
When India introduced Goods and Services Tax (GST), several small businesses faced a lot of teething issues while coming to terms with the new tax regime. To help resolve this issue, DBS partnered with Tally Solutions, a leading accounting ERP platform that is widely used by Indian SMEs, to offer a first-of-its-kind integrated banking platform. With an upgraded accounting and ERP infrastructure SMEs can now pay GST through the ERP in a convenient manner. By simplifying the tax payment process, DBS managed to strike a connection with the local businesses.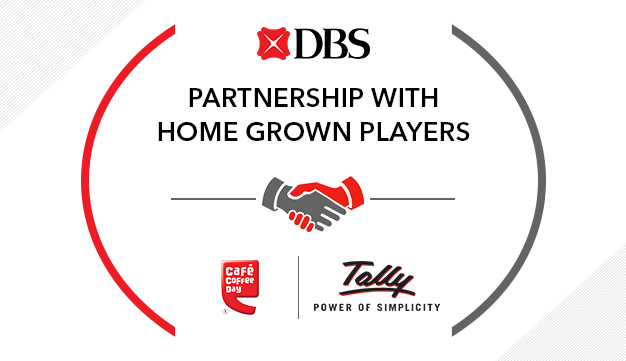 Leveraging talent: Several multinational companies have heavily invested in tapping in to India's large technology talent pool. Business giants such as Samsung, IBM, Cisco, and GE have set up R&D centres to benefit from India's tech talent. Today, more-and-more MNCs are recognizing that India is well on its way to become the country with the largest and youngest employable population. By 2020, the average age of an Indian will be 29 as compared with 37 for China and 48 for Japan7.
In a bid to take advantage of the top technology talent in the country, DBS set up DBS Asia Hub 2 (DAH2) to create a talent pool for its global needs. DAH2 is the first such innovation hub built outside of its Singapore HQ, which fosters development of banking solutions. India was the preferred choice of investment for setting up DAH2 due to its enabling ecosystem for technology innovation and access to a wide world-class talent pool.
Armed with a burgeoning demographic, robust pro-growth reforms, a rapid march towards digitization, and a consumer base that is yet to realize its full spending power, India seems to be an inflection point of growth. While it appears chaotic and different from the rest, the economy is strong and packed with potential.
Though the challenge of addressing India's complexities seems daunting, those looking towards India as the next juggernaut of growth, must align their strategies to its unique environment and awaken the dividend from its diverse set of dormant business opportunities.
1http://www.goldmansachs.com/our-thinking/pages/macroeconomic-insights-folder/rise-of-the-india-consumer/report.pdf
2https://www.forbes.com/sites/morganstanley/2017/11/06/indias-digital-future/#3d70eee77b76
3"Global Wealth Databook 2014," Credit Suisse, October 2014 (https://publications.credit-suisse.com/tasks/ render/file/?fileID=5521F296-D460-2B88-081889DB12817E02)
4Forrester's Consumer Technographics Asia Pacific Survey, H1 2016
5Akamai (https://www.akamai.com/es/es/multimedia/documents/state-of-the-internet/akamai-state-of-theinternet-report-q1-2016.pdf).
6https://www.economist.com/news/briefing/21734382-multinational-businesses-relying-indian-consumers-face-disappointment-indias-missing-middle
7https://www.pwc.in/assets/pdfs/publications/2014/indian-workplace-of-2022.pdf
8https://www.economist.com/news/briefing/21734382-multinational-businesses-relying-indian-consumers-face-disappointment-indias-missing-middle