Sampurn(e)arth: From Waste Management to Wealth Generation
The Swachh Bharat Abhiyan or the Clean India Campaign has once again brought the issue of cleanliness to the center stage of Indian consciousness. While cleanliness is an issue the bigger challenge is urban waste management that needs a serious rethink. Urban India produces 1 lac metric tonnes of waste, most of which is disposed by dumping (in landfills and water bodies) or by incineration. Even though municipalities incur a huge expenditure on waste management, a staggering 90% of the sector is still unorganized. It is a clear and present danger to the health and well being of all, but mostly affects the refuse collectors and scavengers that have developed their livelihoods from collection and sale of waste materials.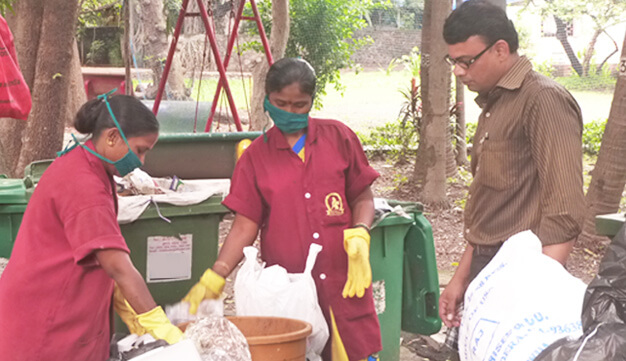 It is now widely acknowledged that waste is an economic opportunity as well as a social responsibility. One enterprise that is taking a novel approach to solve this problem is Sampurn(e)arth. Founded by the enthusiastic troika of Jayant, Rhitwik and Debartha, Sampurn(e)arth provides comprehensive waste management solutions to bulk waste generators such as corporate houses, townships and educational campuses. These three Post Graduates with Masters in Social Entrepreneurship drive the company that is one of the 21 ventures incubated under the DBS-TISS Social Entrepreneurship Programme. DBS Bank India has been an active partner in their journey, moving beyond providing the seed capital to giving a helping hand in strategy and execution.
The name Sampurn(e)arth is apt for the vision of the young company. In Sanskrit, 'sampurn' means complete and curiously, 'arth' signifies money as well as meaning. The 'E' in the name signifies the planet Earth. Thus the name encapsulates the mission of this social enterprise – a for-profit organization pursuing innovative solutions to social problems.
The team strives to provide waste management solutions in an environmentally friendly manner, encouraging recycling, composting and biogas plants. It is a zero waste solution that keeps the environment clean and promotes sustainable development. In the process the venture is also transforming the lives of the waste pickers and turning them into waste managers. Sampurn(e)arth works with Stree Mukti Sangathana (NGO that works for the up liftmen of women waste pickers ) has enabled a change in the lives of many waste pickers like Maya Khandagale, now a Waste Manager. With waste segregated at source, Maya is involved in its efficient collection, segregation and conversion to manure. However, unlike the waste collectors, it is always an uneasy start for the residents who don't want to go through the process of collecting dry waste and wet waste separately. But as Debartha points out, "Sampurn(e)arth would want to evolve as a company which would play a crucial role in changing the perceptions and habits and not only meeting numeric targets."
It isn't surprising that Sampurn(e)arth has won accolades at several business plan competitions over the past 3 years. Its most significant win has been at the Global Social Venture Competition 2014 (www.gsvc.org) organized by the Haas School of Business of the University of California – Berkeley where it emerged as the winner from over 650 entries from 40 countries.
Till April 2014, Sampurn(e)arth has employed 32 people and handled 400 metric tonnes of dry waste and 620 metric tonnes of wet waste from over 50 clients. But these are just tiny steps for a company that aspires to increase its handling capacity to 500 metric tonnes a day and employ 1500 waste pickers, solving the problem of waste through innovation and perseverance.
DBS shares Sampurn(e)arth's passion for bringing about a social change and improving the lives of those involved in India's vast unorganized waste management sector. Our unique initiative Portraits of Purpose (PoP), provides you a peek into Sampurn(e)arth and many such organizations building the India of tomorrow.